Spring is just around the corner. The extra sunlight coming in your dirty blinds will illuminate every speck of dust. As you reach for that aerosol can of furniture polish, read the list of FDA approved, unspecific, toxic ingredients, such as DDT. Fortunately, it's easy to make your own homemade dusting spray to take care of all dusty surfaces in your home.
Making your own non-toxic homemade cleaners with natural ingredients limits your exposure to harmful toxins known to cause cancer and skin irritations. We have a few tips and some homemade dusting spray recipes for you to try this spring.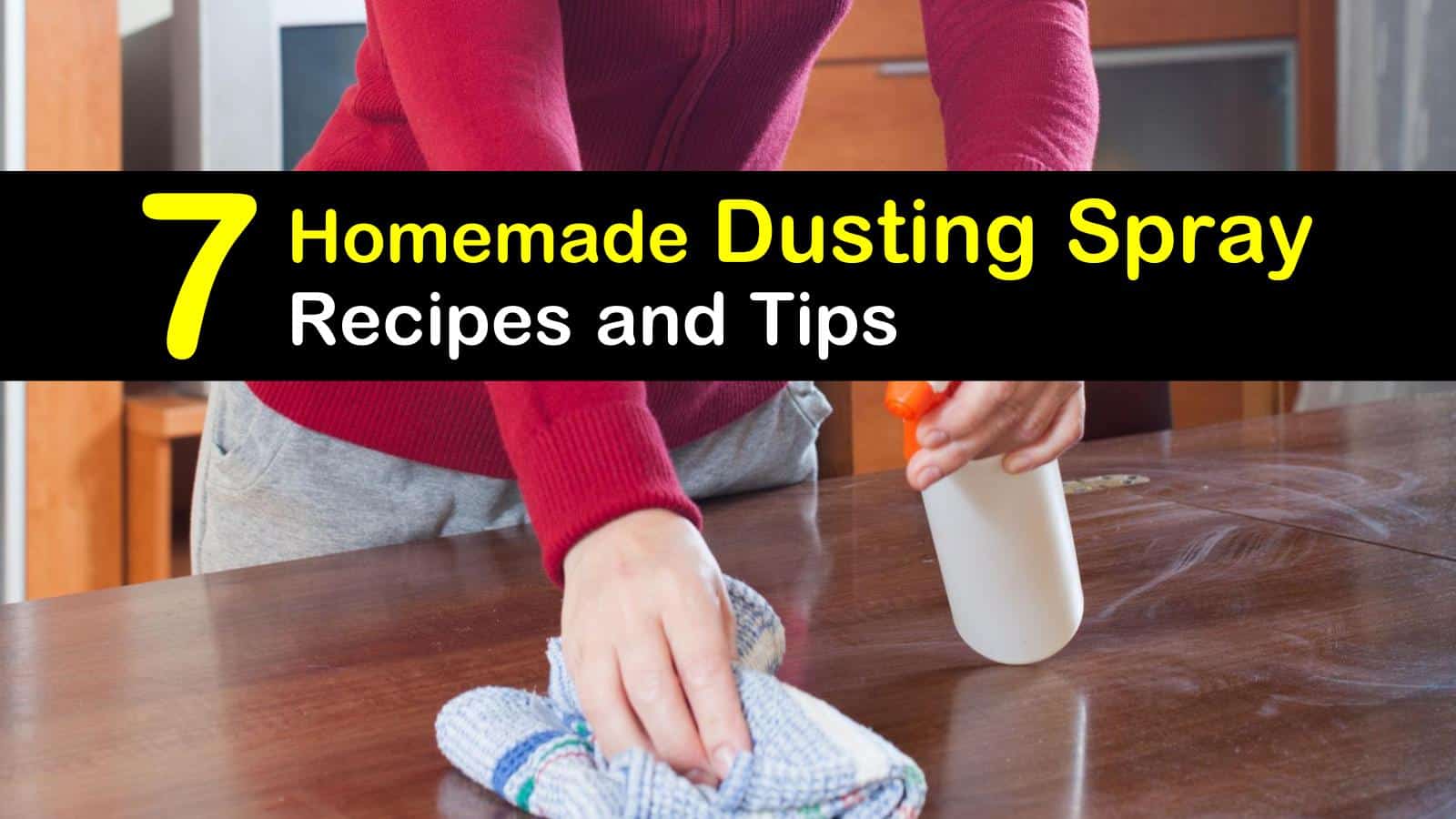 DIY Cleaners – Dusting Sprays
Try one or more of these sprays to see which ones you like best and will continue to use.
DIY Dusting Spray with Citrus
A hint of citrus gives this homemade dusting spray the scent of Pledge without the harmful chemicals.
Mix ingredients in a spray bottle, shake well and wipe off wood surfaces with a dry cloth for a beautiful shine. Enjoy the sweet orange smell of your natural cleaning products.
Vinegar & Water
Vinegar is a versatile all-purpose cleaning agent because it cuts through grime and acts as a disinfectant. This DIY dusting spray is easy to make and it works great!
Add water and vinegar to a spray bottle and mix well. Apply to dust on any surface.
DIY Lemon Spray with Essential Oils
This natural dusting spray is similar to the citrus spray. The essential oils typically used to make homes smell nice can be used to make cleaning solutions more fragrant.
Add ingredients to a spray bottle and mix well.
Castile Soap & Water Mixture
Castile soap is a vegetable-based all-natural soap with many cleaning properties that can be used in house cleaning. It also has features that repel dust and insects, such as spiders and ants.
You can add jojoba oil or a few drops of lemon essential oil for an added fresh fragrance.
Combine oils, soap, and water in a spray bottle. Spray on furniture and wipe clean to get rid of dust, or spritz in areas where ants and spiders may lurk. This makes a great homemade dust mite spray, too.
Use Olive Oil, Lemon Juice & Water
You might be surprised to see that everyday cooking ingredients can be used in a DIY wood furniture cleaner. The acids in the various elements work wonders as an all-purpose cleaner on dirt and grime!
Mix ingredients in a spray bottle. Spritz on dust and dirt on all kinds of surfaces throughout the home. This recipe is an excellent way to shine hardwood floors and leave them gleaming.
Home Remedy for Dusting Wood Furniture
While the previous five DIY dusting spray recipes can be used on wood furniture, as well as stainless steel, these last two recipes on the list are more specifically designed for cleaning wooden furniture.
Combine ingredients in a spray bottle. Thisspray can be safely used on all wood surfaces to eliminate dust and leave surfaces conditioned and shining.
DIY Dusting Spray for Wood
This homemade dusting spray uses cedarwood essential oil to add that extra wood aroma.
Add all ingredients to a spray bottle and mix well. Apply to any wood surface to remove grime and dust and leave a fresh cedarwood smell.
Natural Wood Floor Cleaner
Wood floors give homes a warm, inviting look that is also elegant. However, wood floors are also prone to scratches and scuff marks. Animal fur and even human skin can accumulate on the surface of wood floors.
Harsh chemicals can warp or damage the wood, but with these heavy-duty natural cleaners, your floors will look polished and new.
Vinegar and Vegetable Oil Mixture in Water
After you've mixed small amounts of vinegar and vegetable oil in hot water, use a microfiber mop to leave your wood floors clean and glistening.
Tea bags
No, don't scrub your floor with tea bags! Steep a few tea bags in a large pot of water. Soak a towel or microfiber mop in the tea water, wring out the excess water and use the towel or mop to clean the wood floors.
Leftover mixtures can be stored in glass bottles for later use. Don't drink the tea after you're done using it to clean.
Dish Soap, Water and Vinegar Mixture
Like vinegar, dish soap has properties that break through stubborn dirt and make it a wise choice as a natural wood floor cleaner. If you prefer not to use regular dish soap, you can substitute Castile soap instead.
Mix a tablespoon or so of vinegar and dish soap in hot water to use on wood floors.
Best Way to Clean Wood Blinds
Wood blinds can help insulate your home from drafty windows during cold weather. They need to be cleaned regularly, though, to keep their attractive look. This article takes a close look at the best way to clean wood blinds.
Vacuum
If your vacuum has attachment hoses, you can hook one up, plug the vacuum in and vacuum the blinds. This method won't deep-clean the blinds, but it's a great way to remove small amounts of dust.
Microfiber Cloth or Mini Blind Duster
Cleaning blinds are much easier these days because you can purchase dusters specially-made to fit between the slats of blinds. Or you can use a microfiber cloth and clean the blinds by hand with one of the natural dusting sprays listed above.
Soak in Soapy Water
For extreme blinds cleaning, you can remove them entirely and let them soak briefly in a soapy water mixture.
Clean the Air in Your House
All of this deep cleaning of your home will cause the air to fill with dust and other debris. After you've cleaned the surfaces in your home, you'll want to clean the air in your house, too!
Open Windows
It's obvious. Opening windows lets air in and out of the house. Make sure your windows have screens, or you'll be fighting houseflies, which is addressed in an entirely different article.
Air Purifier
An air purifier (available at most home goods stores) helps circulate the air in the home more effectively than just opening windows.
Houseplants
The entire ecosystem of the earth depends on plants to create oxygen. Houseplants can absorb harmful chemicals in the air into their leaves and roots and turn it back into pure oxygen for air that is cleaner and fresher.
A Clean House is a Happy House
Decluttering gurus are the popular fad right now, but what about all the dusty surfaces underneath the clutter? That certainly won't bring you or your house any joy.
Dusting your furniture and cleaning your floors are necessary steps after you've removed the excess clutter. These DIY dusting sprays can cut through grime without the use of harmful chemicals. And they smell great!
Recipe for Homemade Dusting Spray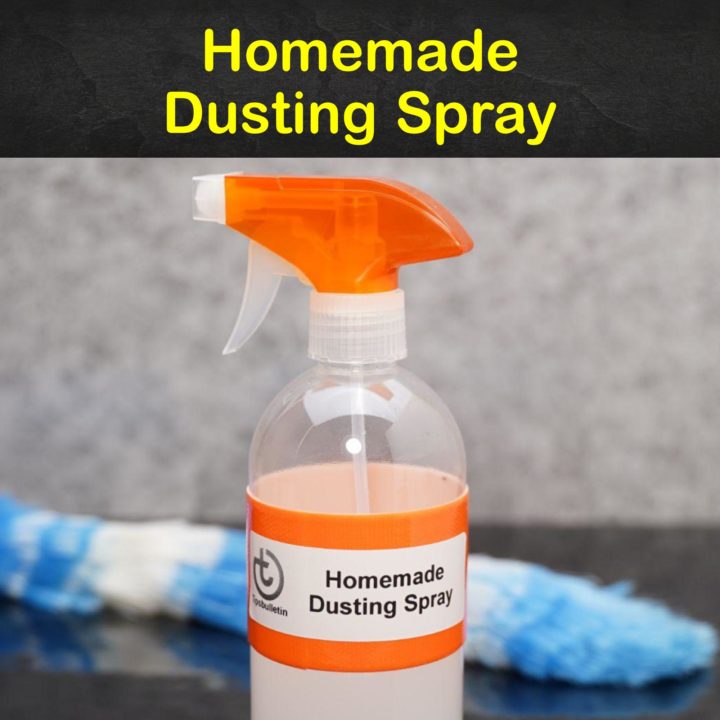 Homemade Dusting Spray
Remove the dust and leave the shine!
Materials
12 drops lemon essential oil
2 ounces vinegar
2 teaspoons cooking oil
8 ounces of water
Tools
16-ounce glass spray bottle
Microfiber cloth
Teaspoon
Measuring cup
Instructions
Add the ingredients to the sprayer and shake gently to combine.
Spritz wood floors or furniture with the mixture.
Wipe with a clean microfiber cloth.
Notes
Substitute lemon essential oil with orange for a different scent.
Be sure to use a glass sprayer, as essential oils degrade plastic over time.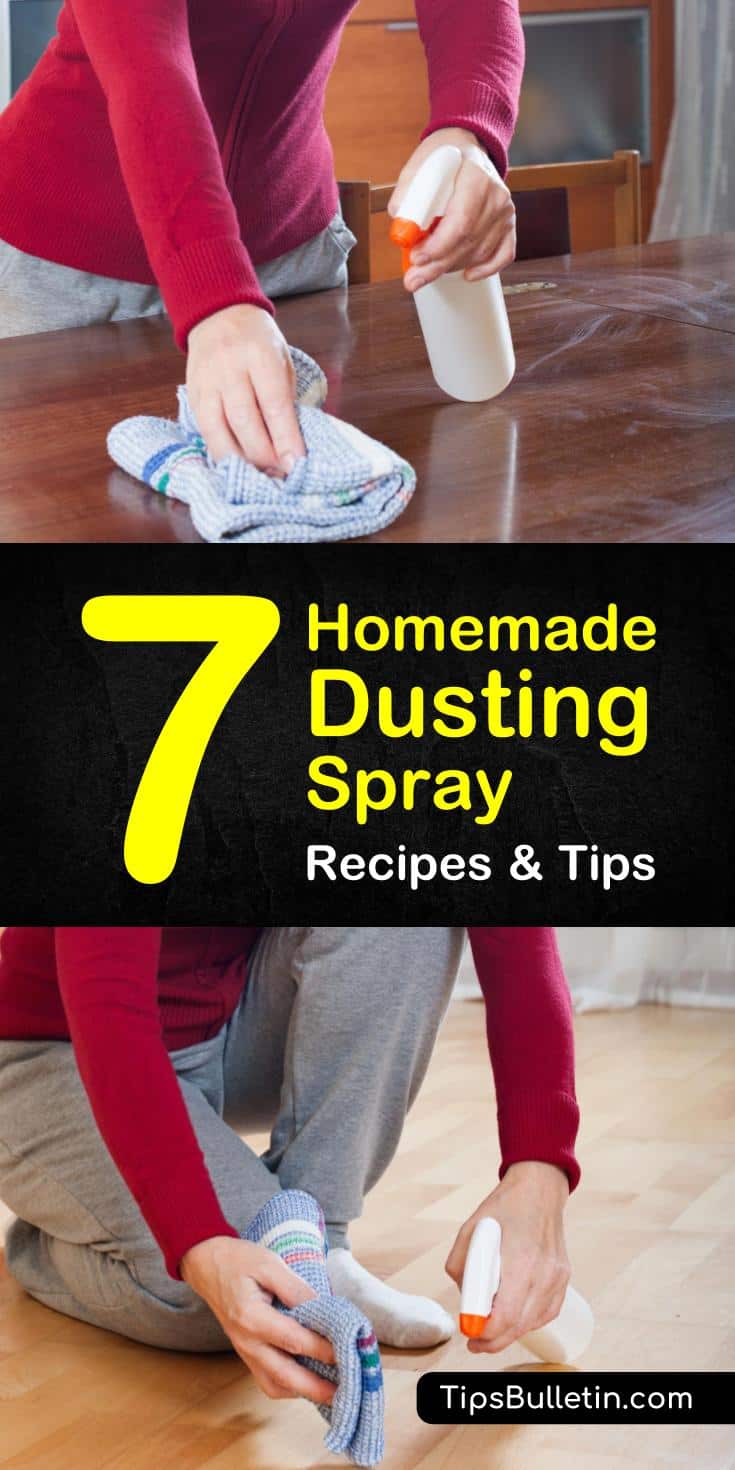 Did you try any of our recipes for homemade cleaning products and love how they worked for you? Share with your friends on Facebook and Pinterest!