Have you ever found small holes in the leaves of your favorite plants? You know, the ones that you are careful to water regularly? The ones that you keep healthy to produce ripe vegetables or beautiful flowers? If you've ever faced this problem, it's time to find a homemade earwig killer spray to get rid of these pests.
If you have found such small holes, chances are you have a pest control problem (hint, hint, it's probably an earwig issue).
And, if you've let the problem linger for quite some time, you've probably noticed that the earwigs have left your garden to make their way into your home; though they don't breed inside the house, they do find hiding places and come out later.
Keep in mind, an earwig trap may not help save all your garden plants, but it will get rid of the insects in a timely fashion. What's more, a natural earwig repellent uses ingredients that don't have a trace of harmful chemicals.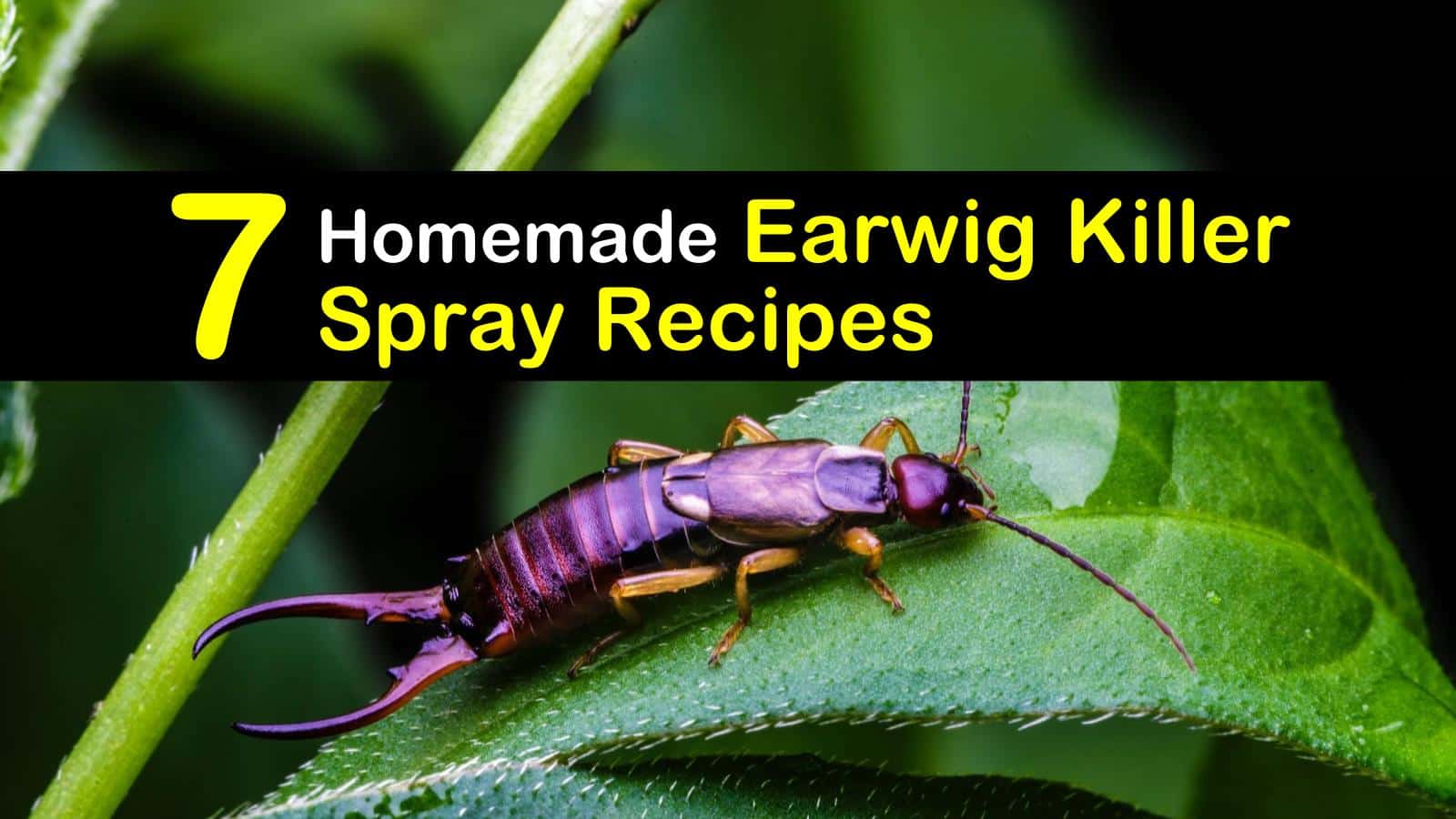 Homemade Earwig Killer Spray Repellent
Spices are often used in earwig killing sprays, which is convenient considering most households have the necessary spices handy.
Blend the ingredients and allow the mixture to sit for at least 24 hours. Strain out any solids from the mixture and pour the liquid into a spray bottle.
Try testing the solution on the plant first by spraying small areas and giving the plant approximately 48 hours to see what results you get. If the process is working on your earwigs, continue to spray your plants early in the morning, as this will allow the solution to seep in by nightfall.
Natural Earwig Repellent Trap
Earwig traps are relatively easy to construct, especially if you have the necessary ingredient and container lying around the house. If you don't, head to your local convenience store and pick them up.
Grab a can or container, preferably the size of a tuna fish can, or a cat food can. Fill the container approximately halfway with fish oil or vegetable oil.
Once you've filled your small can, place it on ground level to where the earwigs may be attacking your vegetable garden or plant material.
Then, place a cardboard tube near the can and put oatmeal or bran inside of the tube to attract and trap earwigs. The next morning, shake the earwigs into a bucket of soapy water, as this will drown the insects.
Diatomaceous Earth Trick to Killing Earwigs
Diatomaceous earth is known to help get rid of many bugs, including earwigs, also known as pincher bugs. The diatoms in diatomaceous earth scratch the surface of earwigs and draw out any oil or waxes the insects may have within their bodies, therefore dehydrating them and causing them to die.
If you want to control earwigs and deter them away from your organic matter and flower beds, sprinkle some diatomaceous earth around your plants as a protective barrier.
If it has rained or been extremely humid in the area where you are living, be sure to apply diatomaceous earth to your entire plants, as the moisture can affect its ability to work.
Controlling Earwigs with Neem Oil
Many people try to deal with these natural predators by using chemical sprays; however, that's not wise, especially if you're trying to keep beneficial insects around and keep your fruit trees healthy.
If you start to see small holes in your leaves, flowers, or fruit, take action immediately and adopt a natural earwig repellent. An excellent way to go about this would be to use neem oil on plants that you're trying to protect.
Just mix equal parts of neem oil with insecticidal soap and spray it over the areas you suspect earwigs to be. Other insects, such as Japanese beetles, can also die from neem oil.
Oil Pit Traps for Earwigs
If earwigs are attacking your plants or using entry points to get into your home, try setting up oil traps.
Mix equal parts soy sauce with olive or vegetable oil and pour the solution into a small container. Secure the lid, then punch holes into the top of the bottle to allow the earwigs entry.
Bury the container in the soil just enough so that the holes will peek out. Eventually, the soy sauce will attract the earwigs, and the oil will trap them. Be sure to change out the mixture regularly.
Earwig Killing Tip/Trick
Some steps are easier than others when trying to get rid of earwigs. For instance, you can just spread petroleum jelly around the stems of your plants. Earwigs refuse to crawl over this substance.
What's more, is that this trick works in any moisture zone throughout the world, including but not limited to the United States of America, Canada, Mexico, and all of Europe. The best part is it's a highly affordable solution to such a world-known problem. You probably already have a jar in the bathroom cabinet.
Killing Earwigs in Your Wood Piles
The one ingredient that will get rid of European Forficula auricularia, otherwise known as earwigs, from crawling around in your wood piles is to sprinkle Borax around your plants.
After a few days, you should see earwig excrement and leftovers from the dried-up insect bodies; dispose of the earwigs before they absorb into the soil. Be sure to keep pets and children away from wood piles if you're using borax to stop the earwigs from entering.
Here, you've learned how to make an efficient homemade earwig killer spray to get rid of those reddish-brown earwigs roaming around in your plants.
Much like the cooperative extension mission, we've gathered educational information together for you to use so that you'll never have to go through an earwig pest control problem again (or at least you'll know what to do to stop it when it happens).
Use these natural earwig repellent recipes and tips to protect your plants, your wood piles, and your fruit trees. Don't give all the photo credits to us, even if your vegetation is looking better than ever, because you're the one that listened to our advice!
Recipe for Homemade Earwig Killer Spray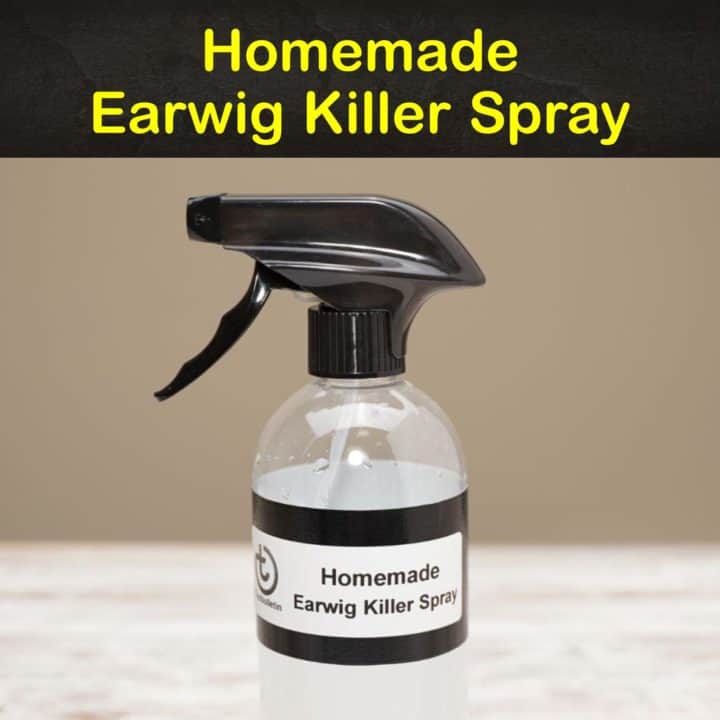 Homemade Earwig Killer Spray
A simple and natural solution for pesky earwigs.
Ingredients
Bowl
Strainer
32-ounce spray bottle
1 tbsp dishwashing liquid
32 ounces of water
1 tbsp cayenne pepper
6 cloves of garlic, chopped
Instructions
Add the ingredients to the bowl and let the mixture sit overnight.
Strain out the garlic.
Pour the liquid into the sprayer.
Spray affected plants early in the day.
Check the plants in a couple of days and reapply if needed.
Notes
Do not get this mixture in your eyes.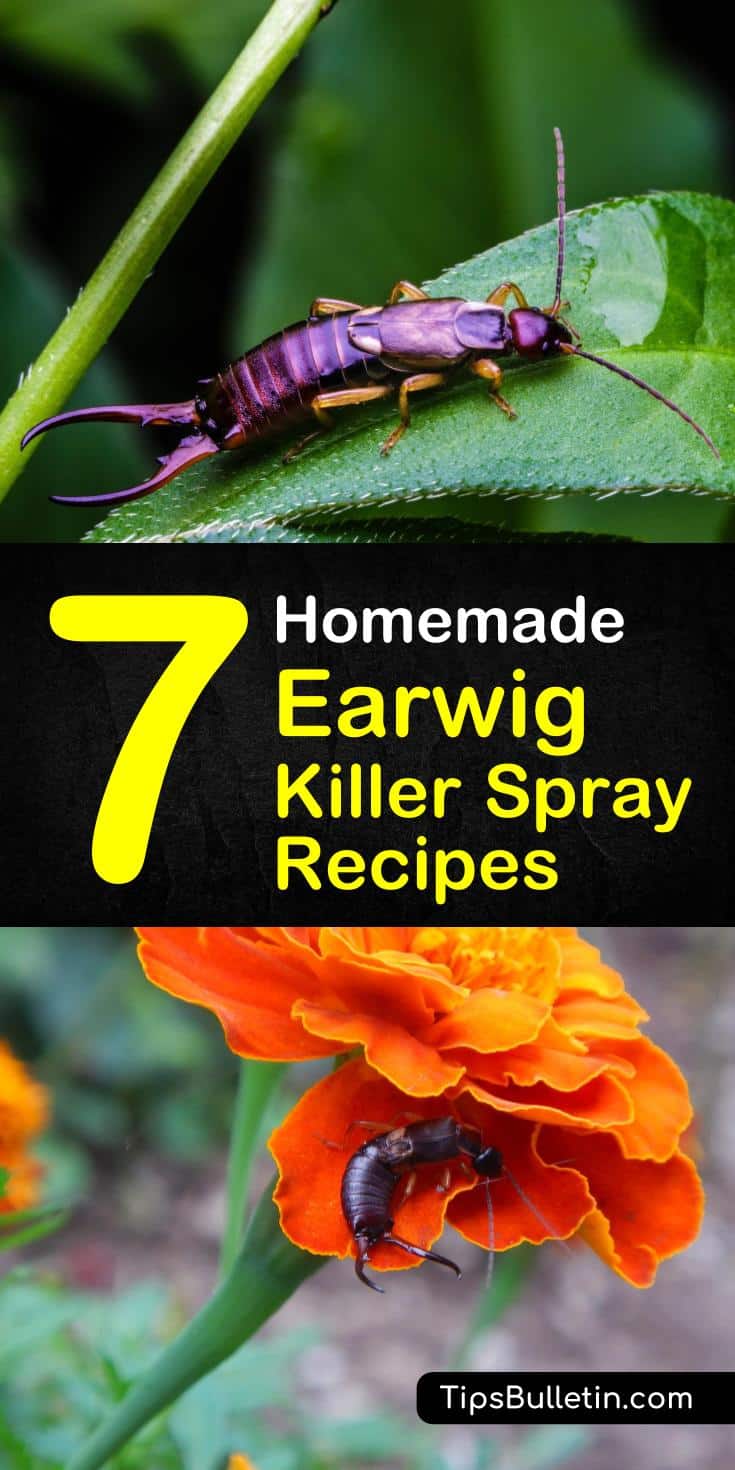 We hope you enjoyed our homemade earwig killer spray article. If you did, please share our natural earwig repellent recipes on Facebook and Pinterest with your family and friends.