It's normal for our homes to experience some wear and tear while we live in them. That wear and tear become even more common when we have pets that bring in mud and have incidents when going to the bathroom. Making a homemade enzymatic cleaner is one of the easiest ways to remove stains and pet urine from your carpet and upholstery.
Your dog or cat may frustrate you when they have an accident, but a natural enzymatic cleaner is safe to use around your beloved pets and children and lifts dog urine and cat pee better than a commercial cleaner. Making a DIY enzymatic cleaner spray may seem intimidating, but this type of cleanser is no different from making other household cleaning products.
There are many recipes to choose from, and creating a concoction of your own means knowing that every ingredient is non-toxic. If you've had problems with your pets peeing in the house and leaving behind a sour urine smell, try a homemade enzyme cleaner from this list.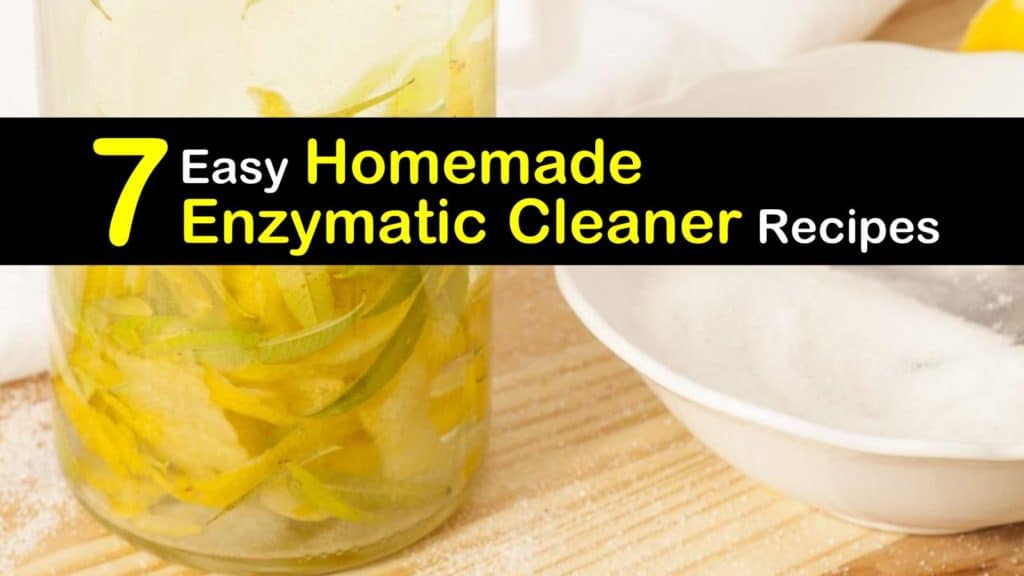 What is a Natural Enzymatic Cleaner?
An enzyme cleaner is a solution that uses enzymes within the formula to work as a stain remover that removes build up, grime, a urine stain, or pet odor. What are enzymes? Think of them as catalysts that make chemical reactions happen faster.
These reactions occur naturally in our bodies but are emulated when the cleaner goes through the fermentation process. Your DIY enzymatic cleaner spray then becomes one of the most powerful cleaning tools you have.
Making Homemade Enzymatic Cleaner
Creating your own enzyme cleaner sounds far more complicated than it truly is. Kitchen scraps and water make an ideal DIY carpet cleaner for pets. Their cleaning power is unmatched. A little goes a long way, and you'd be surprised how long one recipe lasts.
Although they are great to use on a pet stain or as an odor remover, they are all-purpose cleaners and safe to use on most surfaces and lift stains from sweat, grass, and blood.
DIY Enzymatic Cleaner Spray
This recipe is your standard DIY enzyme cleaner. The cleanser has to ferment to work correctly, but after the process is complete, carpet cleaning is easier than ever before.
Remove the citrus peels from the citrus fruit and wash them under cold water to remove dirt. Pat the citrus peels dry with a paper towel. Remove the cap to the soda bottle and put the funnel in the top.
To make this homemade dog pee repellent spray, add sugar, water, and yeast. Take the funnel out and add the peels. Screw the soda cap back on the bottle and shake it, so all the sugar dissolves.
Put the soda bottle in a place where the yeast can ferment at 95°F for two weeks. Unscrew the cap to vent the mixture and release pressure, and put the cap back on.
You must shake the bottle and release the pressure three times per day for two weeks. After two weeks, strain the mixture into an airtight container, and discard the peels. Store the mixture in an airtight container.
Using Cleaner for Gentle Stains
One important thing to know about using homemade enzymatic cleaner is that a little goes a long way—the tougher the stain, the more cleaning solution you should use.
For small stains that lift easily, mix one part of the natural enzyme cleaner with 20 parts water in a spray bottle. Shake the bottle and spray the cleaner over the desired area.
Let it sit for several minutes before using paper towels or a clean cloth to begin blotting up the stain. This cleaner is suitable for jobs like washing floors or cars.
Making an All-Purpose Cleaner
To make an all-purpose cleaner out of the DIY enzymatic cleaner spray, add half a cup of the cleaner to the spray bottle with about four cups of water. Shake the bottle and spray the affected area or use it to clean bathrooms, carpets, and the kitchen.
Using Enzymatic Cleaner for Heavy-Duty Stains
Sometimes a stain or dirt won't lift and requires more of the enzymatic cleaner. For a more powerful solution, mix one-part apple cider vinegar with four parts enzyme cleaner in a spray bottle.
Shake the bottle so everything mixes, and then use the spray as a carpet cleaner, as one of the natural ways to get rid of cat pee smell, or to remove a urine stain.
Homemade Enzymatic Cleaner for Cat Urine
Cat urine is one thing that people despise. It has a foul stench that feels almost impossible to remove. By combining the previously mentioned homemade enzymatic cleaner with other potent ingredients, the smell of cat pee won't linger around your home. This is one of the best home remedies for pet stains out there.
To make this homemade dog urine cleaner that also works for cats, add the citrus peels, water, sugar, and yeast to a bottle using a funnel. Shake the concoction so all the sugar dissolves. Shake the bottle and remove and replace the cap three times per day for at least two weeks.
Strain the cleaner into an airtight container and discard the peels. Add a few drops of your favorite essential oils to the cleaner. Store the airtight container in a cool, dark place.
Once you are ready to remove a urine stain, add one-part hydrogen peroxide with four-parts of the natural enzymatic cleaner to a spray bottle to make a DIY odor eliminator spray.
Sprinkle baking soda over the stained area and spray the cleaner on top. Let the baking soda layer sit for ten minutes and return with a clean, wet rag to begin blotting. Add more cleaner if necessary.
Using Enzyme Cleansers for Laundry and Dishwashing
Most people don't realize that enzymatic cleaners are safe for laundry detergent replacement or dishwashing. Because a DIY enzymatic cleaner spray is made from non-toxic ingredients, it is safe to use on clothes and food storage articles.
Add a quarter cup of the cleaner to replace either laundry detergent or dishwashing detergent. Run the washer or dishwasher on its standard setting and enjoy clean dishes and clothes without the use of harmful ingredients.
Commercial Enzymatic Cleaners
There's nothing wrong with purchasing a commercial cleaner as opposed to making a natural enzymatic cleaner. DIY cleaners take time to make, and some people need to get rid of a stain immediately instead of two weeks from now.
One of the best enzymatic cleaners on the market is Nature's Miracle. This brand has different formulas that target various messes, such as pet urine, everyday dirt and oil stains, and strong odors.
These cleaning products are pricier and have more chemicals than a DIY spray, but they work well and are great when you're in a time crunch.
There are tons of cleaners on the market, but more and more people are starting to realize that they can make their own all-purpose cleaners for less money that use safer ingredients.
We love our furry friends and accept them as an integral part of our families, but messes are to be expected. Don't let a little grime deter you from getting a pet because making DIY enzymatic cleaner spray is guaranteed to remove a tough mess around your home.
Homemade Enzymatic Cleaner Recipe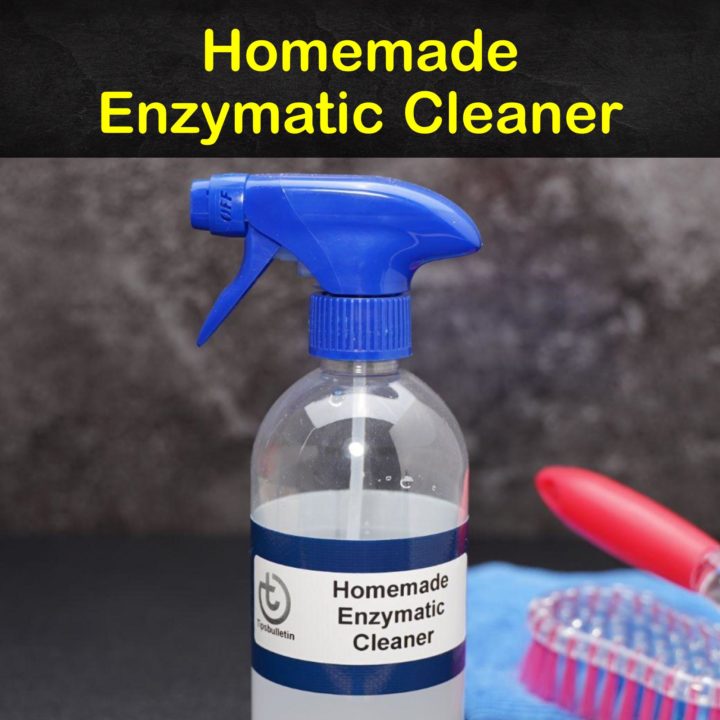 Homemade Enzymatic Cleaner
Simple household ingredients make a powerful deodorizing cleaning spray.
Materials
1 tsp yeast
4 ounces brown sugar
16 ounces lemon, lime, grapefruit, or orange peels
32 ounces water
6 drops lemon or orange essential oil
Baking soda
4 ounces hydrogen peroxide
Tools
2-liter bottle
Strainer
2-3 Mason jars with lids
16-ounce spray bottle
Cleaning cloth
Instructions
Add the first four ingredients to the 2-liter bottle. Seal and shake well.
Mix the concoction at least twice daily for 14 days. Each time after shaking, remove the cap and replace it to release gases.
Strain the liquid into the Mason jars and throw away the peels.
Add the essential oil and shake to combine.
Store in a dark, cool location until ready to use.
Mix 4 ounces of peroxide with 1 cup of the enzymatic cleaner in the sprayer bottle to use the cleaner.
Shake some baking soda on the urine stain and spray the cleaner on the baking soda.
Let the cleaning solution sit for about 10 minutes.
Blot with a clean, damp rag until the stain is gone.
Repeat the treatment if needed.
Notes
Make up the cleaner before you need it so it's ready when you are.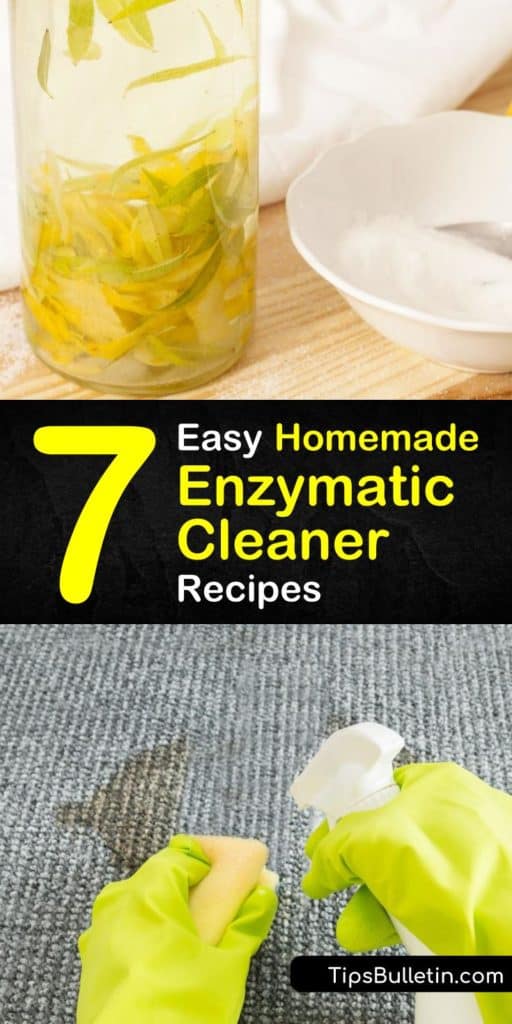 If you found that this homemade enzymatic cleaner works better than store-bought cleaners, share these natural, all-purpose cleaners on Facebook and Pinterest.