Unlike dogs, cats often have a mind of their own and tend to let you know in some very unpleasant and stinky ways. One of them is their refusal to use the litter box. Fortunately, using a homemade enzyme cleaner for cat urine not only removes the stain but eliminates cat urine smell.
There are many reasons your cat begins peeing in inappropriate areas of your home. Sometimes, this signifies that they are unwell, and it's time to visit the vet. Other times, it's because they are protesting the new food you bought or a new playmate in the home.
Whatever the reason, your feline friend is now leaving urine stains on your upholstery, hardwood floors, and carpeting, and the smell of cats is everywhere.
Cat urine is more pungent than dog urine and contains uric acid. Therefore, special cleaning products are required to break down the enzymes.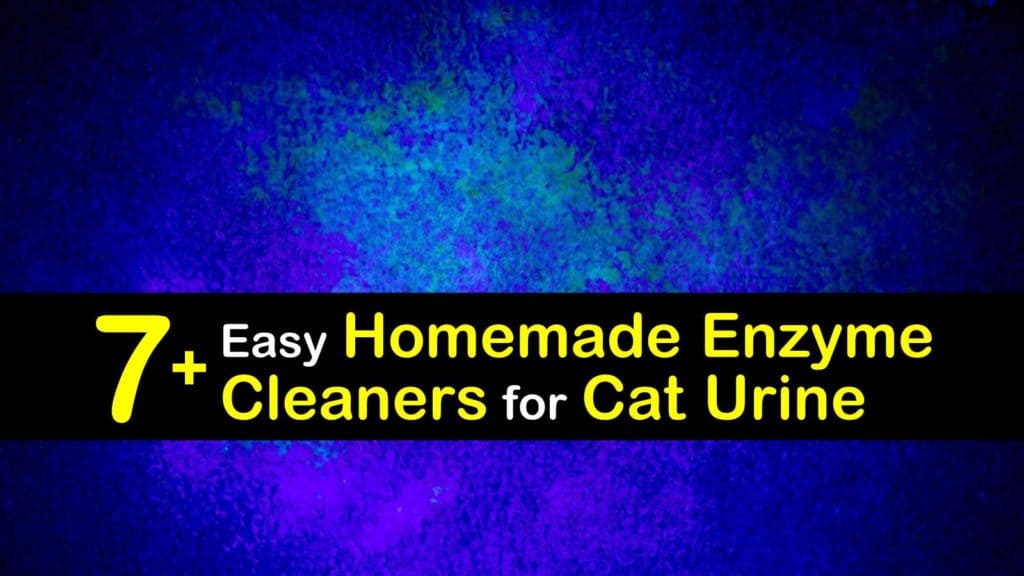 Making Homemade Cat Urine Enzyme Cleaners
A home filled with the smell of pet odor is not a happy place to hang out. Oftentimes, the ammonia-smell of these stains lingers for years, and bleach is not always a suitable choice for carpet cleaning.
We'll show you how to make an enzyme cleaner and get rid of cat urine stains in your home.
How to Find Old Cat Urine Stains for Cleaning
Before using a DIY enzyme cleaner for cat urine, you have to find the stains. While it's easy to notice the presence of cat pee in the room by the smell, it's not as simple to know exactly where the cat urine stains are located.
While the most obvious way to find cat pee is to sniff it out or accidentally step in it, this doesn't always work if the stains are old and dry. The best way to locate dried pet stains is to use a UV black light flashlight as a urine detector.
Close the blinds or curtains and turn off the lights. Switch on the flashlight and sweep it around the room slowly. Cat urine shows up as glowing spots, and if you see some, place a marker on the area so that you know exactly where to use a homemade carpet shampoo for dog urine or cat pee stains.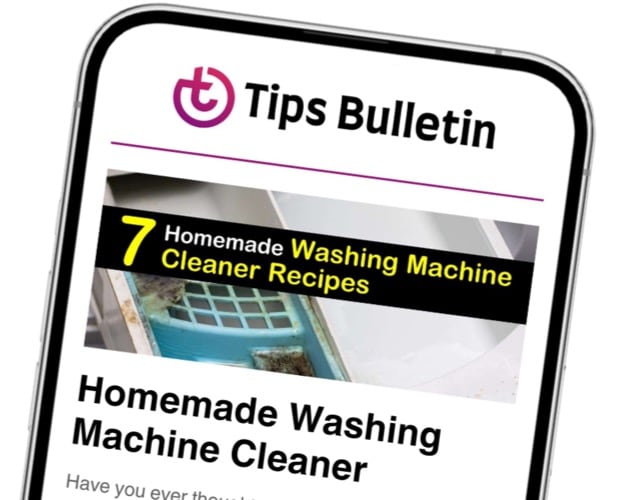 Finally, an email that Transforms Your Home.
Get the latest home and garden tips from our experts, delivered straight to your inbox.
Preparing a Cat Urine Stain for Cleaning
If you're lucky enough to catch your cat in the act and the stain is fresh, it's essential to clean up before using a cleaning solution. Doing this makes the job of carpet cleaning easier.
If the fresh stain is small, place a bunch of paper towels over it and press down, soaking up as much of the cat pee as possible. For larger accidents, use old rags for blotting up the liquid.
If the stain is in your carpeting, try standing on the towels to apply more pressure and soak up the pee from the carpet fibers, but don't forget to wear shoes. After soaking up the pee, use an enzyme cleaner to remove the urine.
Natural Enzyme Cleaner for Cat Urine
Several ingredients in your home are great at cleaning pet stains, and white vinegar is a natural enzyme cleaner for cat urine. The acidic nature of this liquid breaks down the enzymes for easy cleaning.
To make this homemade cat urine cleaner, pour water and vinegar into a bottle and shake it well to mix. Spray the cleaner on the stain to soak it and let it sit for about five minutes. Do not use this cleaner on marble or stone materials.
Use a sponge to scrub the spot, and then rinse it thoroughly with clean water. Absorb all of the liquid with a dry towel and repeat the steps if necessary.
Homemade Enzyme Cleaner for Cat Urine with Baking Soda
For particularly smelly cat stains, consider using a homemade cat urine cleaner with baking soda and vinegar. The two ingredients work together to break up enzymes and remove odors naturally, whether you need to get cat urine smell out of a mattress, couch, or living room rug.
To make this homemade enzymatic cleaner, shake the powder from a baking soda box over the pet stain and let it sit for about half an hour to begin absorbing odors. Drizzle a little bit of white vinegar over the soda and wait for the two ingredients to activate.
After the solution bubbles for a few minutes, use a sponge to clean the stain. Rinse the sponge under running water, scrub the stain using a circular motion to remove leftover residue, and pat the area dry with clean towels.
Using Hydrogen Peroxide to Make a DIY Enzyme Cleaner for Cat Urine
If you cannot stand the smell of white vinegar almost as much as you hate the odor of cat pee, try using a DIY enzyme cleaner for cat urine with hydrogen peroxide to clean cat urine stains from your couch or other areas.
Pour hydrogen peroxide into a bottle and add the dish detergent. Screw the sprayer in place and shake the bottle gently to mix.
Spritz the cleaner on the cat urine and let it sit for about ten minutes before using a sponge or rag to work the cleaner into the stain. Rinse the sponge with cool water and wipe all the residue from the area before drying it completely with a towel.
Using Apple Cider Vinegar as an Enzyme Cleaner
White vinegar is not the only liquid in your kitchen that cleans pet stains. Apple cider vinegar is a great alternative DIY cat urine cleaner with a slightly better scent than the white version.
Pour apple cider vinegar into a bottle sprayer and label it for future homemade pet odor solutions. Liberally sprinkle a layer of baking soda onto the pee spot and spray the powder with enough cider vinegar to create bubbling action.
Let the two ingredients do their job for several minutes, and clean the spot with a damp sponge. Rinse the cleaning residue with clean water and a fresh sponge, then dry it thoroughly with a towel.
Removing Odors after Cleaning Cat Urine
While cleaning cat urine stains is relatively easy if you use the right products, there is often a lingering pee smell. Using hydrogen peroxide as a powerful disinfectant combined with baking soda's odor-absorbing qualities works to remove foul odors.
Pour enough hydrogen peroxide into a bottle to fill it, and then add a squirt of dish soap. Shake the container gently to mix and spray the solution onto the affected area.
Use a sponge to work the cleaner into the fabric or carpeting to remove the stain and rinse it with clean water.
Blot the area with a fresh towel and let it air dry before sprinkling a decent amount of baking soda over the surface. Allow it to sit for several hours, and use a vacuum cleaner to clean away the odor-absorbed powder. The baking soda and peroxide not only clean the stain but eliminate the odor and will keep cats away from the area in the future.
Ways to Prevent Cat Urine Accidents
While the right stain remover and carpet cleaner keep your home free of pet accidents, it's always best to avoid the stains in the first place. Here are a few helpful tips for pet stain prevention.
Cat Urine Stain Prevention
If your otherwise good cat is suddenly having accidents, it's advisable to take them to the vet to ensure that they do not have a medical problem.
Otherwise, one of the main reasons a cat has accidents is a dirty litter box. Keep their box clean and fresh as much as possible, and set it in an area that offers quiet privacy.
Since cats tend to pee in areas that smell like urine, clean cat pee stains right away to prevent further accidents. Use a commercial product that contains carbon dioxide or make a natural enzyme cleaner for cat urine.
Cats also react to stressful situations by peeing where they shouldn't. Be prepared ahead of time if you are bringing a new pet or family member into the home.
If the cat is spraying, this is because they are marking their territory. To prevent this behavior, keep previously sprayed objects out of their reach and other objects they are likely to mark.
Try to keep them away from windows and doors where they are likely to observe outside animals.
Although this article deals with indoor cat urine problems, you may have stray cats in your yard that don't belong. Make a spray to keep cats away from your house or plants to send them elsewhere.
Cat urine is one of the most challenging stains to remove, whether you clean every day or not. This type of pet stain has a strong odor, and not everything works to eliminate it.
However, a few ingredients in your home break up the enzymes and leave your home smelling fresh and clean.
Recipe for Homemade Cat Urine Enzyme Cleaner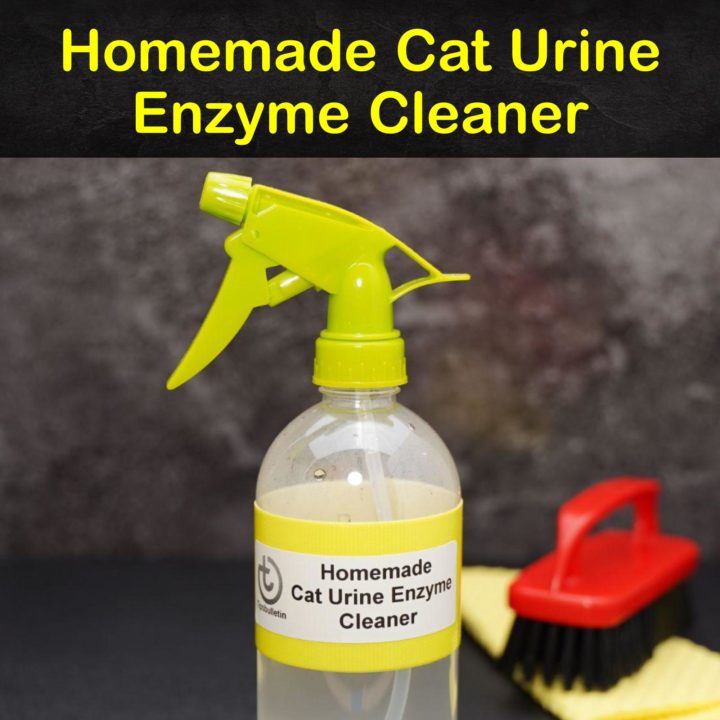 Homemade Cat Urine Enzyme Cleaner
A simple but effective urine removal solution.
Materials
8 ounces distilled white vinegar
24 ounces water
Tools
Funnel
32-ounce spray bottle
Clean rags
Brush
Instructions
Put the funnel in the top of the sprayer.
Pour the liquid ingredients into the bottle.
Replace the lid and shake well.
Thoroughly spray the urine stain.
Let the cleaner sit on the area for 5 minutes or so.
Brush the stain gently.
Blot with the clean rags and air dry the rest of the way.
Notes
This urine cleaner is not suitable for stone materials.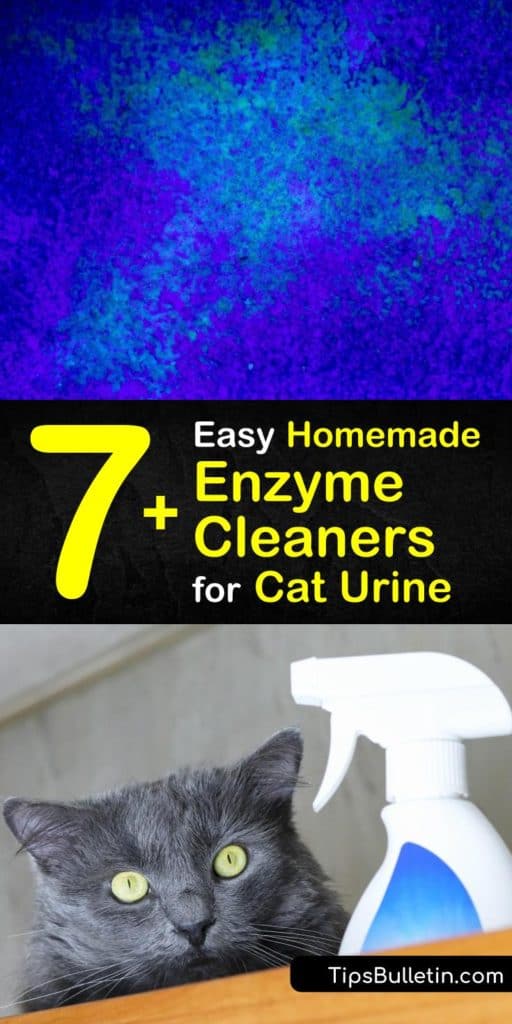 One of the best ways to eliminate cat pee smell is to use a homemade enzyme cleaner for cat urine, so why not share our pet stain cleaners with the cat-lovers in your life on Pinterest and Facebook?