Puppies are so cute, cuddly, and fun that they're hard to resist. However, ask dog owners, and they'll tell you that they're also a lot of work and have a tendency to chew up shoes and furniture, topple over the garbage can, and go potty on the carpeting, upholstery, and hardwood floors. While a pet stain seems impossible to remove completely, it's easy to remove these stains using a homemade enzyme cleaner for dog urine.
Pets are a joy to have in the home, and adding a dog to the family means daily walks, runs in the park, and games of chase-the-ball. It also means the occasional accident and carpet cleaning becomes routine. Unfortunately, a standard carpet cleaner isn't enough to get the job done right when it comes to urine.
Cleaning up pet feces is one thing, but urine stains from a dog or cat pee are an entirely different story. These stains contain uric acid crystals that are challenging to remove, and even though the pet urine looks like it's gone, the urine smell remains. An enzymatic cleaner is necessary to remove both cat urine and dog urine stains.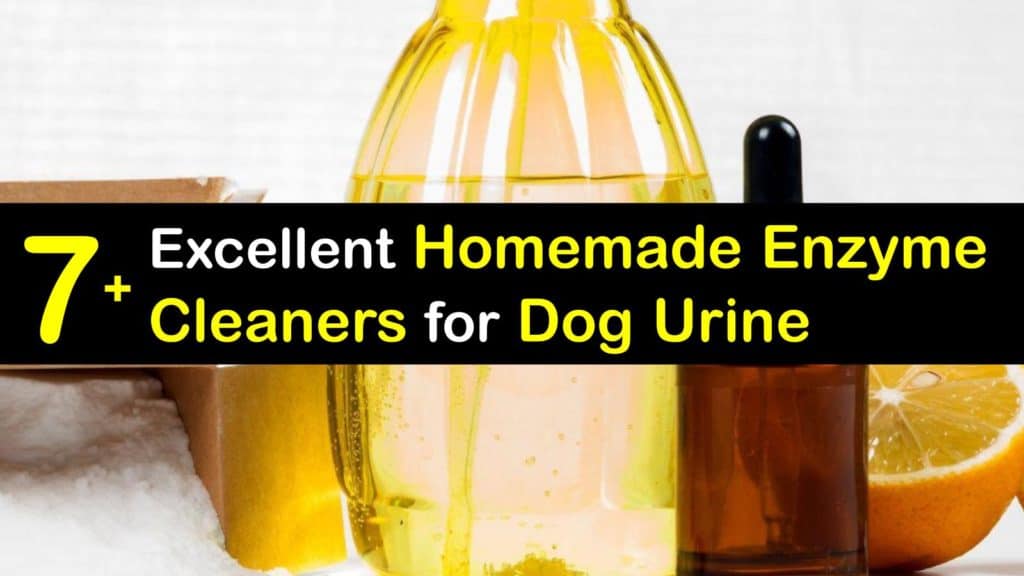 Using Enzyme Cleaners to Remove Dog Urine
Blotting up a pet stain and using a cleaning solution to clean the floor or sofa seems easy enough. However, not all cleaning products work as a urine remover. Learn how to find old stains, clean new stains, and remove urine odor using enzyme cleaners.
If you have a pet stain on your furniture, it's important to get dog hair off your couch first before cleaning the spot or you get the fur everywhere.
How to Find Old Dog Urine Stains
Before using a DIY dog urine cleaner to clean up old pet stains, it's vital to find all the stained areas throughout your home. While you can't always see these spots with your eyes, there is a clever way to find them using a special light.
A black light is a wonderful tool for discovering old pet stains. This type of light has wavelengths that cause urine proteins and phosphorus to glow.
Turn off the regular lights and shine the black light throughout the room in areas where your dog frequents. Place a marker, such as a cotton ball, on each bright spot you find to keep track of the stains during your search.
Another way to find dog urine if you do not have access to a black light is to use your eyes and sense of smell. Visually inspect all the common areas of the home for discoloration.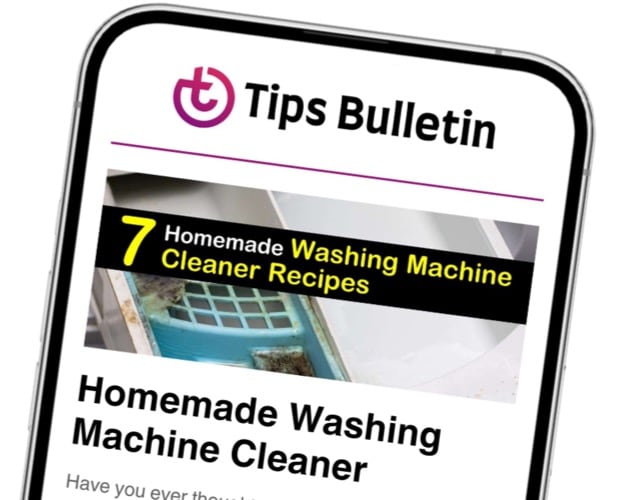 Finally, an email that Transforms Your Home.
Get the latest home and garden tips from our experts, delivered straight to your inbox.
Dog urine has a yellow or dull green tint. Check for these stains where your dog spends a lot of their time, like furniture and carpeting. If you discover a spot, do a smell test. Dog pee has a musky scent and is usually easy to identify.
Making a Basic Dog Urine Carpet Cleaner
The best way to clean dog stains is to get to them right away to stop the urine from seeping into the carpet pad, upholstery, or wood. This basic homemade urine cleaner is ideal if the carpet stain is fresh and small.
The first step to removing pet urine is to soak up as much of the pee from the carpet fibers as possible. Blot the spot with paper towels and continue pressing fresh towels on the stain until you get most of the liquid out of the carpet.
Fill a spray bottle with a cup of room temperature water and a quarter teaspoon of dish soap. Shake the container to mix the solution and spray the cleaner directly on the stain.
Use clean rags to scrub the soapy water into the area, and repeat the spraying and blotting action until the stain is gone. To ensure the dog urine is completely removed, follow up by using a homemade enzyme cleaner.
DIY Enzyme Cleaner for Dog Urine with Hydrogen Peroxide
While hydrogen peroxide by itself is not an effective DIY enzyme cleaner for dog urine, it's useful for cleaning away tough pet stains when you combine it with baking soda.
Pour hydrogen peroxide into a spray bottle, add a couple of squirts of dish soap, and spray the liquid on the urine stain.
Shake a small amount of baking soda over the surface and scrub the spot with some clean rags. Once the stain is gone, get a cloth wet with some water and wipe away the cleaning residue.
Natural Enzyme Cleaner for Dog Urine with White Vinegar
Combining white vinegar and baking soda creates a powerful cleaning action ideal for breaking up dry pet stains. This homemade dog urine cleaner is safer for your carpets than bleach, and you probably have the ingredients in your pantry.
Pour white vinegar over the pet stain to cover it and sprinkle a decent amount of baking soda over the top so that the two ingredients begin bubbling. Consider adding a few drops of essential oils to the solution if you cannot stand the smell of vinegar.
Flip a dinner plate or bowl upside down and use it to cover the spot for a day or two. Once the ingredients absorb the stain and dry, use a vacuum cleaner to suck away the remains.
Homemade Enzyme Cleaner for Dog Urine with Orange Peels
White vinegar, baking soda, and hydrogen peroxide are great for breaking down stains. However, an enzyme cleaner is necessary to lift it from the material and is the best dog pee repellent spray around.
This recipe is the best natural enzyme cleaner for dog urine and it is easy to make, but a bit of patience is required.
Put the citrus peels and brown sugar into a container and add the water. Secure the lid in place and shake the mixture well. Set the container in a safe place and loosen the cap slightly to allow ethylene gas to escape.
Let the solution sit for three months while it does its job, and then strain it into a spray bottle. Spray the DIY enzyme cleaner for dog urine onto the pee spot and scrub the surface with a clean rag to eliminate the stain.
Use this powerful homemade enzymatic cleaner for cat urine as well as dog urine. It works well on both types of stains.
How to Remove Dog Urine Stains from Laundry
The floor is not the only location where your dog may have an accident, especially if your pet sleeps in your bed. Find out how to use a homemade citrus enzyme to clean sheets, bedding, and other fabrics.
Pretreat the item by spraying the stain with a homemade citrus enzyme cleaner. Let it sit for 15 minutes and wash it in the washing machine with the cold setting and your favorite laundry detergent.
If you don't have an enzyme cleaner, try adding a cup of baking soda to the washer as an odor eliminator. Once the cycle is complete, transfer the item to the clothes dryer and dry it as usual.
Using Commercial Enzyme Cleaners to Remove Dog Urine Stains
If you don't have the time to wait three months for your natural enzyme cleaner for dog urine to develop, many commercial cleaners work in a pinch. Explore the different types and how to use them until your homemade cleaner is ready.
Commercial Enzyme Cleaners
There are many pet stain removal products on the market, from Nature's Miracle and Clorox Urine Remover to Woolite Urine Eliminator and Simple Solution Pet Stain Remover.
However, not all of these products are enzyme cleaners, and it's important to read the label carefully before purchasing one.
Once you find the right product for your home, follow the instructions for the recommended usage. Begin by absorbing as much urine as possible and then soak the spot with the cleaner until saturated. Let it sit for a half-hour or more, and use clean rags to wipe the stain away.
Ways to Stop Dogs from Urinating in the Home
The best way to avoid having to clean up after your dog has an accident is to prevent them in the first place. Discover tips for potty training your new dog and ways to stop them from peeing around your home.
Accident Prevention
While a cat has a litter box, your pup does not and depends on you for assistance. If you have a new puppy, take them outside frequently and routinely, when you wake in the morning, after each meal, every two hours, and right before bed.
Use a command word or phrase and treat them as soon as they do their business.
If your puppy has a mistake in the house, clean it up promptly with an enzyme cleaner to prevent them from repeating the behavior in the same spot. Once your dog is old enough, consider spaying or neutering them to stop them from marking territory inside the house.
If you have a potty-trained dog and they suddenly start peeing inside the home, it's crucial to have your pup looked at by a vet since there may be an underlying cause.
Unfortunately, plain water and soap don't often do the trick to remove all pet stains. It's essential to remove dog urine from floors and furniture with an enzymatic cleaner to break up the urine acid crystals, and making a homemade cleaner is easier than you think.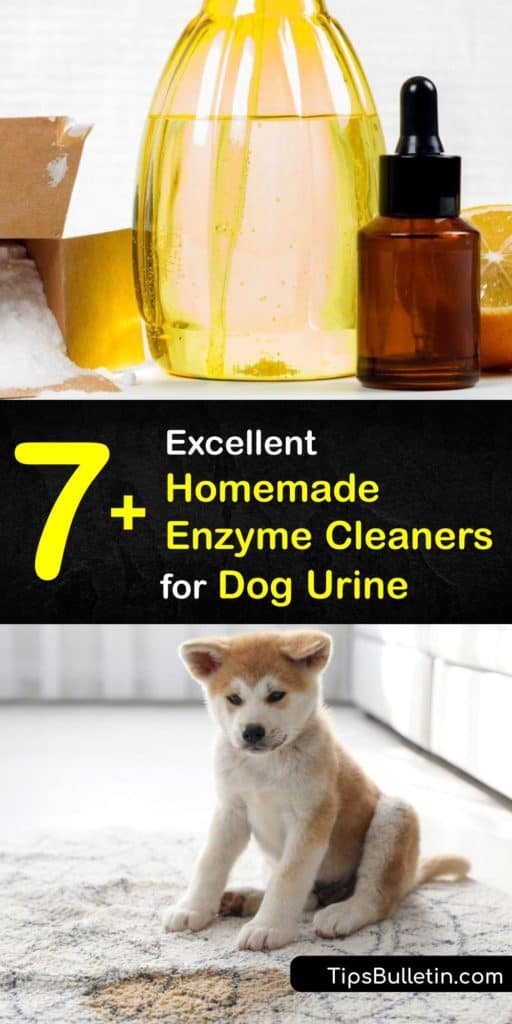 We hope that making a homemade enzyme cleaner for dog urine keeps your floors and home clean and smelling fresh, and we'd love it if you'd share our dog urine cleaning solutions with the pet-lovers in your life on Pinterest and Facebook.