If you've ever spent time at the garden center searching for the best fertilizer for your plants, you understand how confusing these products are. There are so many varieties that it's challenging to know which are the right ones. Learn what nutrients an asparagus plant wants for healthy growth and how to make a homemade fertilizer for asparagus rather than using chemical fertilizer.
Growing asparagus and harvesting asparagus spears at the end of the growing season are rewarding, especially when the plant reaches its full potential. However, fertilizing asparagus is necessary for optimal growth, especially if you have improper soil.
There are many types of asparagus, from the asparagus fern (Asparagus plumosus), or foxtail fern, to wild asparagus. However, the fern types do not grow edible spears. Green asparagus is the more common type for growing vegetable plants, with male plants producing larger spears. All types want sandy, well-drained, mildly alkaline soil.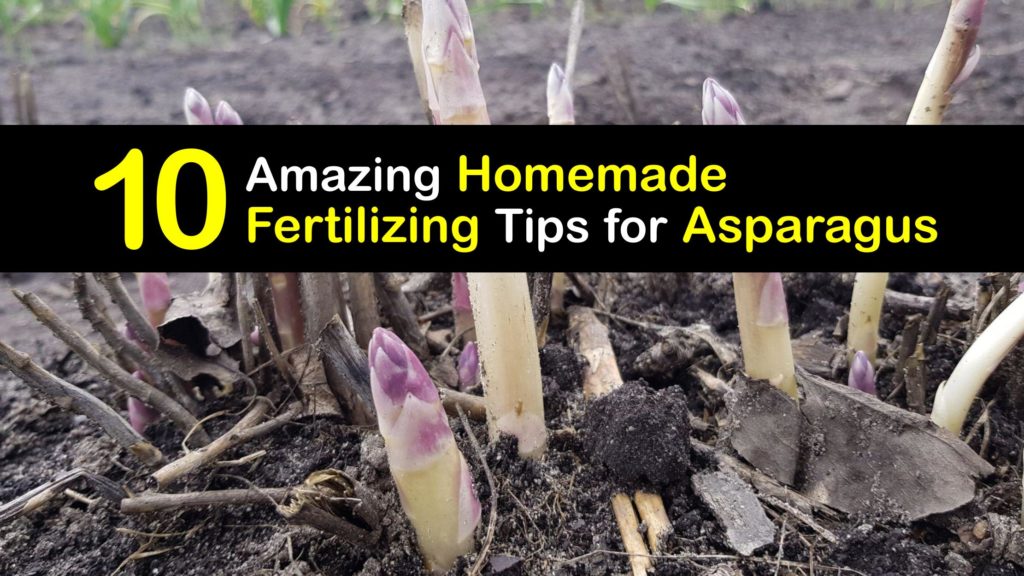 When and How to Fertilize Asparagus
Planting asparagus (Asparagus officinalis) is fun and easy, whether you plant asparagus seed or an asparagus crown. Unlike other veggies, it grows back every year with a new crop of fresh asparagus.
However, your asparagus bed requires yearly fertilization to maintain proper soil pH. Learn how and when to feed your plants and use DIY fertilizers to enrich the soil.
Feeding your plants with asparagus fertilizer prevents fusarium wilt and other diseases and promotes vegetable production.
How to Feed Asparagus for Healthy Growth
All plants need nutrients to grow, from fruit trees to vegetables, and different plants have varying needs. Discover how to fertilize asparagus by providing your plant with the correct fertilizer for strong root, crown, and shoot or spear growth.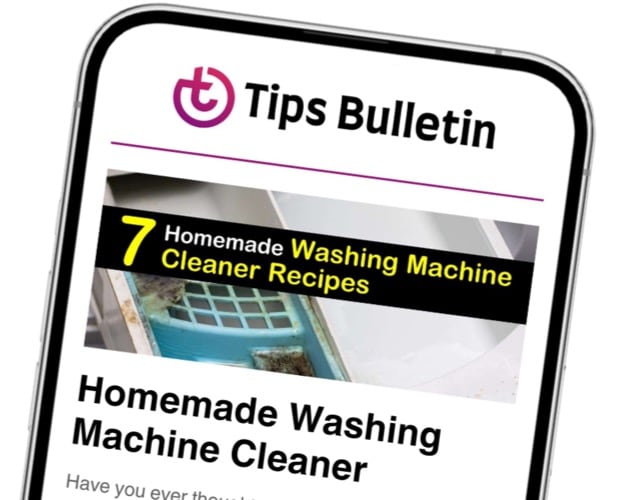 Finally, an email that Transforms Your Home.
Get the latest home and garden tips from our experts, delivered straight to your inbox.
Understanding what this veggie wants to thrive is helpful before picking the best fertilizer for asparagus plants. Nitrogen, potassium, and phosphorus are necessary for asparagus plants to produce, and they are generally happy with equal amounts of each mineral.
Nitrogen enables the plant to use the sun's energy through photosynthesis, promoting higher spear production. Potassium helps move nutrients, water, and carbohydrates through the plant tissue, and phosphorus helps plants convert nutrients and encourages strong shoot growth.
When to Feed Asparagus Plants
While some vegetables desire fertilizer when planting, others prefer a dose of plant food later during the season. Explore the best times to feed your asparagus plants to give them a boost when it's most needed.
For established asparagus plants, apply a well-balanced asparagus plant food before the spears emerge in early spring and a nitrogen fertilizer after you harvest asparagus in June. Cover the asparagus bed with an inch of organic matter fertilizer, such as compost or manure, and top it with three inches of straw or mulch in early winter.
Testing the Soil before Planting Asparagus
Test the soil before you plant asparagus since this veggie prefers slightly alkaline dirt for growth and production. Here is how to test the garden before planting to give you plants a good start.
Soil Testing
A soil test measures the acidity of the dirt, and since asparagus enjoys growing in a soil pH of 6.5 to 7.0, it's wise to test the soil before growing asparagus plants. Purchase these kits at most nurseries and home improvement stores, and they are reasonably easy to use.
Take a sample of your soil, follow the instructions for your particular kit, and check the alkaline and acid level to ensure it falls within the acceptable range for asparagus plants. You should plant asparagus when the soil is appropriate for your veggies.
Ways to Amend Asparagus Patch Soil
There is a good chance the soil requires amending after testing the area where you plan to grow asparagus. Learn what to add to the ground to decrease acidity and create a well-balanced growing environment.
While it's possible to grow asparagus in medium or heavy soil, they prefer sandy soil, and working some sand into the existing dirt creates the ideal growing medium for this deep-root plant. Whichever soil type you have and whatever popular variety of asparagus you plan to grow, it's vital to ensure the soil is well-draining. Adding peat moss provides good drainage.
If you have acidic soil, consider adding lime to increase the alkalinity. Till the lime into the top six inches of soil when planting, or use a lime spreader to feed established plants.
Organic Plant Fertilizing Material
If you prefer an organic asparagus plant fertilizer to amend the soil, various types of organic matter are perfect for adding to the garden soil to create a rich base for plant roots to grow. Whether you make a homemade fertilizer for eggplant seedlings or asparagus, the better the soil, the better your crop will be.
The best time to apply natural asparagus fertilizer is before planting new plants, but you can add it to the soil whenever necessary. Work a two to four-inch layer of aged manure into the bed before planting or mulch around the plant's base with compost to provide your veggies with optimal nutrition and taste when you pick asparagus for eating in a favorite side dish recipe.
DIY Asparagus Food with Coffee Grounds
While coffee grounds make a delicious morning cup of joe, they're also excellent for increasing nitrogen in the soil. Make a DIY fertilizer for asparagus or a homemade fertilizer for vegetables of other types with coffee.
Since fresh coffee grounds are more acidic, we recommend you use coffee grounds that are leftover from brewing to feed your asparagus. Fill a five-gallon bucket with water, add the coffee grounds and let them steep for a few hours. Pour the fertilizer into the soil around your plants or use it as a foliar spray to feed your plant and keep the asparagus beetle and other pests at bay.
Using Eggshells to Fertilize Asparagus
Don't throw away those shells after cracking open an egg for breakfast. This organic asparagus plant fertilizer uses your leftover eggshells to moderate soil acidity and add nutrients to your pants.
A simple but effective way to add calcium to your asparagus is to use eggshells as natural fertilizer for plants. Pour one gallon of water into a large pot and add the clean eggshells. Bring the liquid to a boil, remove it from the heat, and let it sit overnight. In the morning, strain out the shells, and feed two cups of the liquid to each asparagus plant.
Making Banana Peel Food for Asparagus
Banana peels contain phosphorus, potassium, magnesium, and calcium, which are great for fertilizing asparagus. Use these nutrient-packed peels to make a DIY fertilizer.
Place banana peels into a pot of water and cover them with a lid to prevent fruit flies. Let them steep for a day or more, strain them into a watering can, and feed asparagus seedlings with the natural fertilizer. Another way to use banana peels to fertilize asparagus plants is to chop them up and add them to the soil around your plants.
Use Epsom Salt to Fertilize Asparagus
Epsom salt or magnesium sulfate helps asparagus seeds germinate and increases chlorophyll production while providing nutrition to your plants. Here is how to fertilize asparagus with this inexpensive mineral salt.
Work two tablespoons of Epsom salt into the dirt when planting or add it to a one-gallon watering can of water. Pour the liquid around the soil of the plant to help the plant's roots absorb more minerals and keep weed growth under control.
Making Your Own Compost Tea to Fertilize Asparagus
Compost tea is like a magic elixir that encourages strong plant growth and healthy veggie production. While preparing it takes a little time, since it has to brew for many hours, the benefits are well worth it.
Scoop two shovelfuls of compost into a burlap sack. If you don't have one, an old pillow case, laundry bag, or pantyhose are great substitutes. Tie the bag shut and submerge it in a large bucket or trashcan of water.
The ratio for compost tea is one part compost and five parts water. Allow the tea to brew for about a week until the liquid is light brown, and water around the asparagus base with the compost tea.
To make tea without a bag, fill a garbage can an eighth full with aged compost, add water to the top, and let it sit for a week, stirring occasionally. Add a portion of the mixture to a watering can of clean water to dilute it and pour it around the plant.
Planting and growing your own food takes time and work, and using an organic fertilizer ensures you get a tasty, chemical-free harvest each growing season. Fortunately, there are simple ways to feed your asparagus plants using organic material and everyday household items.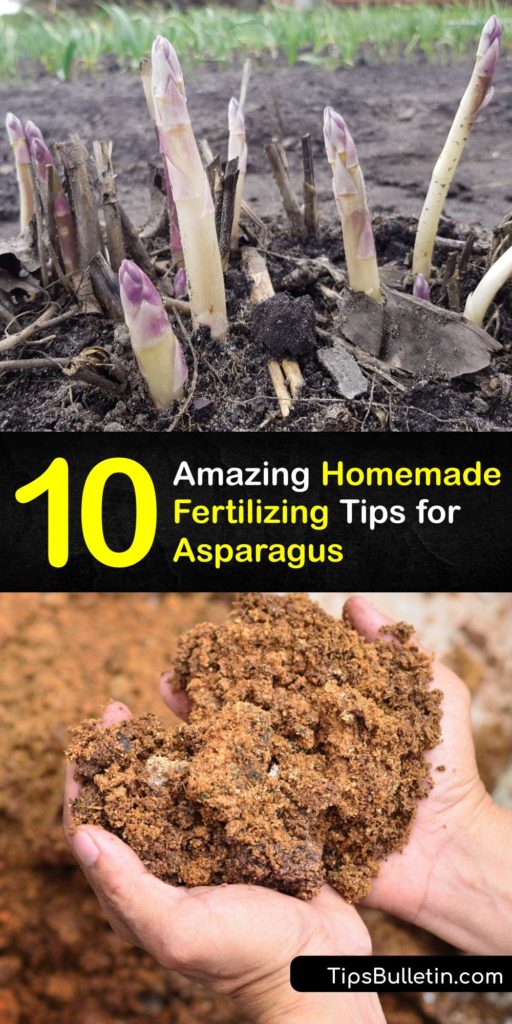 We hope that using a homemade fertilizer for asparagus gives your vegetables the healthy boost they need to thrive, and we'd love it if you'd share our DIY asparagus fertilizer guide with the veggie-growers in your life on Pinterest and Facebook.