Craft your own homemade fertilizer for avocados to ensure your fruits are large, well-formed, and tasty. Store-bought fertilizer is synthetic and laden with chemicals that transfer to your food. While you can buy it at the store, making organic avocado plant fertilizer is easy.
After you learn how to fertilize avocados with DIY ideas, you have complete control over what goes into your garden and avocado fruits. Like any fruit tree, avocado trees benefit from being fertilized or fed during their growth. When done correctly, fertilization provides a tree or plant with the nutrient profile it needs for plant growth, fruit development and to ward off illness.
Fertilized avocado trees stay healthier and produce a higher fruit yield than their unfertilized counterparts. Fortunately, there are numerous recipes to create uncomplicated avocado fertilizer. Put your organic compost to good use, upcycle livestock manure, or cut down on food waste by using banana peels and eggshells.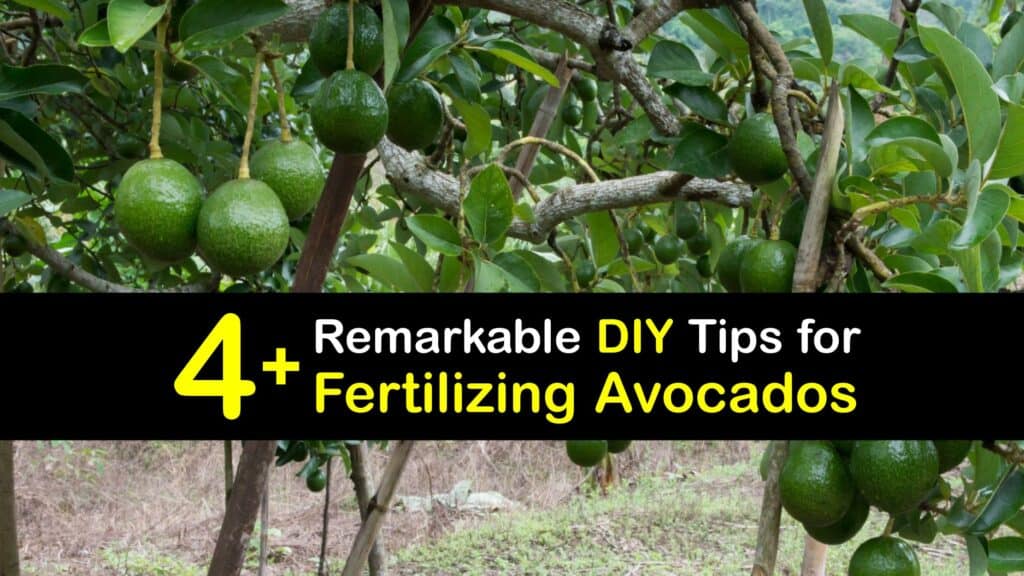 Easy Organic Avocado Plant Fertilizer

Ideas

Source your own homemade fertilizer for avocados to save money and keep your garden free of chemicals. Whether you bought your first avocado plant or plan to start avocado seed, it's vital to understand how to fertilize avocados.

Produce lots of avocado fruit and keep your trees healthy by making organic fertilizer for your growing avocado trees or indoor plant. Solve some problems with avocado trees by providing them with the nutrients they need as they grow.

Before you plant your tree in soil, you can also grow your own avocado tree at home. Follow our steps for growing avocado seeds in water as the first step in growing healthy plants.
The Importance of Fertilizing Avocados
Fertilizing provides your avocado trees with the nutrients they need to flourish. First and foremost, avocados require nitrogen and a little zinc. You can prepare fertilizer for avocado trees or buy one for citrus trees.
In the first year, fertilizing new avocado trees must occur three times: in the spring, summer, and fall. Stop feeding the tree in late October when it goes dormant.
Since the nutritional requirements of a young tree change as it becomes older, the fertilization procedure also varies. Spread one tablespoon of nitrogen-containing fertilizer over the soil surrounding the tree the first year. Deeply mist the soil to soak the fertilizer in.
Apply nitrogen fertilizer as usual, but as the tree develops, increase the dosage by 1/4 pound for every year of life, spread out across three applications.
Make a DIY Fertilizer for Avocados
Create an avocado tree fertilizer or citrus plant food to enrich your garden soil. Though many complete avocado fertilizers are available, finding a product with trusted ingredients is often challenging.
When you blend your own avocado fertilizer, you have complete control over what substances enter your garden and your food. Use this straightforward recipe to fertilize avocado trees and reduce food waste.
Dry the organic components and grind them into a powder to mix with the Epsom salt. Sprinkle the fertilizer around the bases of your avocado plants and trees, and water deeply to take the nutrients to the root ball. Your avocado plant soaks up the fertilizer readily through its roots and receives a balanced feeding.
This simple plant food mixture is also the perfect potato fertilizer recipe. Use it at planting time or periodically as the potatoes grow.
Compost is a Homemade Fertilizer for Avocados
Compost generates from the controlled breakdown of organic matter to produce high-quality organic fertilizer. Organic waste, such as kitchen scraps or garden trimmings, is recycled into compost.
If you have a compost pile or bin, you already have an ideal source of avocado tree food at home. If you don't, getting started with composting is simple, requires little investment, and provides a clever way to generate fertilizer and reduce your household's environmental footprint.
Finished compost is perfect for adding to your potting soil or potting mix for starting avocado seeds or feeding older trees. Finished compost provides the potent nutrition your avocado plant needs to develop fruit and improves the structure of the soil around the root ball.
Compost creates air spaces in soil, heading off issues related to water retention, such as root rot. Composing is simple to start and an excellent way to be greener and support the planet while generating your own free organic avocado plant food.
Manure is the Best Fertilizer for Avocado Plants
Animal manure is one of the best natural resources for gardening. Manure is loaded with valuable compounds to improve leaf quality and support your plant in producing more fruit.
Collect your horse, cow, or poultry manure and take advantage of this natural avocado fertilizer, whether you are growing avocados in containers or the ground. Animal waste must be composted before application to prevent burning your plants.
Avocado plants and trees thrive in soil with high concentrations of organic matter. Animal manure is not only an excellent fertilizer but also a mulch. Using any composted animal manure on your avocados increases the organic matter quota of the soil and supports their relatively shallow root system to keep the tree healthy.
How to Fertilize Avocados With Commercial Products
If you don't feel confident crafting avocado fertilizer, or you're low on free time, pick up an avocado or citrus tree fertilizer from the store. Citrus trees such as lemon and orange trees have similar nutritional requirements to avocados, so a fertilizer marked for them, or vice versa, works well on both.
A product like Dr Earth Fruit Tree Fertilizer is appropriate for avocado trees. Read the fertilizer label to learn about the compounds you're introducing into your garden, and apply the fertilizer following the manufacturer's direction.
Like citrus trees, fertilizing avocado trees is essential to produce a good harvest. Avocado trees demand increasingly more fertilizer every year as they mature.
Meeting this requirement ensures your trees have superior resistance to insect pests and disease and produce more fruit. Whether you're starting a plant from an avocado pit or supporting mature avocado trees, using organic avocado plant fertilizer is an excellent idea.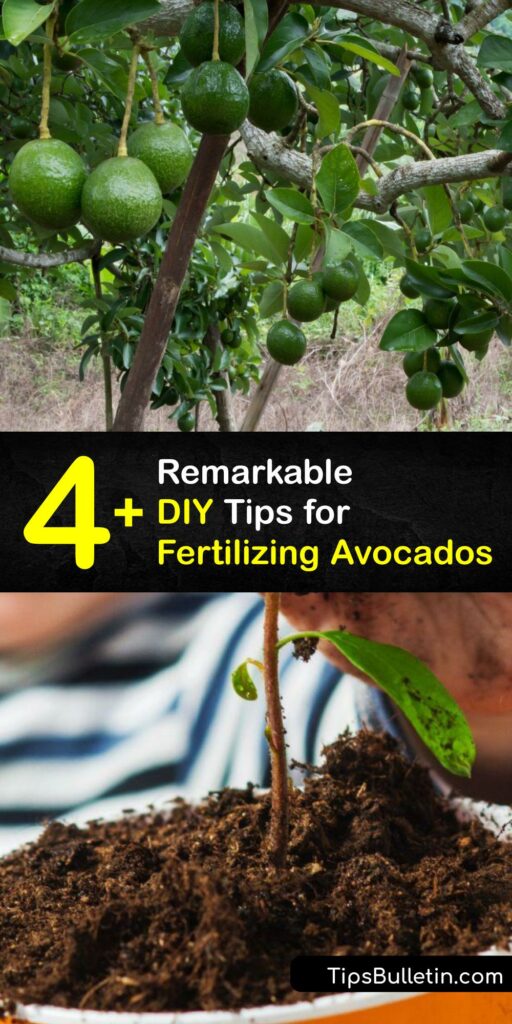 If you liked checking out this article on homemade fertilizer for avocados, please share these brilliant tricks on how to fertilize avocados with your avocado-loving family and friends on Pinterest and Facebook.