Planting blueberries is reasonably straightforward, and harvesting the berries each season is even better. However, these shrubs need the proper soil pH and plant food to thrive. Using a homemade fertilizer for blueberries is a great way to promote healthy plant growth without spending your hard-earned money on commercial plant fertilizers.
Berry plants are an excellent addition to the garden. A blueberry bush produces five to ten pounds of berries yearly, keeping your fridge and pantry full of fresh blueberries. Fertilizing blueberries is essential to ensure new vigorous development and flower and fruit production.
Most plants require fertilization, and blueberry plants are no different. While organic fertilizers may seem challenging, making a homemade fertilizer to feed your blueberry plant is easier than you may think. Since this is an acid loving plant, the key is to understand your soil type and decrease or increase the soil acidic level accordingly.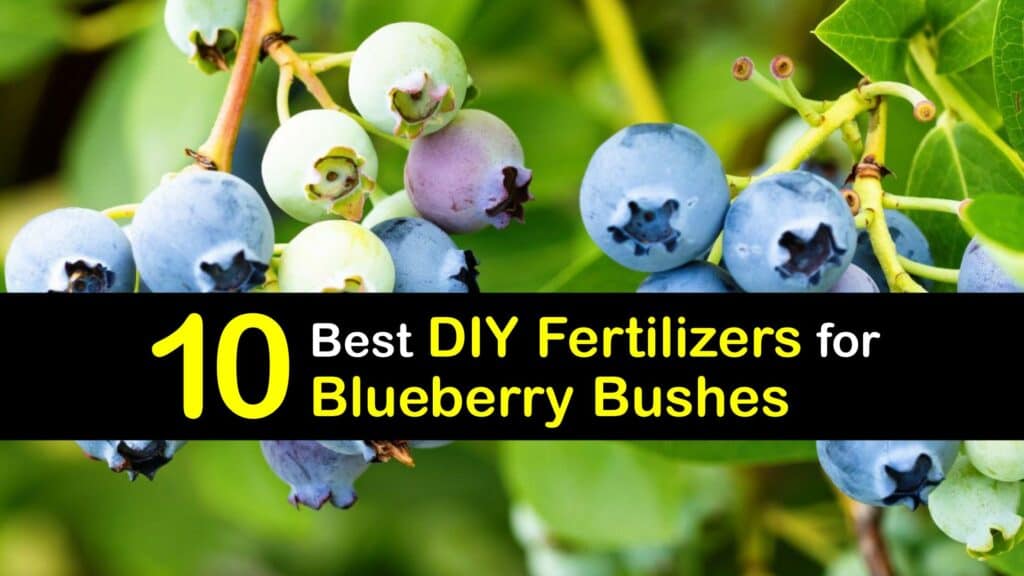 How and When to Fertilize Blueberries
All blueberries want plant food, whatever blueberry variety you grow. Compared to huckleberries, blueberry plants are similar and require almost the same care. Fortunately, it's simple to make a berry fertilizer to increase acidity or add nitrogen, potassium, and phosphorus to the soil. Fertilizing raspberries and other berry plants is important to ensure they get all the nutrients they need, particularly if the soil is deficient.
Learn which types of fertilizer blueberries need, when and how to feed your plants, and ways to make a homemade fertilizer for your blueberry plants.
What Type of Fertilizer Do Blueberries Need?
Before feeding your plants, it's vital to know your soil type and which fertilizer is ideal for a blueberry bush. Discover how to test the dirt and what blueberries want to flourish to help you choose the best blueberry fertilizer.
Blueberry Plant Soil
Blueberry plants prefer loamy, sandy soils with a pH of 4.5 to 5.5, and it's vital to amend the ground if the levels are too low or high. Fortunately, it's easy to test the soil with a testing kit to discover the acidity level of your dirt. These kits are available at garden centers and online, and the instructions are simple.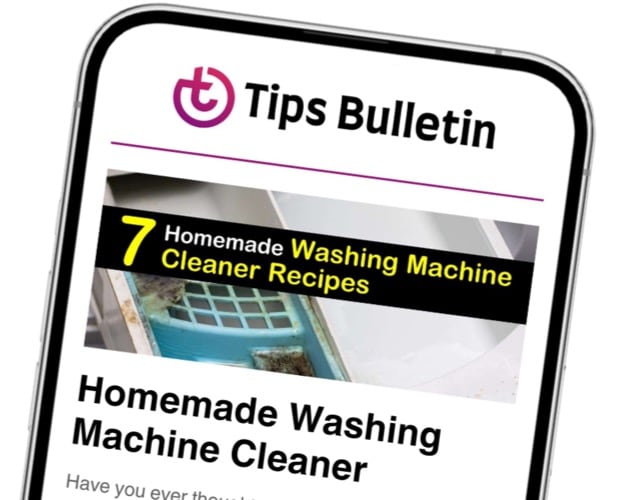 Finally, an email that Transforms Your Home.
Get the latest home and garden tips from our experts, delivered straight to your inbox.
Take a soil sample, add water as directed, and set it aside to rest undisturbed until the water is clear. Then, test the water to check for different nutrient levels. Ensure a sunny planting area. Blueberries do grow best in sunny places, whether it's in the garden or on the edge of your property.
Contact your local cooperative extension office for analysis if you'd rather have the dirt professionally tested. Once you get the results, add the proper amendments to the dirt to make it perfect for growing blueberries.
When to Fertilize Blueberry Bushes
Most vegetable and fruiting plants like plant food at specific times of the year to ensure they grow strong enough to produce flowers and fruits. The same holds true for planting times. Plant blueberries in zone 7 between spring and fall for the best results.
Note that a good time to fertilize your blackberry bushes is probably not quite the same as when you fertilize blueberries or other plants. Learn when to give your plant an organic blueberry bush fertilizer for optimal results.
Blueberry Fertilization Times
The perfect time to fertilize mature blueberry plants is before the leaves emerge in the spring. This time frame allows the fertilizer to settle into the dirt and down to the root system before the bush begins active growth.
However, it's safe to feed your plants in the early spring and late spring after you plant blueberries from cuttings or grow blueberry plants from the nursery.
How to Fertilize Blueberries
Some plants prefer a fertilizer foliar application, which is when you feed plants through the leaves, while others grow better when you fertilize them through the soil. Explore how to fertilize blueberries throughout the season to encourage healthy development.
Ammonium sulfate is one of the more common ingredients for fertilizing blueberries; applying two to four ounces around each bush once per year is adequate. Elemental sulfur is a popular choice for acidifying the soil, and fertilizing your bushes each year keeps the pH within the target range.
Sprinkle an even fertilizer layer around the bush's base and extend it to the outer edge of the leaf canopy. Blueberry plant roots are shallow, and dumping all the food in one area is ineffective for feeding the entire plant.
Put on gloves and apply the fertilizer by the handful by shaking your hand from side to side, allowing the granules to slide out between your fingers.
Organic Blueberry Bush Fertilizer
Using an organic blueberry bush fertilizer is one of the easiest ways to give your plants nutrients. The best thing about this fertilization method is that you probably have all the organic material around your home right now.
After testing your soil and adding the necessary acidic fertilizer, spread one to two inches of organic matter around the plant. Avoid spreading too much since the roots are shallow, and you may smother them. Peat moss, grass clippings, pine bark, and shredded leaves are some good organic material options.
Using Epsom Salt as a Homemade Fertilizer for Blueberries
A magnesium deficiency causes older, lower leaves on a blueberry plant to turn pale green, eventually turning red and brown. If your soil lacks magnesium, the best fertilizer for blueberry bushes is Epsom salt or magnesium sulfate.
Put on gloves and sprinkle a quarter-cup of Epsom salt around the blueberry plant's base. Make an organic fertilizer for strawberries the same way, as Epsom salt is also great for strawberries and other plants. Water the ground thoroughly to help the salt seep into the soil and provide your blueberries with temporary relief.
Fertilizing Blueberries with White Vinegar
It's essential to increase the acidity if the dirt has a low acid level since blueberries love acidic soil. This natural blueberry fertilizer is simple to prepare and safe to feed your plants throughout the growing season. Dilute the mixture to prevent root burn and plant damage.
Fill a sprayer bottle with a gallon of water and add a tablespoon of white vinegar or apple cider vinegar. Shake the container well and water your plants with the liquid two times a week during the growing season.
Feeding Blueberry Plants with Coffee for Low Acid Soil
Believe it or not, another way to amend low acid dirt is to use coffee. Your favorite coffee grounds are highly acidic and work well to lower the pH of the ground. Here is how to fertilize blueberries to increase soil acidity.
Sprinkle several cups of dried coffee grounds on the ground around the blueberry plant's base as one way to take care of blueberry bushes and ensure they get the nutrients they need. Don garden gloves and use your fingers to gently work the grounds into the top layer of soil while taking care not to disturb the roots.
Using Dry Banana Peels to Feed Blueberries
Blueberry plants require phosphorus and calcium for good root production and berry development, and banana peels have high levels of these minerals. Make a DIY fertilizer for blueberries to add these nutrients to the soil.
Instead of throwing banana peels away, spread them on a plate and allow them to dry. Shred the dried peels in a blender or food processor, then mix the shredded material into the mulch around your blueberries and water them thoroughly.
Organic Fertilizers Increase Blueberry Plant Nitrogen
A lack of nitrogen in blueberry plants causes cane and shoot growth reduction and light green leaves, so it's vital to feed them blueberry bush food to increase this nutrient. Feed your blueberries to eliminate a nitrogen deficiency.
Put on garden gloves and sprinkle a quarter-cup of fish meal or bone blood around the base of your blueberry plants. Use your fingers to gently scratch the powder into the soil surface without disturbing the roots and water the plant well.
Fertilizing Blueberries with Phosphorus and Potassium
Low levels of potassium results in leaf burn, and a lack of phosphorus causes purple coloration on the blueberry leaves. Fortunately, it's easy to fertilize blueberries to increase these nutrients in the soil.
To apply bone meal, spread one tablespoon for every two square feet beneath the blueberry plant, use your hands to gently work it into the top of the dirt, and water the plant thoroughly. To feed your plants with a seaweed blend, combine an ounce of the mixture with a gallon of water. Spray the foliage and soil once a week in the morning.
Growing blueberries in the home garden is a rewarding experience, especially if you use the best fertilizer for your plants. Knowing which natural fertilizer increases soil acidity and adds nutrients to the ground ensures that your berry plants are healthy and productive.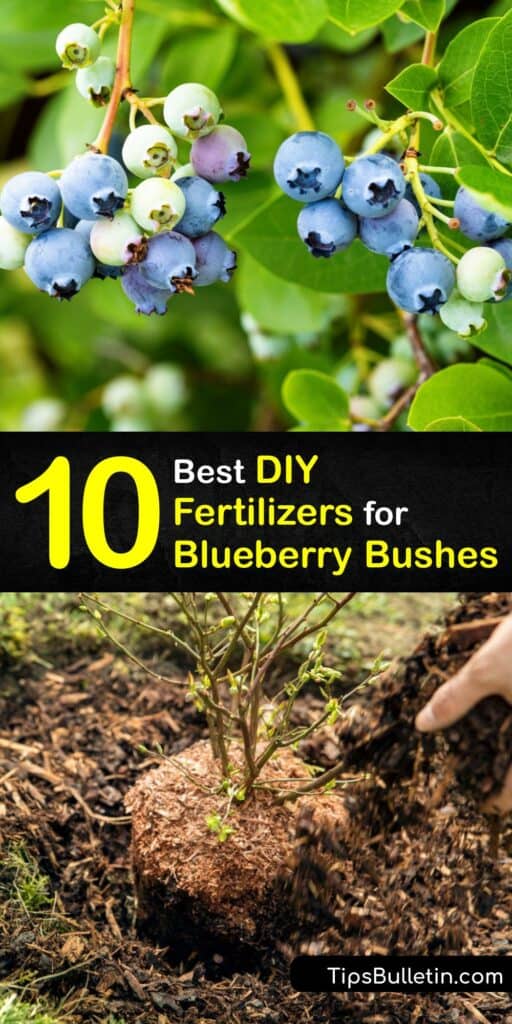 We hope that your plants produce an abundance of berries after feeding them with a homemade fertilizer for blueberries, and we'd love it if you'd share our blueberry plant fertilizer guide with your social circle on Facebook and Pinterest.