Creating homemade fertilizer for carrots is an ideal way to increase the growth of your root vegetable. Organic carrot plant fertilizer is straightforward to make using everyday items. Learning how to fertilize carrots with DIY mixtures gives you total control over the compounds introduced into your garden.
Carrots are acid loving plants that grow as biennials. Most growers choose harvest time for carrots their first growing season, overwinter them, and enjoy a final harvest in their second year. Fertilizing your carrot plant allows it to develop a bigger, tastier root to make your harvest more productive.
Carrots consist of a characteristic long orange root with green foliage on top comprised of fern-like leaves. Most carrot roots are about an inch around and may grow over a foot long. While much commercial synthetic fertilizer is available for carrots, gardeners are increasingly turning to DIY products.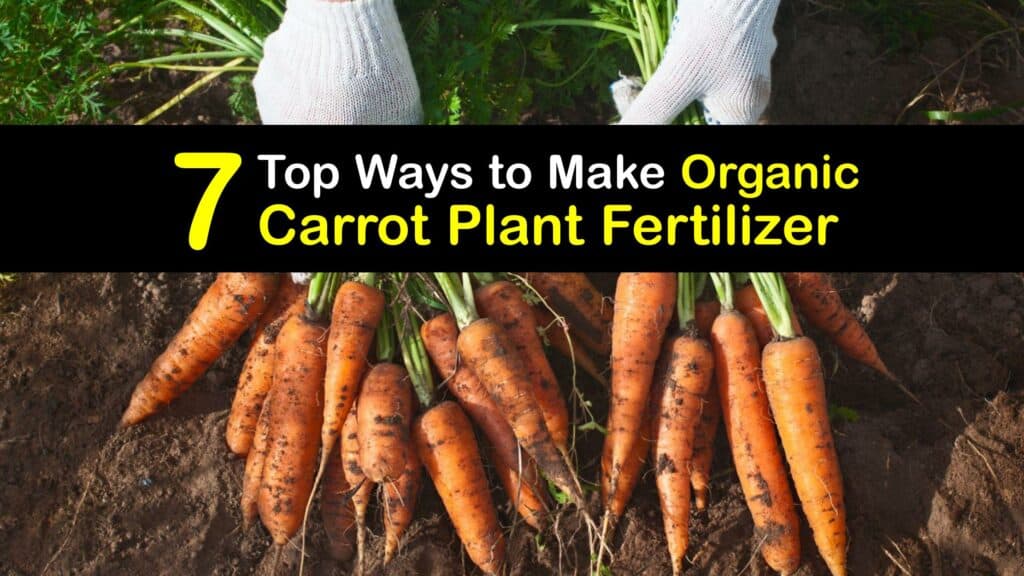 Making DIY Organic Carrot Plant Fertilizer
There are several options to make homemade fertilizer for carrots. Unlike chemical fertilizer, homemade organic fertilizer does not include toxic compounds and is usually safe for beneficial insects.
Crafting your own organic carrot plant fertilizer is economical, allows you to be selective about what you use in your home garden and which application method you prefer. Discover how to fertilize carrots effortlessly with everyday items.
Whether you just bought carrot seed or have an established carrot plant during the growing season for carrots, these easy fertilizer recipes are nutrient dense and safe for use on acid-loving plants like carrots.
Everything to Know about Homemade Fertilizer for Carrots
The purpose of a vegetable fertilizer is to provide your vegetable garden with the nutrition it requires throughout the growing season. Your carrots need to receive the three primary nutrients, nitrogen, potassium, and phosphorus, to ensure proper plant growth and root development.
Other compounds like calcium and magnesium are essential to support ongoing health and disease and pest resistance. Using a DIY organic fertilizer allows you to feed the different kinds of carrots without worrying about toxins in your harvest.
Before you plant carrot seeds or use your new fertilizer, consider enriching your existing soil with peat moss. While it has little nutritional value, peat moss assists your soil in retaining the nutrients fertilizer provides and making them available to your carrot plant.
How to Fertilize Carrots with Compost
Compost is a natural fertilizer widely used in vegetable gardening and is made by breaking down organic matter in a compost pile or bin and using the resulting finished compost as organic fertilizer.
Nitrogen-rich items like grass clippings and kitchen scraps combine in a 1:3 ratio with carbon-rich items such as dried leaves and paper, then allowed to decompose.
Compost is pH neutral; it won't reduce the acidity of your soil. Mix a few inches of your finished compost into the potting soil if you're growing carrot plants using container gardening, or dig it into your garden soil. Compost is full of natural nutrition, which your vegetable plant uses to produce a large harvest, whether you use it as natural fertilizer for potatoes, carrots, squash, or tomatoes.
Epsom Salt for Fertilizing Carrots
While they're often associated with bathing salts for aching muscles, Epsom salts are surprisingly valuable in the garden. The salts are available at many grocery stores and online. Depending on your preferences, they are simple to use as a brilliant granular fertilizer or mix into a liquid fertilizer.
Epsom salts are typically made up of magnesium sulfate and other trace minerals to aid in growing carrots. To use Epsom salts as a granular fertilizer, sprinkle them around the bases of your carrot plants and water.
Pour the warm water into a spray canister or watering can, add the salts, and shake or stir until dissolved. Water your carrot plants with the Epsom salt liquid instead of regular watering to provide a nutritious boost.
Follow the same basic recipe to use eggshells as plant food for cucumber plants, carrots, and your other veggies. They provide calcium to the soil and your plants.
Composted Chicken Manure is the Best Fertilizer for Carrot Plants
While all compost makes efficient carrot fertilizer, there are different types of compost. This root crop benefits from composted chicken manure. Whether growing carrots for the carrot green tops or crunchy roots, composted chicken manure increases the size and flavor of your plant.
Chicken manure is high in nitrogen, phosphorus, potassium, and calcium and rich in organic matter. The more nutritious the organic materials you put into your compost pile, the more nutritional value the finished compost will offer your carrot plants.
If you own chickens or can find some manure locally, give composting it a try to feed your carrots.
Banana Peel is a Natural Carrot Fertilizer
Though they seem like a waste product, banana peels are a potent garden fertilizer for your carrots. The peels are a common food waste item and are easy to toss into a sealed baggie and store in your refrigerator until you have enough to make fertilizer for your plants.
Banana skins are loaded with potassium, magnesium, calcium, sulfur, phosphates, and more. Make a liquid fertilizer by adding your peels to a large bucket, covering them with water, and leaving them overnight before straining the liquid into your watering can.
This banana tea or banana water is easy for giving all the nutrition from your peels to your carrot plants when you use it for watering as usual.
For granular fertilizer, dry your peels in the oven on low heat or in a sunny place, then crumble or grind them into powder. Spread this powder at the bases of your plants and water, carrying it down to the roots.
Make a DIY Fertilizer for Carrots Using Weeds
While it might seem counterintuitive, all those pesky weeds you pluck from your garden are an excellent source of nutrients for carrot plants. Next time you weed your garden, set aside the plants you collect and brew a batch of weed tea for your carrot patch.
Add the weeds and water to your bucket and leave the mixture to stand for a month, stirring weekly. Once brewed, use a fine mesh strainer or a piece of cheesecloth to filter out the liquid, removing all seeds to avoid accidentally infecting your garden. Use the mixture as liquid fertilizer to provide extra nutrients for carrot plants.
Coffee Grounds are Carrot Plant Food
Coffee grounds have many nutrients and make ideal carrot plant fertilizer as they are pH neutral. Some gardeners find it challenging to fertilize their carrot plants without reducing the soil's acidity.
Coffee grounds work well for acid loving plants as they don't alter the pH of the soil they are amending. Use coffee grounds as granulated fertilizer by sprinkling them over the earth, covering the roots of your carrot plants, and water deeply.
Making your own organic fertilizer is fun and rewarding. Skipping commercial fertilizers saves money and keeps toxic substances out of your garden and carrots.
Carrot plants thrive when provided with the nutrients they need to develop lush greens and large, flavorful roots. Making DIY fertilizer at home using food waste and other items is a budget-friendly and intelligent way to feed your carrot plants.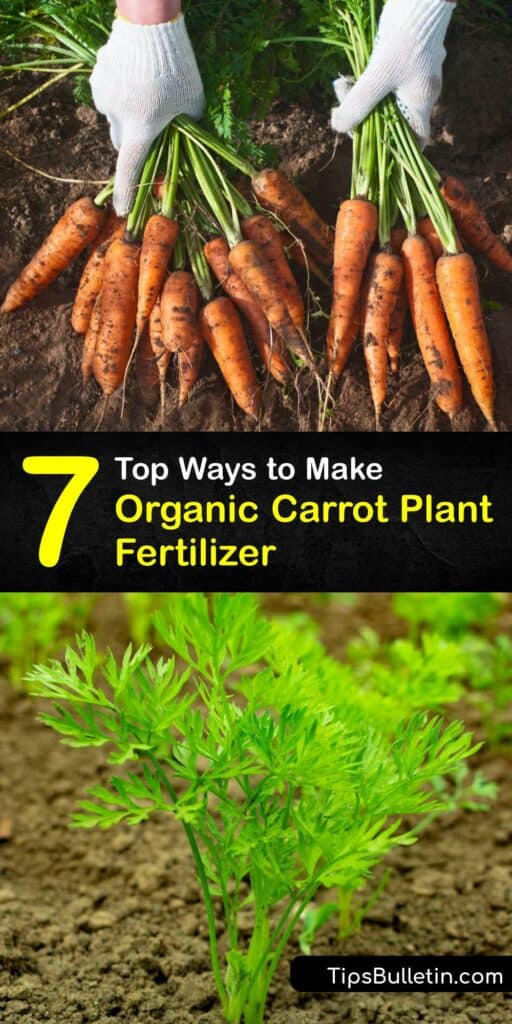 If you liked this article on homemade fertilizer for carrots, please share this brilliant information on organic carrot plant fertilizer with your friends and family on Pinterest and Facebook.