Homemade fertilizer offers a natural way to boost corn yield.
Gather your kitchen waste, like banana peels and coffee grounds, for compost.
If you have a fireplace, collect wood ash as a potassium-rich amendment.
Prepare weed tea by brewing pulled weeds in water for a nutrient infusion.
Utilize Epsom salt dissolved in water to provide magnesium for your corn plants.
Compost chicken manure to create a balanced and nutrient-dense fertilizer.
To create effective homemade fertilizer for your corn plants, start by collecting banana peels, coffee grounds, eggshells, and other organic kitchen waste. These can be composted to create a rich soil amendment full of essential nutrients. If you have a wood-burning fireplace, save the ash, as it's a great source of potassium and trace minerals for your garden. Brew a weed tea from weeds pulled out of your garden, which can be used to add a wide range of nutrients back into the soil.
Dissolve a tablespoon of Epsom salt in a gallon of water for a magnesium-rich fertilizer that's easy to apply. Finally, if you have access to chicken manure, compost it to create a nutrient-rich fertilizer that can greatly benefit your corn plants. These methods are not only easy and low-cost but also environmentally friendly, enhancing the health of your garden without the use of harsh chemicals.
As natural and organic gardening practices become more widespread, many gardeners are curious about homemade fertilizers for corn. Surprisingly, many waste products make excellent corn fertilizers. With the rise of GMO crops, growing your own corn and using organic corn plant fertilizer offer a natural way to keep the crops you and your family eat safe.
Whether you drink lots of coffee, eat bananas, or have Epsom salt in your bathroom cabinet, you already have key fertilizer ingredients at your fingertips. Commercial fertilizers are often costly and include harmful chemicals, so DIY fertilizers are viable alternatives.
Fertilizers are solutions or compounds sprayed and added to the earth to increase nutrient availability for your corn patch. Make a natural vegetable fertilizer for your home garden to add more nutrients, raise the overall health of your plants, and ensure they produce their maximum yield of tasty corn ears.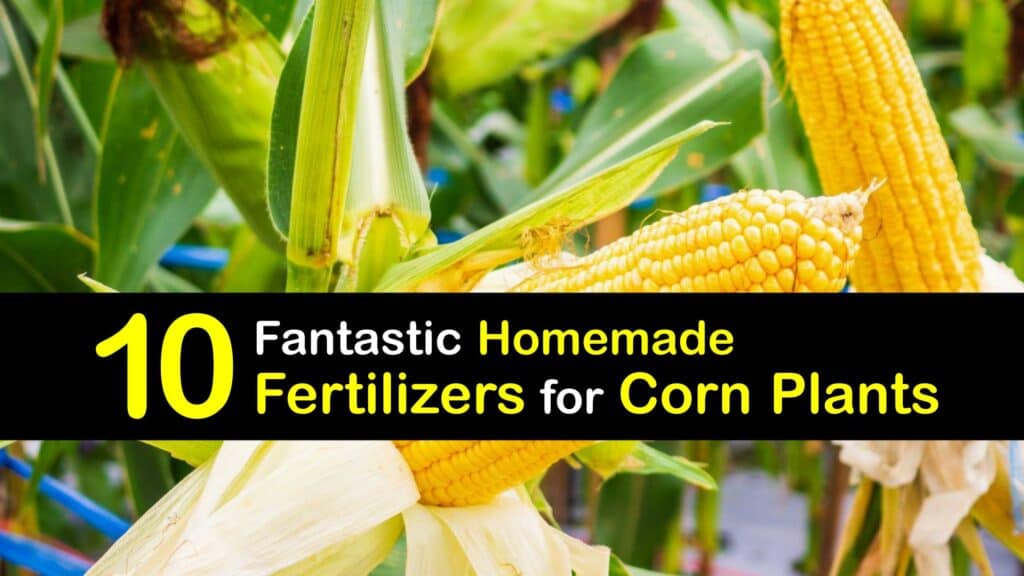 How to Fertilize Corn Plants with DIY Fertilizers
Learning how to fertilize corn reduces food waste and increases upcycling by educating gardeners on turning previously unwanted products into gardening gold to better the corn yield from their home garden.
Crafting homemade fertilizer for corn gives you control over the substances introduced to your food crops. Many organic corn plant fertilizer options are available and are simple to put together.
Learning how to fertilize corn allows growers to take charge of the chemicals in their garden, maintain an organic environment, and even save money. Follow our tips for planting corn at home for the best results in your garden.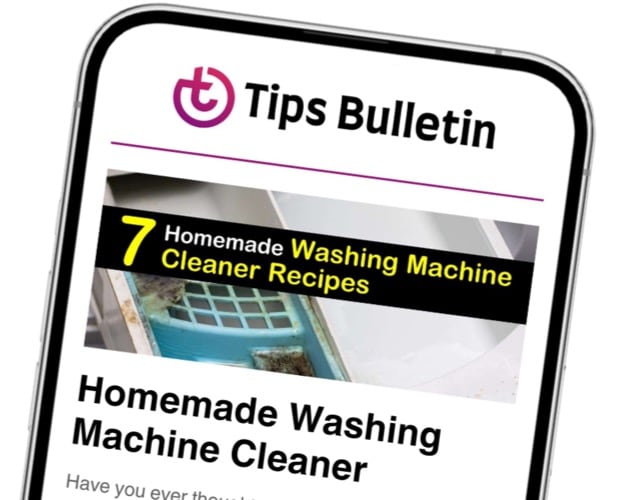 Finally, an email that Transforms Your Home.
Get the latest home and garden tips from our experts, delivered straight to your inbox.
Homemade Fertilizer for Corn with Seed Meal
Fertilizer frequently uses seed meals like cottonseed meal or corn gluten meal. Cottonseed meal is an acidic byproduct of cotton manufacturing best suited for plants preferring acid, such as tomato plants, as it lowers the soil pH.
Because of its high nitrogen content and widespread availability as a byproduct of the corn milling industry, corn gluten meal is the ideal nitrogen fertilizer to increase corn yield. Feather meal is a viable alternative.
Follow the instructions carefully when using seed meal to feed your garden to ensure you use the proper quantity and prevent under or overfeeding your corn plant.
Weed Tea is an Organic Corn Plant Fertilizer
Every gardener is familiar with weed control, though many forget the possibility of turning the weeds pulled from the garden into helpful fertilizer. Instead of commercial fertilizers, use free weed tea fertilizer to give any plant in your yard a boost of vital nutrients. Making weed tea is easy and makes excellent use of those pesky weeds.
Mix the weeds and water in a large bucket, cover it, and let it sit for about four weeks, stirring weekly. After brewing the tea, use a cheesecloth or sieve to remove the plant matter. Gather the seeds to discard, and you have a nutrient-rich liquid fertilizer.
How to Fertilize Corn using Epsom Salt
Epsom salt works wonders as a corn plant fertilizer. These aromatic salts are frequently used to relieve aches and pains because of their rich magnesium and sulfur concentration, yet they are beneficial in the garden.
Despite their salt categorization, Epsom salt does not build up in the soil or impair the condition of the ground. Corn plants produce more ears with Epsom salt fertilizer.
Dissolve Epsom salt in water and sprinkle your corn patch as normal to use Epsom salt as fertilizer for corn plants. Epsom salt works to keep snails and slugs out of your yard and prevents them from destroying your corn plants.
Fertilizing Corn Using Your Compost Pile
Compost is frequently used as a fertilizer or soil conditioner by many gardeners. Maintaining a compost pile allows you to repurpose waste and create rich organic fertilizer in your backyard. Nitrogen, phosphate, and potassium are found in compost.
Starting a compost pile or filling a compost bin is simple. Food scraps from your kitchen, such as leftovers, vegetables, fruits, and tea bags, may be mixed with yard waste, such as leaves, branches, and grass clippings. Composting increases your corn output, reduces food waste, and makes an excellent chemical fertilizer alternative.
Wood Ash – The Best Fertilizer for Corn Plants
If you maintain a garden, you likely have frequent fires to burn fallen branches and cut trees. Wood ash is a great free source of lime and potassium for corn and contains many helpful trace elements. Different types of wood make varying wood ash fertilizers.
The fertilizer has more nutrients if your wood ash is mainly made of hardwoods like oak and maple. If you burn softwoods like pine or fir, there are fewer nutrients in your wood ash.
Because wood ash develops lye and salts when it gets wet, it is best used sparingly or after being composted. Small amounts of lye and salt won't hurt your plants, but more significant amounts might burn them. Composting the ashes allows the lye and salt to drain, making them safer.
Poultry Manure is Natural Corn Fertilizer
Chicken manure is a readily available organic matter that is nutrient rich and straightforward to use as a fertilizer. Soil microbes break down the manure, performing nitrogen fixation to make the nutrients it contains readily available to your corn plants.
Poultry manure has over twice the amount of nitrogen and phosphorus as other animal manure like cow dung, and it makes the best manure to grow your home vegetable garden. It is a complete fertilizer, containing everything your corn plants need, whether you're using it as a starter fertilizer or after a soil test to make up deficiencies.
Chicken manure also improves your soil quality and aeration. Before applying manure to your corn patch, age it appropriately by composting to destroy any harmful microorganisms.
Make a DIY Fertilizer for Corn with Manure Tea
Make some manure tea as an ideal liquid fertilizer for organic farming. It removes the need for synthetic fertilizer products while promoting soil fertility and plant growth. Manure tea is best made outside as the stench of the manure is often overpowering when indoors.
Before using a sprayer to apply the combination to your corn, the manure must be allowed to soften and combine with the water for ten days. Your plants absorb the liquid, and the tea boosts the nutrients in the soil and shields your corn from pests.
Fish Fertilizer is Corn Plant Food
Fish fertilizer is a mild fertilizer, so it may be applied at any plant growth stage when used in moderation per label directions. Concentrated fish fertilizer is available at almost any garden center and must be diluted with water per the instructions before using it on your corn plants.
Fish fertilizer enhances soil health and promotes soil fertility by supplying the essential nutrients for corn plants to thrive. Besides the other crucial phosphorus and potassium minerals, fish fertilizers provide a ready supply of burn-free nitrogen.
Banana Peel is a Natural Fertilizer for Corn
Your old banana peels make a perfect organic fertilizer for sweet corn plants. Due to their high potassium content, banana peels are an excellent food source for keeping your corn plants healthy and boosting their resistance to diseases.
In addition to other nutrients, banana peels are a straightforward way to provide magnesium, sulfur, calcium, phosphates, and potassium. Some individuals compost banana peels; others use them to generate a liquid or granular fertilizer.
Crush banana peels into a powder or soak them in water overnight. Dry peels in the sun or baked at a low temperature until crisp and ready to crumble. Grind the banana peels into a fine powder, and mix it into the soil at the bases of your corn plants.
A quick and easy way to feed your corn plants is to cover the ground surrounding them with banana peels, which are rich in nutrients.
Using a Cover Crop for Corn Fertilizer
Your corn patch is usually left bare after harvest at the end of the growing season. Planting a cover crop at this time helps nourish the soil and acts as fertilizer for the next crop.
A cover crop creates a protective canopy to lessen the effect of rain on the soil surface, which slows down soil degradation. Reduced soil loss and less runoff results in fewer essential nutrients being transported away from your corn patch.
A cover crop routine enhances soil organic matter over time, improving soil stability and structure and increasing the soil's capacity to store moisture and nutrients for plant development. Raise soil quality with a cover crop by strengthening the soil's biological, physical, and chemical attributes.
Keeping growing conditions such as nutrient availability, soil temperature, and water within the ideal range makes it simple to increase corn yield and enjoy a large harvest. Homemade fertilizers are typically more cost-efficient than store-bought and chemical options, allowing growers total control over which compounds they introduce into the garden.
Whether you're interested in growing organic food or want to upcycle food waste into fertilizer, several DIY fertilizer options exist to fit any home garden.
If you enjoyed this article on homemade fertilizer for corn, please share this brilliant information on organic corn plant fertilizer with your friends and family on Pinterest and Facebook.