Anyone who grows grape vines in their home garden benefits from understanding how to craft homemade fertilizer for grapes. More and more growers worldwide are moving away from synthetic fertilizers and choosing natural and organic grape vine fertilizer to produce safer food. Chemical fertilizers contain unknown compounds and may be harmful to your health.
Fertilizers are a vital part of growing your grape vines. Without crucial nutrients, your plants become vulnerable to various health issues, from failure to thrive to pests and diseases. Since grapes take years to bear fruit and have a long and productive lifespan, it's intelligent to know how to best care for them.
Grape vines flourish when they receive the building blocks they require to develop and bear fruit. Find out how to fertilize grapes with everyday items and achieve more growth, healthier plants, and abundant fruits without relying on synthetic chemicals.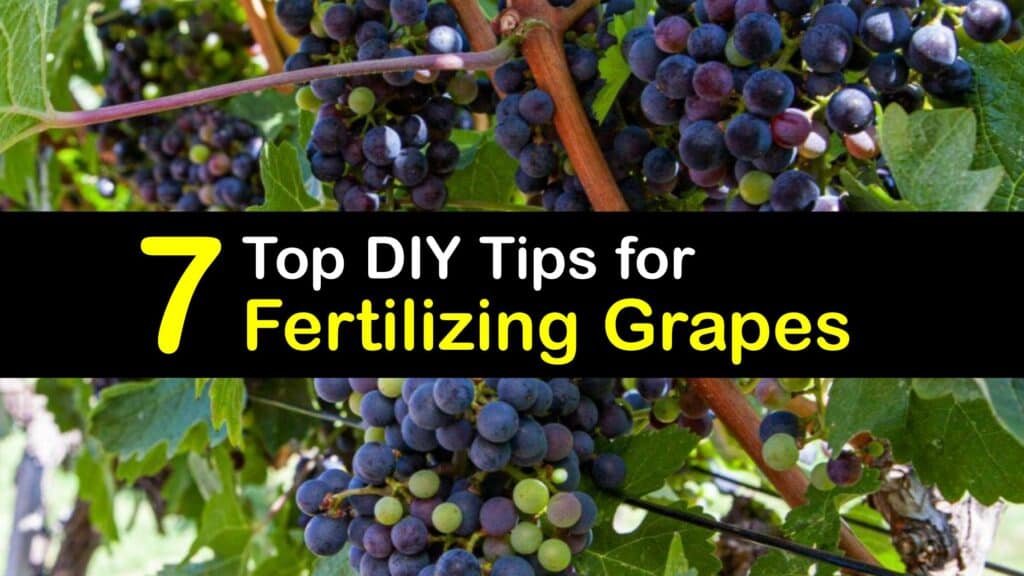 How to Fertilize Grapes with Simple DIY Ideas
Growing grapes can be so satisfying. While grapes are not among deer resistant vines, if you care for them properly, you'll enjoy tasty fat grapes for weeks. Craft homemade fertilizer for grapes to save money and keep your garden natural and chemical-free when growing climbing fruit vines. Whether you grow table grapes or make wine, jam, and juice, an organic grape vine fertilizer keeps your fruit free of dangerous toxins.
Fertilizers are essential to maintain the health of your vine and ensure a large harvest of succulent grapes. Choose natural fertilizers to produce a safe and quality product.
Homemade Fertilizer for Grapes with Coffee Grounds
Many people throw away the best organic fertilizer for acid loving plants every morning. Coffee grounds are nutrient dense and loaded with helpful compounds like nitrogen, phosphorus, and iron to enrich indoor plants or the garden soil for your grape and vegetable plants.
Since spent coffee grounds are slightly acidic, they're best used on acid lovers like grapes and sparingly on other plants. Use it to fertilize your mulberry bushes, too.
Add the grounds and water to a bucket and leave them overnight to steep. Strain the liquid out in the morning and apply it around the plants' bases or to the leaves as a foliar spray to fertilize. Coffee grounds make an effortless granular fertilizer, too. Sprinkle unwashed grounds around the bottom of your grape plants and water.
Try Weed Tea for Fertilizing Grapes
Using the weeds you collect from the garden as plant fertilizer seems counterintuitive, yet these nuisance plants are high in nutrients and a viable alternative to synthetic fertilizer. It's vital to make weeds into tea before you use them as fertilizer to avoid accidentally spreading more pesky plants in your garden beds.
Add the weeds to a five-gallon bucket, cover with the water, and leave the tea to steep for four weeks, mixing weekly. Once the tea brews, use a fine mesh sieve or cheesecloth to separate weed seeds and plant matter. Put the liquid tea in a garden sprayer and apply it to the soil at the bases of blueberries, huckleberries, and your grape plants.
Homemade Plant Food for Grapes with Egg Shells
Skip synthetic fertilizer and use nutritious eggshells to revitalize your container plants or garden grapes. Eggshells contain an abundance of calcium, and when dried and ground into small crumbles, their sharp edges keep unwanted visitors like slugs and snails off your grape vines.
Keep your eggshells in a baggie in the fridge until you have enough to make a batch of granular fertilizer. Spread the shells on a sheet pan and heat them on low in the oven until they're dry and brittle. Crumble the shells into the desired consistency and sprinkle the crumbles around the bases of your grape plants before watering.
Eggshells make the perfect organic strawberry fertilizer, too. When crunched into larger pieces, they also deter slugs from your plants.
Manure Tea is the Best Fertilizer for Grape Vines
Manure tea, or compost tea, is excellent for grape plant growth. Though manure is labeled as waste, it's laden with helpful nutrients to support vine growth, development, and production. Make this simple manure and compost tea recipe to benefit your grapes and many other plants in the garden.
Use whatever animal manure you have on hand – cow and chicken work well. Use cow manure for your garden compost for richer compost. Combine the manure with the water, then rest for ten days. Pour the manure tea into a garden sprayer and treat your garden soil to feed your grapes and deter pests. Grape vines given manure tea grow larger and produce more fruit.
Compost is a Natural Grape Fertilizer
Composting breaks down organic matter into finished compost for plant food. Nitrogen-rich and carbon-rich materials combined in a 1:3 mixture create the best circumstances for the breakdown of organic materials and waste products into something valuable.
Various composting methods exist, from worm bins in small spaces to large outdoor compost bins. Worldwide, many gardeners maintain a compost pile as it's an ideal source of nutrition for their plants without resorting to chemical fertilizer.
If your family produces a lot of organic waste, such as grass clipping material, yard trimmings, kitchen scraps, and old paper, start a compost pile for a source of free organic fertilizer for your grape vines. Finished compost gleans all its nutrients from the waste it's derived from, making it a nourishing grape vine food.
Make a DIY Fertilizer for Grapes with Epsom Salt
Epsom salts are a famous bath salt for aching muscles, and they're an invaluable addition to your garden tool shed. Epsom salt crystals are made up of magnesium sulfate and are effortlessly applied as a liquid or granular fertilizer to give your grape vines a boost.
Whether you need to treat a magnesium deficiency from your soil test or you've noticed your vine has yellowing leaves, mix a quick Epsom salt solution or apply the granules to remedy the problem.
Add the salt and water to a garden sprayer, shake to dissolve, and use this solution to water your grapevine as usual. To use Epsom salt as a granular fertilizer, sprinkle the crystals around the bases of your grape vines in a thin but even layer before regular watering.
Use Natural Items for Organic Grape Vine Fertilizer
There are various homemade fertilizers, and it's prudent to use the things you already have on hand to feed your grape vines. If you produce a lot of wood ash, it makes excellent grape fertilizer, and feather meal is an intelligent solution to feeding your plants if you raise chickens.
There is a vast range of plant fertilizers to use in organic gardening. Upcycle the waste products you can access and enjoy healthier and more productive grape vines without using chemicals.
Whether you're an organic gardener working on a budget or trying to improve the quality of your grapes, it's worth learning how to fertilize grapes without using chemical fertilizers.
Commercial fertilizers are expensive and full of dubious compounds. A little knowledge and resourcefulness allow you to use simple items you already have at home to reduce waste and fertilize your grapes naturally.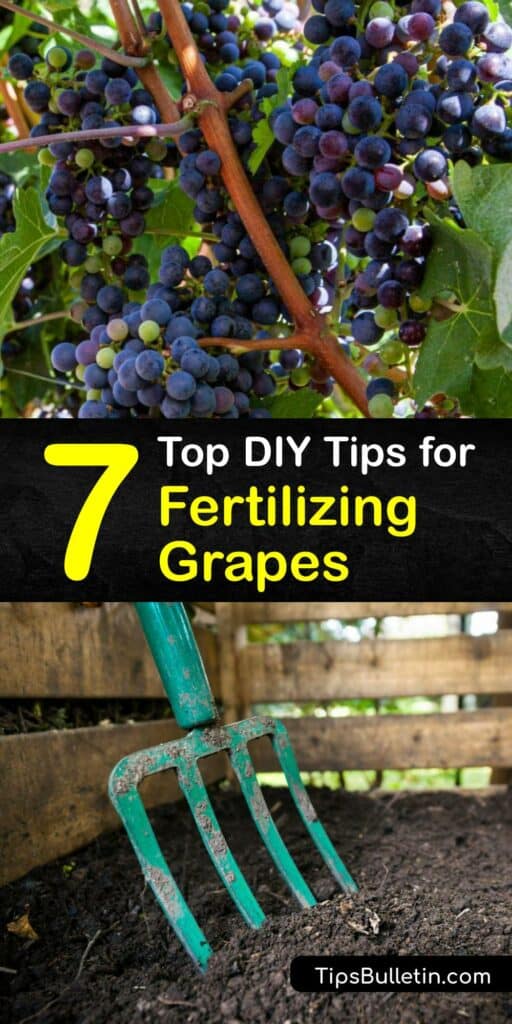 If you liked this article on homemade fertilizer for grapes, please share these brilliant tips on organic grape vine fertilizer with your friends and family on Pinterest and Facebook.