There are many bright and beautiful lettuce varieties in the world, and they all enjoy an application of fertilizer after sprouting. Discover how to make homemade fertilizer for lettuce with simple recipes. Enrich your soil quality and promote a healthy, hearty yield for a steady supply of luscious lettuce for the whole growing season.
Lettuce grows almost as quickly as grass, with some varieties germinating after just two days. It takes tremendous moisture and nutrients to sustain that growth rate, and that's where a bit of fertilizer knowledge comes in. Lettuce leaves thrive with a well-balanced, water-soluble fertilizer, a soil pH of 6.2 to 6.8, and plenty of moisture.
While there are ornamental lettuce cultivars, most people who grow lettuce intend to eat it. Avoid chemical fertilizer and inorganic fertilizer in favor of food-grade organic fertilizer. Whether you're growing leaf lettuce varieties for a continuous salad harvest, or delicious butterhead for sandwiches, there's a natural lettuce fertilizer for the job.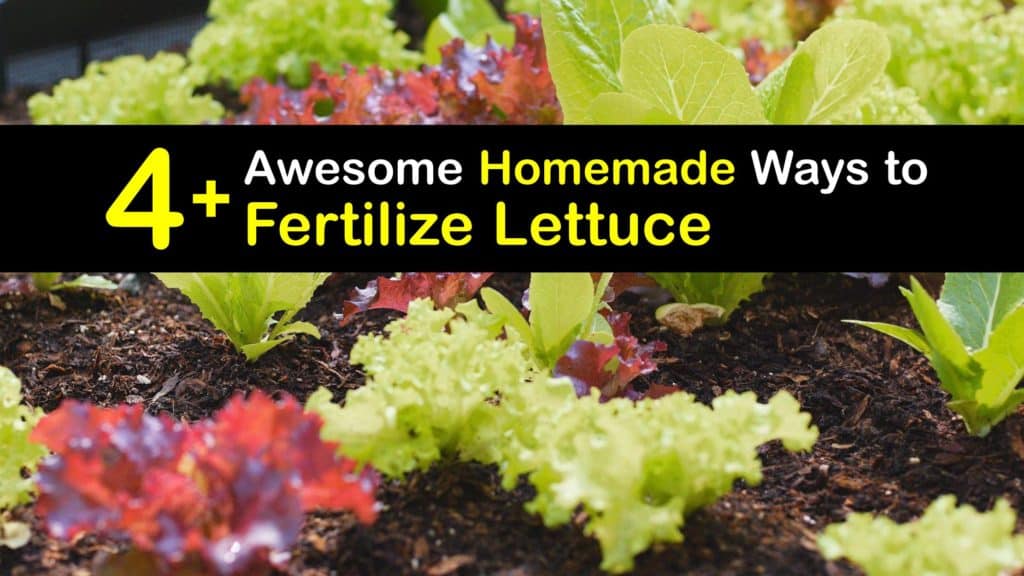 Discover How to Fertilize Lettuce with Homemade Recipes
Fortunately, lettuce doesn't need a lot of care when using typical solutions against bugs that eat lettuce and periodic fertilizing. The best way to plant lettuce depends on your space and the variety you grow.
Whether you're growing lettuce indoors or out, why get synthetic fertilizer when you can make your own? Producing homemade lettuce fertilizer is a big part of sustainable agriculture, and we've got some fantastic step-by-step garden fertilizers to try.
Of course, if you are regrowing iceberg lettuce or another type in water, it's not necessary to add fertilizer to the liquid.
Homemade Fertilizer for Lettuce with Eggshells
They say you can't make an omelet without breaking a few eggs, and the same is true when making organic lettuce plant fertilizer. Use crushed egg shells for tomato plants too. Egg shells clock in at about 93% calcium carbonate, which means they're excellent at lowering the pH of your potting mix to a suitable level.
Crush up a few clean eggshells and use them as organic matter mulch when planting romaine lettuce seeds and around the lettuce base to help deter weeds and protect the delicious lettuce leaves from slugs and snails. It's also a great way to fertilize eggplant and a variety of other garden veggies.
DIY Seaweed Fertilizer
Seaweed might not sound like the most high-tech homemade fertilizer for lettuce, but it's incredibly beneficial for plant growth in the garden and for potted plants. Manufactured seaweed fertilizer is expensive, and if you're growing a big crop, the costs of fertilizing lettuce add up quickly. Find out how to fertilize lettuce with inexpensive solutions and simple ingredients.
Fill the pot with four cups of cold water, and give the seaweed a good soak to remove salt and other impurities. Once clean, pour the seaweed and water into the blender to break down the seaweed for easy nutrient extraction.
Seaweed is rich in macronutrients like nitrogen and potassium, but roasting seaweed robs its beneficial properties. Always use unroasted seaweed varieties.
When the seaweed becomes pulpy, pour it back into the pot with four more cups of water to let it soak for at least six hours. Strain the seaweed liquid into a juice jug or watering can, add four more cups of water, and you've got the best fertilizer for lettuce plants that money can buy.
Don't stop at lettuce plants; seaweed fertilizer is excellent for just about any plant in the garden, such as vegetables, fruit trees, and flowers.
Manure Makes a Great Organic Lettuce Plant Fertilizer
Manure probably tops the list when most people think of organic lettuce plant fertilizer. It also makes for a great fertilizer for zucchini. Adding chicken manure, cow, or even bat waste injects raw, rich nitrogen into the soil. Nitrogen is responsible for new, green growth above ground and is essential for lovely lettuce leaves.
It's crucial to have a few tips about how to fertilize lettuce with manure to avoid burning the roots. Using manure as lettuce plant food encourages vigorous growth and good water retention in your garden soil.
Fresh manure is almost too rich for some delicate root systems and works best when composted before use. Mix a couple of inches of composted manure into the soil before planting your lettuce seeds to give your lettuce plants the best start, and watch them thrive through the whole growing season.
Homemade Compost Tea
Compost tea is made by steeping the nutrients out of weeds, grass clippings, and general yard compost to increase the presence of soil nutrients, mycorrhizal fungi, and predatory nematodes in garden soil.
Many gardeners swear by the benefits of steeping and using a home-brew compost tea. Here's a great recipe to try on your lettuce plants this growing season.
It's surprisingly easy to make a DIY fertilizer for lettuce. Many gardeners dump the compost straight into the bucket and then strain it after infusion.
However, we suggest stuffing the organic ingredients into a nylon stocking, tying off the end, and leaving enough rope to pull the bag of compost out when the tea finishes steeping; much less fuss.
Allow the compost tea to steep for 24 hours, occasionally stirring to encourage aeration. Apply your compost tea bi-weekly as an effective organic liquid fertilizer.
DIY Nutrient Solution for Hydroponic Lettuce
The lovely thing about lettuce is how easily it grows in various mediums. Hydroponic lettuce gardens are more popular than ever and offer the ability to have a diverse selection of greens on hand any time of year.
We haven't forgotten about our hydroponic gardeners – we've put together a few ideas to make your own nutrient solution and homemade fertilizer for lettuce.
It helps to have an accurate kitchen scale for this recipe, as precise measurements are essential in hydroponics. Once the nutrients are measured, pour 15 ounces of water into a clean container and carefully add each nutrient.
Give the bottle a good shake to dissolve all the components, and you have a fantastic liquid fertilizer to add to your hydroponics system weekly.
After fertilizing and loving care, it's important to know how and when to harvest lettuce for the tastiest and crispest leaves. Ensure your lettuce is fully ripe before plucking.
We hope you had a great time learning about plant food and how to make homemade fertilizer for lettuce. Of course, there are many food-grade organic fertilizers on the market today, such as Jobes Organics Granular Fertilizer or Dr. Earth All Purpose Plant Food. They certainly help with consistency and ease of application.
However, sustainable agriculture practices focus on self-reliance and meeting our needs without straining future resources. Homemade natural fertilizer is a wonderful way to begin your own sustainable agriculture journey, and we wish you luck making that lettuce garden grow!
If you loved learning about homemade fertilizer for lettuce, share this article with a friend on Pinterest or Facebook who loves lettuce and is always looking for homemade fertilizer facts.