Are you looking to ensure your success with growing pineapple? An organic pineapple plant fertilizer is essential for plant growth and fruit production. Create a homemade fertilizer for pineapple trees to ensure your mature or young pineapple plants flourish.
Ananas comosus, or pineapple, is an evergreen like Spanish moss that benefits from balanced nitrogen fertilizer. A pineapple tree is a tropical plant that demands fertilizer every two months, regardless of whether you grew it from a pineapple crown or seed. Whether you're planning to enjoy the sweet fruit or drink the pineapple juice, learning how to fertilize pineapple helps to ensure healthy fruit trees and an abundant harvest.
Pineapple fruits have a brown spiked husk with a narrow crown of leaves on top. Pineapples produce fruit in two to three years, provided they have access to correct nutrition. Avoid chemical fertilizer and blend your own organic fertilizer to ensure your trees produce sweet pineapple fruit.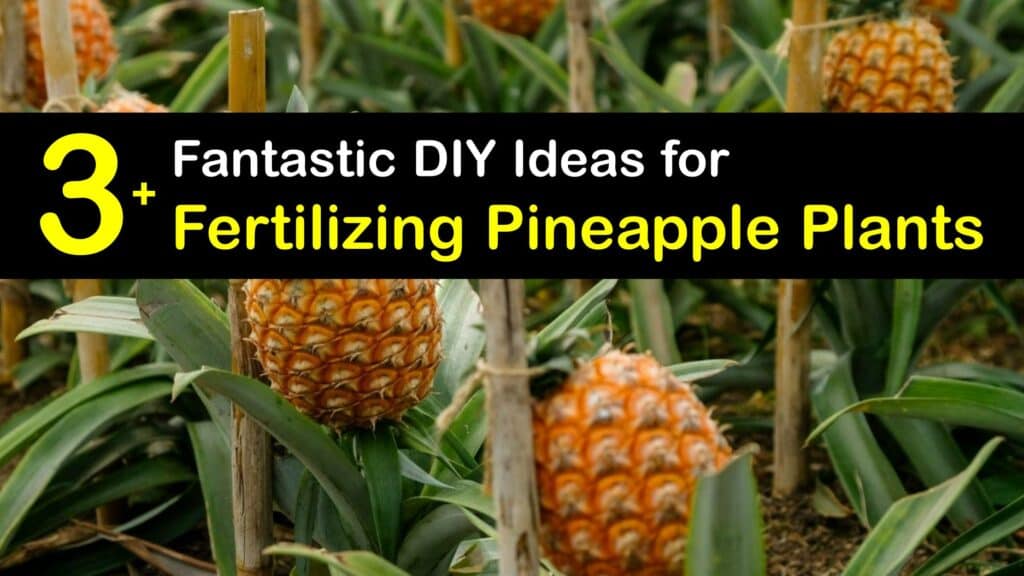 DIY Organic Pineapple Plant Fertilizer
Crafting your homemade fertilizer for pineapple saves money. It gives you ultimate control over the substances used in your food.
If you're thinking of planting pineapple or hope to maximize your harvest, you must know how to fertilize pineapple. Find out how to feed your pineapple trees with compost, coffee grounds, Epsom salts, and banana peels.
Compost Is Homemade Fertilizer for Pineapple
Compost makes the best soil and fertilizer for growing a young pineapple plant as it provides it with nutrients and improves the structure of your native or potting soil.
Homemade compost is free, unlike the store-bought alternative, and it's an organic fertilizer for everything from potted plants to fruit tree groves. When you grow pineapple plants, it's prudent to consider starting a compost pile.
Finished compost is a balanced fertilizer made from the breakdown of organic waste, like kitchen scraps, grass clippings, and manure. Microorganisms and the ideal environment for decay convert this organic matter into a balanced fertilizer packed with essential substances.
Finished compost is dark in color with the texture of garden soil. In addition to fertilizing your pineapples, compost enhances the soil structure by creating air spaces to improve root health and ward off diseases like root rot. Side-dress your pineapple plant with compost or place it in the planting hole when starting new trees.
How to Fertilize Pineapple With Coffee Grounds
Whether you plan to enjoy pineapple guava fruit salads or juice your homegrown pineapples, choosing the right plant food is essential. Healthy pineapple leaves lead to high-quality fruit. Use coffee grounds to craft a granular or liquid fertilizer ideal for growing pineapples indoors or in the garden.
Though we see them as a waste product after making our morning coffee, your spent grounds still carry many nutrients advantageous for pineapple plants. Sprinkle coffee grounds near the base of your trees and water them to take the minerals to the roots, or mix them with water for an easy-to-apply liquid fertilizer.
Transfer your used coffee grounds to the bottom of the bucket and cover them with water. Leave the fertilizer to steep overnight and strain out excess coffee grounds using the cheesecloth. Transfer the remaining liquid to a sprayer or watering can and apply it generously to fertilize the soil around your pineapple trees.
Despite this fertilizer being made with used coffee grounds, pouring your unwanted prepared coffee drink onto your pineapple plants is not a good idea. Coffee is mixed with additional substances such as creamer and sugar, which are not helpful and could cause harm to your fruit trees.
To make the process convenient, save your coffee grounds for several days until you have a large enough batch to craft enough fertilizer for all your trees.
Epsom Salts for Fertilizing Pineapple
Although typically used as bath salts, you can make your own fertilizer for watermelons and pineapple with Epsom salts. Known for their ability to relieve aches and pains and soothe sore muscles, Epsom salts comprise tiny magnesium sulfate crystals.
Magnesium and sulfur are vital for pineapple growth and leaf development, so Epsom salts are a valuable tool for feeding pineapples. Sprinkle Epsom salts directly around the base of your pineapple plants and water them in, or create a simple foliar spray to use instead of water.
Stir the Epsom salt into the warm water until it dissolves, and use the spray to apply it to the leaves of your plant throughout the growing season. Epsom salt fertilizer is ideal for feeding the mother plant or starting new plants from pineapple crowns. Fertilizing your trees with Epsom salts ensures a large harvest of fresh pineapple.
Banana Peel Pineapple Plant Food
Banana peels are natural pineapple fertilizer; using them is an excellent step in reducing food waste. We only consume banana fruit, but the skin is rich in compounds like calcium, magnesium, and phosphorus.
Place your banana peels on a baking sheet and bake them at a low-temperature setting in the oven until they crumble easily into tiny granules. Sprinkle these granules on the soil around your pineapple plants, and water well.
If you prefer liquid fertilizer, use banana peels to create banana peel tea. Drop the peels into a bucket and cover them with water overnight to extract the nutrients. Strain out the peels and add them to your compost pile. Use the resulting solution to water your pineapple plants.
As synthetic fertilizers' health issues and lasting effects become widely known, more gardeners are turning to organic pineapple plant fertilizer products. Creating your own fertilizer gives you a thorough knowledge of the compounds introduced into your food. You'll know a pineapple is ready to harvest when the fruit is soft and smells like sweet pineapple juice.
Fertilizing pineapple plants can support leaf and fruit development, encourage growth, and enhance their resistance to pests and diseases. Don't expose your family to toxic chemical fertilizers. Reduce food waste and your environmental footprint by making your own pineapple fertilizer.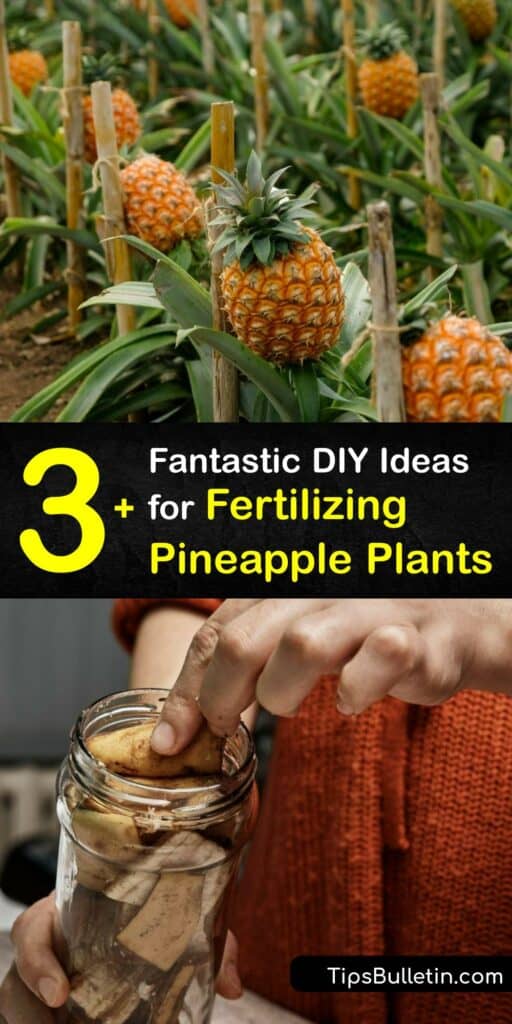 Using a homemade fertilizer for pineapple promotes growth, so share these tricks on how to fertilize pineapple with your friends and family on Pinterest and Facebook.