When gardeners plant strawberries, the goal is to produce lots of tasty fruit, so a homemade fertilizer for strawberries is beneficial. Many options exist for efficient DIY fertilizer, whether you're practicing natural gardening methods and want to make an organic strawberry plant fertilizer or learn how to fertilize strawberries to improve your plant's fruit production.
The garden strawberry is a low-maintenance perennial fruit plant that provides bountiful harvests for several years. It has a low-growing, spreading habit, abundant deep green, grooved leaves, and little white flowers. The fruits emerge from the tips of leafless stalks.
Individual plants aren't extremely fast-growing, but runners help them spread swiftly and fill a strawberry patch in no time. Each strawberry plant can produce as much as one quart of strawberries every season in ideal conditions. Whether organic, homemade, or commercial, fertilizer capitalizes on this natural production ability, so each plant produces its best yield.
How to Fertilize Strawberries with DIY Fertilizers
It's easy to make liquid and granular homemade fertilizer for strawberries and it's the best way to grow strawberries for the biggest yield and most succulent berries. DIY fertilizer options such as manure tea or coffee grounds are often more cost-effective than their commercial counterparts.
Homemade mixtures offer peace of mind for the organic gardener seeking an organic strawberry plant fertilizer, knowing exactly what went into them.
By learning how to fertilize strawberries with homemade solutions, growers have the freedom to supplement their plants as they see fit without worrying about harmful or toxic chemicals, cost, or availability of store-bought products.
Critical Nutrients for Fertilizing Strawberries
Strawberry plants receiving DIY fertilizers require the big three macronutrients found in commercial fertilizers: nitrogen, phosphorus, and potassium (known as NPK). It's the best fertilizer for strawberries grown in planters, the ground, potted plants, and everywhere else.
The most important of the three, nitrogen, aids plant growth and fruit production of a strawberry plant. Potassium boosts a plant's resistance to infection and pests and fortifies its root system, while phosphorus improves its ability to store and use energy.
When planting strawberries in the spring, apply a 10-10-10 mixture of these elements in the planting hole. Another application is due in July to encourage new growth. It's crucial not to use too much fertilizer as this may backfire and reduce the strawberry harvest.
What to Expect from Your Plants
Even the best fertilizer won't make a plant outproduce its natural capability, though it can maximize it. Growing strawberries is a lot of fun, but keeping your expectations in check is essential.
Because strawberry bushes often don't produce many (if any) berries the first year, you may have to modify your expectations. You might see some berries, though they'll likely be squishy and mushy and won't taste pleasant.
With outcomes like these, it's easy to see why removing the flowers the first year makes sense. Removing the blooms in year one prevents the plant from fruiting and spending energy on berry production when the plant could instead use it to produce stronger roots.
Expect a fantastic berry harvest the second year. This growth cycle is applicable to whatever strawberry plant you want to grow.
All strawberry types follow this trend and generally cannot be expected to produce well in year one.
Homemade Fertilizer for Strawberries with Epsom Salt
Epsom salt is typically used to relieve aches and pains with its high magnesium-sulfur concentration though it makes an excellent strawberry fertilizer for your strawberry patch.
It helps strawberry plants flower and fruit more effectively, and despite being called a salt, it won't build up or degrade the soil quality. Epsom salt is will repel snails and slugs, too.
Dissolve the salt in water and water and apply the Epsom salt mixture to fertilize strawberry plants or use it at the bottom of the hole when you grow strawberries from seeds indoors or have seedlings outside. This is a great organic vegetable fertilizer for many other fruits and veggies, too.
Manure Tea is an Organic Strawberry Plant Fertilizer
When combining well-aged manure and water to make a fertilizer tea, you'll probably want to work somewhere outside as it may get smelly thanks to the organic matter. This recipe is perfect for any strawberry variety, including organic strawberries, if you're practicing organic gardening.
Combine the manure and water and soak the mixture for ten days before administering to your strawberry bed using a sprayer. The strawberry plants absorb the organic fertilizer liquid, which turns tea-colored when ready.
The tea improves soil nutrients while also warding off pests. Manure tea aids in the growth of healthier and more abundant strawberries throughout the growing season. Use it as homemade fertilizer for blackberry bushes and many other plants to improve the soil and yield healthier produce.
How to Fertilize Strawberries with Coffee Grounds
Many people desire a cup of coffee to awaken properly in the morning, and coffee grounds, with their high nitrogen content and acidity, rouse strawberry plants, too. Strawberries do best in acidic soil when the strawberry soil pH is between 5.5 and 6.9.
When you plant strawberries in zone 6 or another zone, you're not finished with plant care. Because your planting hole is already packed with the root ball, NPK fertilizer, and compost, it's better to use this fertilizer after planting. Either sprinkle some coffee grounds around the plant base before watering or create a coffee ground liquid fertilizer.
Soak the grounds in the water overnight; there's no need to remove them before pouring the liquid onto your plants. Because of the high nitrogen concentration, this DIY mixture should only be used when your plants need a boost. As an added benefit, coffee grounds sometimes get bugs out of strawberries as they don't like the smell.
Banana Peel is a Natural Strawberry Fertilizer
Bananas are high in potassium, which facilitates your strawberry plants staying healthy and resilient to bacterial and fungal illnesses. It's also a great DIY fertilizer for zucchini. Soak banana peels in water overnight, similar to coffee grounds, or process them into powder.
Leave some peels in the sun to dry or bake them at low heat until they're crispy. Crush the banana peels into a powder and sprinkle it over the base of your strawberry plants.
Banana peels are high in calcium, magnesium, phosphates, sulfur, and potassium. Gardeners can compost banana peels or prepare a banana liquid or powdered fertilizer. In any case, banana peels are a cost-friendly approach to supplementing your strawberry plants with nutrients.
Compost is Strawberry Plant Food
Before mounding soil around a root ball, many strawberry producers add a 2-inch layer of compost – a natural nitrogen, phosphorus, and potassium companion. Another strawberry grower may cover the earth with a layer of compost after planting strawberry seedlings.
Yard cleanups are perfect for putting together a compost pile or placing the materials in a compost bin. Yard debris, such as grass clippings, leaves, twigs, and branches, may be mixed with food waste from your home, such as salads and other vegetables, fruits, cereal, tea bags, and even leftovers.
Composting reduces food waste while also improving the plumpness and juiciness of your strawberries. Taste the difference when you pick strawberries off the plant and pop them in your mouth.
Compost is one of the best natural fertilizers for eggplant and other vegetables in the garden, as well. It's worth the effort to start a compost pile or bin.
Precautions When You Make a DIY Fertilizer for Strawberries
Mistakes happen, and it is possible to accidentally make a homemade fertilizer that damages your plants. Whether you're new to planting strawberries or you grow strawberry patches every year, test your DIY fertilizer on a single plant or part of your strawberry tower before making a widespread application.
Purchasing the Best Fertilizer for Strawberry Plants
A wide array of commercial products like Down To Earth All Natural Acid Mix Fertilizer are available to purchase if you prefer not to create your own fertilizer for growing strawberries.
To fertilize strawberry plants efficiently, growers must ensure their berry plant gets all the required nutrients; a commercial fertilizer makes it easy. Always read the instructions and use commercial products per the manufacturer's guidelines to avoid harming your growing strawberry beds.
Granules vs Liquid Fertilizer
Most growers have a preference when it comes to using strawberry liquid fertilizer or granular fertilizer. Because granules are sprinkled directly onto the soil's surface and then watered, they might give a sense of confidence. Liquid fertilizer is enticing since it only requires one step – spraying it onto plants and forgetting about it.
Applying the fertilizer and ensuring your plant receives the nutrients to thrive is much more important than the approach.
Fertilizing strawberries works on the principle of providing the plants with crucial nutrients to support their growth, health, and fruit production. Growing strawberries is a fun project, and ensuring a large crop of tasty berries by fertilizing makes the work worth it.
Homemade fertilizers are cheaper, and they help tackle other issues like reducing toxic compounds in the garden and cutting down on food waste by using food scraps as fertilizer.
DIY liquid and granular fertilizers are easy to make and suitable for all growers to use in the strawberry patch to help ensure they raise healthy plants and produce the largest harvest of berries possible.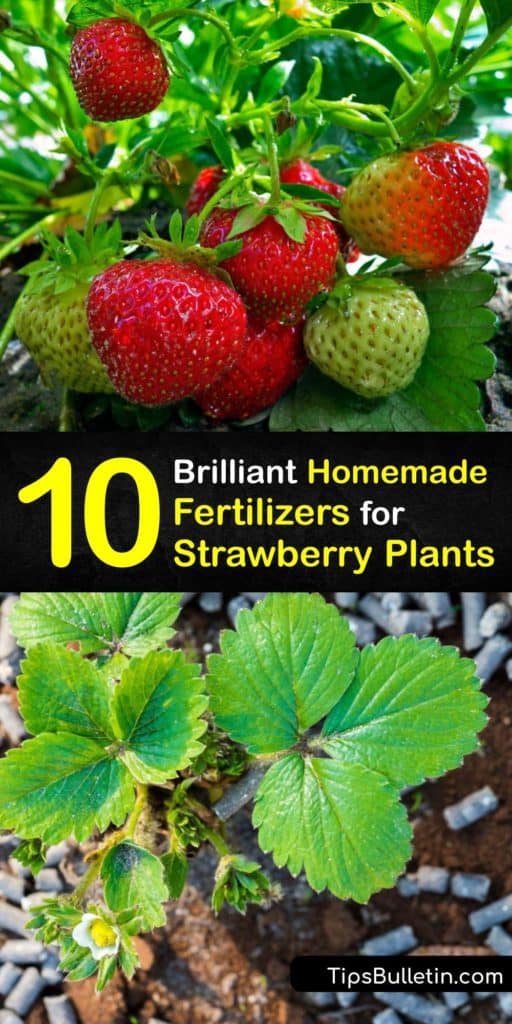 If you loved this article on homemade fertilizer for strawberries, please share this information on organic strawberry plant fertilizer with your friends and family on Pinterest and Facebook.