Every home garden needs a few gorgeous sweet potato plants. The sweet potato tuber is pretty low maintenance as far as root vegetables go. However, it still needs a balanced fertilizer to look and taste its best. Discover how to make homemade fertilizer for sweet potatoes with this handy planting guide, and harvest the best edible sweet potatoes on the block.
Ipomoea batatas or sweet potato plants aren't traditional white potatoes, nor are they true yams. Sweet potatoes are morning glory family members; it's easy to see the resemblance when comparing the sweet potato vine and leaf formations.
These sun-loving tubers are popular in the Southern United States because the warm weather makes cultivation easy. Growing sweet potato requires a good balance of macronutrients, such as nitrogen, phosphorus, and potassium. Learn how to deliver an organic fertilizer for potatoes to grow the best plants with simple ingredients.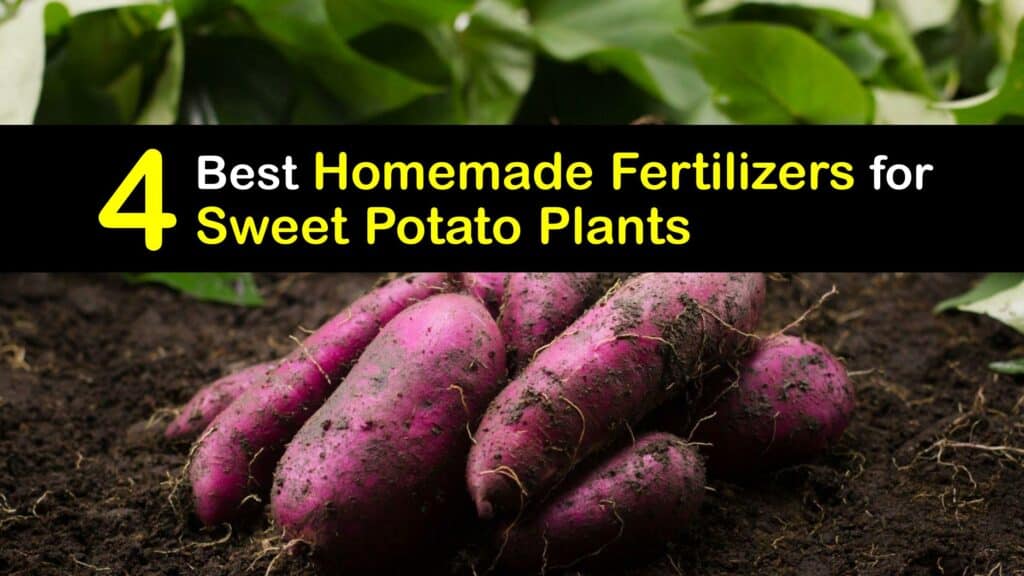 Discover How to Fertilize Sweet Potatoes
Before you can harvest sweet potatoes, you must care for them and ensure adequate vitamin and mineral distribution through proper fertilization. Find options for the best fertilizer for sweet potato plants in this planting guide.
No matter your growing season, it's possible to plant and nurture any sweet potato plant with these helpful hints. You can also discover the best plants to grow next to sweet potatoes to create a maximum yield through companion planting.
Sweet potatoes don't grow from seed like many other vegetables. Instead, they grow from sweet potato slips. A sweet potato slip is a sprout grown from established sweet potatoes or a seed potato. Plant sweet potato slips in sandy soil with full sun to create the ideal growing conditions.
Avoid animal fertilizers, such as cow manure or granular fertilizer pellets containing chicken manure. These types of fertilizer aren't ideal sweet potato plant food because they encourage spindly root growth.
Heavy nitrogen fertilizer is also a no-go because it promotes green top growth, which may rob the tender roots of nutrients, making a small harvest.
Put Your Old Eggshells to Use as Fertilizer
Eggshells are an excellent option for organic sweet potato plant fertilizer because they only contain about 1% nitrogen. Make a DIY plant food for zucchini with eggshells; they also contain fundamentally essential nutrients like calcium and phosphoric acid.
To recycle your old eggshells, crush them into a powder and water them through the soil once a month. Use eggshell fertilizer all around your home garden; treat that neglected fruit tree, shrub, or bush and watch it bounce right back.
Organic Sweet Potato Plant Fertilizer
A simple seaweed mixture goes a long way when fertilizing sweet potatoes. Chop eight cups of fresh or dried seaweed and toss it in a bucket with about three gallons of water. Loosely cover the top and allow it to ferment for about three weeks.
To use your organic sweet potato plant fertilizer, fill a watering jug with a 1-to-1 mixture of seaweed fertilizer and water. Add this fertilizer mixture to your potting soil monthly and watch your sweet potato leaves flourish.
Try Organic Compost for Sweet Potatoes
There's more to healthy garden soil than knowing how to fertilize sweet potatoes. For better, more improved growing conditions, try organic compost. Start kitchen compost with old coffee grounds, banana peels, and other organic matter.
Compost provides the soil structure and encourages helpful microorganisms to process the organic matter into nutrients. These amazing nutrients are then released back into the earth for your growing potatoes to enjoy.
Homemade Fertilizer for Sweet Potatoes
Explore how to fertilize sweet potatoes with molasses. Along with blackstrap molasses, using Epsom salt for sweet potato plants makes a fertilizer when mixed with bone meal. Follow this quick and easy guide to make a DIY fertilizer for sweet potatoes.
Blackstrap molasses contains many helpful nutrients for growing sweet potatoes, including carbon, calcium, potassium, and magnesium. This homemade fertilizer for sweet potatoes is easy to make; just combine the ingredients in water. Apply this fertilizer to the soil before planting potatoes, then monthly until the end of the growing season.
We hope you enjoyed this planting guide to homemade fertilizer for sweet potatoes. Creating your own natural sweet potato fertilizer for use around the home garden is easy and inexpensive. It may even help you recycle some unwanted food scraps in the process.
Avoid using animal and nitrogen-rich fertilizers for sweet potatoes, and don't over-fertilize sweet potatoes. They're not fussy and grow most productively in balanced, sandy soil. Follow these tips to have such a big harvest you might need a book of sweet potato recipes.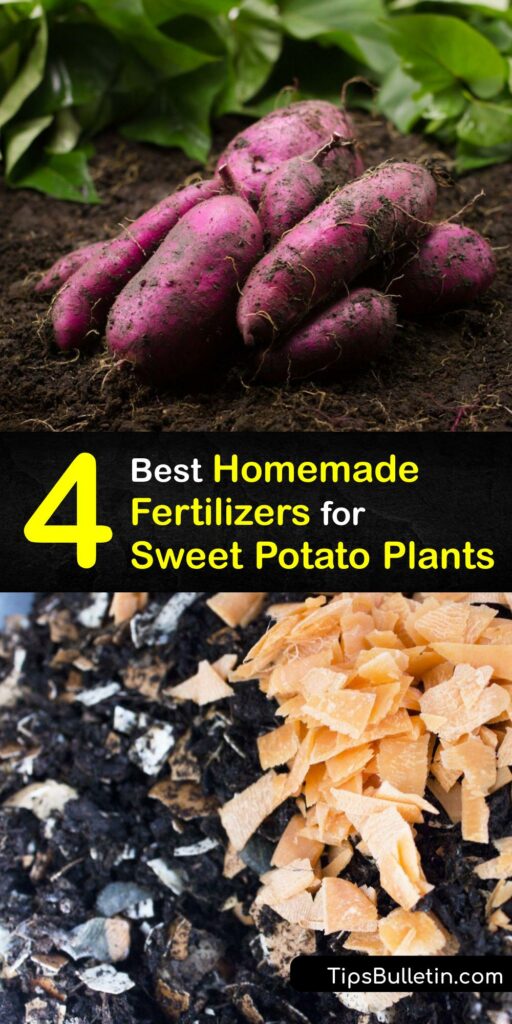 If you loved learning how to make homemade fertilizer for sweet potatoes, share this article with friends on Pinterest or Facebook who love sweet potatoes and DIY garden projects.