Watermelons are a highly rewarding crop for any home garden. They are relatively easy to grow, somewhat tolerant of soil conditions and pests, and produce a crop at a reasonable rate. Watermelons grow well with a standard all-purpose fertilizer, but using a homemade fertilizer for watermelon may be more beneficial.
When using a homemade fertilizer, you can tailor the nutrients your plant receives and ensure your watermelon gets exactly what it needs. Commercial fertilizers provide nitrogen, potassium, and phosphorus in varying amounts.
Even fertilizers that are heavy in one nutrient are not tailor-made to suit your watermelon plant's growth. Popular granular fertilizers like cottonseed meal provide unbalanced nutrients, making it an excellent nitrogen fertilizer without phosphorus.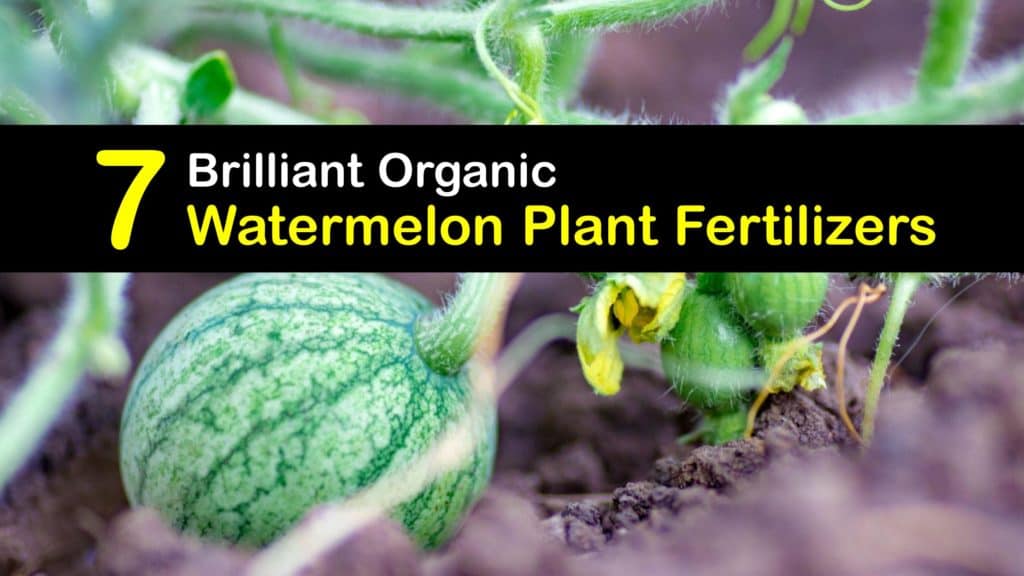 Making an Organic Watermelon Plant Fertilizer
Commercial options like chemical fertilizers lack efficiency as the fertilizer washes away easily. To properly feed your watermelon plants, provide them with nitrogen to promote plant growth.
As they grow past the flowering stage, switch to a fertilizer that uses potassium and phosphorus. The addition of these fertilizers later in the plant's life improves the movement of water and nutrients in the plant's tissue and improves your plant's ability to produce healthy fruit.
Like fruit trees, watermelons are acid loving plants that enjoy growing in nutrient-rich soil because they are heavy feeders. Creating the best fertilizer for watermelon plants involves a soil test to understand your garden soil conditions, pH, and organic matter content.
Fertilizing Watermelons for Taste
If you've grown watermelon in the past and were disappointed by its poor taste, your garden could lack essential minerals like magnesium and boron.
A deficiency of these minerals may result in your watermelons growing flat instead of their signature round or oval shapes. To give your watermelon plants the proper nutrients, add these minerals to your garden using Epsom salt and Borax.
Dilute your solids in a five-gallon tank sprayer to create a liquid fertilizer for your watermelon plants or as a homemade eggplant fertilizer. Apply this mixture to your garden before fruit production starts to sweeten the incoming melons.
Homemade Fertilizer for Watermelon Plants Using Coffee Grounds
Due to their strong smell, we sometimes use coffee grounds as an odor fighter; however, coffee grounds are also helpful in the garden as a natural watermelon fertilizer or as a natural zucchini fertilizer. Adding coffee grounds to your garden boosts the acidity of your soil and adds nitrogen once the grounds break open.
Here's how to fertilize watermelons with coffee grounds. To improve your soil's pH, sprinkle an even layer of grounds around your garden and thoroughly water the area. Another way to use coffee grounds is to soak them in water for a week and add the diluted coffee water to your garden.
Amending the Garden Soil with Manure
Although watermelons grow in various soil types, the best is loamy soil with a sandy texture. Before planting watermelon seeds, amend your soil with manure, compost, and organic materials like leaves. Follow the same procedure for the best fertilizer for strawberry plants and other fruits and veggies.
Spread two inches of this mixture across the planting area for your watermelons or as a natural potato fertilizer and incorporate it into the soil. Avoid using manure from meat-eating animals to avoid the added risk of bacterial infections in your plants. Sheep, horses, cows, and poultry produce the best manure to use as organic watermelon plant fertilizer.
Add Banana Peels for a Potassium Boost
Potassium is a vital nutrient for watermelon plants, and without it, your plants could have stunted growth and issues with melon production. Having adequate potassium also promotes healthy plant growth and resistance to plant diseases.
Watermelon plants require a lot of potassium, especially as fruit is ripening, and without it, your plant could suffer from leaf scorch. This damage shows itself on older leaves as brown spots around the outside of the leaf that spread inward.
To avoid these issues, add banana peels to your garden soil after sowing watermelon seeds as a form of watermelon plant food. Leaving peels in the soil allows them to naturally decompose and fill the soil with potassium for your watermelons to absorb.
How to Use Grass Clippings as Organic Fertilizer
Although it is unsightly, many leave grass clippings in their yard and allow them to decompose naturally. This habit is often beneficial because grass contains nitrogen which gets fed back into the soil as the grass decomposes. This idea also applies to your garden when growing watermelon plants.
The next time you mow the grass, use a bag to collect the clippings or rake them into a pile. Sprinkle grass clippings around your watermelon to act as an organic mulch and a fertilizer once the grass decomposes.
Make a DIY Fertilizer for Watermelons with Weeds
When growing watermelon plants, weeds are a nuisance to avoid by mulching the area because plants do not enjoy the competition for nutrients when growing near weeds.
However, using weeds as a form of fertilizer is helpful when trying to grow watermelon plants. Rather than reusing weeds directly in your garden, gather weeds in a bucket with water to create a liquid fertilizer.
Fill a bucket less than halfway with weeds from your garden or yard. Fill the rest with water and leave it to sit for a week. Once the water turns brown, it's ready. Strain out the weeds to avoid adding damp weeds when pouring the water to fertilize your melon plants.
How to Fertilize Watermelons with Molasses
Molasses comes from a few different sources, but it creates a thick dark liquid often included in baked foods as a sweetener. Because molasses comes from natural sources like sugar beets, molasses has lots of minerals and vitamins.
Blackstrap molasses is high in potassium, sulfur, and magnesium and comes from boiling sugar in a refinement process. To use it as a fertilizer, mix molasses with water and spray it directly onto your plant's leaves or pour it onto the soil.
Growing Watermelon
Watermelon is a warm-season crop that requires three months of warm temperatures for watermelon seed germination and growth, similar to the best time to plant cantaloupe. Aside from proper fertilizer, growing watermelon when temperatures remain between 70 and 90°F is essential to harvesting juicy and sweet melons.
When digging holes for watermelon seeds during watermelon planting season, leave three to six feet between each seed to avoid the watermelon vines overlapping as they grow. One way to prevent overlapping plants and save room is to include a trellis or another form of support for your plant's vines.
If you're low on garden space or are looking to grow smaller melons in containers, try growing one of the small watermelon varieties. For container growing, use a well-draining potting soil or peat moss for its acidic pH, which watermelons love.
Sugar Baby watermelons are popular watermelons known for their small size and sweet taste. They are ideal for growing watermelon in a small space or pot. These melons reach maturity about three months after planting and grow around eight inches in diameter.
Mini Love is a compact hybrid of watermelons that grow melons just big enough for a single serving. These melons mature in about 70 days, and their plants produce about six melons per vine.
Yellow Petite is a perfect choice if you want to grow a small watermelon variety that matures quickly. This type of watermelon reaches maturity in a little over two months, making it ideal for gardeners with short growing seasons.
Note: Despite its name, Watermelon Peperomia is not a fruit-bearing type of watermelon plant. This flowering plant is known for its round leaves that resemble the pattern of watermelon rinds.
Tips for Caring for Watermelon
Because watermelon thrives when grown in a nutrient-rich environment, knowing when to use fertilizer is key to a successful harvest. Black Diamond watermelons do well when grown in organic material, so use compost or manure in your soil at the start of the growing season. Mix compost or manure with the top six inches of soil before planting.
You may find damage affecting your plant's growth while growing watermelons. Common issues gardeners face are caused by using too much fertilizer or poor fertilizer application, which leads to fertilizer burn. Using organic fertilizer and applying fertilizer to dry plants and soil are the best ways to avoid fertilizer burn.
Another issue for watermelon plants is powdery mildew, which comes from a fungus that the wind carries onto nearby plants. Once infected, plants show signs of fungus through yellow spots on the plant leaves that affect your plant's ability to photosynthesize.
The white fungus of powdery mildew develops from these spots and looks like powdered sugar on the leaves of your plants. Treat this infection with organic fungicides like neem oil.
After growing watermelon and giving them the appropriate care, the best part of the process is picking watermelon. Check your variety for harvest time for the ripest and tastiest melons.
Watermelons are pretty straightforward to grow under the right conditions and weather. Using organic watermelon plant fertilizer only improves the odds of producing a melon that your entire family will enjoy this summer.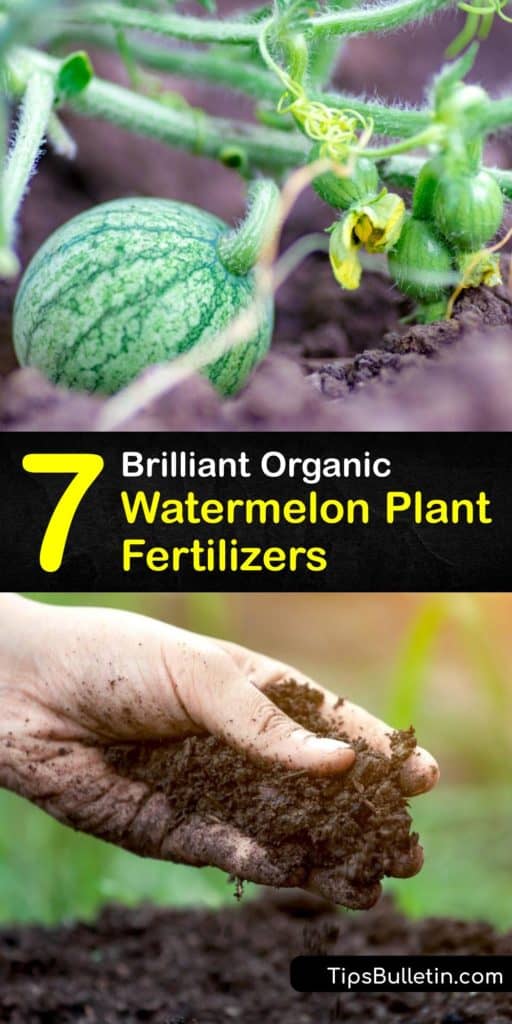 We hope you're able to grow beautiful and delicious fruits with our advice on homemade fertilizer for watermelon plants and will share our tips on how to fertilize watermelons with your friends on Facebook and Pinterest.