A homemade fruit fly repellent is the ideal solution to keep fruit flies away from your home and outdoor areas or eliminate them if they're already present. Fruit flies, also called fungus gnats, are renowned for their capacity to multiply rapidly.
They seek decaying organic matter like garbage disposals and trash cans and moisture like potted plants. The insects use these sites to feed and lay their eggs, soon becoming a cloud of tiny flies buzzing around unpleasantly.
Save money and time by setting up a natural fruit fly repellent to eradicate pesky fungus gnats from inside and outside your house. When you have pets and kids, it's tough to find a treatment for pests that is safe and non-toxic. However, many home remedies for repelling fruit flies use everyday items you already have and offer affordable and safe ideas for fruit fly control.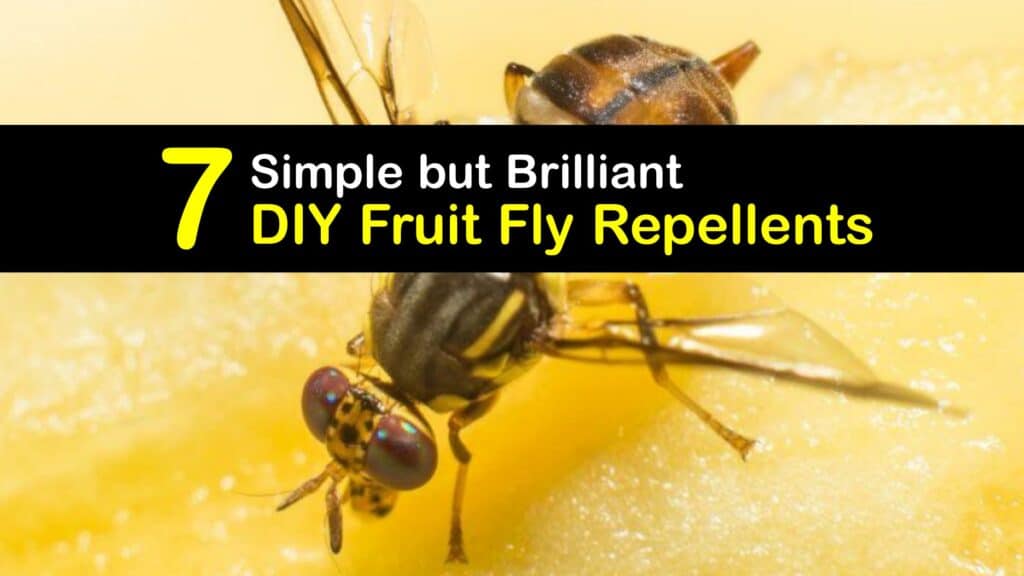 Home Remedies for Repelling Fruit Flies Inside and Outside
When fungus gnats plague your kitchen or patio, make a homemade fruit fly repellent to get rid of them quickly. A fruit fly problem is irritating, whether the pesky fruit flies are hanging around your kitchen sink, potted plants, or the trash cans outdoors.
Use at-home and natural fruit fly repellent ideas to eliminate these tiny pests and ensure they stay gone.
What Causes a Fruit Fly Infestation?
Unlike house flies, fruit flies love rotting organic matter and moisture, so you frequently find them lingering near your sink drain or fruit bowl.
Fruit flies or fungus gnats use these damp locales to feed and reproduce. Keeping known hotspots for fruit fly activity clean and sealed, along with fruit fly deterrents, keeps your home free of flies.
You may also notice fly activity around your composter. One of the ways to prevent fruit flies in your compost bin is to keep the pile or tumbler turned regularly and ensure your green materials are well incorporated on the inside rather than the outside.
A Rotten Fruit Trap is a Homemade Fruit Fly Repellent
This DIY fruit fly trap requires only basic ingredients and reduces food waste by repurposing rotten fruit. When you're short on time and specialized tools, put together this simple trap and round up fruit flies to release them far away.
Place the fruit in the bowl and cover it with the plastic wrap to make a homemade fruit fly trap. Poke small holes in the covering with the toothpick, and place the bowl where fruit flies are a nuisance. The tiny flies squeeze through the holes to eat the food and become trapped.
Check the fruit trap often and empty it as necessary. Ripe fruit or fruit juice works just as well to bait the trap if you don't have any decaying fruit.
Home Remedies for Repelling Fruit Flies
Your sink drain and garbage disposal are premier spots for frustrating fruit flies to set up camp. These zones provide everything the fruit fly needs to continue its life cycle. Running water from the sink keeps your drain and garbage disposal moist, and old food collected inside provides plenty of organic matter for consumption.
Treat your drains regularly with this homemade fruit fly drain treatment to avoid a fruit fly invasion. As one of the ideal home remedies for keeping fruit flies out of the sink, you can pour a cup of powdered baking soda down the drain or garbage disposal, followed by a cup of distilled white vinegar. The baking soda and vinegar fizz to remove drain flies, rotting food, and fruit fly eggs, leaving a clean surface.
Essential Oils are a Natural Fruit Fly Repellent
Essential oils have multiple unique uses, so it's unsurprising they are helpful for a fruit fly problem. Certain essential oils repel insects, including fruit flies, and provide a safe and natural alternative to commercial fly sprays laden with chemicals.
It's fast and easy to make a powerful spray to kill fruit flies at home. As a bonus, it will often work on other bugs like spiders and ants, too.
Mix 20 drops of oil with two cups of water to make a fruit fly deterring spray, or drip your chosen oils onto cotton balls and set them in areas of fruit fly activity.
Home Remedies for Repelling Fruit Flies – Flypaper
Make flypaper for a DIY trap to help monitor the progress of your pest control or find out if you have fruit flies. The bright colors and sweet scent on the fly paper draw fruit flies where they become stuck. If the amount of fungus gnats caught on the paper reduces, it's an excellent indicator your fruit fly repellents are working.
Glue each paper strip onto an old popsicle stick and paint a thick layer of honey onto both sides. Hang the traps around your home using the sticks, or poke them into the soil of your indoor plants to catch fruit flies. Check the traps to monitor how many fruit flies you catch and replace them with new traps as they fill.
Baking Soda Fruit Fly Repellent Spray
The first thing most people reach for during a fly problem is a fly spray. An extensive range of commercial fly sprays is available, but they're generally expensive and often contain harmful chemicals. Make a cheap and effective homemade fly spray for the yard to remove fruit flies and gnats.
Shake the ingredients in the spray bottle and use the spray wherever fruit flies congregate.
Make an Indoor and Outdoor Fruit Fly Repellent
Apple cider vinegar is helpful in many situations, from cleaning to pest control. Use this popular vinegar to create a simple fruit fly trap.
Add apple cider vinegar, sugar, water, and dish soap to a jar and seal the lid with a rubber band and plastic wrap. With the toothpick, make tiny holes in the plastic wrap to allow fruit flies to pass through.
Place your trap wherever fruit flies are a nuisance indoors or outdoors, and relocate it as necessary. It is easy to empty and clean the jar to reset the trap since the gnats drown in the liquid.
Fruit flies are prevalent pests. Female fruit flies lay hundreds of eggs, so the population multiples rapidly. In a short time, they quickly take over your kitchen or patio. Though fruit flies don't bite, they tend to swarm and create an annoyance, making spending time in a space they are occupying unpleasant.
Fortunately, several home remedies for repelling fruit flies exist to remove and deter these unwanted visitors from your indoor and outdoor spaces. Practice good home management and keep your drains clean, trash cans closed, and fruit covered to lower the chances of an infestation.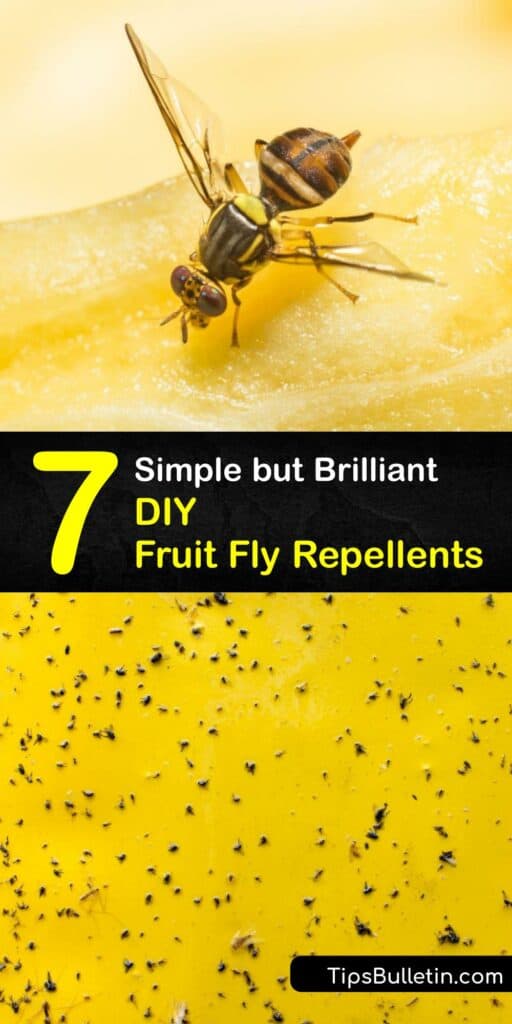 If you loved this homemade fruit fly repellent article, please share this brilliant information on home remedies for repelling fruit flies with your friends and family with fly problems on Pinterest and Facebook.