A garbage disposal makes cleaning dirty dishes much faster and is a convenient and helpful addition to any kitchen sink. As you continue to use your garbage disposal, it starts to get a little smelly because of the various foods that go through the drain. Making a homemade garbage disposal cleaner may seem like a daunting task at first.
However, a DIY garbage disposal cleaner is easy when you have access to the proper cleaning tips. You do not have to put up with a smelly garbage disposal for the rest of your kitchen sink's operating life.
With these various cleaning hacks, finding a natural garbage disposal cleaner recipe that is right for you is simple. Many natural cleaning solutions clear excess food particles while simultaneously disinfecting the surface. If you need a drain cleaner with all-natural ingredients, look no further—many familiar household cleaning products double as a DIY garbage disposal cleaner.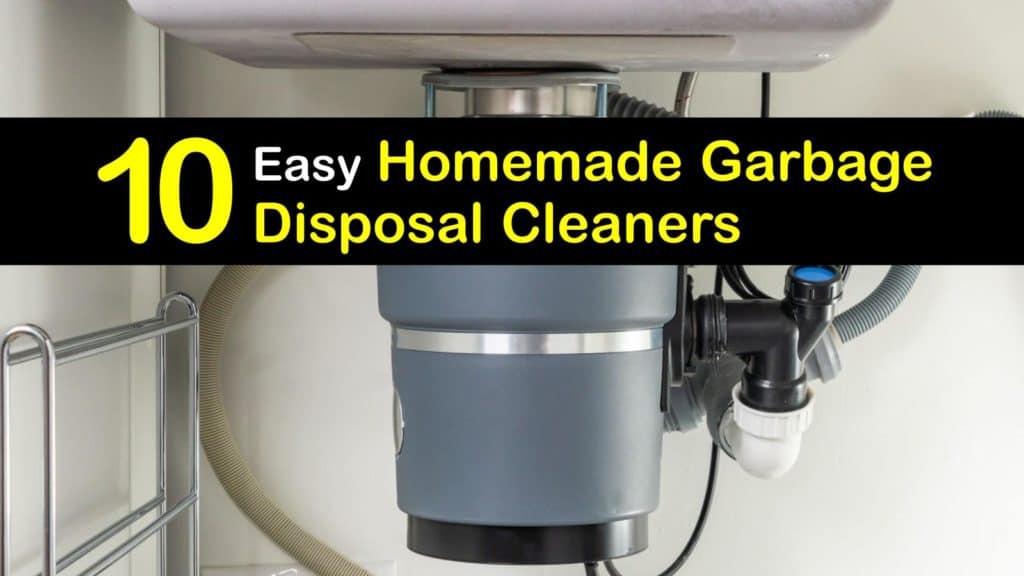 What Causes a Smelly Garbage Disposal?
Even the newest garbage disposals start to smell foul after continuous use. Regularly putting food waste down the drain leads to small pieces getting stuck in the garbage disposal.
Over time, the food particles become decomposed organic matter, which causes the undesirable odor coming from the disposal.
Because the gunk buildup in your garbage disposal is old food particles, it is important to disinfect your sink as you clean the drain. Properly disinfecting your drain prevents harmful bacteria from being released into the air and causing illness.
Preparing Your Garbage Disposal for Cleaning
Before crafting a homemade garbage disposal cleaner of your own, there are a couple of critical pieces of information to be aware of that help you prepare for the cleaning process.
Start by disconnecting the power from your garbage disposal to prevent potential accidents. The blades in a garbage disposal are very sharp, so turning off the power avoids accidental injuries.
Use a flashlight to identify any objects that may be causing a clog in your drain. Everyday items that get stuck in the disposal include bottle caps, vegetables, fruit residue, and aluminum can pull-tabs.
With a pair of needle-nose pliers or tongs, reach down into the disposal to remove any excess blocking the way. Now, you are ready to implement a homemade cleaner for garbage disposals.
Essential Oils Make a Great Homemade Garbage Disposal Cleaner
A fantastic way to clean the grime and eliminate the odor in your garbage disposal is with disposal bombs. This DIY garbage disposal cleaner may take longer than other methods, but it contains several powerful cleaning and disinfecting agents.
Essential oils kill the germs in the disposal, while dish soap and baking soda act as natural deodorizers.
For a homemade drain cleaner that also sanitizes the disposal, stir the ingredients in a mixing bowl until the consistency is similar to wet sand. You might need to add more dish soap. Use a tablespoon scoop to shape the mixture into small balls and set them on a parchment paper sheet to harden.
After the balls have hardened, make a natural drain cleaner and use two of them in your garbage disposal every week to kill foul odors. Store the leftover disposal bombs in a sealed plastic baggie or airtight container to keep them fresh.
DIY Garbage Disposal Cleaner with Bleach
One of the best ways to disinfect your garbage disposal is to use bleach. The ingredients in bleach kill nearly every type of bacteria on the surfaces it touches.
Because bleach primarily disinfects and does not necessarily remove dirt and other residue in your garbage disposal, pair this cleaning method with another. In a large bucket, mix three tablespoons of liquid chlorine bleach with one gallon of water.
Carefully pour the cleaning agent into your garbage disposal and let the bleach sit for about five minutes. Run hot water down your drain for a few minutes to rinse away the excess bleach.
Natural Garbage Disposal Cleaner Recipe with Vinegar
Combining white vinegar and baking soda makes an incredibly effective homemade garbage disposal cleaner. Vinegar is an acid that breaks up mineral deposits, grime, dirt, and grease and is an excellent way to clean a stinky drain or disposal.
This natural garbage disposal cleaner recipe is straightforward and only demands two ingredients. Pour a half-cup of baking soda followed by one cup of vinegar into your garbage disposal.
The mixture will start to fizz, meaning it is working. Let the recipe sit for ten minutes before running warm water down the drain as you turn on the disposal.
Clean the Rest of Your Sink with a Baking Soda Paste
Disinfecting and cleaning the inside of your drain and garbage disposal is vital to remove any bacteria that linger on the surface. However, the rest of your sink also needs to be cleaned just as thoroughly.
The rubber flaps along the inside of the drain and the sink base are prone to excessive bacteria growth. For a simple DIY kitchen sink cleaner, mix a ½ cup of baking with a few tablespoons of vinegar in a small dish. Continuously mix the solvent and add vinegar until it forms a thick paste.
Use an old toothbrush to distribute the paste on each part of your sink and let the cleaning agent sit for about five minutes before wiping the surface with a damp paper towel.
This natural garbage disposal cleaner recipe also works well on countertops, bathroom surfaces, and any area with limescale buildup.
Remove Gunk with Rock Salt
If you have a lot of food buildup and other gunk stuck in your garbage disposal, use a cleaning technique with rock salt and ice cubes. To use this DIY garbage disposal cleaner, the mechanism has to be turned on to work.
Rock salt and ice cubes break down hard-to-reach food particles that accumulate in your disposal. Take ten to 12 ice cubes from your ice cube tray and dump them down the drain.
Pour a half-cup of rock salt into the garbage disposal as well. Run cold water down the drain as you turn the garbage disposal on for a minute or until the gunk is gone.
Lemon Peels Successfully Clean Your Disposal
If you have leftover lemons in your kitchen that you do not know what to do with, use them to clean your garbage disposal. The citric acid in a lemon peel removes grease, limescale buildup and also disinfects surfaces.
Although this homemade garbage disposal cleaner appears unusual, it works just as well as any other natural cleaner recipe. Using lemon peels is appealing because of the pleasant scent it leaves behind. With a peeler, remove the thin rind off of one lemon.
Place about five thin lemon peel slices, six ice cubes, one tablespoon of baking soda, and one cup of white vinegar in your garbage disposal. Turn on your garbage disposal without running water until the grinding noise stops.
How to Utilize Orange Peels to Clean a Garbage Disposal
Intentionally putting a fruit skin into your garbage disposal seems like it would not help at all, as most vegetable skins are harmful to the blades and get stuck. Citrus peels have an alternate effect on garbage disposals.
Like lemon peels, orange peels disinfect surfaces, remove limescale buildup, and leave a pleasing scent after cleaning.
After removing an orange rind, cut it into thin strips and place them in your garbage disposal. Add one tablespoon of baking soda, one teaspoon of bleach, and about six ice cubes to the drain. Turn on the disposal without running water until the grinding stops.
What to Avoid Placing in Your Garbage Disposal
Although a garbage disposal is beneficial and breaks down different foods, there are some things to avoid putting down your garbage disposal.
Because they damage your disposal blades, avoid putting any bone or dense item into the mechanism.
Other foods that are likely to harm your garbage disposal include eggshells, fruit pits, fats, grease, stringy food peels, rice, pasta, oatmeal, and coffee grounds. Most of these foods easily clog pipes or will get caught in the blades of your garbage disposal.
Cleaning Your Garbage Disposal Regularly is Important
To keep your garbage disposal working well, maintain a regular cleaning schedule. When you clean your garbage disposal frequently, it is less likely to smell, and the gunk cannot build up.
For the best working garbage disposal, clean yours once every two weeks. If a regular cleaning schedule seems likely to become time-consuming, utilize one of the quick cleaning methods.
Once a month or once every two months, practice a deep cleaning method to keep your disposal disinfected and clean. A baking soda and vinegar recipe is one of the quickest ways to clean your garbage disposal.
If your garbage disposal smells foul, or if the disposal has a considerable amount of gunk buildup, an efficient natural garbage disposal cleaner recipe can help.
Continuously clearing the leftover food particles helps maintain the disposal blades' strength and prevents the unwanted smell.
A DIY garbage disposal cleaner is simple to make and contains ingredients from everyday household cleaning products like baking soda and vinegar.
Recipe for Homemade Garbage Disposal Cleaner
Homemade Garbage Disposal Cleaner
Eliminate bacteria and mold from your disposal with this simple cleaning agent.
Materials
1/2 gallon hot water
1 1/2 tbsp bleach
Instructions
Add the bleach to the bucket.
Pour the hot water over the bleach.
Carefully add the cleaner to the sink drain.
Let the disposal sanitize for 5-10 minutes.
Rinse well with fresh hot water.
Notes
It's best to remove debris from the garbage disposal first and then apply this disinfecting cleaner.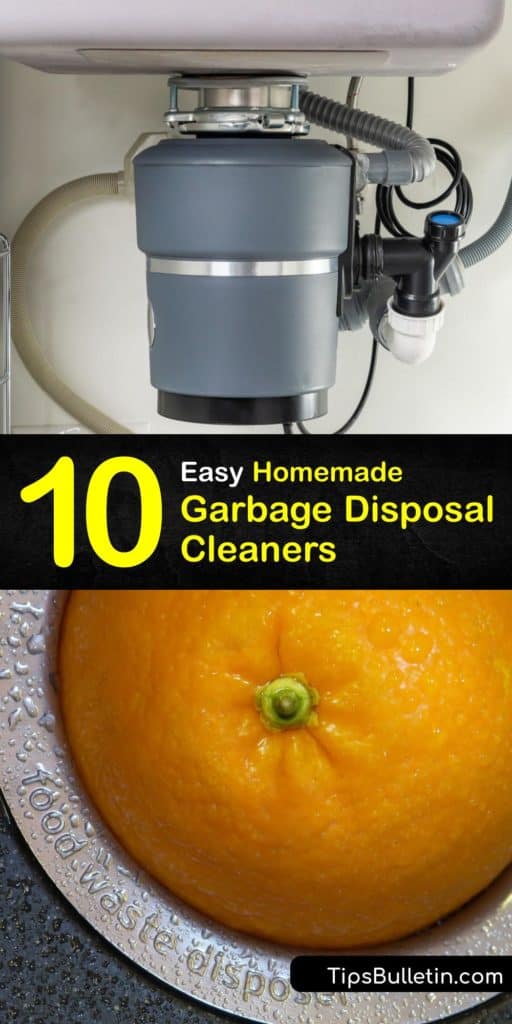 If you found your new favorite homemade garbage disposal cleaner, share these cleaning recipes with your best friends and followers on Pinterest and Facebook.