Having granite countertops in your home has become a popular choice among homeowners over the years. Granite countertops are not only attractive, but they are incredibly durable as well. They can easily handle high temperatures and resist most kinds of stains when adequately sealed.
While granite countertops have a lot to offer, they can show signs of wear and tear over time, primarily when you don't adequately maintain them. However, specialty granite countertop cleaners can be expensive.
If you want to keep your granite countertops looking beautiful, while saving money, you should consider using a homemade granite cleaner to clean your countertops. You can make many of the homemade cleaners yourself with a handful of standard materials that you probably already have in your home, like dish soap, baking soda, and rubbing alcohol.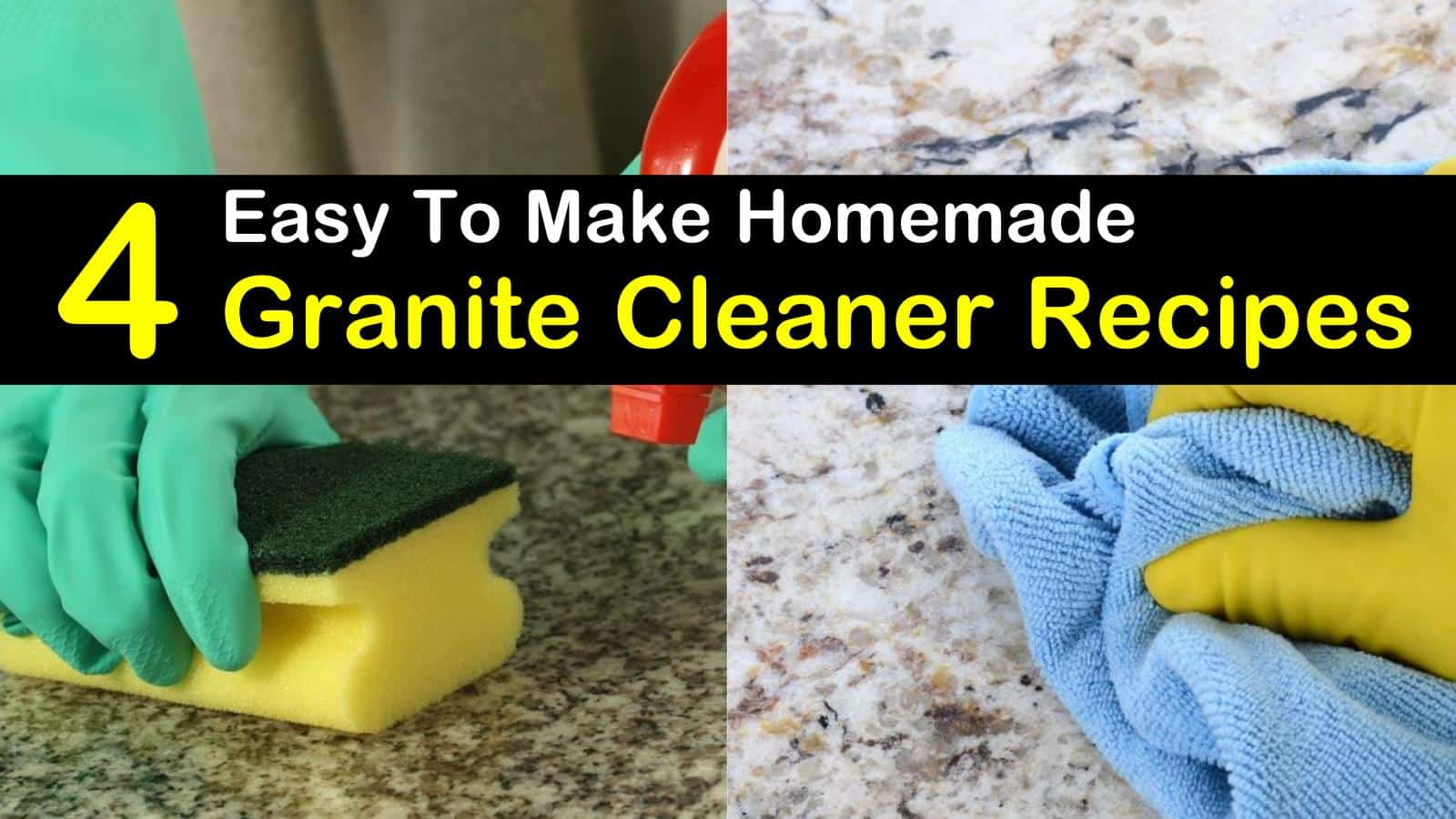 Homemade Granite Countertop Cleaners
Making a DIY granite cleaner is also an affordable alternative to the expensive commercial cleaners on the market today. Here are some of the best homemade granite cleaners that you can make at home.
If the idea of making a natural granite cleaner makes you cringe, you'll be happy to know that most homemade granite cleaners are simple to make and won't cost you an arm and a leg. They are also safe to use on your granite countertops, and won't leave a harsh chemical residue.
Another bonus for making a DIY granite cleaner is they don't contain harsh chemicals that can be dangerous to your family and harmful to the environment.
Natural Granite Cleaner
One of the best ways to get rid of soap scum that has built up on your granite countertops over time is to use rubbing alcohol. The isopropyl rubbing alcohol both cleans and shines your granite countertop in a matter of minutes.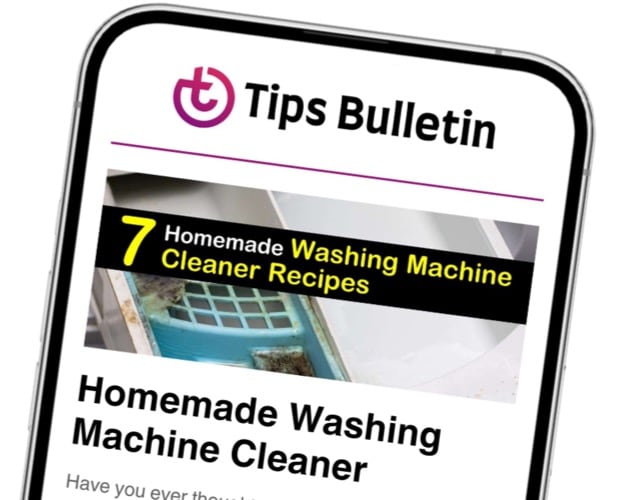 Finally, an email that Transforms Your Home.
Get the latest home and garden tips from our experts, delivered straight to your inbox.
Like our window cleaner recipe, we use rubbing alcohol as the main ingredient. When using this recipe, it's essential to work fast as the rubbing alcohol evaporates quickly.
To make this homemade stone cleaner, add the rubbing alcohol, water, and dish soap to a spray bottle. Next, add in the essential oils that you have chosen. Shake the bottle to ensure the ingredients are thoroughly mixed. Spray the mixture on your countertops and wipe clean with a microfiber cloth.
Homemade Castile Soap Granite Cleaner
When not properly cared for, granite can quickly become stained and damaged. This also applies to slate floors. This all-purpose cleaner uses rubbing alcohol and Castile soap to clean your counters and keep them looking beautiful.
The rubbing alcohol in the recipe works to kill germs and to help the water dry more quickly. Our recipe also serves as the perfect homemade slate floor cleaner. Your slate flooring will shine once again and smell better than ever.
Pour the rubbing alcohol into a spray bottle. Add dish soap, water, and essential oils. Shake the bottle to mix the ingredients. Spray on your countertops and wipe clean with a dry microfiber cloth.
DIY Granite Cleaner with Essential Oils
The commercial granite cleaners that you can buy in the store are a lot more expensive than the following recipe even though they contain the same ingredients.
When you add basil and grapefruit essential oils to the mix, you get a safe, powerful cleaner and one that won't damage your countertops.
Basil has been found to inhibit the spreading of E-coli and various other strains of bacteria and fungi, while grapefruit is extremely effective against MRSA and resistant strains of candida.
Combine the ingredients in a spray bottle, shaking well. It is important that you stir the mixture before each use to ensure the ingredients are thoroughly mixed.
Liberally spray the solution on your granite counters and gently wipe clean with a microfiber cloth.
Homemade Granite Polish
After years of use, your granite countertops may be starting to look dull. You can restore the shine to your countertops with this homemade granite polish. You make it with a few simple ingredients that you can find in your pantry or local grocery store.
Combine it all in a spray bottle and shake well to ensure the ingredients are thoroughly mixed. Clean the surface of your countertops with one of the homemade granite cleaners above. Wipe clean with a dry microfiber cloth.
Spray the surface of your countertops with the homemade polish and gently rub the granite with a clean, soft cloth. Work the polish into the granite using a circular motion.
What Materials Should I Avoid Using?
Make sure not to use the wrong type of product or cleaning supply can quickly damage your countertops, leaving them in worse shape than when you started, which can lead to an expensive repair. When cleaning your granite countertops, you want to avoid using citrus or acidic products.
Materials like white vinegar and lemon juice will not only dull the appearance of your granite, but they can also begin to etch or cut the stone. While you may not notice the damage right away, continuing to use vinegar and other acidic products, will damage your granite over time.
Another product that you want to avoid using your granite countertops is Windex or other glass cleaners and products. The harsh chemicals found in these products can begin to remove the sealant on the countertops, making them more prone to build-ups of grime, dirt, bacteria, and stains.
How to Keep Your Granite Looking Great
To keep your granite countertops looking great, it is essential to remove dirt and grime as soon as you notice it. Take a sponge or dishcloth and wipe your countertops down using your favorite homemade granite cleaner.
Make sure you keep sealing quarts countertops or your granite countertops every year. Unlike with the cleaner, there is no DIY homemade granite sealer that you can use. It's best to use a commercial product to seal your granite to ensure they are adequately protected.
Granite countertops are expensive, making proper maintenance crucial for extending the life of your countertops. Knowing how to make your own homemade granite cleaner can save you time and money.
Make sure to use your cleaner on a regular basis and avoid using harmful chemicals like vinegar and anything acidic products, like lemon juice. Even though they are known for their durability, and scratch-resistant properties, it's still important to take care of them so you can enjoy them for many years to come.
Recipe for Homemade Granite Cleaner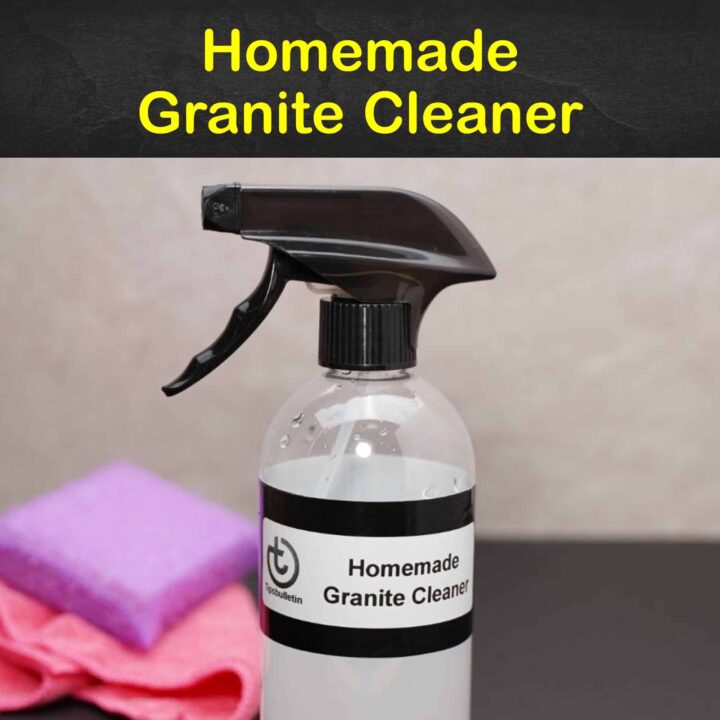 Homemade Granite Cleaner
This natural spray is safe and effective for granite stone counters.
Materials
12 ounces tap water
Measuring cup
4 ounces isopropyl alcohol
1/2 tsp vegetable-based liquid soap
18 drops grapefruit oil
8 drops basil oil
Tools
Teaspoon
24-ounce non-plastic sprayer
Microfiber cloth
Instructions
Add all the liquids to the spray bottle.
Shake well to mix.
Spritz granite countertops.
Wipe away the cleaner and grime with the microfiber cloth.
Notes
While you can substitute the oils, these have additional cleansing properties.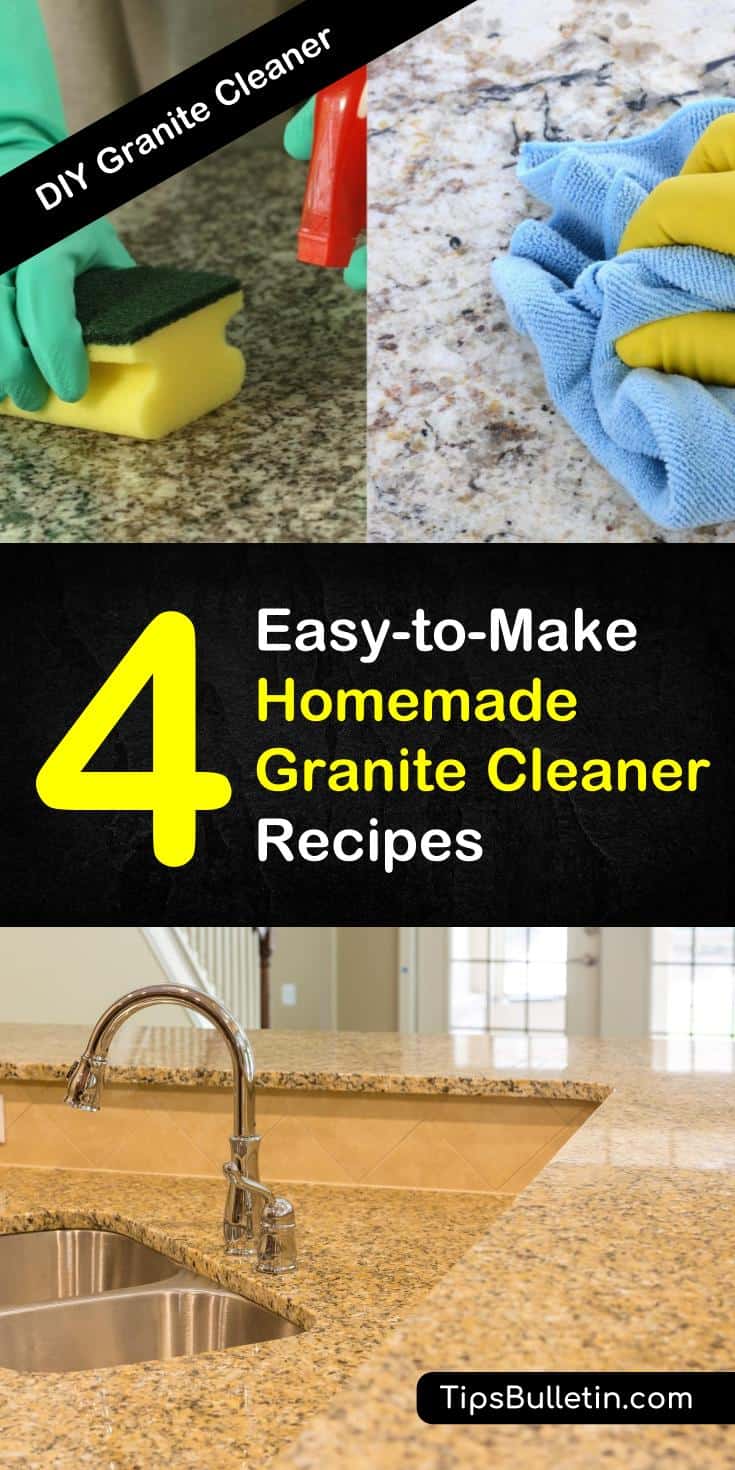 We hope you found the information and the granite cleaner recipes helpful. Please feel free to share these granite polish and cleaner recipes will all your friends and family.