When adding or replacing grout around tiles in our floor, some of the cement grout gets left behind, and not in the way that we want. In these cases, a homemade grout haze remover is the perfect solution. You don't want to use harmful chemicals that will hurt the grout or your floor tiles.
You also realize that cement grout is not a simple substance to remove once it's hooked its claws into your floor. Finding a grout stain remover that is both safe and powerful makes your task ten times easier. So where do you start?
Depending on how far after a tile installation the grout haze formed, or what type of grout was used, will determine the best method for removing grout haze. You will also want to take into account the material of the tiles since certain cleaners will damage marble or travertine tiles. To find the DIY grout haze remover perfect for your home, choose from one of the four examples below.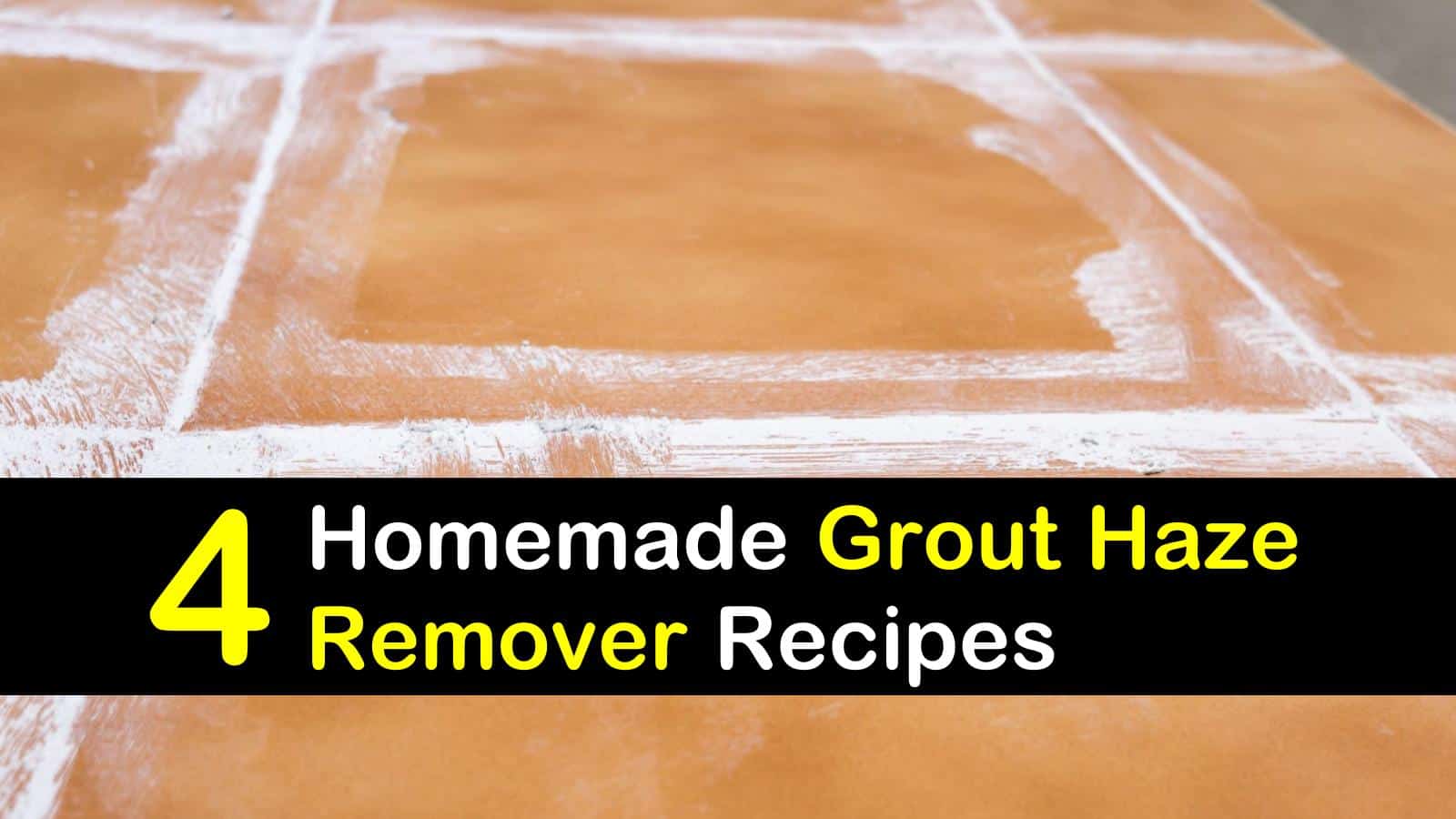 4 Fantastic DIY Grout Haze Remover Recipes for Your Tile Floors
As with most cleaning solutions, you want to start with the gentlest option to avoid unnecessary damage to your floors. In this case, using cheesecloth is your first step. This will work on fresh tile grout that has not had time to harden completely.
When cleaning grout haze utilizing this method, scrub the surface of the tiles with the dry cloth. This method is a safe, easy way to clean up tiles and remove excess grout. 
1. Use Cheesecloth for Mild Grout Haze 
It is essential to keep in mind, however, that allowing the grout lines to harden before cleaning may spare you extra time in the home improvement area. If you don't allow new tile grout to harden after the first application, then cleaning with cheesecloth may also remove some of the grout used to fill the space in between tiles. Some homeowners will instead choose to wait and use an acidic cleaner to complete the task. 
2. DIY Grout Haze Remover with an Acidic Base
Most homeowners agree that the best way to remove cement grout haze from ceramic or porcelain tile is to use an acidic cleaner. It will not affect the grout since it has already hardened and is beyond the reach of cleaning with a cheesecloth.
If you used a sealer to protect your grout, this will protect it from powerful acidic cleaners like vinegar, too. For the very best homemade tile grout cleaner, the following heavy-duty recipe is the one to try. 
Acidic Based Grout Cleaner

½ cup of baking soda
1/3 cup of ammonia
¼ cup of white vinegar
7 cups of warm water
To create this natural grout haze remover, mix the ingredients thoroughly, then add them to a spray bottle for easy distribution. Spray the tile surface, cleaning one small area at a time. Let the cleaning solution soak for approximately five minutes before scrubbing the surface with a nylon scrub pad.
Using a little elbow grease, work the grout residue off the tile, then rinse with clean water and dry. This method is best on ceramic tiles.
Do not use it on material that is easily damaged, such as natural stone or marble.  Many of the ingredients listed in this option also make an excellent descaler solution, which is double the reason for you to stand by this homemade cleaner.
3. Use Aqua Mix Grout Stain Remover for Stone Tiles
What can you use on stone tiles? To remove grout haze from tiling made with more sensitive materials, use Aqua Mix. Aqua Mix is a premixed tile grout haze remover that cleans everything from lime deposits to water stains.  If you are looking for that wonderful DIY universal cleaning solution for tiles, this product works for almost every occasion.
Some tile installers use epoxy grout, which is virtually impossible to remove at times. However, Aqua Mix uses full strength haze remover to rid your tile of epoxy grout. To use this method, pour some of the cleaners onto the floor.
Rub it into the floor, and let the area soak for at least 15 minutes. Tougher stains may need soaking for up to one hour. After the time frame has passed, use a damp sponge in circular motions to wipe away the cleaner. Dry when finished. 
4. Homemade Grout Haze Remover with Essential Oils
The final recipe for grout haze removal uses a household favorite to remove stains and grout haze. This cleaner is safe to use on grouting, though applying sealants may offer grout lines added protection. Either way, this tile cleaner requires just a little bit of elbow grease to provide amazing results.  
DIY Grout Haze Remover including Essential Oils

½ cup of baking soda
3 tbsp Castile soap
10 drops tea tree oil
5 drops lavender oil
5 drops lemon oil
Use the above recipe to create a paste. Apply this to your tiles and scrub using a soft bristle brush or even a toothbrush. Wipe each tile clean using a damp sponge and dry. Remember to remove all the soapy residue from the floor, or you will be right back where you started in the first place. 
With these four solutions to clean grout haze, making your tile floors shine has never been easier. Many of these ingredients are already in pantry or under your sink and can be used for far more than cleaning grout haze.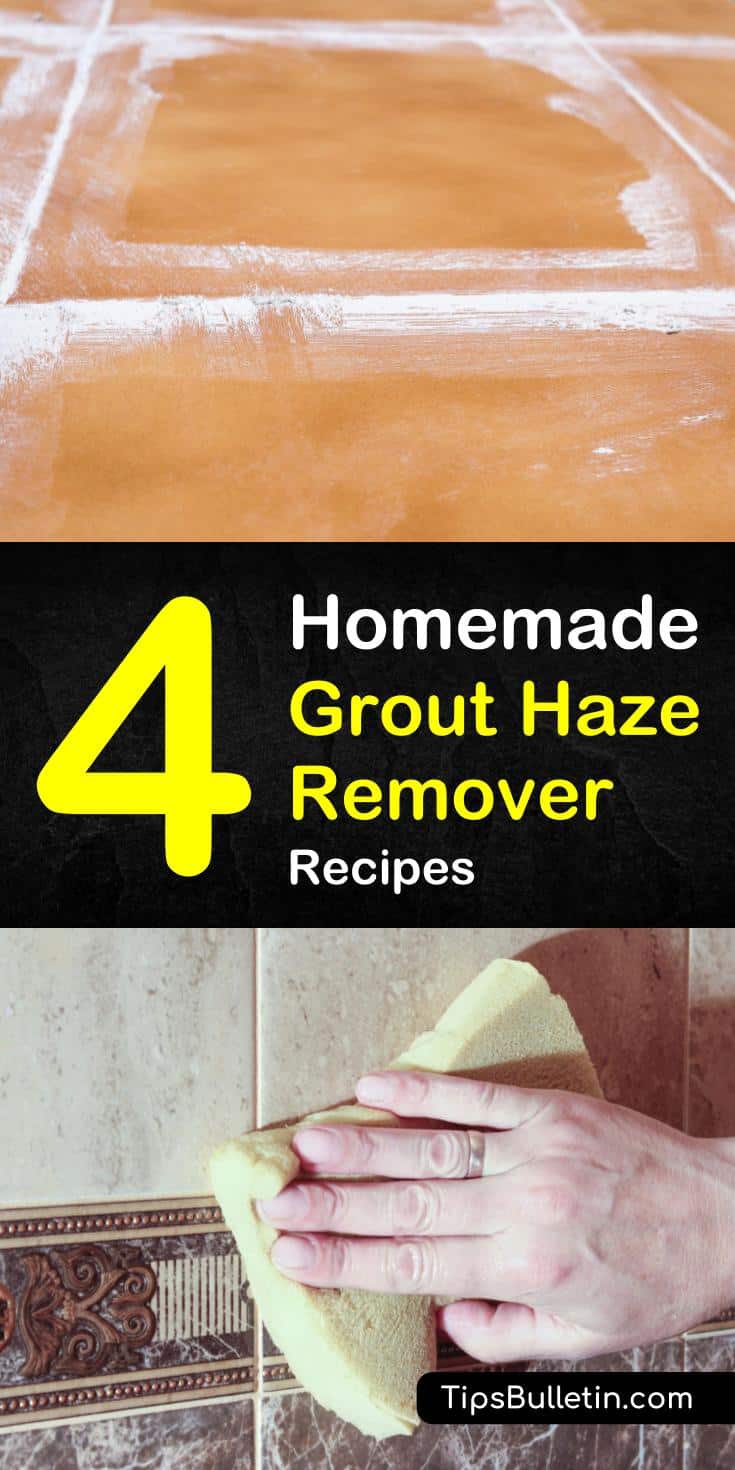 Because everyone deserves sparkling clean tile floors free from grout haze, it's the perfect opportunity to offer these ideas to others. Feel free to share these homemade grout haze remover recipes with your friends and family on Pinterest and Facebook.