After struggling through the grieving process of losing a loved one, one of the most significant ways to console ourselves is regularly visiting their gravesite and cleaning their headstones. The stone's surface accumulates build-up over time, leaving it covered in lichen, moss, mildew, and dirt. The greatest way to honor those that have passed on is to clean up their tombstones with a homemade headstone cleaner.
DIY headstone cleaner is an alternative to cleaning agents that aren't safe to use on granite stone or other porous rock types. A natural gravestone cleaner is gentler for cleaning headstones because it is made from simple household ingredients safe for both the stone and the environment.
Other cleaners and cleaning products are packed with harsh chemicals and may leave the headstones damaged. What better way to remember your family members than taking care of their gravesite and making it a beautiful place for those who visit?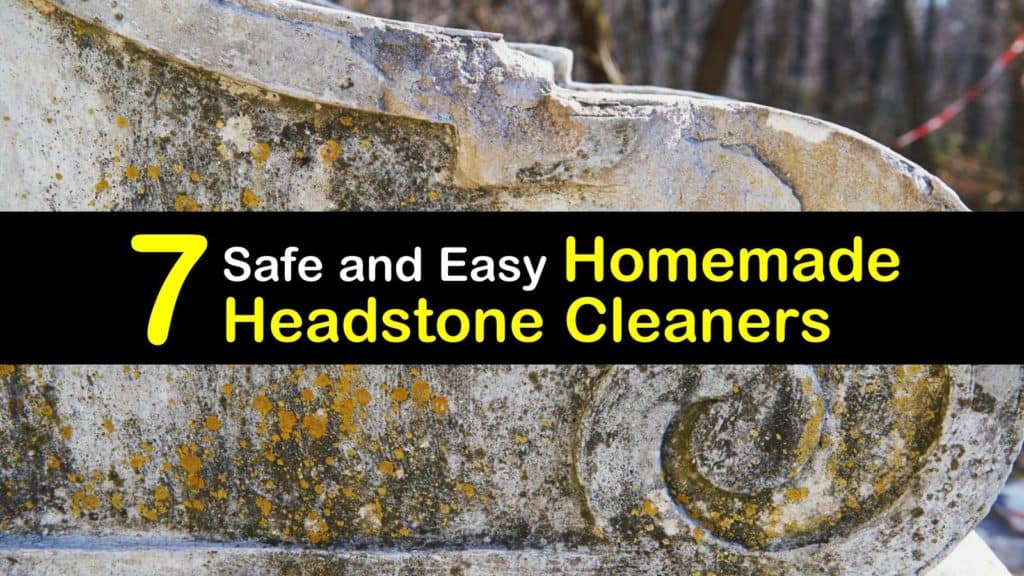 About Grave Markers
Whenever a body is buried in a cemetery, a grave marker is placed at the head of that location. People purchase various kinds of grave markers like a marble headstone, bronze grave marker, or granite headstone.
Some people even use monuments and statues. Regardless of which material you purchased for your loved one, cleaning gravestones requires attention to detail so that you don't damage the rock.
Why should you use a homemade gravestone cleaner? Headstones aren't cheap. Most start at around $1,000 and increase as they get heavier and use more material.
Taking care of tombstones is the only way to ensure that your money doesn't go to waste and leave the monuments covered in grime. Making a DIY headstone cleaner is safe for the stone's material and does a pretty good job of removing lingering stains.
How to Clean a Gravestone
Cleaning gravestones requires lots of care and attention to detail. Before you start cleaning the headstone, assess its condition. If there are signs of flaking or cracking, avoid using bristle brushes or power washers.
If the stone is made from slate, sandstone, or marble, cleaning solutions deteriorate them gradually. Only clean these types of headstones once every five to seven years.
Granite headstones are safe to clean every 18 months, while bronze markers can be washed more frequently, around every three months.
Homemade Headstone Cleaner
The go-to way to clean headstones is with non-ionic soap, like D/2 Biological Solution. This soap effectively removes stains from mold, algae, and mildew and only takes about 15 minutes to work.
To make a natural gravestone cleaner, fill a large bucket with clean water, and dissolve the appropriate amount of soap into the water according to the package directions.
Use a sponge to apply the soapy water to the grave marker and allow it to sit for 15 minutes. Dip a soft bristled brush into the remaining soapy water and gently scrub the stone until it is free from stains and grime.
DIY Headstone Cleaner
Not only can you clean a pizza stone with baking soda, but stained gravestones also respond well to this treatment.
For stones with stains, one of the best ways to remove the discolorations is to create a baking soda poultice that contains powerful yet gentle ingredients and lifts the blemishes from the pores in the stone.
Identify the stained areas on the headstone. Add the baking soda to the dish soap in a medium-sized bowl. Slowly pour hydrogen peroxide into the bowl and mix it until the poultice has the texture of yogurt.
Spread the paste over the stained areas and wrap the headstone in plastic wrap. Secure the wrap with tape and let the mixture sit for 24 hours. Come back to the gravesite with a bucket of clean water and some soft cloths.
Remove the plastic wrap and tape and discard it in a trash bin. Dip the cloths in the water and wash away the paste from the stone. Dry the headstone with paper towels to prevent streaking.
Natural Gravestone Cleaner
One of the most basic cleansers to use on gravestones is regular dish soap and water. Before cleaning the stone, grab a dish scraper and remove as much excess gunk as possible. Don't forget to remove any grime stuck inside the engraved lettering.
Mix a large bucket of warm water and dish soap. Dip a soft bristle brush into the soap water and use circular motions to scrub the marker. Dip cotton swabs in the soapy water and use them to scrub inside the lettering.
Some areas may require a little more elbow grease than others. Once the debris lifts off the stone, dip a clean rag in fresh water and rinse away the soap suds so that none is left behind. Dry the headstone with a clean cloth or paper towels.
Soap and water are also the ideal combination to use as a DIY marble floor cleaning liquid. Stains may require a different treatment.
Using a Power Washer
Power washing shouldn't be your first line of attack when cleaning gravestones, but it is sometimes necessary when there is grime that you're unable to scrape or scrub off.
If using a power washer, always start at the lowest pressure level and work your way up, making sure you're not damaging the grave marker.
Gravestone Spray
Fungi like lichen are bound to grow on a gravestone. One of the easiest ways to prevent future growth for more extended periods is to use ammonia in a homemade headstone cleaner.
This homemade quartz cleaning spray is a safe solution to clean marble compared to acidic cleaners with lemon juice and bleach that etch the stone.
To make this home remedy for stains and other discolorations, mix four parts water with one part ammonia in the spray bottle. Shake the bottle so it is well mixed, and spray the ammonia solution over the gravestone.
Use a soft brush to lift the dirt and lichen remnants. Rinse the headstone with fresh water and dry it with clean towels to prevent it from streaking.
Adding a Gravestone Sealant
Depending on the type of material the gravestone is made of, adding a sealant is a fantastic way to prevent stains in the porous stone.
Making a sealer at home is easy because you likely have all the ingredients already. The following recipe is a sealer safe to use on both granite and marble grave markers.
Combine the rubbing alcohol, dish soap, and warm water into a spray bottle. Shake the spray bottle a few times, and then spray the sealer over the entire granite headstone. Wipe the granite down with a microfiber cloth to remove the excess moisture.
Products to Avoid using on Gravestones
Although gravestones stand up to a lot of weathering, these monuments aren't indestructible, and dozens of cleaners are unsafe to use.
Household cleaners like Borax, Spic and Span, and other cleaners with muriatic and phosphoric acid have strong acidic elements corrosive to headstones. Bleach is another ingredient that should not be used.
Never use scrapers or steel wool on damaged areas of tombstones, or they may chip and flake even further, leaving the stone susceptible to more future damage.
When you've lost a loved one, you know how important it is to keep their gravesites clean. Your friends and family who have passed on deserve a beautiful, well-kept place to rest, and keeping it clean encourages you to keep visiting them for years after they pass.
Recipe for Homemade Headstone Cleaner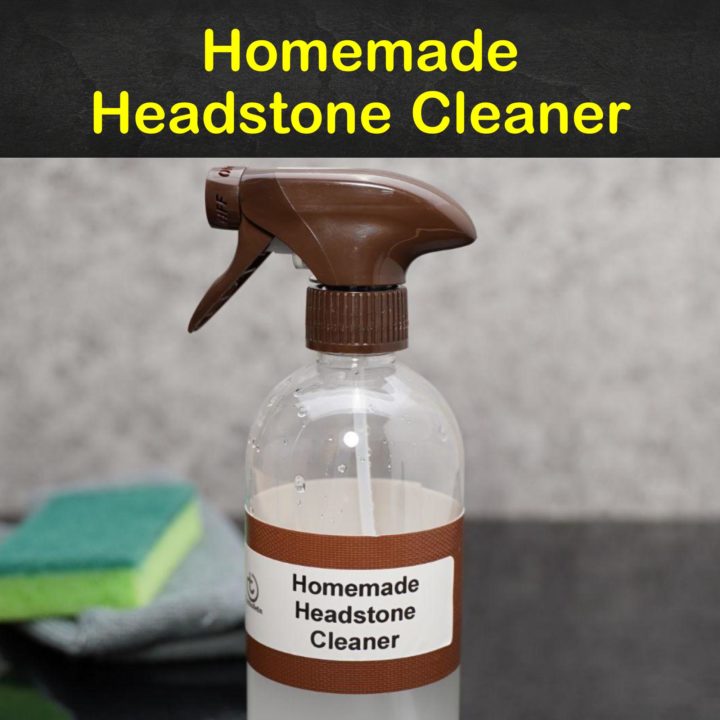 Homemade Headstone Cleaner
Honor your loved ones by ensuring that their grave markers stay clean.
Materials
2 cups of water
1/2 cup of ammonia
Tools
20-ounce spray bottle
1 bucket of clean water
Soft-bristled brush
Several clean towels or rags
Measuring cup
Instructions
Pour two cups of water and the ammonia into the spray bottle.
Shake well to mix.
Spritz the solution on the headstone, working in one section at a time.
Gently brush the stone to remove dirt and debris.
Rinse the cleaner from the gravestone with the bucket of fresh water.
Dry the stone to prevent streaks.
Notes
Reapply the cleaner to tough stains.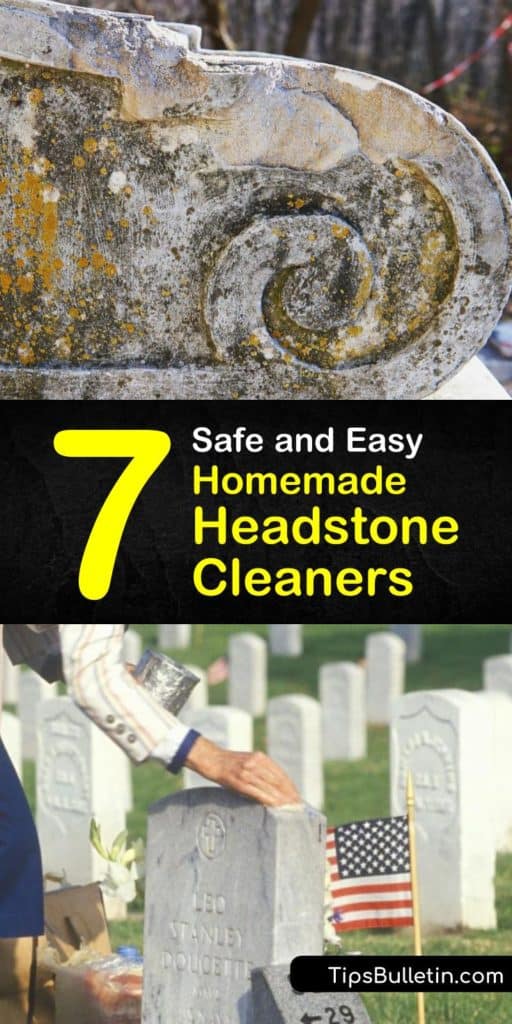 If making a homemade headstone cleaner keeps your family memorials in good shape, share this list of natural gravestone cleaner recipes on Facebook and Pinterest.