Browsing the cleaning aisle at your local store is enough to make you want to create your own cleaning solutions. These days, the shelves are either empty or the products are overpriced. We show you how to make a homemade household cleaner to safely clean everything from countertops and floors to the toilet bowl.
Store-bought cleaning products are not just expensive, but many of them contain harsh ingredients such as chlorine bleach. While these cleaners are effective at killing germs, overusing them fills your home with chemicals. So, what is a good alternative for DIY cleaners?
Many secret solutions are hiding in your home that you probably aren't even aware of, and they are perfect for making cleaning recipes. They are cheap, and many of them contain natural disinfectant qualities. These include baking soda and white vinegar in your kitchen to hydrogen peroxide in your bathroom medicine cabinet.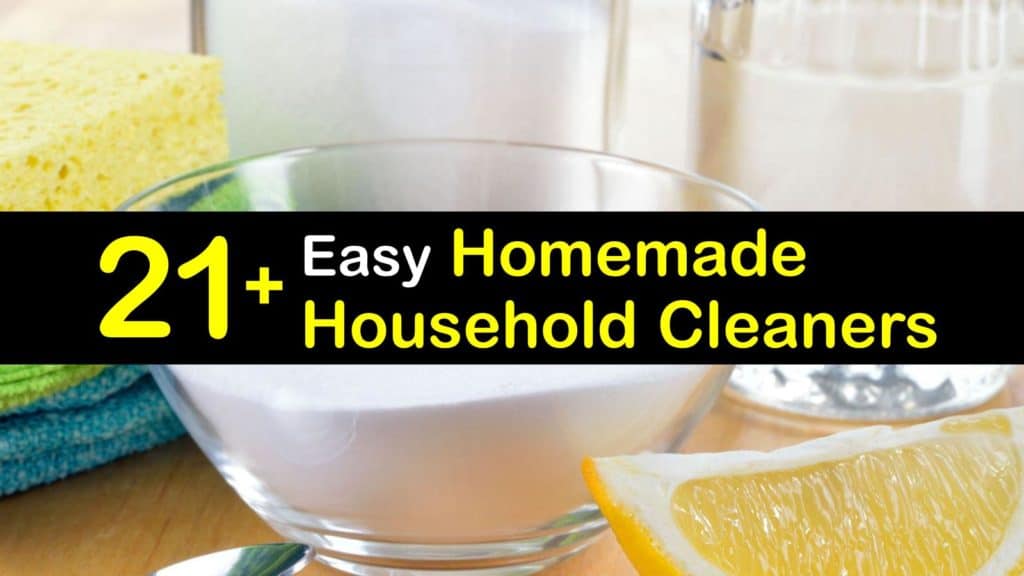 Making Your Own Cleaners to Clean All Areas of Your Home
Why buy cleaning products from the store when it's convenient to make your own at home using simple ingredients? Learn how to make homemade cleaners for the bathroom, kitchen, floors, glass surfaces, and other areas of your home.
Why Use DIY Household Cleaner Recipes?
The store has an entire aisle dedicated solely to selling cleaners of all types for everything from toilets to the garbage disposal. So, why use DIY household cleaner recipes instead of commercial cleaning products?
DIY Cleaner Benefits
Purchasing cleaners from the store has its advantages and disadvantages. While it's a quick way to get the cleaning product you need to get the job done, you don't always know the ingredients.
You spray them into your home, unaware of what exactly you are spreading into the air, and some cleaners are too harsh for some surfaces and even damage them.
Not only that, but many of these products are costly compared to the DIY cleaners you make using natural ingredients.
Oftentimes, the only things necessary to make a safe and effective cleaner are some baking soda, white vinegar, hydrogen peroxide, or lemon juice. These ingredients are both natural and inexpensive.
Natural Household Cleaner for the Kitchen and Bathroom
The kitchen and bathroom are two of the most used rooms in your home and probably the dirtiest. This natural household cleaner contains baking soda and hydrogen peroxide to gently scrub and disinfect surfaces.
Shake some baking soda into a bowl or container and pour in just enough hydrogen peroxide to make a pasty substance. Add as little or as much as you need to clean the job at hand.
Rub the paste on the dirty bathroom or kitchen surface and let it sit for a minute or two. Use a damp sponge to clean the area with a circular motion and rinse it with clean water.
Homemade Household Cleaner for Laundry Stains
The surfaces of your home are not the only things to get dirty. Clothing attracts stains of all types, and this all-natural household cleaner works for getting Kool Aid out of clothes and will loosen dirt from fabrics for quick and efficient cleaning.
Pour one part dish soap or laundry detergent and two parts hydrogen peroxide into a container and stir it gently until the ingredients combine.
Pour the cleaner into a spray bottle and store it on the laundry room shelf away from light. Spray the laundry stain remover on your stained clothing, and then wash as normal.
DIY Dishwashing Detergent Tablets
Washing your dishes gets quite expensive, especially if you run your dishwasher frequently. These dishwashing tablets are one of our favorite DIY household cleaner recipes, and they get your dishes clean using a few ingredients.
Combine the baking soda, Borax, coarse salt, and white vinegar in a bowl, and add several drops of your favorite essential oil.
Stir the ingredients and pack them into a mini ice cube tray or mold to dry for at least 24-hours. Transfer them to a storage container and use them in your dishwasher.
How to Make Disinfectant Wipes
It's common to have a tub of disinfectant wipes in your car and home. They work wonderfully for quick clean-ups and removing germs and bacteria. These natural household cleaner wipes are effortless to prepare and handy for sanitizing surfaces.
Pour rubbing alcohol into a jar and add the dish soap. Place the lid on the jar and give it a couple of gentle shakes to mix the ingredients. Soak small rags or cloths in the jar and use them when necessary to disinfect surfaces.
Making Your Own Liquid Fabric Softener
Fabric softener is excellent for removing the static from your clothing and leaving the material soft. But, what do you do if you run out on laundry day? It's easy to make a homemade liquid fabric softener using three ingredients.
Combine water, white vinegar, and your favorite natural hair conditioner in a Mason jar or jug. Make sure to choose a conditioner with a scent favorable for your clothing.
Stir or shake the liquid to mix the ingredients without creating foam. Add two tablespoons of the fabric softener to a small load of laundry or a quarter cup for large loads.
Using Vinegar to Make a Shower and Tub Cleaner
The shower and bathtub are often challenging to clean due to hard water stains and soap scum. However, this homemade cleaner contains white vinegar that dissolves hard water deposits and makes cleaning easier.
Add one cup of white vinegar into a bowl and heat it in the microwave. Pour the hot vinegar into a spray bottle and add the liquid dish soap. Spray the cleaner on the shower and bathtub and let it sit for half an hour, and then wipe the area with a sponge or cloth.
Making a Homemade Furniture Polish
This polish contains the cleaning power of white vinegar for cleaning away dust and dirt, olive oil for leaving the furniture surface shiny, and essential oils that fill the air with a fresh scent.
Fill a glass spray bottle with water, white vinegar, and olive oil, and add about ten drops of your favorite essential oil.
Label the bottle for everyday use, and make sure to give it a good shake before cleaning to incorporate the oil and water. Spray the polish on your furniture and wipe it clean with a soft cloth.
How to Make an Enzyme Cleaner
Enzyme cleaners are useful for cleaning organic stains such as blood, feces, and urine and removing food and grease stains. Keep this DIY enzyme cleaner on hand to remove pet stains and odors, and other everyday stains.
Dissolve the brown sugar in the water in a 2-liter bottle, and then add chopped pieces of citrus scraps and yeast. Screw the top in place, give it a gentle shake, and then loosen the cap while it sits for a day.
Shake the bottle with the cap in place every day for two weeks, and don't forget to loosen the top after mixing. After the recommended time, strain the cleaner into a spray bottle and use it to clean stubborn stains.
Homemade Floor Cleaner for Cutting Grease
Grease splatters are common in the kitchen, especially on the floor area around the stove. This sticky residue is not the easiest to clean up, but using a combination of vinegar, soap, and washing soda gets the job done.
Pour two gallons of warm or hot water into a bucket and add some white vinegar, liquid dish soap, and washing soda.
Use a utensil to mix the cleaning solution without creating too many suds. Dunk your mop in the liquid, wring it out, and clean your floor as usual.
There is also a Tide floor cleaner recipe that is similar to this one if you have that laundry detergent on hand.
Using Baking Soda to Make Toilet Cleaner Tablets
Cleaning the toilet is not a job that is high on our list of things we love to do. However, these homemade toilet bowl fizzing tablets cut the job in half by working to loosen toilet grime for quick cleaning.
In one bowl, mix the baking soda and citric acid, and use the other bowl to combine the white vinegar and hydrogen peroxide. Pour the liquid into the powder slowly, trying not to splash toilet cleaner ingredients, and then add up to 40 drops of your favorite essential oil.
Use a spoon to pack the cleaner into balls and place them on a baking sheet lined with parchment paper. Let them sit until they are dry, and then store them in an airtight container.
To clean the toilet bowl, drop one ball into the water, let it fizz, and then use a toilet brush to scrub the bowl's inside.
Making a Homemade Glass Cleaner with Rubbing Alcohol
Cleaning windows and mirrors is not a fun task, and discovering the surface has smears is frustrating. The perfect way to get a streak-free shine on any glass surface is to use the combined cleaning power of rubbing alcohol and white vinegar.
Fill a spray bottle with rubbing alcohol, water, and white vinegar, screw the nozzle in place and give it a good shake.
Don't forget to label the container for everyday cleaning. Spray the cleaner on mirrors, windows, or other glass surfaces and use a soft cloth to wipe them clean.
How to Make a Vinegar Cleaner without the Bad Smell
Although vinegar is a handy liquid for cleaning many items, it has a rather pungent odor. Here is how to make a vinegar cleaner with a pleasant scent by quick-infusing it with citrus rinds.
Save your citrus peels from lemons and limes and fill a quart-sized jar halfway with the pieces. To make the scent more attractive, consider adding some of your favorite herbs, such as rosemary.
Heat white vinegar on the stovetop or in the microwave and fill the rest of the jar with the liquid. Put the lid on and let it rest for 24-hours. Strain the citrus-scented vinegar into a spray bottle and use the cleaner to wash just about any surface. It's also ideal to make aluminum shine without polishing.
Grease-Cutting Cleaner for the Kitchen
Kitchens are notorious for many types of food stains, including grease, which is often difficult to remove without smearing and spreading oily residue. This homemade kitchen cleaner is the best natural degreaser for cleaning up tough stains.
Combine warm water, Castile soap, and baking soda in a glass spray bottle and add about 20 drops of your favorite essential oil.
We prefer using lemon essential oil for a fresh, clean scent. Shake the bottle gently to mix, spray it on kitchen surfaces, and wipe it clean with a sponge to clean away grease. Use this simple recipe as an effective homemade wall cleaner solution, too.
Make a Homemade Air Freshener with Three Ingredients
Keeping a clean home is one thing, but what about freshening the air to remove foul odors? This air freshening spray uses your favorite essential oils and blends, and its portable size makes it convenient for on-the-go.
Mix distilled water, rubbing alcohol, and your favorite essential oil in a small plastic bottle and shake it well to combine. Spray the freshener anywhere in your home to give the air a pleasant scent.
Using Rubbing Alcohol to Make a Granite Cleaner
Household granite is a natural stone with a sealant that is easy to damage if you use the wrong cleaners and abrasives. This gentle cleanser uses soap and rubbing alcohol to clean granite effectively and safely.
Add a quarter of a cup of rubbing alcohol to a spray bottle and squeeze in a couple of drops of dish soap. Screw the nozzle in place and shake the container gently to mix the two ingredients.
Label it and spray the cleaner on any granite or marble surface and wipe it clean with a microfiber cloth. To keep from damaging the granite, make a homemade granite sealer recipe and treat it periodically.
How to Make Homemade Dishwashing Detergent
If you usually use a powder dishwasher detergent to clean your dishes and you're tired of running to the store each time you run out, consider making your own.
This detergent uses a combination of baking and washing soda, salt, and citric acid to get your dishes clean.
Pour baking soda, washing soda, kosher salt, and unsweetened lemon-flavored Kool Aid into an airtight container and add about 15 drops of lemon essential oil.
Stir the ingredients and screw the lid in place. Add one to two tablespoons of the dish detergent to the dishwasher with each load to get your dishes clean.
Kitchen Cabinet Cleaner with Coconut Oil
While we don't often think about cleaning the kitchen cabinets, these require occasional cleaning to remove dust build up and grease. This mixture of baking soda and coconut oil is the perfect match for gently scrubbing away dirt and leaving a shiny finish.
Combine one part coconut oil and two parts baking soda in a bowl or small container, rub the cleaner over the dirty areas of your kitchen cabinets, and use a soft-bristle toothbrush to get into the nooks and crannies. When you're done, wipe the cabinets clean with a damp sponge.
Using Vinegar and Salt to Clean Brass
Out of all the natural cleaning products, this DIY brass cleaner recipe is one of the most inexpensive. It only requires two ingredients and is safe for cleaning and polishing all non-lacquered brass surfaces.
Pour some vinegar on a soft sponge and sprinkle it with salt. If you don't have any vinegar, lemon juice is a great substitute. Use the damp sponge to clean and polish brass items, and then rinse them with clean water.
Making a Heavy-Duty Cleanser for Tough Dirt
Unfortunately, not all cleaning jobs are easy, but there are ways to make even the most challenging jobs simpler to complete. This heavy duty cleaner is ideal for removing tough stains, but do not use this method on granite or marble.
Sprinkle some Borax on a flat surface and press the flat side of a cut lemon into the powder.
Use the lemon like a sponge to clean tough stains and grime, using a little elbow grease to scrub the surface. Clean the area with water and dry it with a towel.
How to Make a Non-Abrasive Scrubbing Cleanser
While abrasives are excellent for scrubbing tough stains and gunk, some surfaces are damaged by strong cleansers. This non-abrasive cleaner is ideal for cleaning everything from the bathroom to kitchen cookware.
Mix two parts cornstarch with one part warm water in a container and apply a coat of the mixture to the dirty surface. Rub a sponge on the item in a circular motion to remove stains and rinse it under warm water to clean away residue.
All-Purpose Cleaner for Everyday Cleaning
While there is a wide range of homemade cleaning products, sometimes an all purpose cleaner is all you need for quick clean-ups. This cleaning spray combines Borax and natural cleaners that are safe for use on most surfaces.
Pour hot water into a glass bottle sprayer and add Borax, washing soda, and Castile soap.
Squeeze in about 15 drops of tea tree oil or your favorite essential oil and shake the container gently to mix. Label it and use the cleaner on just about any dirty surface in your home.
Store-bought cleaning products that contain bleach and other strong chemicals are not the only way to get your home clean.
Homemade cleaners work effectively to remove grime, soap scum, and dirt build up, and some of them contain antibacterial properties for disinfecting surfaces.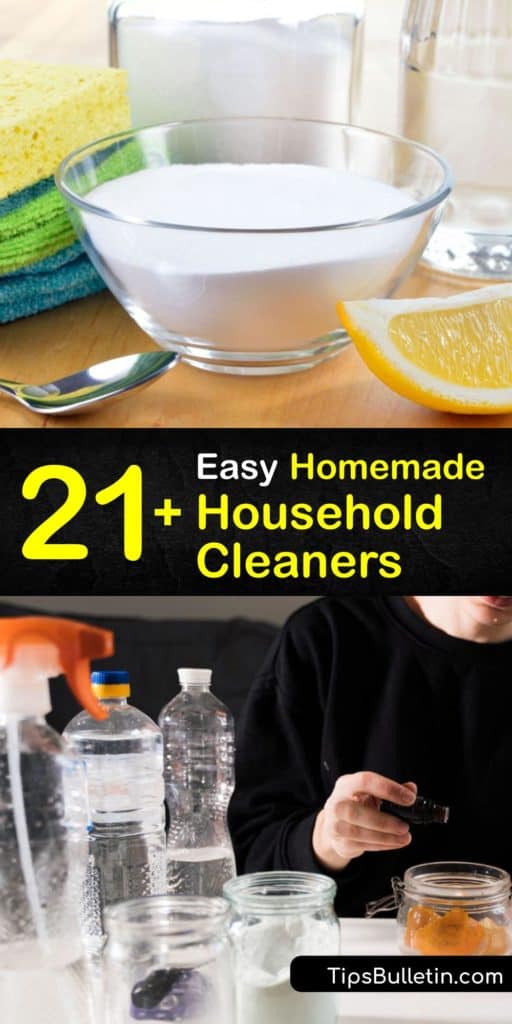 Making a homemade household cleaner is not only simple to do, but a great way to save money and use safe ingredients, so why not share our natural cleaner recipes with your social circle on Facebook and Pinterest?