Hummingbirds are a welcome addition to almost every garden, gracing our lawns once in a blue moon to partake of some yummy nectar. So what if you could increase the possibility of seeing these beautiful, tiny birds in your yards? Sometimes it's as simple as creating homemade hummingbird food recipes and placing them in feeders throughout your yard.
Knowing how to make hummingbird food is relatively simple and usually requires only two primary ingredients. Hummingbirds are enormous fans of sugar water, but what type of sugar works best, and what sugars should you avoid? Being aware of the many variations you can and cannot use in your recipes will make your hummingbird feeders a hit without causing harm to these beautiful creatures.
In addition to making these delicious recipes, we'll cover other, natural ways to feed these majestic wildlife specimens, and how to attract them to the feeding areas. If you're ready to start making your DIY hummingbird food, follow these helpful tips and recipes to get you started.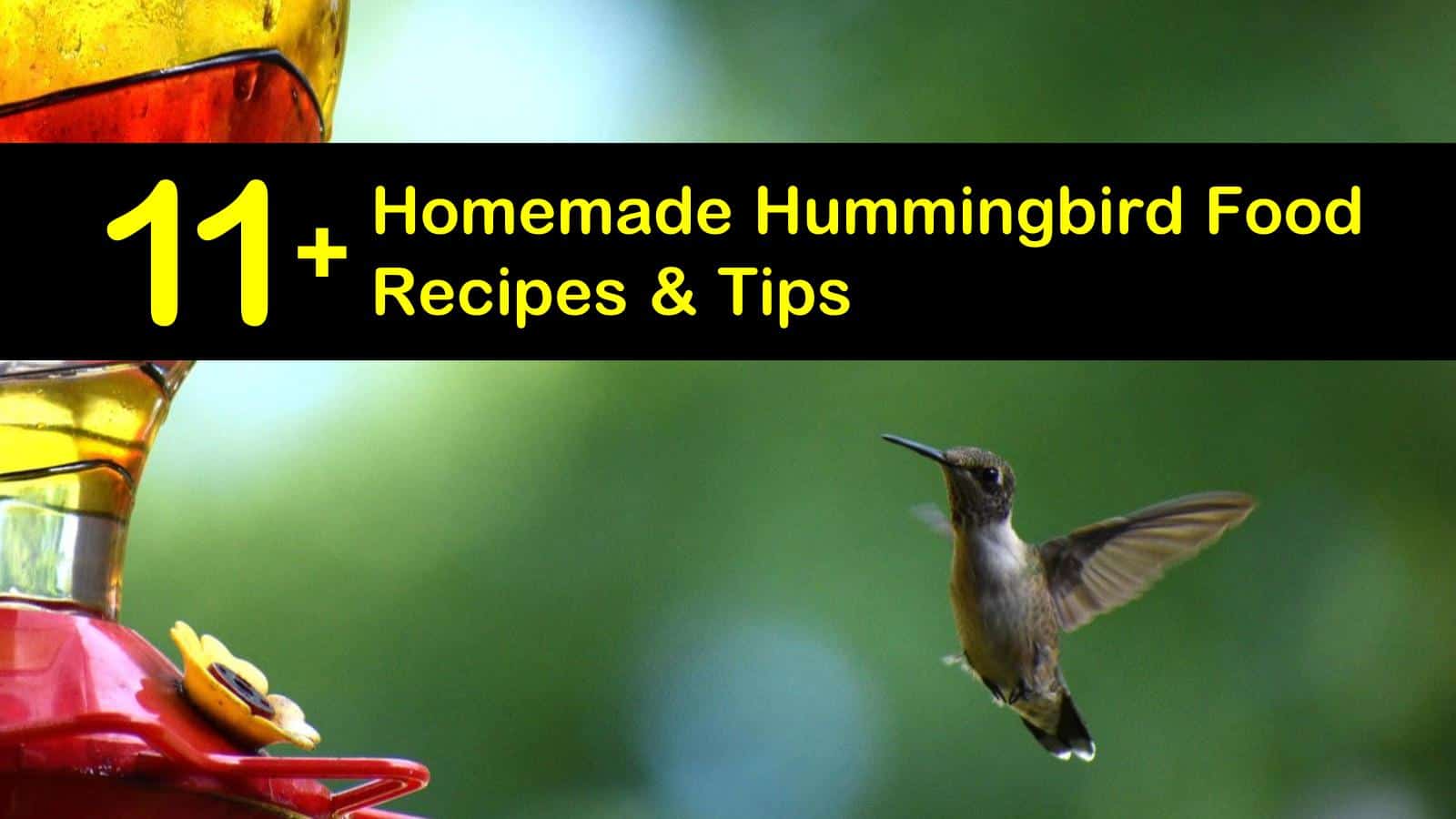 How to Make Hummingbird Food Tasty and Safe for Wildlife
Since hummingbirds love sugar water so much, we will focus on the many different ways you can make recipes with two simple ingredients, as well as variations in amounts. Most of the elements are interchangeable, so if you have one type of sugar but a different type of water, feel free to mix and match.
The Basic Example of Homemade Hummingbird Food Recipes
The traditional hummingbird food recipe calls for white sugar and water. The type of water and sugar varies only slightly, and all recipes state that the proportions should remain at one part sugar to four parts water. This recipe is one of the most common ones you'll find and is perfectly safe to feed to hummingbirds.
To make your hummingbird solution, mix the two ingredients until the sugar dissolves completely. Store leftover juice in the fridge for a couple of days, unless you boil the water. Boiling it will allow you to store it for up to one week.
Sugar and Water Substitutes for Your Recipe
As you come across the many different recipes on the internet, you'll see terms like "granulated sugar" and "refined sugar." If you're not sure which one to use, don't worry! They're the same thing.
Granulated sugar is made from two different sources, either sugar beets or sugar cane. In both cases, the sugar is refined to exclude unnecessary products like molasses, which you don't want in your hummingbird feeders anyway.
To create this second amazing homemade hummingbird food recipe, we're changing it up by adding bottled spring water instead. Tap water is perfectly fine in most regions.
If you are concerned about the quality of your water, then used bottled spring water. Do not use distilled or any other kind of bottled water.
DIY Hummingbird Food with Cane Sugar
For another variation on the hummingbird nectar recipe, you can use cane sugar and Reverse Osmosis water. Similar to regular table sugar, cane sugar is just a specific kind of granulated sugar explicitly made from sugar cane.
Reverse Osmosis water is a type of filtered water that removes most contaminants from the water. It is incredibly healthy for humans to consume and offers many benefits like removing lead, lowering the risk of high blood pressure, and reducing the risk of anemic conditions.
As noted before, these are all variations of different amounts you may use based on the type of feeder you own. If you have a larger feeder, you may want to add another cup of sugar and four more cups of water to fill the feeder.
Otherwise, mix your one half cup sugar with two cups water until the sugar dissolves completely. Place in the feeder and store any leftovers in the fridge.
Know What Types of Water to Use
We've already discussed the different types of water you can use, but there are still some to avoid and ways to handle the water properly. While clean tap water is perfectly acceptable, other types of water like distilled water, however, lack the necessary minerals that hummingbirds need.
Some experts also state that it's essential to use boiling hot water when preparing their bird feeders. Doing this is not required if you plan on using the solution right away, though.
You can make your recipe at room temperature when using all of the solution. If you plan on storing the remainder of your hummingbird nectar, however, then boiling the water will prevent mold and bacteria from growing.
Avoid Certain Sugars and Sweeteners
One of the other variations in hummingbird feeder recipes we discussed was the many names by which to call white sugar. What's most important to remember when choosing the right sugar is what sweeteners and sugars to stay away from.
In particular, molasses is one sweetener to avoid, since it is difficult for the hummingbird to digest and creates mold and bacteria much faster than regular sugar water. For this same reason, avoid using brown sugar in your homemade recipes.
Artificial sweeteners provide an altogether different problem. Hummingbirds require a lot of energy to keep going. Imagine how fast their little wings and hearts are beating per minute.
With all that energy used per minute, they need sugar that provides them with just as much energy. Artificial sweeteners do not provide them with the necessary calories to sustain them.
The Best Hummingbird Feeders to Use
When selecting the best bird feeder for your little hummers, there are a few things to keep in mind. While colorful ways to attract hummingbirds, such as having a bright red feeder, are crucial, you also want to focus on all the organisms you want to keep out of your feeder.
The most significant advantage your feeder should have is that it easily comes apart and isn't too difficult to clean. If you are unable to clean the feeder properly, then the feeder will begin to collect mold and bacteria that are harmful to wildlife.
All the same, you want to keep out disruptive pests also looking for a yummy treat. The two most significant pests are ants and bees. Some feeders come with bee-free guarantees that use guards to keep bees away.
Other birds in the area may tear these off, so check for missing parts from time to time. Different bird feeder designs may also include a small moat, which prevents the ants from climbing across the feeder to the little nectar ports.
Try Store-Bought Hummingbird Food and Refills
In case you don't have time to make hummingbird nectar, there are also plenty of store-bought options available. Some come in a liquid refill, while others come in a powdered form that requires adding water before use.
The good thing about these store-bought nectar products is that they have an increased shelf-life. Many of them can be stored in a cool, dry place for an extended period.
Don't worry about boiling water or placing the extra nectar in the refrigerator. You still want to swap out nectar in the feeder every five to seven days.
Clean Your Feeders Regularly
To keep your hummingbirds healthy and returning every day, maintain a clean hummingbird feeder. How often you clean your feeder depends on how many birds use it each day, and how hot it is outside.
Most of the time, you can clean your feeder once a week. On warmer days, generally about 85°F, you may want to increase this treatment to every three to four days.
For a basic cleaning recipe, use diluted vinegar to disinfect the bird feeder. Some recipes call for bleach and water, but this method is safer for the birds, especially since you don't want any traces of bleach being left behind in the feeders.
When cleaning with this method, allow the vinegar solution to soak in the feeder for several hours. Scrub the inside with a bottle brush and wipe down the outside with a cloth. Rinse the inside and outside thoroughly before filling with nectar.
Plant Hummingbird Friendly Flowers
While hummingbird feeders with sugar water are great, nothing compares to natural nectar from plants in your yard. There are a ton of lovely flowers you can plant in your garden to attract these adorable little birds while also brings beautiful splashes of color and style to your yard.
For best results, plant at least three clusters of the plant in one area at a time. Doing this provides your hummingbirds with plenty of nectar and space for them to drink in peace.
Here are just a few of the flowers hummingbirds love. They particularly enjoy flowers with a tubular shape.
Hummingbirds crave variety, and some species may prefer different flowers over others. So, plant various annuals for a bird-friendly yard, as well as perennials for maximum effect. If you want to put out a hummingbird feeder anyway, you're also providing your birds with more delectable options.
Make (Almost) Everything Red
Hummingbirds love the color red. It's what they are most attracted to, so having elements of red throughout your yard is a great way to attract them. Whether you are using clusters of perennials for hummingbird gardens that have red flowers or even red vases to plant your hummingbird friendly flowers in, these capture the attention of these little hummers.
Other ways to incorporate the red color is by placing out lawn furniture of the same color, or by attaching red ribbons to your feeder. These flowy flashes of color look great in the sun and are easy to spot from far away. While most hummingbird feeders are already red, adding some extra red touches will go a long way.
Avoid Using Red Dye
When putting a hummingbird feeder together, many homeowners try to stick to the "all red rule" by placing red dye in their sugar water. Of all the red items you want in your yard, this is not one of them.
Adding red food coloring to your hummingbird food is not necessary and can be harmful to the feeding hummingbirds over time. Instead of adding food coloring, the red on your hummingbird feeder is more than enough to attract a hungry hummer.
Do Not Use Honey Natural Hummingbird Food
With something as sweet as honey, you would imagine adding it to your favorite bird feeder recipe is ideal. However, honey is dangerous to feed to hummingbirds and may even kill them. Because hummingbirds are such active little birds, they need to maximize their nutrients.
Honey is the equivalent of empty calories for hummingbirds, practically weighing them down with something that provides them with no nutritional value.Also, some honey contains bacteria that flourishes and increases in number when it's watered down to make it easier for them to drink from feeders.
Likewise, the syrupy consistency of natural honey sticks to the hummingbird's beak and doesn't wash off easily. This issue, in turn, makes it difficult for the hummingbird to use its beak at all to eat other nutritious plants.
Why and How to Use These Homemade Hummingbird Food Recipes
If you're still not convinced why you should use these natural recipes and put these feeders in your yard, we've listed a few of the many benefits of having hummingbirds flittering around. If you have some lingering questions about where and when to place these feeders, we cover them, too.
What are the benefits of having hummingbirds?
These little birds provide enjoyment for anyone who sees them, especially for avid bird-watchers and children. Birding is an excellent way to get young learners interested in the world around them, with hummingbirds making a phenomenal subject to start with.
Not only are hummingbirds aesthetically pleasing to look at, but they are also great for gardens and the environment. Hummers drink nectar from plants that other birds and insects are unable to reach. This habit makes them great resources for encouraging pollination.
Another less notable benefit hummingbirds provide is insect regulation. Hummingbirds may love nectar, but insects comprise their much-needed source of protein.
Many of these insects are already pests you want to banish from your yards, such as mosquitos, gnats, flies, and even spiders. Reducing the use of insecticides, especially when you know there are hummingbirds in your garden, keeps the hummingbirds safe from ingesting harsh chemicals and also gives them something to much on during their visit.
When and where should I place the hummingbird feeders?
It's discouraging when you put out bird feeders and the birds still don't come to your yard. Luckily, several factors contribute to keeping hummingbirds away, most of which are simple to fix. Knowing the best times of year to put out your bird feeders is one solution.
Migration periods begin around March, with some warmer states starting as early as February. Leave your hummingbird feeders out until late fall. In warmer regions, you may even be able to leave your hummingbird feeders up through part of the winter. As long as the birds stop by, why not leave it up longer?
You also don't want to overfill your feeder. Hummingbirds eat up to half of their body weight in food, whether it's nectar or bugs. So you will want to leave just enough feed for a day or two only. You'll also want to place your feeder somewhere bees and ants can't get to it.
They love this sugar water just as much as hummingbirds do and will try their hardest to get to them. For ants, creating a moat or spraying the area with cooking oil is a great way to keep them away.
For bees, use a feeder designed to keep them at bay, preferably one with bee guards. In some cases, you can even take down the feeder for a couple of days. Removing the feeder will discourage the bees and wasps much faster than it will your hummingbirds.
Using these incredible tips and DIY hummingbird food recipes will bring these lovely little birds into your yard in no time. Don't be worried if hummingbirds aren't flooding to your doorstep overnight.
It sometimes takes weeks before these little hummers find your perfect little slice of heaven. Once they know there's plenty of food and clean nectar, they return year after year.
Recipe for Homemade Hummingbird Food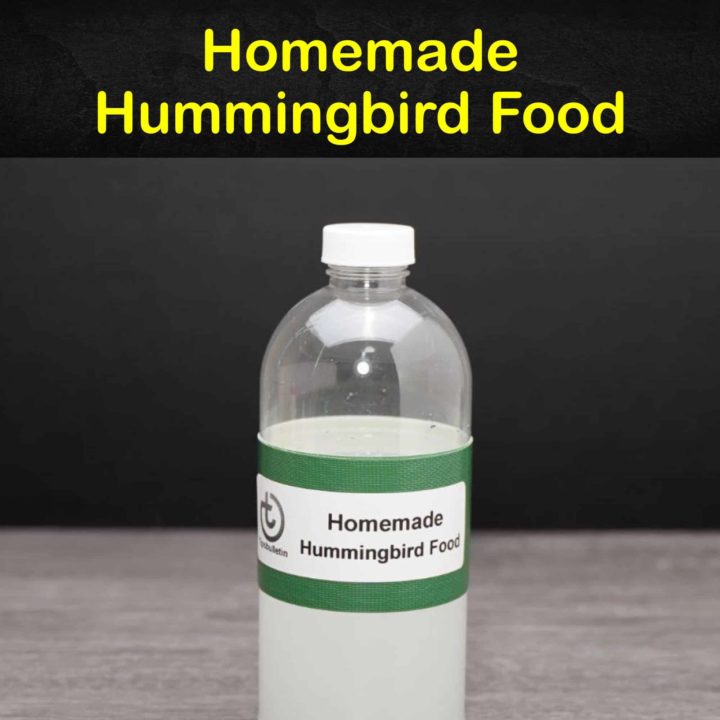 Homemade Hummingbird Food
Simple nectar for a beautiful bird!
Materials
16 ounces of water
4 ounces white sugar
Tools
2 hummingbird feeders
Bottle or container
Stirrer
Instructions
Add the sugar and water to the container and mix until all the sugar dissolves.
Pour half of the mixture into each hummingbird feeder.
Notes
Use white sugar only.
Do not use red dye, as it is harmful to the hummingbirds.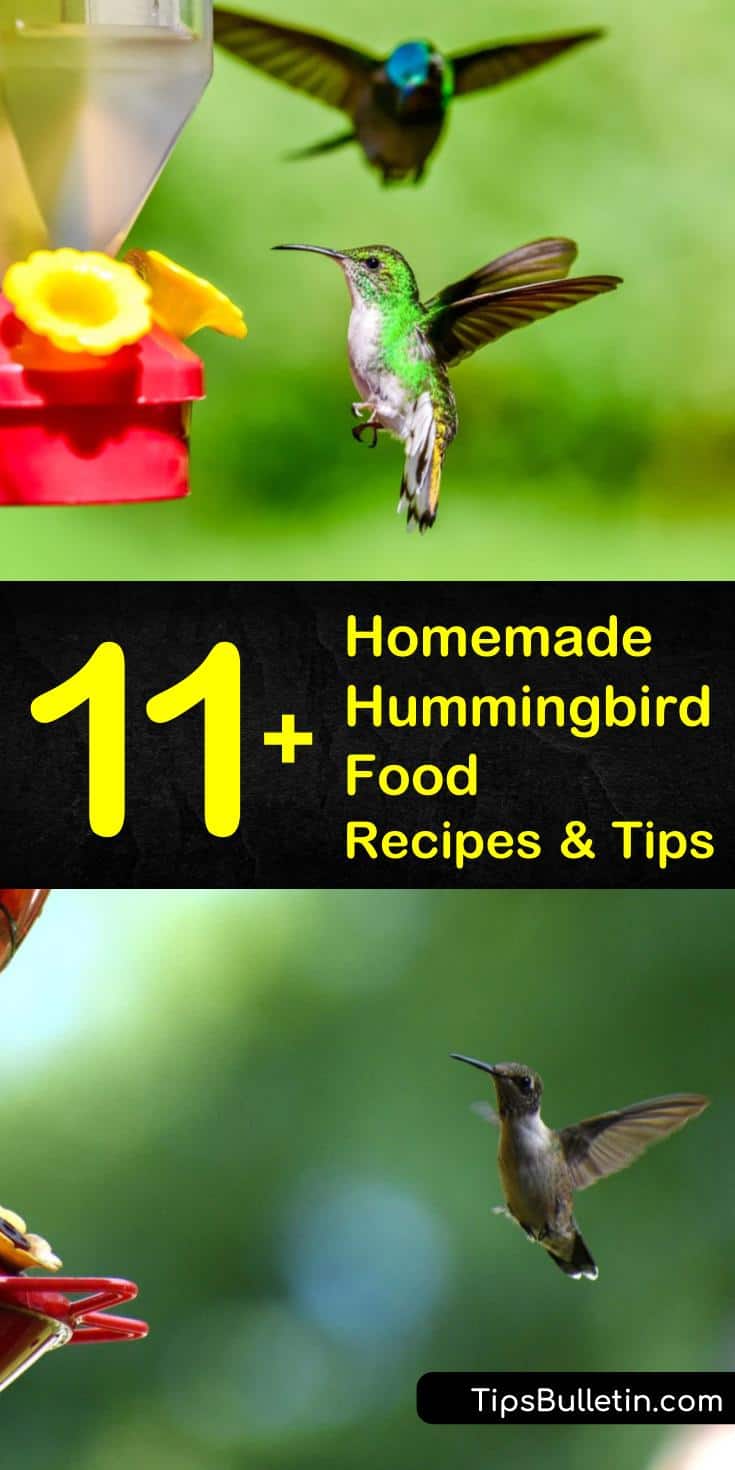 If you enjoyed learning how to make hummingbird food, then please remember to share these homemade hummingbird food recipes with friends and family on Facebook and Pinterest.