Spotting Japanese knotweed growing on your property may give you a feeling of dread. This noxious weed causes more problems than just being an eyesore. Not to worry, you can make a homemade Japanese knotweed killer and get rid of the invasive weed for good.
The knotweed plant, otherwise known as Godzilla weed, is an invasive plant that has a rapid growth rate of almost four inches a day. Its scientific name is Fallopia japonica, and it produces new plants from its seeds, stem fragments, and rhizomes, which can create a new root system.
A Japanese knotweed infestation can happen just about anywhere. The weed thrives in sunny, moist areas along riverbanks and ditches. Often, the weed spreads from a landfill site since all that it needs for regrowth is one small fragment of the discarded root.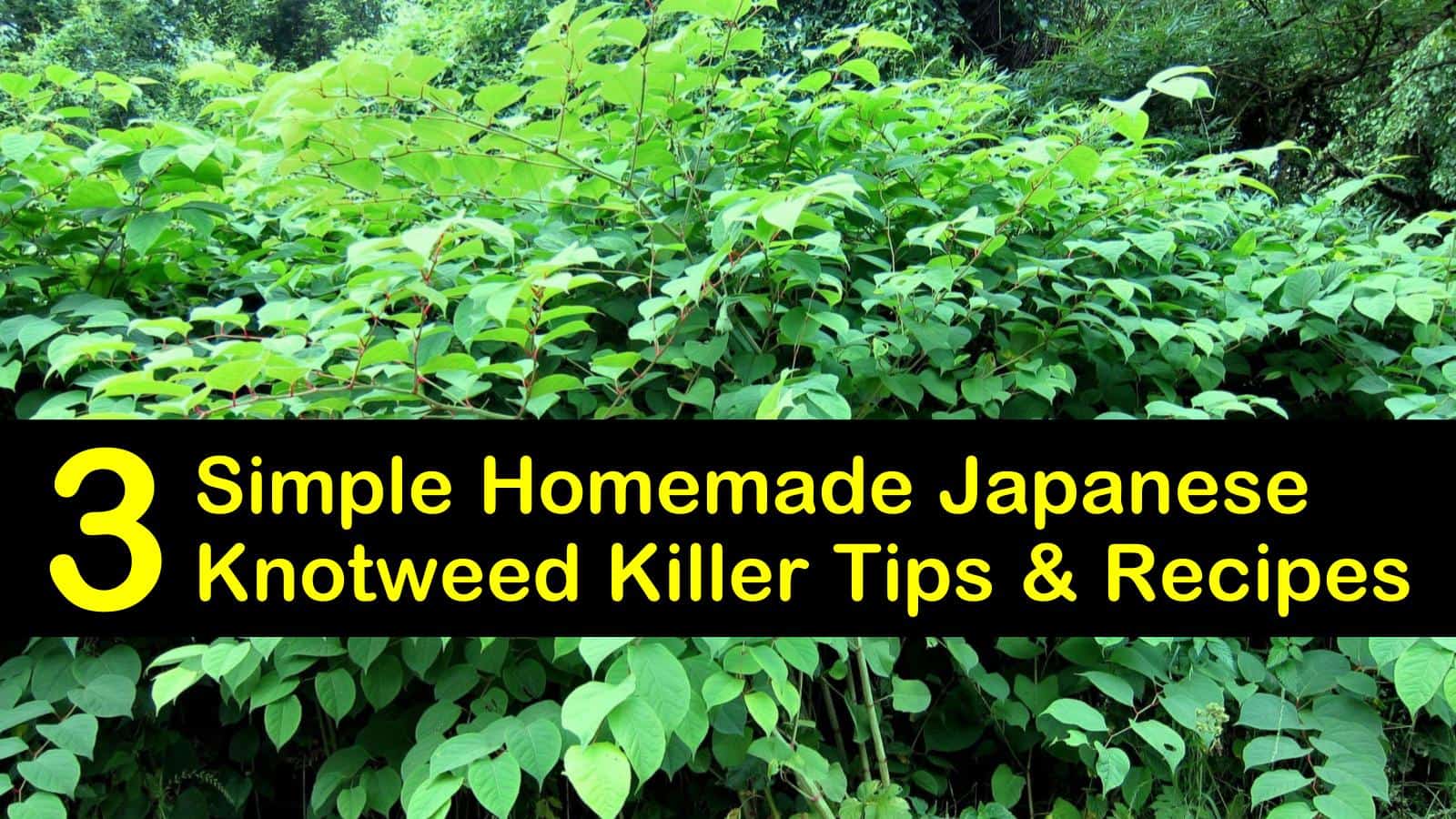 Effective DIY Japanese Knotweed Killer
Japanese knotweed is found across most of the United States from coast to coast and is a destructive weed that is difficult to kill. This invasive species not only pushes out native plants but causes damage to paving and masonry with its vigorous growth.
An infestation of Japanese knotweed can cause havoc in and around your yard. Learn how to kill Japanese knotweed by making a homemade solution.
Japanese Knotweed Killer Recipe
While you could always use a glyphosate herbicide such as Roundup, this can be harmful to the environment. This DIY Japanese knotweed killer recipe works best to get-rid-of-Japanese-knotweed when used in the summer or early fall.
For this homemade organic weed killer to be effective, fill a garden sprayer with equal parts brewed coffee and white vinegar. The vinegar contains acetic acid that kills the stem and leaves of the weeds, while the coffee inhibits the production of cytokinin, which is crucial to root growth.
Spray the natural herbicide onto the entire weed, making sure that it is saturated. Use the spray on a hot, sunny day when there is no wind to prevent spraying the solution onto desirable foliage and the sun can help dry out the plants. Repeat daily until the weeds are dead.
Use this simple recipe as a homemade clover killer or get rid of pesky insects that start munching on your plants. Keep a bottle on hand to use as needed.
How to Smother Japanese Knotweed
Perform this Japanese knotweed removal in late spring. This method is also ideal for killing poison ivy and patches of dandelion, as well as killing nutsedge and a variety of other annoying and unwanted vegetation.
The way to kill Japanese knotweed with this home remedy is to first cut down old weed canes to the ground to prevent puncturing the tarps. Lay tarps over the weed-infested area, making sure that the weeds are completely covered and have no access to sunlight. Place weights such as rocks or bricks on the tarps to weigh them down.
While the tarps are in place, the Japanese knotweed will still attempt to grow. As the shoots start to push up the tarps, trample them with your feet by walking on the tarp. The growth eventually stops as time passes. Leave the tarps in place to completely choke the weeds.
Japanese Knotweed Control Methods
You can use natural control methods instead of glyphosate forms of chemical control to keep those hard-to-kill weeds in check. Performing regular Japanese knotweed control may not kill it, but it will stop the spread of Japanese knotweed.
Cut down the stalks of the Japanese knotweed as close to the ground as possible and place them into sealed garbage bags. Japanese knotweed is a controlled waste product. Make sure that you dispose of all weed parts according to the code at your location to prevent further spread to other areas.
Prevent a Japanese knotweed infestation by mowing the weed area every week. Use the lawnmower at its lowest setting and mow the weeds to the ground. Doing this weekly will weaken and kill the plants.
Control and eliminate this invasive weed by using the right Japanese knotweed treatment and control methods. Kill the weed species by using a homemade weed killing spray or by smothering the plant entirely and prevent regrowth by following the right preventative measures.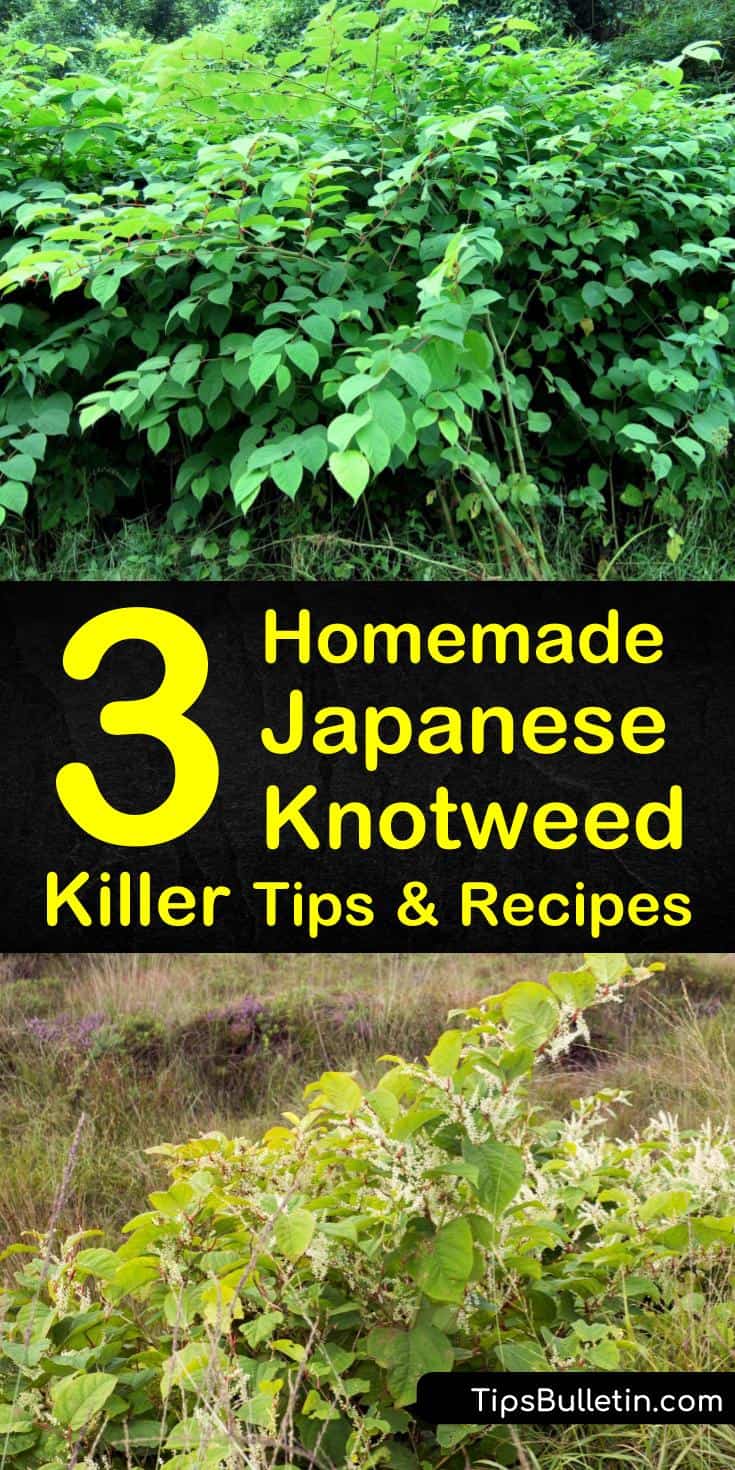 We're pleased that we could teach you how to make a homemade Japanese knotweed killer so that you can reclaim your yard, and we'd love for you to share our Japanese knotweed killer tips with your family and friends on social media such as Facebook and Pinterest.