The countertops in your kitchen are used for a variety of different things. From food preparation to a space to set random objects, your kitchen counter is exposed to millions of germs each week. There are several kitchen cleaner options, including homemade kitchen counter cleaner solutions that keep your surfaces disinfected.
A common misconception is that natural cleaners' cleaning power is not as strong as a regular counter cleaner. However, DIY cleaners work just as well as commercial products when the right ingredients are used.
We provide you with fantastic homemade cleaners that not only include a disinfectant but also are inexpensive and use everyday household products you may already have.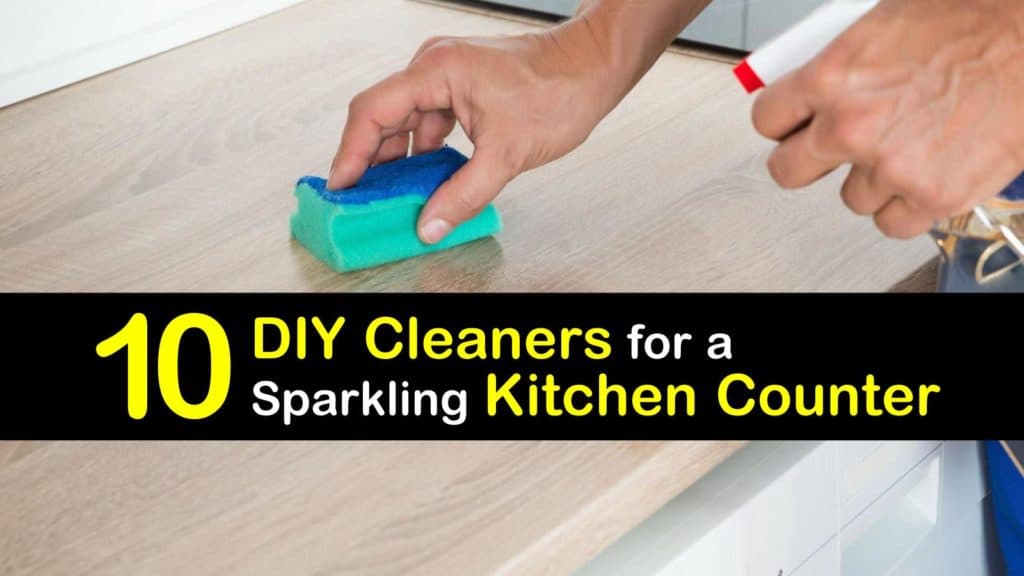 Amazing Homemade Kitchen Counter Cleaners
A natural kitchen cleaner reduces the number of chemicals on the surfaces in your home. Utilizing the natural disinfecting ingredients in standard household products like baking soda, vinegar, and rubbing alcohol aids in disinfecting your countertops quickly.
You must wipe down your kitchen countertops at least one time a day to get rid of food crumbs and disinfect to prevent the spread of germs. If too many germs build-up, you are more likely to experience illness and disease.
Commercial cleaning products often use a wide array of chemicals that are harmful to small children or pets. We show you step by step instructions for how to easily create your own all-natural kitchen countertop cleaner with brilliant cleaning recipes.
We show you that making your own all-natural kitchen counter cleaner is simple and safe for getting stains out of linoleum countertops. Additionally, you may find some products in stores that refrain from using harsh chemicals and allow for natural cleaning.
Using Vinegar in Your Homemade Kitchen Counter Cleaner
White vinegar is an excellent solution for a DIY counter cleaner. Vinegar contains several acids that dissolve and eat away at grease, grime, dirt, and other bacteria. It also acts as a natural deodorizer and disinfectant.
Not only does vinegar serve as a natural countertop cleaner, but it is also very inexpensive and easy to find. To clean quartz with vinegar, mix one part distilled white vinegar with one part warm water in a spray bottle.
Spray the solution on your countertops and wipe down the liquid with a paper towel. If you would like to add a specific scent to this cleaning solution, add three drops of essential oil to the spray bottle.
Be sure to shake the bottle if you add essential oils to this cleaner recipe, as oil does not mix well with water.
DIY Counter Cleaner with a Dish Soap Mixture
Dish soap is an excellent antibacterial cleaner that works on more than just your dirty dishes. The ingredients found in dish soap are an all-purpose cleaner for your kitchen countertops, your stovetop, as part of a homemade cleaner for kitchen cabinets, and other areas around the house.
This option is excellent because dish soap is regularly found in your kitchen already. In a glass spray bottle, mix hot water with a small amount of dish soap. Shake the bottle gently before using it on your kitchen counter.
After spraying the mixture on the affected area, wipe with a microfiber cloth. The dish soap mixture is an effortless way to make your homemade kitchen counter cleaner with only two ingredients.
Baking Soda is a Natural Countertop Cleaner
The ingredients found in baking soda are beneficial for cleaning your kitchen counters and as a way to get hair dye off your counter. When interacting with water, baking soda dissolves dirt, stains and grease found on all kinds of surfaces.
This DIY counter cleaner is perfect if you are short on time and need to quickly clean your kitchen counters. Start by pouring a small amount of baking soda on a damp microfiber cloth. Use the cloth to wipe down any desired area.
Wipe the surface with another clean wet cloth to clear away any remaining baking soda. Understand that this homemade kitchen counter cleaner does not kill bacteria; it only cleans the grime and dirt found on the surface.
Clean Laminate Counters with Lemon Juice
Lemon juice contains citric acids that are very effective in removing stains on laminate countertops. This natural countertop cleaner requires few materials, and lemons also leave behind a scent that is pleasing for many people.
Cut a lemon in half and squeeze the juices on your kitchen counters. Use the cut lemon's open side to scrub the fluids on the surface. We recommend squeezing extra juice on stains.
Let the juices sit on the counter for five minutes before rinsing with warm water. This natural countertop cleaner is a great alternative to commercial cleaning sprays on laminate surfaces.
Utilizing Castile Soap for Kitchen Countertops
Castile soap is made from oils found in coconut, castor, or hemp and attract and capture grime and dirt found on any surface. This natural countertop cleaner creates a thick foam lather that begins cleaning the surfaces immediately after being spread across the counter.
It's a safe and effective natural quartz counter cleaner and works well on other types of counters, too.
To make your own degreaser and cleaner, pour the ingredients into a spray bottle and shake gently to mix in the tea tree oil. Spray the solution on your kitchen counter and wipe it clean with a paper towel. This DIY cleaner takes only minutes to create and is quite inexpensive compared to other cleaners.
Disinfect Countertops with Bleach
Bleach is the surest way to kill nearly all of the bacteria found on your kitchen counter. Bleach is often already found in households and works great to clean various surfaces, including kitchen counters.
We recommend using rubber gloves when cleaning with bleach products, as the chemicals are potent and may harm your skin in sensitive areas.
In a bucket, pour one gallon of water and a ½ cup of bleach. Wipe down your kitchen counter with a microfiber cloth or sponge that has soaked in the bleach.
Make sure you let the bleach sit for five minutes so the chemicals can kill as many germs as possible. Finish the process by rinsing the counter with warm water.
Create a Homemade Countertop Cleaner with Rubbing Alcohol
Mixing rubbing alcohol with water is a straightforward way to make a DIY counter cleaner. The alcohol kills any bacteria found on your countertop immediately, making it a great way to disinfect the surface without spending a lot of money.
For a DIY granite countertop cleaning solution, pour equal parts water and rubbing alcohol in a spray bottle. Cover your countertop and wipe down the surface with a damp cloth.
Since the scent of regular rubbing alcohol is very intense, we recommend adding a couple of drops of lemon essential oil to this organic disinfectant spray to leave your counters with a pleasant scent.
Borax as a Kitchen Countertop Cleaner
Including Borax in your homemade kitchen counter cleaner is a great way to ensure your surfaces are cleaned properly.
The ingredients in Borax convert some water molecules into hydrogen peroxide when they react with hot water. After the solution transforms into hydrogen peroxide, it dissolves the dirt and grime found on your kitchen counter.
To clean grease off kitchen counters, let the Borax dissolve in hot water, mix all ingredients in a spray bottle and shake gently. This DIY counter cleaner works well on any surface it comes in contact with because it combines several solutions that naturally include antibacterial agents.
Repurposing Glass Cleaner for Countertops
Glass cleaner is a great way to disinfect and clean your windows and glass products. It can also be used as a kitchen counter cleaning solution. Glass cleaner contains ammonia, sanitizing your countertops, appliances, and any other surface in your kitchen.
Spray the solution on your kitchen counter to kill bacteria. The method of cleaning your kitchen counters is perfect if you are unable to find any other disinfecting materials.
Additionally, a glass cleaner allows you to use a standard cleaning product found in most households.
Utilizing a Grapefruit to Remove Stains on Countertops
A unique way to get rid of stains found on your kitchen countertops is to use the juices found in grapefruit. Grapefruit is very acidic, which makes it useful in treating stains on your kitchen counter.
Although this natural countertop cleaner is somewhat unusual, it works wonderfully. Cut a whole grapefruit in half and squeeze the juices onto the affected area.
Let the grapefruit juices sit on the stain for ten minutes before using a damp sponge to wipe the surface. Repurposed grapefruits are a great natural countertop cleaner and quite effective for getting rid of stains.
Kitchen counters need to be cleaned often, as they come in contact with a variety of germs and bacteria daily from the people in your house as well as food.
Making a homemade kitchen counter cleaner is very simple and often uses ingredients that are already found in your home, like vinegar.
Another neat aspect about DIY counter cleaners is that you can add scents like eucalyptus from essential oils to add a pleasing odor after cleaning.
Recipe for Homemade Kitchen Counter Cleaner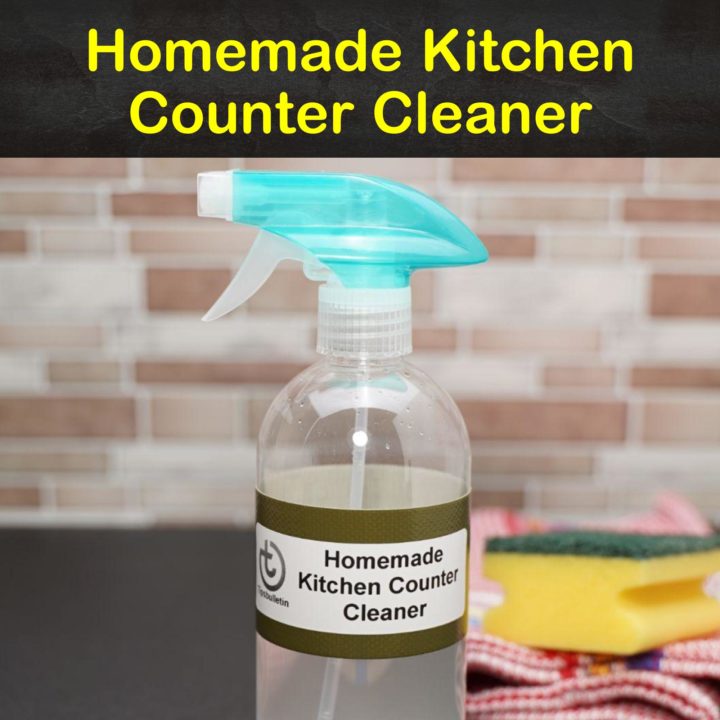 Homemade Kitchen Counter Cleaner
Gentle but effective for all countertops.
Materials
32 ounces water
2 ounces liquid Castile soap
25 drops of tea tree oil
Tools
48-ounce glass spray bottle
Cleaning rag
Measuring cup
Instructions
Add the liquids to the sprayer and shake to combine.
Spritz the countertop.
Wipe with a damp cleaning rag.
Notes
Glass containers work better than plastic for essential oils.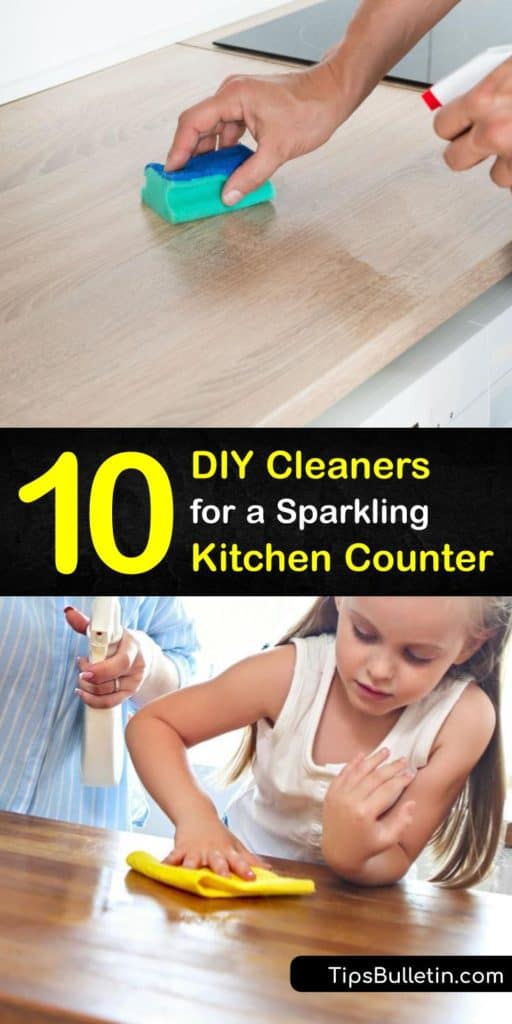 If you learned how to make a fantastic homemade kitchen counter cleaner, please share this article with DIY counter cleaner tips on Facebook and Pinterest with your family.