Homemade laundry soap is a safe and healthy way to wash your family's clothes. Commercial laundry detergents contain toxic chemicals that are not only bad for your family but are horrible for the environment.
Perhaps the best part about DIY laundry soap is how cheap it is to make. Most homemade laundry soap recipes cost less than $20 to make, so the overall cost is less than one cent per load.
We have compiled a list of fantastic laundry soap recipes that use a variety of ingredients. Pick which ones you like best and save money while keeping your clothes fresh and clean!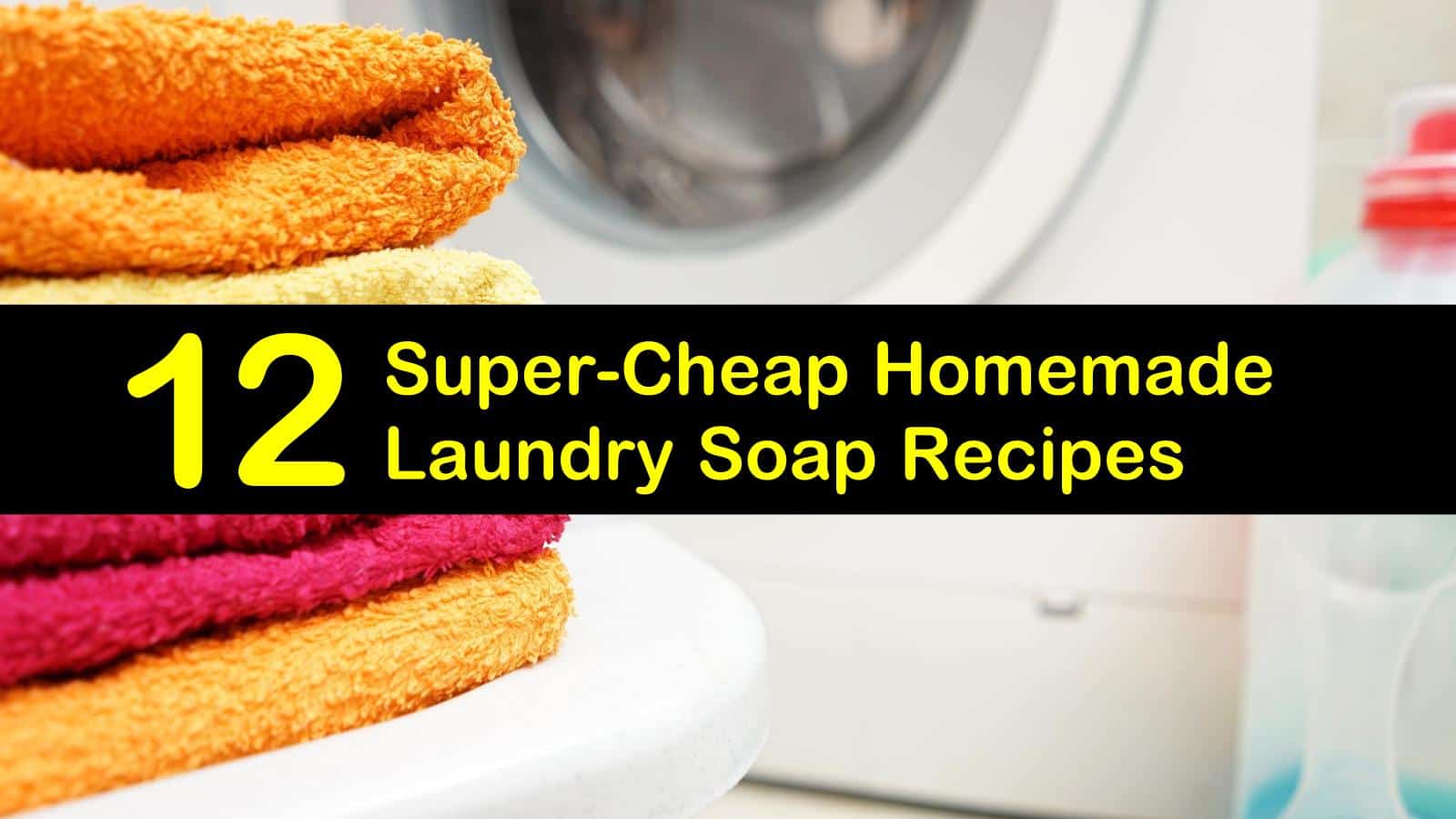 Will homemade laundry detergent leave my clothes clean and smelling fresh?
Many of us have heard that homemade laundry detergent doesn't clean as well as commercial products. That is not true.
Clothes washed with homemade detergent come out just as clean as if they were cleaned with a commercial product. As a bonus, the homemade soap leaves clothes feeling softer from the dryer than commercial soaps. Your clothes will smell fresh but will be fragrance-free unless you choose to add a fragrance booster to your detergent.
Easy-to-Make Laundry Soap Tips & Recipes
The fragrance-free recipes are an excellent choice for those who have allergies. The scent has nothing to do with cleaning power, but for those that enjoy a fragrance boost to your detergent in the form of essential oils or fragrance crystals, they add a nice touch.
Homemade Liquid Laundry Soap with Borax
This homemade laundry soap recipe makes five gallons and costs you less than a small container of commercial liquid laundry soap. Use your favorite laundry scent booster or essential oil during the rinse cycle to give your liquid detergent a fresh smell.
Grate the Fels Naptha soap and place it in a pot with four cups of water. Use medium-high heat to melt the grated soap. Fill the bucket up halfway with hot water and pour it in the soap mixture. Stir gently, add Borax and washing soda and stir again.
Finish filling the bucket with warm water and stir. Close the lid on the bucket and allow it to sit for 24 hours. The natural soap should appear watery with globs of gel. Use as is or use an immersion blender to make a smoother consistency.
Laundry detergent can be divided up into smaller containers or stored in the bucket depending on space. Use ½ cup for high efficiency front load washers and one cup for regular top-load machines.
Homemade Tide Laundry Detergent
To maximize your savings on this homemade laundry soap recipe use a coupon when buying the liquid Tide. If you want to use this laundry soap in a HE machine, purchase Tide that is safe for HE washers.
Grate the Fels Naptha into a medium saucepan, add four cups hot water and heat until soap melts. Fill the bucket halfway with warm water, add melted soap and stir. Add washing soda and Borax and stir again.
Add more hot water until the bucket is ¾ full. Close the lid of the bucket and allow it to sit for 24 hours. Soap will appear watery with clumps of gel. Stir in the whole bottle of Tide and then use it as usual. Use ½ cup per large load.
Powdered DIY Laundry Soap
This powdered laundry soap recipe can be made with or without scent and not affect performance. Scent booster products, such as Purex Crystals or Downy Unstoppables, can be added to each batch of detergent for your preferred fragrance.
Finely grate the bar of Fels Naptha into a large bowl. The finer the grate, the better as it allows for even distribution throughout the laundry detergent.
Add washing soda, Borax, and scent booster. Whisk. Store the soap inside a Ziploc bag or a sealed container. Use two tablespoons per load.
DIY Powdered Laundry Detergent
Sometimes you need extra cleaning power, especially if trying to remove chocolate stains. This DIY powdered laundry detergent recipe uses OxiClean to give your laundry detergent the ability to fight even the toughest stains.
Grate each bar of soap and pour them into a large bucket. Add all of the remaining ingredients and stir well. Close bucket with a lid and store until ready to use.
Detergent can be stored in smaller containers and refilled as needed. Use up to four tablespoons per load.
Baby Safe Homemade Laundry Detergent
This homemade laundry detergent is safe and gentle for even the most sensitive skin since it uses only basic ingredients. Instead of using a commercial fabric softener with this soap, use ½ cup white vinegar during the rinse cycle to remove any build up.
Grate the bar soap into a large bowl. Add the washing soda and stir the two ingredients together. Pour into an airtight container. Use one to two tablespoons per load.
DIY Laundry Detergent Tabs
Laundry detergent tabs are quite easy to make and cost just a few cents per load to use. For those of you with hard water, these tabs leave your laundry bright and soft, with no egg smell.
Use the fine side of a grater and grate the bar soap into a large bowl. Add washing soda and Epsom salts. Slowly add the vinegar, stirring as you go. The mixture should feel like wet sand; use only as much vinegar as you need. Add essential oil.
Use any combination you desire. Spoon the detergent into the molds and fill only ¾ of the way for a HE machine. Spray molds with a water and vinegar mix until they are drenched. Let dry overnight. Pop out and store in an airtight container.
It's easy to get good smelling laundry when using these homemade detergent tabs.
Borax Free Homemade Liquid Laundry Soap
With this Borax free laundry detergent recipe, you can make your liquid laundry detergent in a matter of minutes. The liquid detergent smells great and is safe for all HE washing machines. As this contains no chemicals for bonding agents, shake before each use.
In a gallon container add hot water, baking soda, and salt. Secure with lid and shake well. Pour in liquid Castile soap and essential oil. Use ¼ cup for each load.
Three Ingredient Laundry Detergent
While you still need to separate clothes for washing this laundry detergent is safe for use in both front and top load machines. With a front loader use ¼ cup per load of laundry. For top loaders, use ½ cup per load.
In a big pot, mix four cups hot water and grated Ivory soap until melted. Pour into a clean five-gallon bucket and add Borax and washing soda. Stir until all powder dissolves. Fill the bucket with water and stir. Let sit for 12 hours.
Once cool, use a whisk to break up any lumps or gel. Pour homemade detergent into an old laundry container and fill the rest of the jug with tap water. Shake well before using.
High Efficiency Lavender and Lemon Laundry Soap
A food processor with a grating wheel and a fine processing blade is recommended to reduce your overall time. If using a food processor, cut the bar soap into smaller chunks that will easily fit down the chute.
Grate the bars of soap with the food processor. Remove soap and swap out the grating wheel for fine processing blades. Add 1/3 grated soap to the processor and a small scoop of OxoBrite.
The OxoBrite prevents the soap from sticking to the processor blades. Add more soap and powder until all grated soap is finely processed.
Dump soap and powder into a large stainless steel bowl, add remaining ingredients and stir to prevent components from layering. Store soap in glass jars. Use one to two tablespoons for each laundry load, depending on how dirty the clothes are.
Laundry Bombs
With these homemade laundry bombs, you don't have to worry about lugging around soap, stain sticks, and fabric softener. These laundry bombs are made to do it all, and you can find all the main ingredients at your local grocery store.
Grate the bar of Fels Naptha into a mixing bowl and pour in the washing soda and Epsom salts. Add hydrogen peroxide and stir gently. While stirring, add vinegar and essential oil. The mixture should look like wet sand.
Scoop out one rounded tablespoon, press against the side of the bowl, and tap onto a sheet pan. Repeat until the bowl is empty. In a spray bottle mix equal parts of water and vinegar and spritz laundry bombs.
Let sit for eight hours. Use one bomb for small loads and two for larger loads.
Stain Fighting Laundry Detergent
For those of you wondering what temperature to wash darks in, the answer is cold water. The problem is not all homemade laundry soaps fight stains well in cold water, but this recipe uses a secret ingredient to get even the toughest stains out.
Add all the powdered ingredients into a large bucket and mix using your hands or a spoon. Grate the soap using a cheese grater into the bucket of powdered ingredients and mix again. Fill a small container with detergent for immediate use.
Store the remaining soap solution in the five-gallon bucket with a secured lid. For HE machines place detergent directly into washing drum rather than the dispenser. Use old Purex Crystals cap to measure out laundry detergent. Use one capful per load of laundry.
Frugal Homemade Laundry Soap
If you want to stretch your dollar while making detergent, this DIY liquid recipe is an excellent choice. Making one batch of this recipe allows you to wash over 500 loads of laundry and it only costs $6 to make.
Grate the bar soap into a large pot and add one gallon of water. Cook over medium-high heat until soap is melted. Add washing soda and Borax and bring it to a boil until the mixture thickens. Turn off the heat, add one gallon of cold water and stir.
Using a funnel, pour liquid detergent into two one gallon jugs. Use a ½ cup of your soap for each load.
Homemade Laundry Soap
Homemade Laundry Soap
An easy DIY laundry detergent that is also inexpensive.
Materials
1 bar Fels Naptha soap, grated
32 ounces water
8 ounces washing soda
8 ounces Borax
Hot water
Tools
Measuring cup
5-gallon bucket with a lid
Saucepan
Spoon
Instructions
Add the 4 cups of water and grated soap to the pot and heat on medium until soap is dissolved. Stir constantly.
Pour hot water into the bucket halfway and add the soapy water.
Stir.
Add the washing soda and baking soda and stir again.
Fill the container the rest of the way with hot water and stir.
Secure the lid and allow it to sit for at least a day before using.
Use one cup for top-loading washers and 1/2 cup for HE washing machines.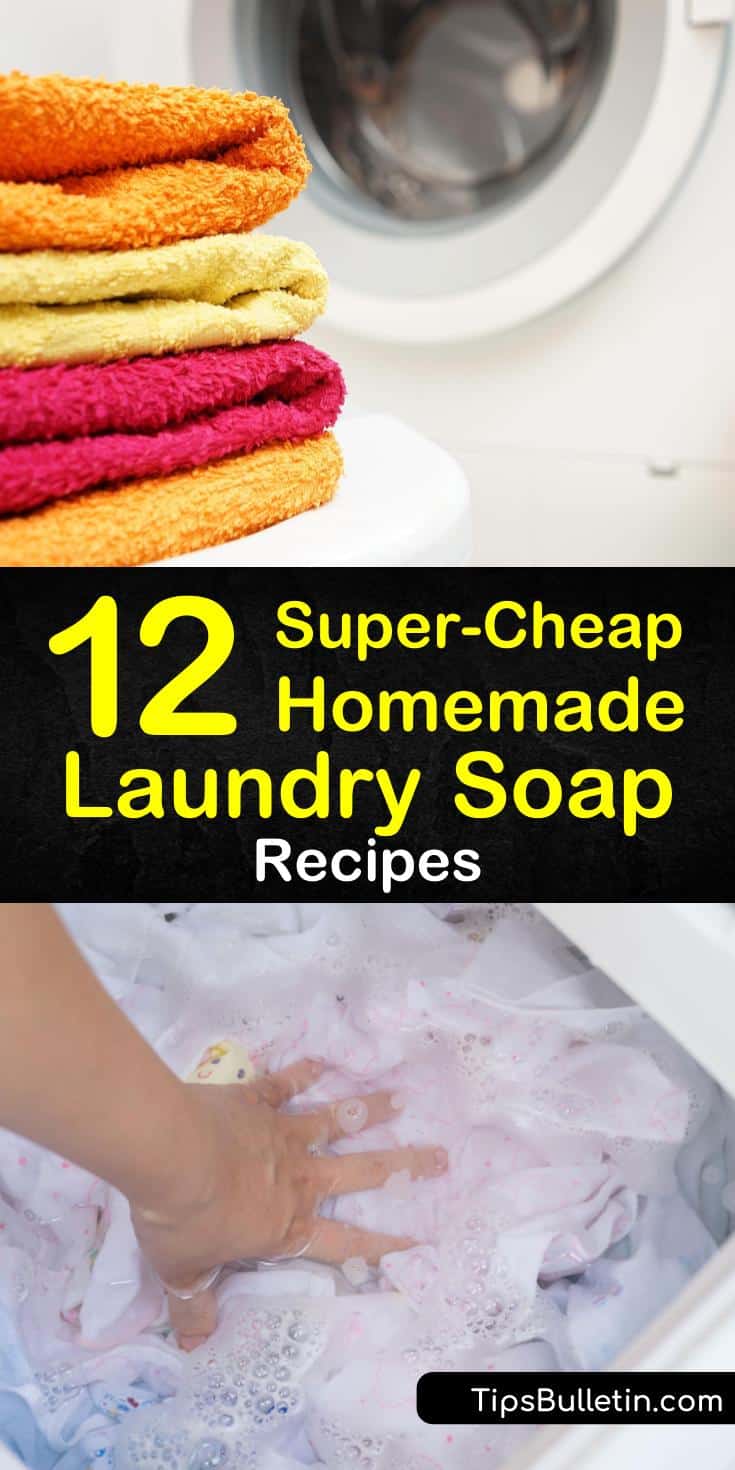 Thank you for reading our post on making laundry detergent. If you found our homemade recipes helpful, please take a minute to share these homemade laundry soap recipes with others on Facebook and Pinterest.