Lemons are not just for making lemonade; these round and tart fruits also make an excellent natural cleaner. The acidity of lemons is both antiseptic and antibacterial, making it perfect for natural cleaning. Learn how to make a homemade lemon cleaner using the citrus peels and juice to clean almost anything in and around your home.
Natural is the way to go when it comes to cleaning products. Many commercial household cleaners contain harsh chemicals that are not only bad for the environment but they contain agents that are flammable or toxic and are harmful if you misuse them in your home.
Fortunately, a variety of natural ingredients are safe and inexpensive for making homemade cleaners, and lemons are top of the list. Citrus fruits such as lemons and grapefruit have the cleaning power of citric acid that easily cuts through grease and grime and leaves the area smelling fresh and clean.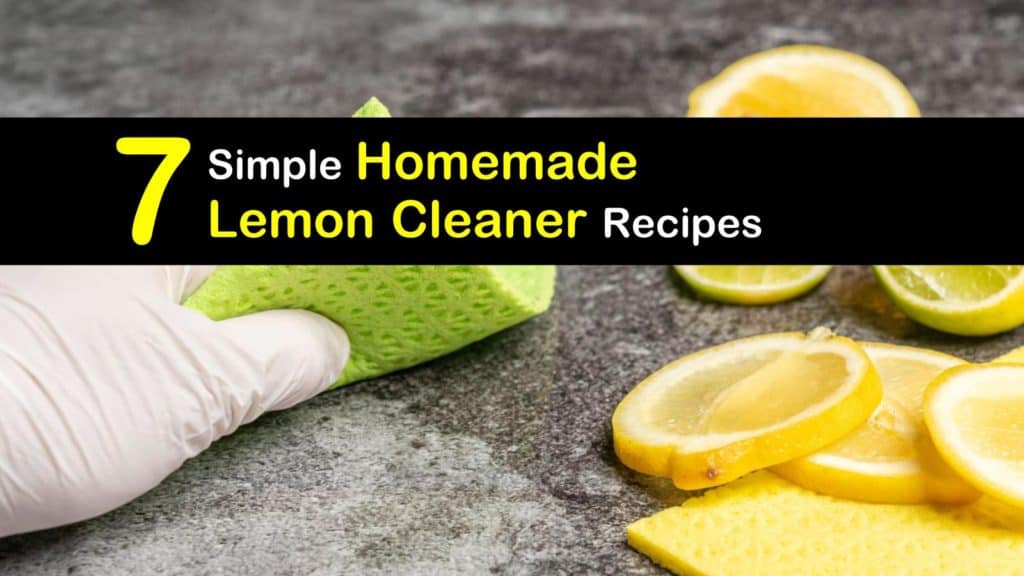 Making Homemade Cleaners with Lemons
Don't throw away the rinds after using lemons for meal prepping. Save the peels for making a refreshing cleaner, or use the entire lemon as a natural scrubbing agent. Here are several ways to use your citrus fruits to make a lemon cleaner.
DIY Lemon Cleaner with Vinegar
When making a DIY lemon cleaner, it's helpful to add other ingredients to work together for optimal cleaning action. This homemade cleaner with vinegar and lemon juice also includes a natural soap for triple the power.
Save your lemon peels and pack them into a Mason jar. Pour white vinegar over the top to cover them, close the lid, and place the container in a sunny spot for two weeks.
Strain the lemon/vinegar liquid into a bowl, discard the peels, and pour the liquid back into the jar. Keep it in a cool, dark area until needed.
To make this homemade household cleaner, pour half a cup of the reserved lemon solution into a spray bottle, and add the water, Castile soap, and lemon essential oil. Shake the bottle well and use the cleaner to wash all areas except for natural stone surfaces.
Alternatively, add some of the mixture to a bucket with clean water as a homemade cleaning solution for floors.
Natural Lemon Cleaner with Baking Soda
This natural lemon cleaner includes baking soda, a natural alkaline, and mildly abrasive powder. The recipe also calls for white vinegar, an acidic liquid that breaks up grease and grime, and the lemon scent helps mask the vinegar smell. An easy way to polish jewelry at home with baking soda and vinegar is by following this easy cleaning method.
To make a natural cleaning spray and DIY antibacterial cleaner with lemons, fill a large spray bottle with water, white vinegar, and baking soda.
Squeeze all the juice from a lemon half into the container and shake it well to combine all ingredients. Use the cleaning spray to clean bathroom and kitchen surfaces to remove dirt and grime.
This spray is perfect for cleaning an oven with lemons and easily eliminates even the greasiest, stuck-on stains.
Homemade Lemon Cleaner for Deodorizing Surfaces
Lemons are beneficial for cleaning countertops and cutting boards to sanitize and deodorize the surface. Using salt in combination provides gentle scrubbing action to the lemon.
Sprinkle salt over the dirty countertop or cutting board and use a half lemon to scrub the surface using a circular motion. After the area is clean, rinse it with warm water and dry it with a soft towel.
Making a Homemade Citrus Furniture Polish
This DIY lemon cleaner is excellent for cleaning wood furniture to remove dust. It leaves the surface with a shiny polish while it freshens the air with the scent of lemons.
Use a glass bottle sprayer rather than plastic to prevent the bottle's deterioration. To make this DIY citrus cleaner, fill the bottle with white vinegar, lemon juice, olive oil, and essential oil.
Shake the container vigorously to combine all ingredients and spray the polish on dusty wood surfaces. Finish up by wiping the area dry with a soft cloth.
How to Make Lemon Deodorizer and Air Freshener
Having a natural lemon cleaner on hand is great for cleaning up spills and removing dirt, but what about freshening the air? This air deodorizer contains fresh lemons and lemon oil to enhance the air and baking soda to neutralize bad odors.
Pour hot water into a glass spray bottle and add the lemon juice, baking soda, and lemon oil.
Make sure the container is glass to prevent the essential oil from breaking down the plastic. Shake the container and label it for future uses. Spray the deodorizer around the room as needed.
Lemon Infused Vinegar Cleaning Solution
White vinegar is a popular liquid that works wonders for cleaning many items around the home. However, it has a strong and unpleasant scent. Infusing it with lemon peels cuts back on the odor while increasing its cleaning power.
For this homemade orange cleaner with a wonderful aroma, fill the jar halfway with leftover lemon and orange peels and set it aside. Pour white vinegar into a small non-aluminum pot and bring it to a near boil.
Pour the hot water over the rinds to fill the jar, close the lid, and store it in a dark and cool area for up to six weeks. Strain the peels from the liquid, and store the lemon-infused vinegar back in the jar.
When you're ready to clean, pour equal parts of the lemon-scented vinegar and water into a spray bottle, shake it gently, and use it as an all-purpose cleaner. It's ideal as a homemade stainless steel cleaner for refrigerators.
This mixture also works well as a DIY streak-free window cleaner and a great spray for mirrors.
DIY Lemon Dishwasher Detergent
Lemons are useful for cleaning more than the kitchen counter or bathroom sink. These handy fruits also make a natural detergent for washing dishes in the dishwasher.
Pour one and a half cups of warm water in a saucepan and add the diced lemons, making sure there are no seeds. Bring the lemon water to a slow boil and stir it at a simmer for 20 minutes.
Pour the lemon syrup into a blender and add the remaining water. Blend it until very smooth, and then strain the liquid back into the saucepan. Pour in the vinegar and salt and bring the mixture to a slow boil while stirring.
Simmer it for about 15 minutes or until it thickens to the consistency of applesauce, and remove it from the heat to cool. Pour the lemon dishwashing detergent into a glass jar with a lid and use three tablespoons of the soap in your dishwasher with each load.
Making natural cleaners is good for both you and the environment, and they clean everything from kitchen counters and sinks to appliances and dirty dishes. Not only are citrus fruits a great cleaning tool, but they leave your home with a fresh lemon scent.
Recipe for Homemade Lemon Cleaner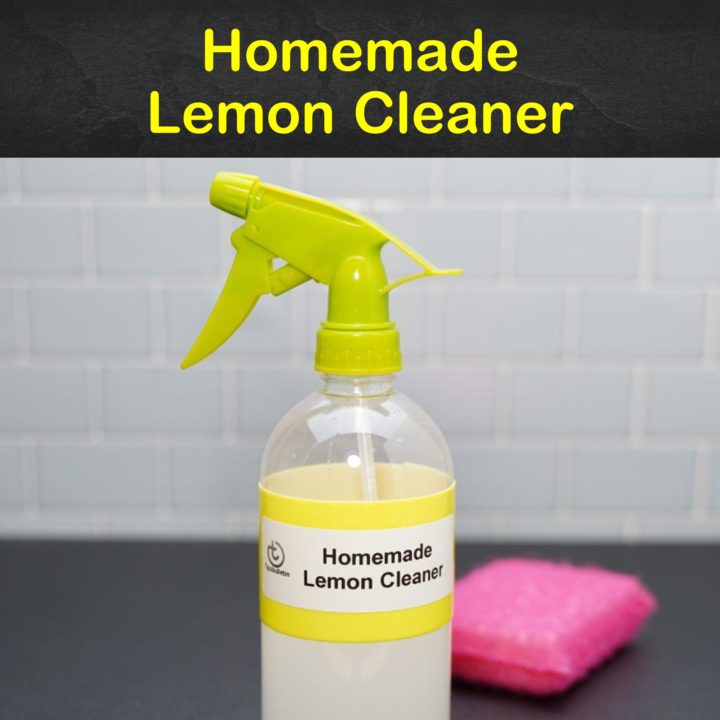 Homemade Lemon Cleaner
Multi-surface cleaning power with a fresh lemon scent.
Materials
32 ounces hot water
2 ounces vinegar
2 tbsp baking soda
Juice from 1/2 lemon
Tools
Measuring cup
Tablespoon
Microfiber cleaning cloth
Instructions
Add the ingredients to the spray bottle.
Shake to mix.
Spritz the surface to be cleaned.
Wipe with a damp microfiber cloth.
Notes
Do not use on brass or natural stone.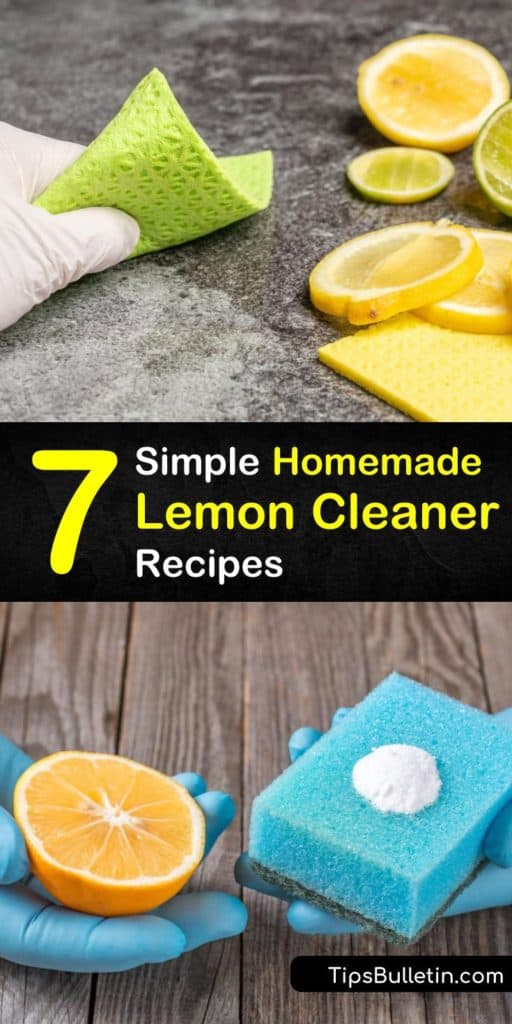 Making a homemade lemon cleaner is not only simple to do, but using a natural cleaner keeps your home free of toxins, so why not share our lemon cleaner recipes with your circle of family and friends on Pinterest and Facebook?