Linen spray is a fantastic way to make sure all your things smell divine. You might think that linen sprays are only for the extremely wealthy, but it is one of those little luxuries that you can afford even if you're on a tight budget.
If you have five minutes, and a few simple, everyday ingredients, you can make a homemade linen spray and make your all your possessions and entire home smell like heaven.
There are plenty of different recipes that use essential oils that you can try depending on your personal preferences. Here's how to make a DIY linen spray for your home.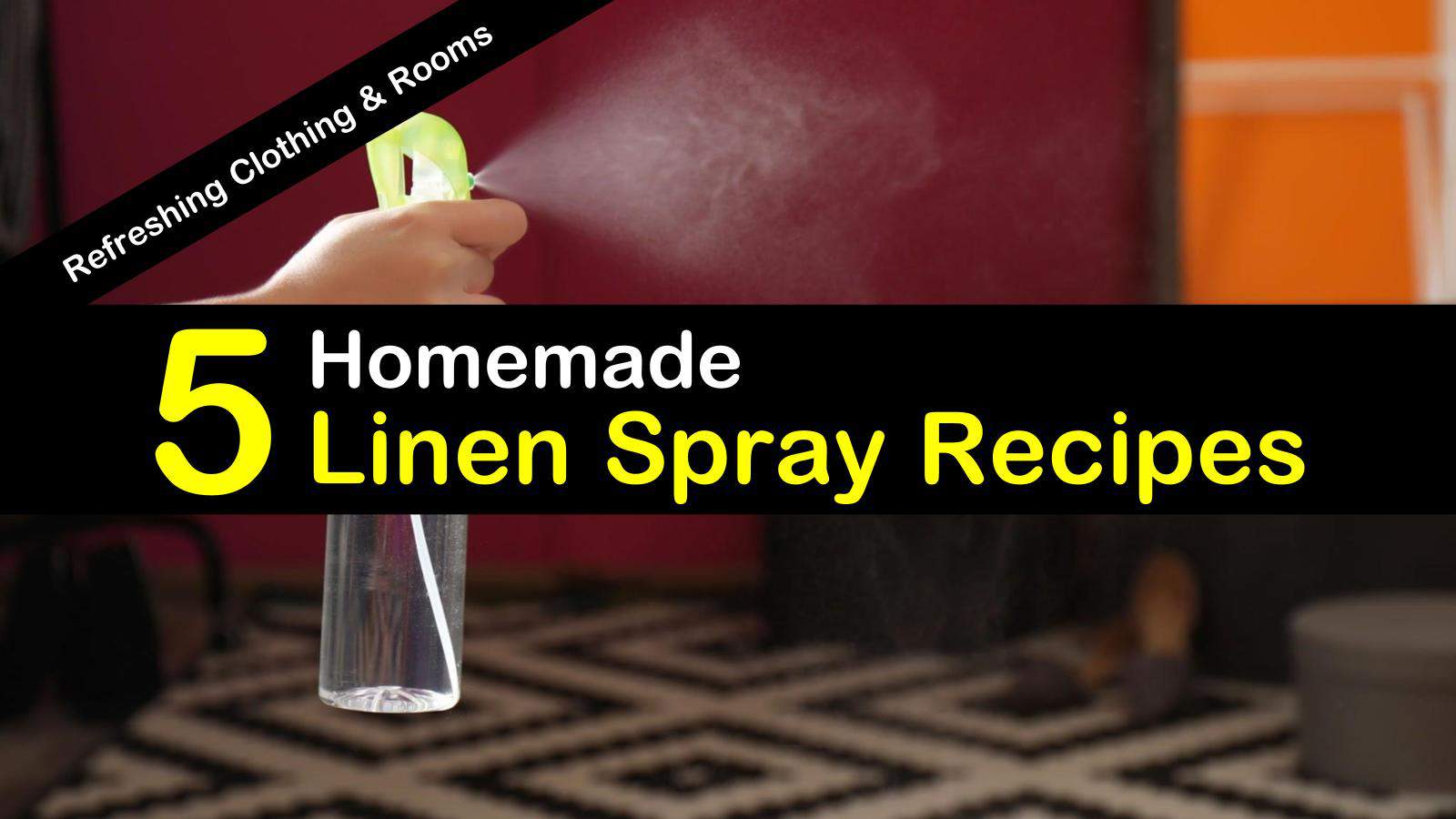 How to Make Your Own Linen Sprays
DIY Lavender Linen Spray
Lavender is a well-known herb that has been proven to help with anxiety, stress, nervousness, and sleeplessness. It doesn't work like a sleeping pill and make you sleep, but instead, it helps to take the edge off of insomnia. That's why it is a crucial ingredient for this DIY lavender linen spray recipe.
Combine the witch hazel and the lavender oil in the jar. Place the top on the container and vigorously shake for 20 seconds, to dilute the lavender essential oil with the witch hazel, to ensure it will mix with the water. Open the jar and add the water.
Replace the lid again, and shake for another 20 seconds to combine the ingredients. Remove the top, and using the small funnel, pour the liquid into the spray bottle. Use the homemade linen spray on your sheets and pillows.
Refresh Your Linen Closet
Linen spray is excellent for keeping stuffy linen closets smelling beautiful and fresh. It also feels great on your bedding. You can also utilize this recipe as a room spray to keep all the rooms in your home smelling fresh.
Mix the sweet orange, ylang-ylang and jasmine essential oils with the vodka. Stir to mix the ingredients. Pour the solution into the glass bottle and add the water.
Replace the lid to the container and shake to ensure the ingredients are well combined. Spray the linen spray in your closet, on your bedding, on your recently washed throw pillows, and anywhere else you want to freshen.
Vanilla Lavender Mist Spray
This linen spray recipe can be used to make a refreshing mist that you can use on your bed sheets, towels, or bathrobes in between washing to keep them smelling fresh and clean. Y
ou can also use this as a couch cleaner spray, to rid your couch of life's odors. This linen spray uses vanilla extract and a few drops of lavender essential oils to help make your home feel welcoming and cozy.
Pour the vodka into the glass spray bottle with a funnel. Add the distilled water and the vanilla extract to the container.
Add the lavender essential oil to the bottle and replace the lid. Shake the bottle to combine. Spray the mist on anything that you want to refresh.
Winter Pine Room Spray
Who doesn't love to have their whole home smell like fresh pine during the Christmas holiday? This natural home freshening spray will have your entire home smelling like fresh pine. You can spray this on your Christmas trees, guest towels, or on your rug right before you vacuum.
In a glass measuring cup, add the baking soda and water, and whisk until all the baking soda has blended. Use a small funnel to pour the baking soda water into a glass spray bottle. Add the essential oil to the spray bottle. Close the lid and shake to combine the ingredients.
Homemade Rose Water Natural Linen Spray
If you're trying to ditch the chemicals in your home, this homemade linen spray is an excellent alternative to commercial dryer sheets and makes for an all-natural air freshener. This linen spray will help make your laundry smell sweet and provide a nice floral scent to your clothes.
Place all the ingredients into the jar and replace the lid. Vigorously shake to combine the ingredients. Using a small funnel, pour the mixture into a spray bottle. Store in a cool, dark, place.
When you are ready to use, spray it as a homemade air freshener or on freshly washed laundry before putting it in the dryer. On your sheets in the morning, or spray it on your carpets and upholstery to keep them fresh.
You don't need to continue to spend your hard-earned money on commercial linen sprays when you can make organic spray at home for a quarter of the price.
Using essential oils to create a homemade linen spray helps keep everything in your house smelling fresh, without the harmful side effects that some commercial linen sprays create. Try these DIY linen sprays in your home the next time you need a little extra freshness.
Recipe for Homemade Linen Spray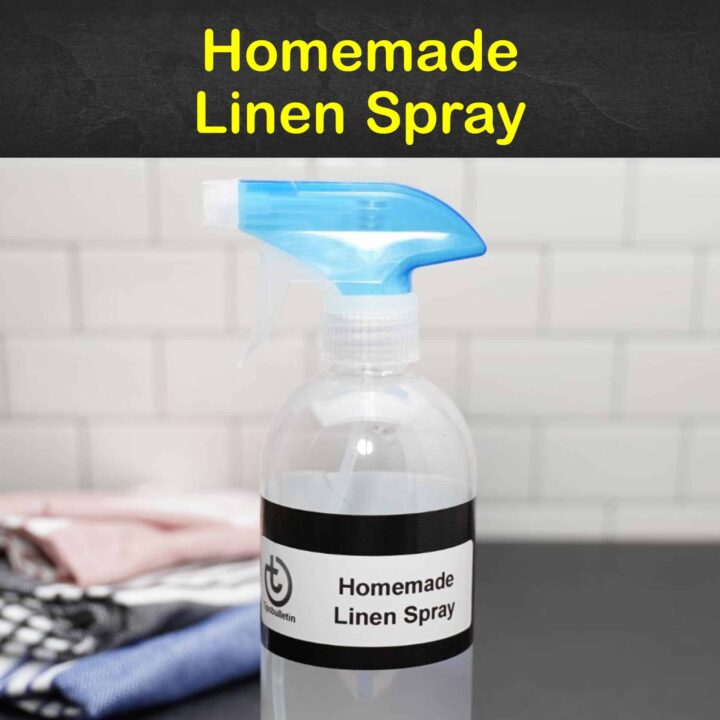 Homemade Linen Spray
Give your laundry a pleasant scent without harsh chemicals.
Materials
3/4 cup purified water
20 drops sweet orange essential oil
4 tablespoons witch hazel
Tools
Measuring cup
8-ounce glass sprayer bottle
Tablespoon
Funnel
Instructions
Pour the liquids into the bottle via the funnel.
Shake to combine the ingredients.
Spritz towels, bed linen, and clothing for a fresh, pleasing scent.
Notes
Lavender is another great essential oil choice.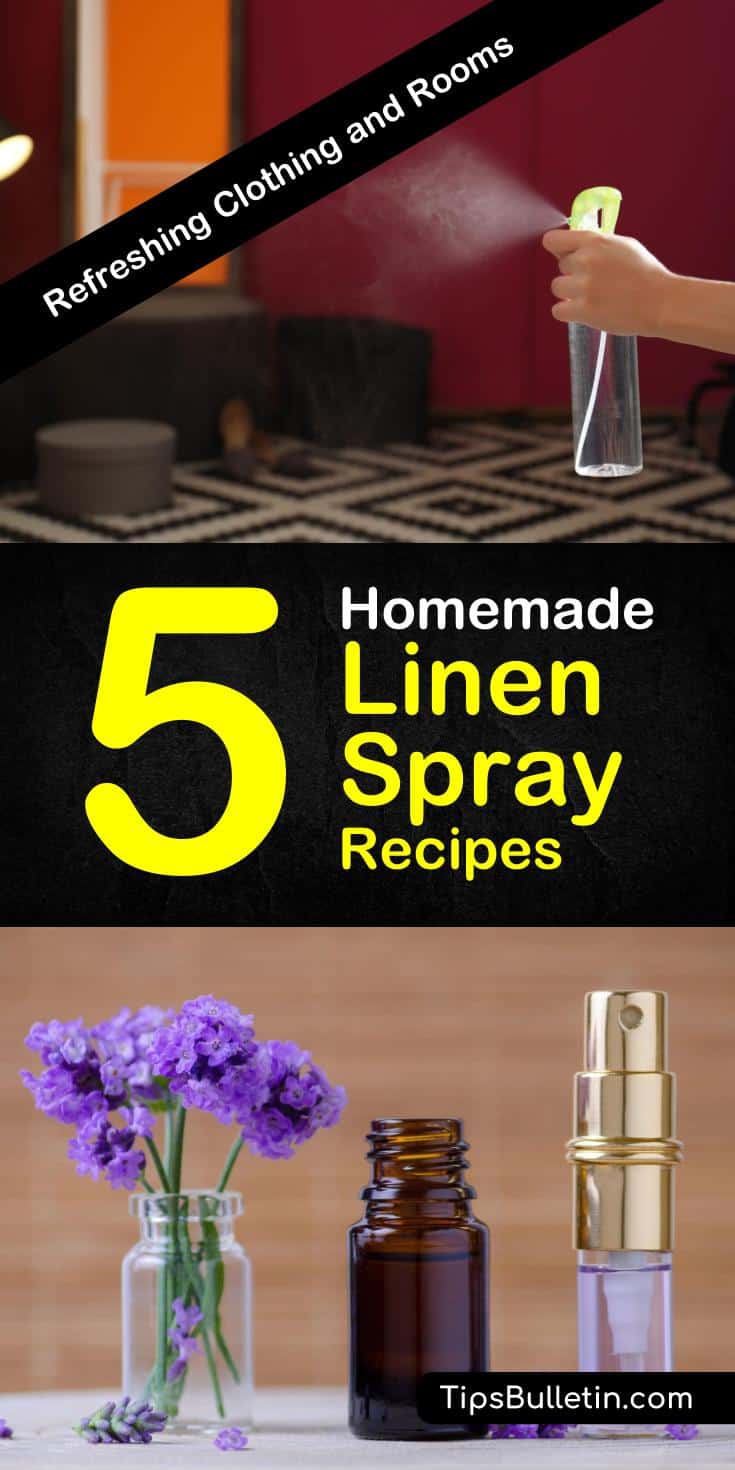 We hope you enjoyed learning how to make homemade linen sprays. If you found the information about making homemade linen sprays useful, please feel free to share the recipes with your family and friends.