Linoleum is something of a miracle product that can handle high traffic and dirt without damage. To keep your flooring looking its best, though, you've got to make sure it stays clean. Having a reliable homemade linoleum floor cleaner recipe or two up your sleeve helps you ensure that your linoleum looks gorgeous and is ready for more punishment.
A tried-and-true DIY linoleum floor cleaner formula is all you need to maintain your home's beauty. This article gives you home remedies for cleaning your linoleum and vinyl tile floors. You'll find the perfect natural cleaning solution for linoleum floors in this guide.
We provide recipes for cleaners you can use daily to keep your linoleum flooring clean, and you'll also get some heavy-duty cleaner recipes you can break out when the need arises. You'll be prepared to take on any cleaning job you encounter with our assistance.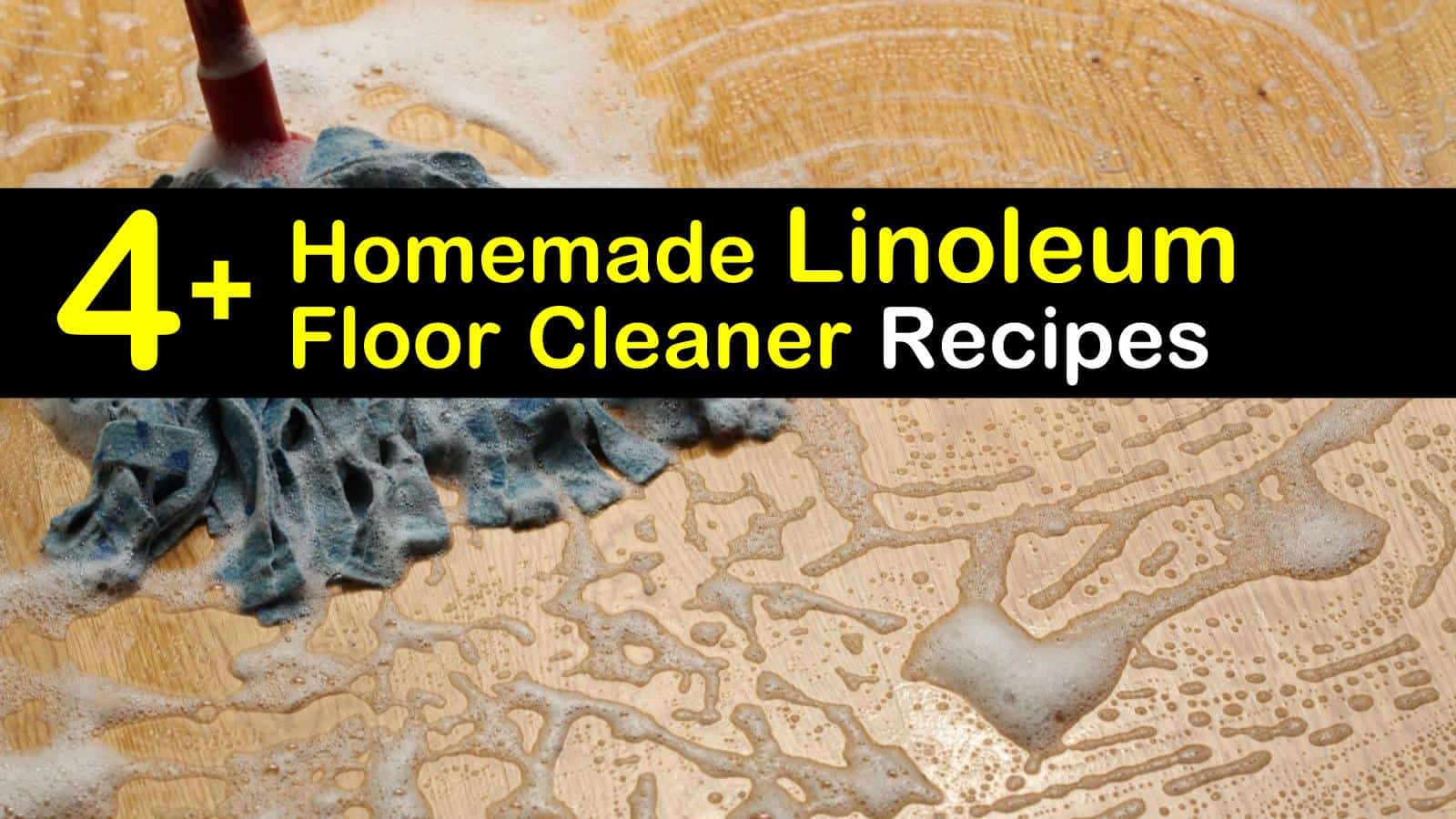 Natural Cleaning Solutions for Linoleum Floors
Linoleum tends to get dirty quickly because it's often the material of choice for the most trafficked spots in your home, including your bathroom floors and kitchen floors. To combat the constant dirt, gunk, and grime that linoleum collects, you need an effective homemade linoleum floor cleaner that you can use every day.
An excellent daily DIY linoleum floor cleaner needs to have the strength to clean away tough spills and stains without damaging the linoleum's finish.
DIY Linoleum Floor Cleaner – Daily Cleaners
This section gives you recipes for linoleum cleaners to which you can turn whenever you want to do some daily green cleaning.
They're just what you need in a natural cleaning solution for linoleum floors that you can employ whenever you encounter a spill, splash, or new stain. Add one or more of these recipes to your regular home cleaning checklist.
Clean Your Linoleum with Borax and Water
Borax is one of the most robust cleaning products around. It breaks down dirt and scrubs floors until they shine, and it won't harm you or your family. You can use it in the washing machine as a detergent booster or add it to your regular floor routine to get your flooring spotless.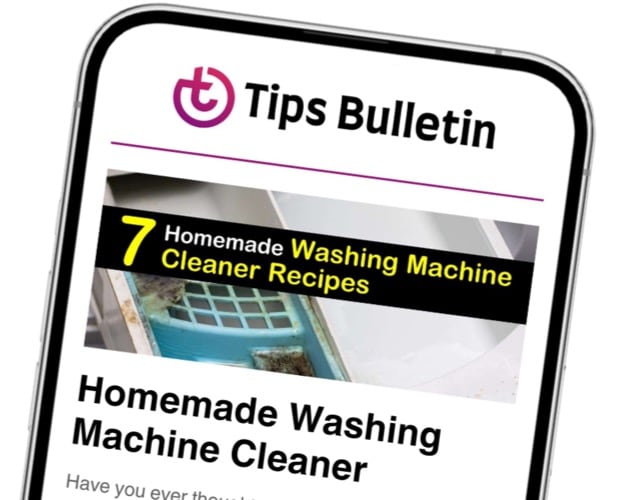 Finally, an email that Transforms Your Home.
Get the latest home and garden tips from our experts, delivered straight to your inbox.
The easiest and most effective way to clean a linoleum floor is with our Borax recipe. This mixture takes care of dirt and grime in a flash. Give this homemade floor cleaner a try the next time you find yourself staring at some dirty linoleum.
Combine the Borax and water in the spray bottle, and spray down the linoleum. Use a clean mop to scrub the floor.
Rinse and wring out the mop as you work and respray areas that require extra attention. Give the floor a once-over with fresh water when you finish cleaning it.
Make Your Floors Sparkle with Lemon Juice and Liquid Dish Soap
Lemon juice is excellent in the dishwasher, and it cleans linoleum and leaves the floor smelling wonderful. The liquid dish soap in this recipe helps to cut through any grease on the floor and boosts the lemon juice's cleaning power.
This recipe is an ideal cleaning solution for linoleum floors when you wish to avoid using harsh chemicals, and it doesn't damage vinyl flooring, either.
Fill the container with soap and lemon juice, and spray the cleaning formula on stained spots on the floor. Wait for five minutes, and then scrub at the area with a mop until the stains lift away.
Rinse and wring out your mop regularly to keep it clean, and finish up your cleaning by mopping with plain water to clean away soap residue.
Hit the Linoleum with Baking Soda and Vinegar
It's not a secret that vinegar is a fantastic home cleaning agent for all kinds of tasks. Mopping with vinegar quickly cleans away dirt from linoleum, and the baking soda adds extra cleaning action to the mixture.
Our recipe also includes essential oils to remove the smell of vinegar from the cleaning product and leaves you with clean linoleum floors that smell fantastic.
Mix the baking soda or washing soda with the water, essential oil, and Castile soap in a bucket until the powder dissolves. Then, add ¼ cup of vinegar.
Wet the mop in the cleanser, and use it to scrub the floors until they are clean and sparkling. Run clean water through the mop and wring it out frequently as you work. Finish the cleaning with a pass with fresh water.
Homemade Linoleum Floor Cleaner
Your daily cleaners take care of most issues, but you're still going to encounter some tough stains and caked-on dirt that require a little more oomph to dislodge. Fortunately, your home cupboard has some robust cleaning agents. Deploy them to tackle the worst home improvement tasks and make your linoleum look like new.
Heavy-Duty Cleaners
This section includes DIY recipes to use for deep cleaning your linoleum whenever you run across a problematic cleaning challenge. With potent cleaners such as ammonia and isopropyl alcohol, you're bound to knock any tough cleaning task out of the park.
You'll be prepared to take on any cleaning challenge your floors can throw at you after you find the perfect heavy-duty recipe.
Remove Wax and Deposits with Ammonia
Your linoleum floor has a waxy finish that protects it from dirt and stains. That finish can dull, turn yellow, and become a magnet for dirt if it gets scratched and worn, though.
Our linoleum cleaner with ammonia strips off the wax and leaves the clean linoleum behind, ready for a new coat. Use ammonia in place of Pine-Sol or other industrial-strength cleaners.
Combine the Castile soap, ammonia, and hot water in a bucket. Dampen the swab and use it to lay down a layer of cleaning solution on the entire floor. Wait for 20 minutes, and then mop up the floor.
Rinse and wring out the mop as you work, as it will be collecting dissolved wax and other debris. Give the floor a final pass with clean water to remove any lingering residue and get the floor ready for a new coat of finish.
Tackle the Worst Stains with Rubbing Alcohol
Isopropyl alcohol or rubbing alcohol is another home cleaner with all sorts of uses, including as a disinfectant and as a grout cleaner. It's perfect for cleaning stains on linoleum that you can't remove any other way, too. Apply a new coat of polish to the areas you clean up with rubbing alcohol.
Soak a clean and undyed cloth in the alcohol, and place it over the stain you wish to remove. Wait for ten minutes, and then pick up the fabric and use a toothbrush or scrub brush to work at the stain.
Wipe the area down with rubbing alcohol as you work to keep it wet. When the stain is gone, apply polish to the linoleum where you cleaned.
Can I Use a Steam Mop on Linoleum?
Lots of folks want to break out the steam mop to clean linoleum, but it's not a good idea to expose that sort of flooring to so much heat. Steam mops are perfect for getting ceramic and stone tiles looking like new, and they can make your tile grout bright, but they'll ruin your linoleum floor.
They are not a good idea as a vinyl cleaner or for other flooring types that are fastened to the floor with adhesive. Steam mops melt and warp linoleum, vinyl, hardwood, and laminate flooring.
Only use a steam mop on impermeable stone, porcelain, and ceramic surfaces. If you try to take care of a stain on hardwood floors or linoleum utilizing a steam cleaner, you'll soon be shopping for a new floor.
Ditching Your Old Linoleum
If you have aging linoleum that doesn't seem to respond to cleaning and stain removal, it may be time to pull it up and lay down new flooring. Fortunately, you can remove linoleum adhesive from wood floor or other flooring types with simple DIY recipes.
We hope you had a fantastic time looking into our linoleum cleaning recipes. Linoleum floors are hardy and easy to maintain, but they require regular cleaning to continue looking their best. Our guide gives you easy-to-use recipes for homemade cleaners that you can use to make your linoleum shine again.
Recipe for Homemade Linoleum Floor Cleaner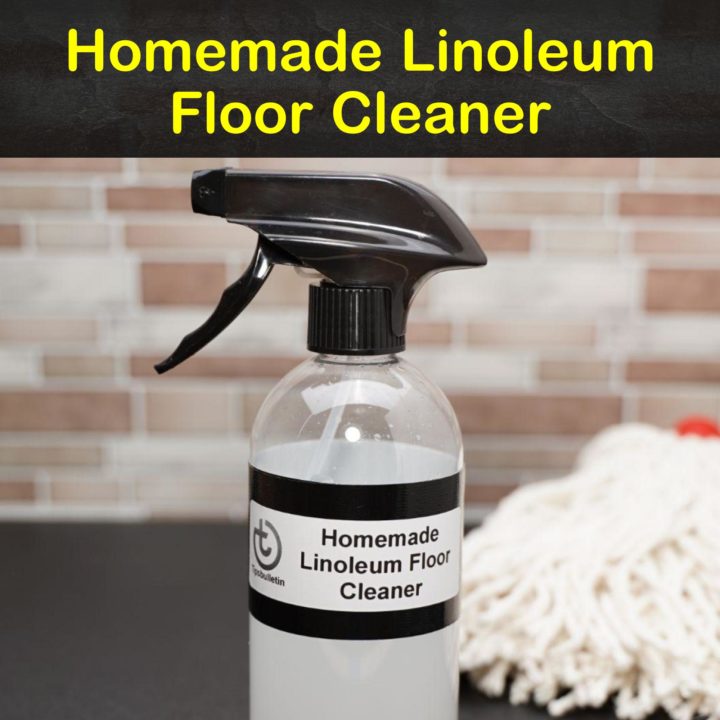 Homemade Linoleum Floor Cleaner
Make your linoleum sparkle again!
Materials
4 ounces of Borax
1 quart of warm water
Bucket with fresh water
Tools
48-ounce spray bottle
Mop
Measuring cup
Instructions
Mix the water and Borax in the sprayer.
Spritz and mop one part of the flooring at a time.
Periodically rinse the mop in water in the bucket.
Notes
A microfiber mop is ideal for the job.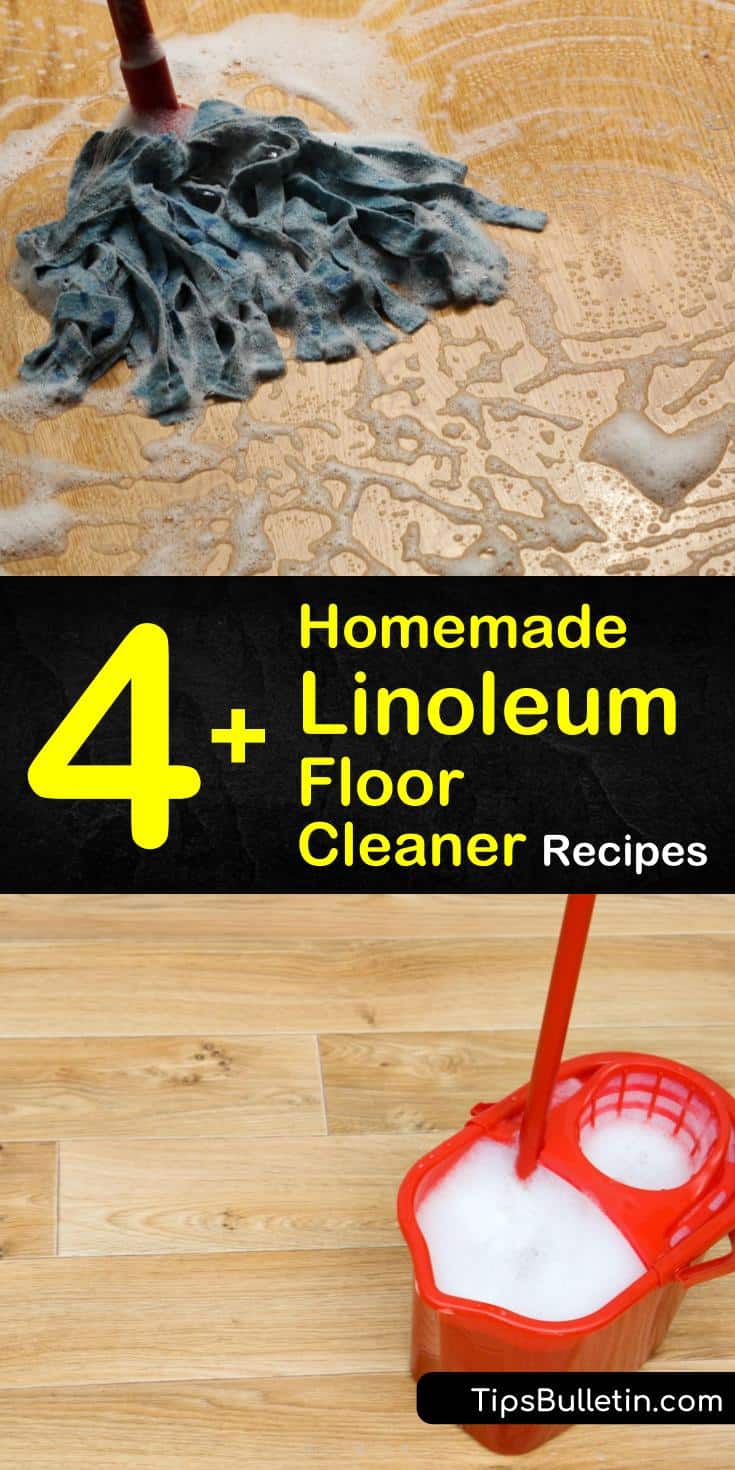 Thanks for checking out our DIY cleaner guide. If you found our homemade linoleum floor cleaner recipes useful, please help us out by sharing this floor cleaning article with your family and friends on social media sites like Pinterest and Facebook.