Millipedes look like small, shiny worms with countless tiny legs, and their presence is often startling. While preparing for your day, you may discover them in the bathroom as they frantically scuttle across the floor to hide. Fortunately, it's easy to prepare a homemade millipede spray to eliminate millipedes and centipedes naturally and keep them out of your home.
As gross-looking as these insects are, millipedes are actually beneficial insects. They recycle organic matter like dead plants and animals, feeding on the material while adding nutrients back into the soil. We still do not want this unwanted pest scurrying about in the house.
While centipedes are helpful creatures, a centipede infestation can cause even the brave to feel squeamish. They are not destructive indoors, but they may cause damage to seedlings growing in the yard or garden as they feed on young stems and leaves. Therefore, it's wise to keep these plant pests in check with home remedy solutions.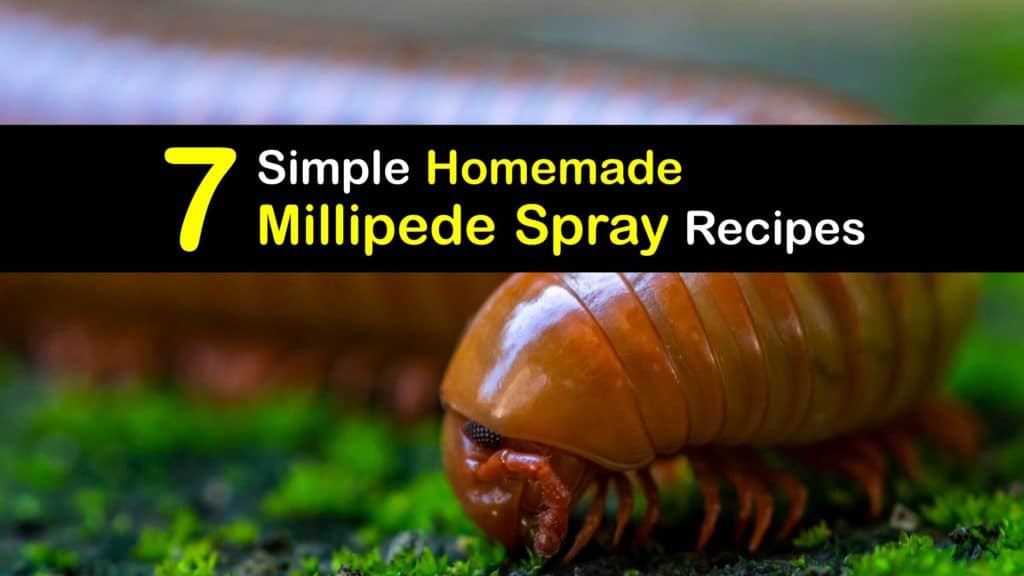 How to Make Home Remedies to Eliminate Millipedes
Learn how to get rid of house centipedes and millipedes and eliminate them from around your home the natural way. Discover what attracts these insects to your space and tips for preventing them from becoming a problem.
Making a DIY Millipede Spray with Tea Tree Oil
One of the simplest ways to deter millipedes or to kill house centipedes is to make a DIY millipede spray with essential oils, and tea tree oil is one of our favorites. This oil penetrates the exoskeleton of many insects, including millipedes and bed bugs, and it's safe to use around the home.
Pour water into a glass bottle sprayer and add tea tree oil. Use a glass container since essential oils deteriorate plastic materials.
Close the container and shake it to combine the oil with the water and spray it around window and door frames, under sinks, and other areas where millipedes enter the home and like to hang out. This spray repels centipedes, millipedes and other unwanted bugs like roaches and spiders.
Many people have found that tea tree oil for bed bug control is effective, too. Remove bedding from the bed and wash it, then apply this spray liberally to all sides of the mattress and box springs.
Millipede Repellent with Cayenne Pepper
While we enjoy adding hot peppers to stir fry and tacos, the spicy smell of cayenne pepper repels various pests. It works great as a centipede and millipede repellent, and you probably already have a jar of cayenne powder in your spice cabinet.
The easiest way to repel millipedes with cayenne peppers is to use the powder form. Sprinkle the cayenne powder around areas where you notice millipede activity, along entry points to your home, in crawl spaces, and around the foundation.
To make a pepper spray, place a whole cayenne pepper into a blender, add a cup of water and blend until the pepper is liquified. Strain the liquid into a spray bottle and spray it directly on millipedes when you find them.
Using Peppermint Oil to Make a Homemade Millipede Spray
The best bug spray for millipedes is one that includes peppermint oil. These insects cannot stand the smell of this oil and avoid areas where you apply it. Prevent millipedes from entering house and patio areas with this simple remedy. It's easy to prepare and keep on hand to repel bugs from your home and yard.
Pour a cup of water and a couple of teaspoons of peppermint essential oil into a glass spray bottle and add a squirt of liquid dish soap. Close the container, shake it gently, and spray the solution anywhere you notice millipedes like to congregate. This peppermint oil spray for spiders and millipedes works on a variety of insects.
How to Eliminate Millipedes with Soapy Spray
Insecticidal soap works wonders to eliminate various insects, including the millipede and fruit fly, and it's safe to use throughout your home. Use liquid dish soap to make a DIY millipede spray.
Combine a quart of water with a tablespoon of liquid dish soap and shake the container gently to mix it without creating too many suds. Label it for storage and regular use and spray the insecticidal soap directly on the millipedes to kill them on contact. It's also safe to apply the solution in areas where they hang out to deter them. Get rid of earwigs in potted plants and fungus gnats with the same solution.
Getting Rid of Millipedes with Boric Acid
If you're looking to eliminate millipedes rather than deter them, boric acid is a natural powder that does the trick. It absorbs into the bug, affecting their metabolism and poisoning them, leading to death. Here is how to eliminate millipedes with boric acid.
Boric Acid Millipede
Boric acid kills millipedes as effectively as diatomaceous earth, and it's available in the laundry aisle of most stores. Inspect the inside and outside of your house and look for signs of millipedes. Spread a fine layer of boric acid in areas where you suspect these pests spend their time and reapply as needed.
Homemade Millipede Bug Spray with Vegetable Oil
If you discover millipedes infesting your garden, try using a homemade vegetable oil spray. As one of the easiest natural ways to keep millipedes away, this treatment doesn't harm the plant, and it is effective at getting rid of centipedes, millipedes, and other troublesome pests.
Mix a cup of cooking oil with a tablespoon of liquid dish soap in a container, and cover it with a lid. When you're ready to make the homemade millipede spray, fill a bottle with two cups of water and add two tablespoons of the oil-soap mixture.
Gently shake the spray bottle and spray this organic centipede killer spray on your garden plants, indoor plants, or potting soil to repel millipedes and centipedes. Repeat every ten days or so until there are no more signs of a millipede infestation.
Simple Ways to Prevent Millipedes
There are many reasons millipedes are attracted to your home and yard. Learn the conditions these insects seek out and how to prevent them from finding your space inviting. Get rid of millipedes with a few simple steps.
Millipedes search for a damp area, and it's essential to eliminate moisture build-up to keep these pests at bay. Check your house for leaky pipes and faucets and repair them as soon as possible.
Remove leaf debris from gutters and clean up leaf litter from the soil around your home's foundation. Avoid placing wood piles and wood mulch close to the house since they store moisture and attract millipedes.
Walk around your home's perimeter, check for cracks and crevices, and use caulk to seal areas where millipedes enter. If you discover insect activity, catch them with a sticky trap, use a natural millipede repellent, or eliminate them with a permethrin insecticide.
Install a dehumidifier in areas of your home where the humidity levels are high to prevent these pests from taking up residence.
A close encounter with the house centipede or millipede is something we want to avoid. While we expect to see them outside, discovering them indoors is an unpleasant experience. Fortunately, there are natural forms of pest control to keep these pests away.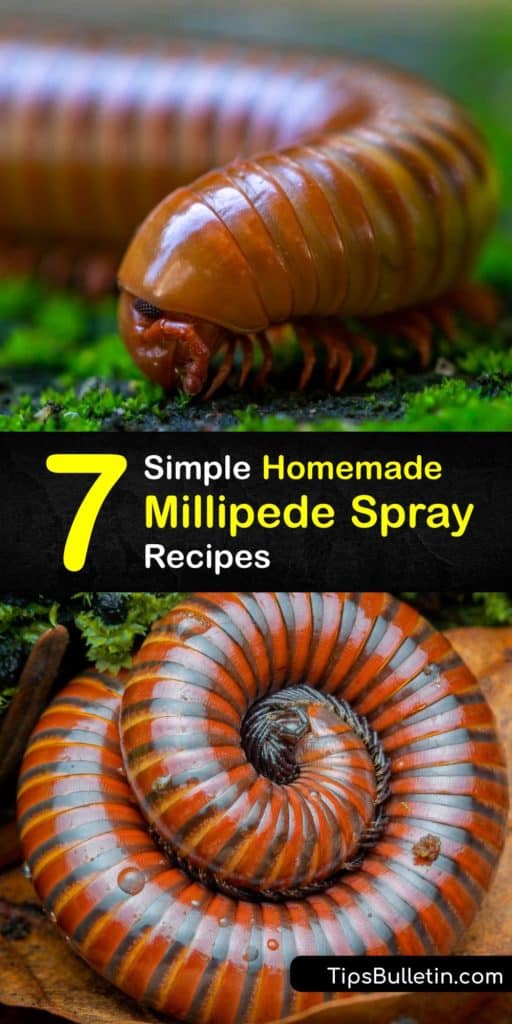 We hope that your homemade millipede spray keeps your home and yard free of these pests, and we'd love it if you'd share our DIY millipede elimination remedies with your family and friends on Pinterest and Facebook.