We love to spend time outdoors once the temperatures warm, but a backyard adventure quickly becomes an unpleasant experience when the mosquitoes come out. These uninvited guests are a nuisance, especially if you have bad reactions to mosquito bites. Fortunately, there are several ways to make a homemade mosquito spray for the yard to keep these pests at bay.
You know you're in trouble when you hear that infamous, high-pitched buzzing near your ear. This insistent sound is more than annoying. It signifies the coming onslaught of mosquitoes whose primary purpose is to feast on your blood and cause irritating and itchy bumps on your skin.
Mosquitoes are attracted to body temperature, dark clothing, sweat, and scents like perfume and lotion. However, there are some smells these pests cannot stand and avoid while searching for their next victim, including catnip, lemongrass, citronella, and lavender. It's easy to make homemade sprays to repel them from your yard.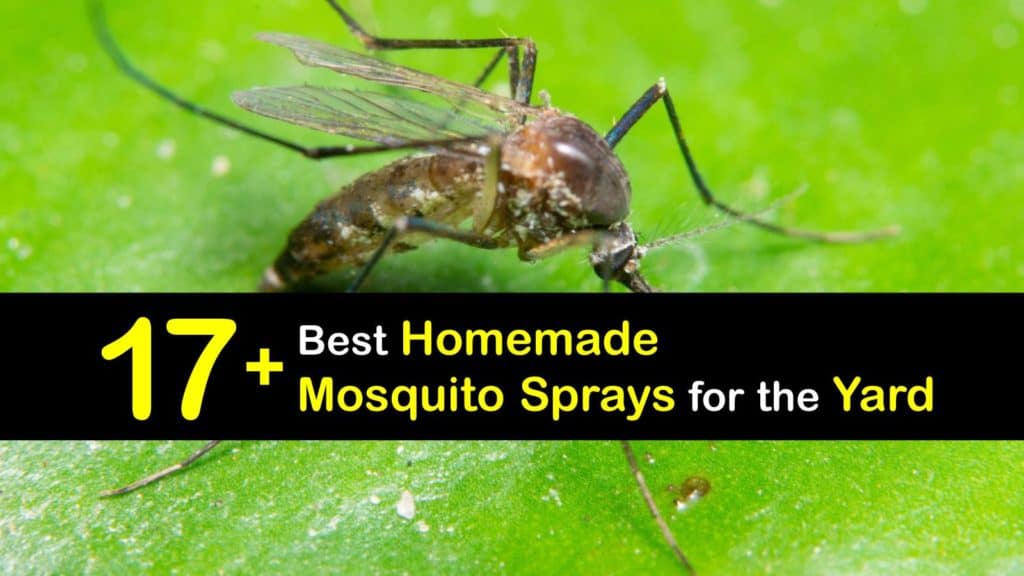 Making Homemade Mosquito Sprays for the Yard
While you can run to your local store and purchase a bottle of commercial bug spray, many of these products contain DEET, a chemical we do not want to have on our skin for extended periods. We came up with some safe alternatives for repelling mosquitoes.
DIY Mosquito Spray for Your Yard
Mosquitoes cannot tolerate the smell of mint, which is one of the ingredients in mouthwash. So, as strange as it sounds, adding mint-flavored mouthwash to a DIY mosquito spray for your yard works wonders at keeping these pests away.
Combine a third each of mint-flavored mouthwash, stale beer, and Epsom salts in a container. Stir the ingredients until the salt dissolves, and pour the liquid through a funnel into a spray bottle. Apply the bug spray around your yard or the area where you plan on gathering to keep mosquitoes away.
Natural Mosquito Repellent Spray for the Yard
Many insects hate the scent of vinegar, and you probably have this everyday staple in your kitchen right now. Find out how to combine apple cider vinegar with essential oils to create a natural mosquito repellent spray for the yard.
Pour a cup each of apple cider vinegar and water or equal amounts if you wish to make a larger batch, screw the top in place, and shake the container to mix. Label the bottle for storage purposes and apply it to the areas around your yard as needed to deter mosquitoes.
Homemade Mosquito Spray for the Yard
Citronella is one of the most popular scents for repelling flying insects from the outdoor area, and there are many products available on the market. However, it's easy to make your own yard spray for mosquitoes with citronella oil, and it's just as effective.
There are two ways to make a citronella bug spray. The easiest way to repel mosquitoes outdoors is to fill a plastic spray bottle with water and add about 30 drops of citronella essential oil. Screw the top on the container and shake it well before applying it to the yard.
Other ways to get rid of mosquitoes outside includes boiling a cup of water in a saucepan and adding three to four tablespoons of dried or fresh citronella to the boiling water. Remove it from the heat, cover the pan, and let it cool.
Pour the citronella liquid through a strainer into a spray bottle and add one cup of rubbing alcohol. Shake the bottle well and spray it when necessary.
Using Lavender Oil to Repel Mosquitoes
While lavender has relaxing and calming qualities, this herb is also helpful for repelling different types of small flying bugs and gnats, including mosquitoes. Here is how to make a DIY mosquito spray for your yard with lavender essential oil.
Pour water and vodka into a glass spray bottle and add the lavender essential oil. Avoid using plastic since essential oils break down the material. Shake the container to mix the ingredients, label it for future use, and spray the outdoor area as needed.
How to Make Peppermint Oil Mosquito Spray
Our favorite natural mosquito repellent spray for the yard is peppermint bug spray. This bug deterrent is simple to prepare and leaves the area smelling like fresh mint rather than unpleasant chemicals.
Combine hot water and peppermint essential oil in a glass spray bottle. Ten drops of oil per ounce of water is a good ratio, but feel free to add a bit more if you prefer a more potent bug spray. Shake the container well, label it for storage. To keep mosquitoes away from patio and yard areas, spray it liberally outdoors.
Repelling Mosquitoes with a Garlic Spray
Garlic has a scent that drives off more than just vampires. It also repels a variety of outdoor pests, including mosquitoes. Make the best mosquito repellent for the yard using fresh garlic bulbs.
Blend three bulbs of garlic in a blender or food processor for one minute, and strain out the puree through a fine-mesh strainer. Toss the garlic pieces and pour the strained garlic into a gallon jug.
Pour water in the jug to fill it, put the cap in place and shake the container before storing it in the fridge. When you're ready to use the bug spray, pour some of the liquid into a spray bottle and spray it around your yard.
Add this homemade bug spray for vegetable plants to keep unwanted insects like mosquitoes away.
Vanilla Scented Homemade Bug Spray
While vinegar and garlic are significant deterrents for mosquitoes, not everyone enjoys the smell. Fortunately, other scents keep these pests out of the yard, and vanilla is one of our favorites. Make a mosquito repellant spray with vanilla extract.
Pour a cup of water and a tablespoon of pure vanilla extract into a spray bottle and shake the container to mix. Avoid using imitation vanilla with corn syrup since the result is a sticky bug spray that is not as effective. Label the container for future use and spray the solution around your outdoor area.
Using Lemongrass to Keep Mosquitoes Away
Lemongrass is another oil that insects cannot stand, and if you have an oil diffuser in your home, you probably have this essential oil on hand. Prepare a bug spray with lemongrass and keep mosquitoes out of the yard for over two hours.
Pour rubbing alcohol into a glass bottle sprayer and add 20 drops of lemongrass essential oil. Close the container, shake it well to combine, and label it for storage and future use. Spritz the mosquito repellent around your yard to keep mosquitoes away while enjoying outdoor activities.
Making a Homemade Mosquito Repellent with Coconut Oil
While we often consider coconut oil something we cook with or an additive in face cream, this oil has other purposes. When combined with the right essential oils, coconut oil becomes a powerful and natural bug repellent.
Pour the coconut oil into a glass spray bottle and add the citronella, geranium, lemon eucalyptus oil, lavender, and rosemary essential oils. Screw on the nozzle and shake the container well to combine all the oils.
Label the spray bottle and store it in a cool, dark area. Spray the mosquito repellent on your skin or around your yard to keep the pests at bay.
Repelling Mosquitoes with Tea Tree Oil
There are various uses for tea tree oil, including skincare, lice treatment, and foot fungus. It is also helpful as a mosquito repellent since the pests cannot tolerate the strong odor of the oil and look for other areas to feast.
Pour some almond oil into a glass spray bottle and add the tea tree oil and citronella oil. Close the top and shake it gently to mix. Use a glass container whenever mixing essential oils since the oils break down plastic materials over time. Spray the homemade insect repellent around your outdoor area as needed. This DIY chigger spray works for a variety of insects, including mosquitoes and gnats.
Making a DIY Mosquito Repellent with Cinnamon Oil
Cinnamon is another scent mosquitoes dislike, and cinnamon oil kills mosquito eggs and repels adult mosquitoes. This natural mosquito repellent is simple to prepare, and keeping a bottle on hand ensures that your outdoor time is bug-free.
Pour water into a plastic spray bottle and add a small amount of cinnamon extract. Insert the spray nozzle and screw it shut before shaking the bottle to mix the liquids. Label the container for storage purposes and spray the mosquito repellent liberally around your yard whenever you spend time outdoors.
Making a Natural Mosquito Spray with Neem Oil
Neem oil is a natural insecticide that is safe to use around your home and in the garden. The vegetable oil is pressed from the seeds of the Neem tree, native to the Indian subcontinent and an excellent alternative to commercial bug sprays.
Add about a teaspoon of Neem oil to a spray bottle and fill it up with water. Screw the nozzle in place and shake it well to mix. Label the bottle for safety purposes and use it to repel mosquitoes and kill harmful insects around your yard and garden.
A Homemade Mosquito Yard Spray with Witch Hazel
Witch hazel is a medicinal plant with many uses, such as providing relief from skin irritations. It's readily available at many stores as an astringent and a natural topical remedy. It's also helpful for driving mosquitoes out of your yard.
Pour a cup of water and witch hazel into a glass spray bottle and add ten drops each of eucalyptus, citronella, tea tree, lemongrass, and lavender essential oils to the container. Close the top, shake the liquids and apply it to the outdoor areas where you spend most of your time.
A Lemon Scented Mosquito Spray for the Yard
While lemons have a fresh scent that most people enjoy, insects like mosquitoes hate the odor and avoid areas with a lemony smell. Here are a few ways to utilize the aroma of these fruits to repel mosquitoes.
The easiest way to make a lemon mosquito repellent is to use essential oils. Fill a glass spray bottle with water and add about 40 drops of lemongrass essential oil. Close the nozzle and shake the container to combine the liquids to create a bug deterrent spray.
If you do not have any lemon essential oil, squeeze the lemon juice from six fresh lemons into a cooking pot and add a quart of water. Bring it to a boil, remove it from the heat, and let it steep for one hour before pouring it into a container.
Using Eucalyptus to Get Rid of Mosquitoes in the Yard
Eucalyptus is a fast-growing evergreen tree, and the oil of this tree has a variety of medicinal purposes. Studies also show that eucalyptus oil repels mosquitoes for up to three hours. Create a homemade bug spray using this wonderful oil.
Pour two ounces of water and one ounce of vodka into a glass spray bottle and add 50 drops of eucalyptus essential oil to the liquid. Close the bottle, shake it gently to mix, and label it for future use. Spray the repellent around the area of your yard where you plan on spending outdoor activities.
Keeping Mosquitoes Away with Vinegar
We consider vinegar one of the most useful liquids around the home. It preserves foods, cleans grease and hard water stains, and unclogs drains. If that's not enough, it also works to repel mosquito pests from around the yard.
Combine three cups of water and one cup of vinegar in a plastic spray bottle and shake it well to mix. Label the container for storage and apply it liberally around the backyard to keep mosquitoes away.
How to Deter Mosquitoes with Plants
While it's always a good idea to have a homemade bug spray on hand, there are other ways to keep mosquitoes from finding your backyard desirable. For example, many plants emit scents that drive insects away, and growing them around your property deters mosquitoes naturally.
Marigold flowers are annuals that are easy to grow, and they come in vibrant shades of yellow, orange, and red. They also keep deer, mosquitoes, and rabbits out of the yard.
Lavender is a perennial flowering herb that emits a relaxing scent, while rosemary, sage, and basil are also herbs that keep your spice cabinet well-stocked, and they all keep these flying pests out of the yard. Other good mosquito-repelling plants are citronella grass, catnip, scented geraniums, bee balm, mint, and floss flower.
Ways to Prevent Mosquitoes from Entering Your Yard
Backyard mosquito control is the best way to prevent these pests from invading your outdoor activities. While the occasional mosquito bite now and then is inevitable, there are simple steps to take to reduce the mosquito population and stop an infestation.
Mosquito Prevention
The best way to prevent mosquitoes from infesting your backyard is to remove standing water. Birdbaths, clogged gutters, buckets, and other water sources are breeding grounds for these pests.
If you discover stagnant water around your home, sprinkle coffee grounds in the water to force the mosquito eggs to rise to the water's surface, where they starve for oxygen.
Consider planting mosquito-repelling flowers and herbs around the areas where you spend most of your time outside. They not only add attraction to your yard, but they repel mosquitoes from the space.
Install insect-repelling lights around your home. LED lights, sodium lamps, and yellow bug lights deter many insects, including mosquitoes, from your outdoor space.
Nothing ruins an evening outdoors than being attacked by a swarm of hungry mosquitoes. Their presence is annoying and they have an appetite that leaves you covered with itchy bumps. No amount of swatting seems to do the trick since eliminating one makes room for ten more.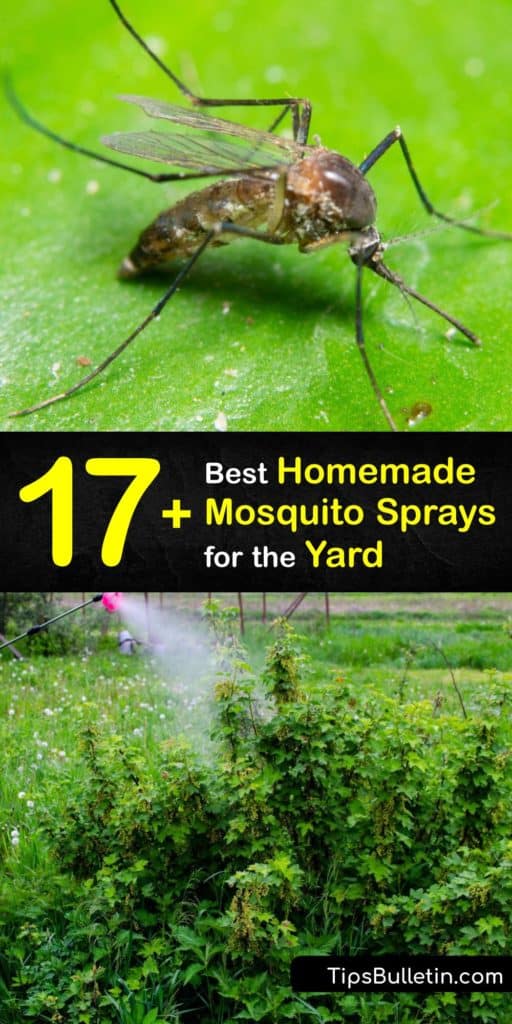 Fortunately, making a homemade mosquito spray for the yard is an excellent alternative to using harmful chemicals, so why not share our range of DIY mosquito repellent sprays with the nature-lovers in your life on Pinterest and Facebook?