As you stroll through your local retailer and find yourself surrounded by towering shelves of house cleaning supplies, it's easy to get confused and flustered. With so many products to choose from, it's hard to know which are the safest to use while still being effective. Making a homemade multi surface cleaner is one way to save both time and money.
Creating a DIY surface cleaner is one of the easiest things to do. These natural surface cleaner recipes are becoming more popular because of their simplicity and clean ingredients that are safe to use on nearly all home surfaces.
From kitchen countertops, bathroom surfaces, natural stone, and wood, it's hard to know which name-brand cleaning products will get the job done without damaging the material itself. Skim through this list of DIY cleaning products that get rid of dirt, grime, and grease without putting a hole in your wallet.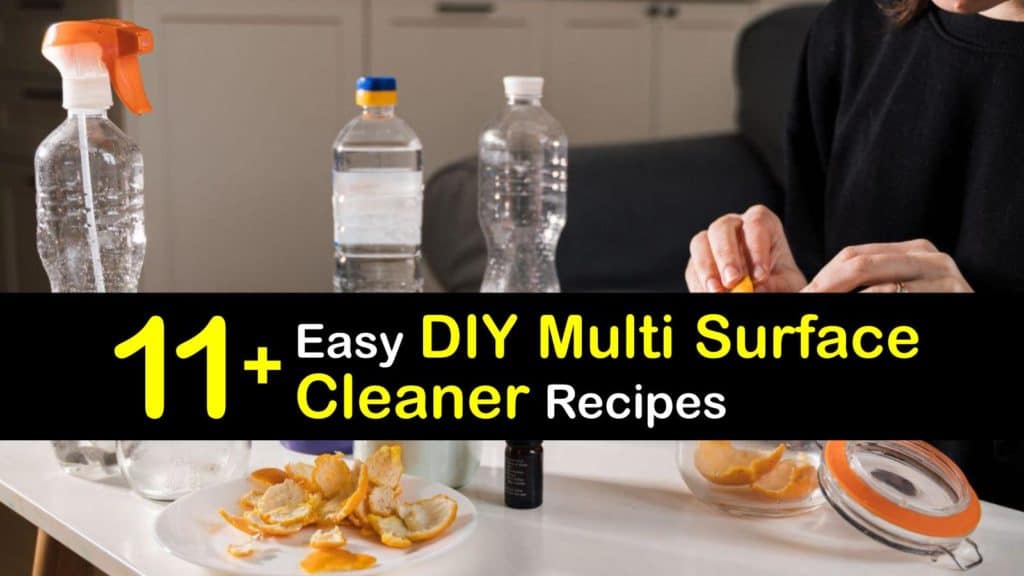 How Long Does a DIY Surface Cleaner Last?
All-purpose cleaners usually come in a 32-ounce bottle. The products are pumped full of chemicals and preservatives that help make the cleaning solution last for up to two years.
While this benefits many people, the harsh ingredients aren't healthy for you and your family. Homemade cleaners won't last as long as store-bought cleaners.
You might be tempted to mix a huge batch of the cleaner and let it sit under your sink for as long as possible, but it is best to throw them out after three months.
When making a homemade multi surface cleaner, make them in smaller batches or as needed. It seems like more work, but these natural surface cleaner recipes use only a few ingredients and take a couple of minutes to make.
Instead of running an extra errand, spending too much money, and being around irritating elements, natural cleaners are well worth the tradeoff.
Natural Cleaning Recipes for All Surfaces
DIY cleaners are excellent for cleaning a wide variety of surfaces. Some of the following cleaners work better for one surface than another, but all have strong cleaning power and are safe to use regularly.
Browse this list of cleaners and see what natural ingredients you have on hand to make one right now.
Homemade Multi Surface Cleaner
Use this simple cleaner recipe in the bathroom, kitchen, furniture, and more. Peroxide makes the solution is strong, while adding essential oils keeps your home surfaces smelling fresh for days.
To make your own natural bathroom cleaner, add all the ingredients to a glass spray bottle. Shake the bottle so that everything gets combined well. Use the cleaning solution as a general cleaner by spraying it on a surface, letting it sit for two minutes, and wiping it up with a damp cloth.
All-Natural Stain Remover
Many DIY natural cleaners focus on hard surfaces and aren't necessarily the best for fabrics like carpets, curtains, or clothing. This recipe uses elements that won't damage the fabric but are still powerful enough to remove stubborn stains.
Find all the stains that you're going to remove and sprinkle a layer of baking soda over them. Open your spray bottle and fill it half full of water and half full of vinegar.
Replace the bottle's cap and spray the vinegar blend over the baking soda so it foams. Let the cleaning solution sit on the stained area for at least three hours.
Return to the stain with a nylon scrub brush and gently rub the solution into the stain without being so aggressive that you disturb the fibers.
Allow the vinegar solution to dry overnight and then return in the morning to vacuum up the debris. If there is still some leftover residue on the carpet, use a damp cloth to rub away the excess gently.
A Natural Surface Cleaner for Daily Use
People have different cleaning habits, but giving the items in our home a daily wipe down is one of the greatest actions to keep homes smelling and looking clean.
This homemade multi surface cleaner uses a few ingredients combined with fruits and herbs to disinfect home surfaces and act as an air freshener.
Find a clean glass spray bottle and fill it with equal parts lukewarm water and vinegar. Drop in a large piece of lemon rind and one sprig of fresh rosemary.
Allow the bottle to sit in a cool, dry place for one week before using it. Shake the bottle and spray it over walls, countertops, appliances, trashcans, and any other surface that could use a quick cleaning.
The Best DIY Glass Cleaner
Homes are full of glass from windows, doors, and mirrors. Water spots are hard to clean, and most glass cleaners leave behind streaks.
Vinegar is naturally antibacterial, so it is an excellent disinfectant. By combining water, vinegar, and a few essential oils, all of the glass in your home will sparkle after using this recipe.
Pour the water, vinegar, and rubbing alcohol in a small or medium spray bottle. Add a few drops of your favorite essential oil, replace the top and shake it.
Spray the liquid directly onto the glass you plan to clean and let it sit for about 30 seconds before using a paper towel or microfiber cloth to wipe away the moisture.
If you prefer not to use vinegar, you can make a homemade glass cleaner without vinegar, as well.
Powerful Cleaners with Natural Ingredients
Even though we would like our homes to be reasonably clean at all times, there are moments in life where things sit, and grime builds up to create messes that seem impossible to get rid of.
When you have tough stains and messes, using more potent products might be necessary. By using Borax and lemon, you get two powerful products that work together to remove anything.
Cut a large fresh lemon in half and pour a small amount of Borax into an old bowl or bucket. Dip the cut end of the lemon in the powder so that the lemon juice sticks to it.
Rub the lemon over the affected area until it lifts. Rinse with clean water and remove all excess moisture with a dry cloth or paper towels.
Kitchen Cleaner for Fighting Grease
Kitchens are one of the dirtiest zones in the house. With grease splattering and food spills, it takes a robust recipe to cut through it all.
Fill any spray bottle with the listed ingredients and make sure this all natural degreaser is well-combined. Mist the cleaner on all greasy surfaces and let it sit for several minutes before wiping it away with a wet cloth.
How to Deodorize Your Home
With household messes come inevitable smells. Even when we repeatedly try to get rid of odors, the store-bought products don't always work. Baking soda is the best product to deodorize funky smells.
To make a homemade odor eliminator spray, add about a tablespoon of baking soda to a spray bottle for every one cup of water. Shake the bottle before using it and spray it over all soft surfaces in your home and let it sit for roughly ten minutes before wiping it away with a wet cloth.
Hardy Bathroom Cleaner
Bathrooms are filthy places and a breeding ground for bacteria and mold. Although a lot of the previous recipes work great in a bathroom, nothing does a better job at disinfecting the bathroom than bleach.
Mix a quarter part of bleach for every one part of warm water into a large bucket.
Put on rubber gloves for safety and use a mop or clean rag to dip into the bleach water and scrub every surface of your bathroom so that it kills bacteria and gets every inch of the room clean.
Abrasive Cleaners for Dried Messes
For dried spills or areas with lime and calcium build-up, using something with an abrasive texture is vital. Fresh lemon juice has a high acid content that eats through grime while the salt buffs away the stuff that is harder to lift.
Cut a lemon in half and dip the cut end in salt. Grab the lemon half and use it to start scrubbing areas that are hard to clean, like sinks, drains, and appliances.
Turning Baking Soda into Paste
Baking soda is a go-to tool for anyone who enjoys natural cleaning practices, and turning it into a paste is a great way to clean nearly any surface of your home.
Add some baking soda to a bowl and slowly stir in small amounts of water until you get a thick, paste-like consistency.
Smear the paste over countertops, bathroom fixtures, kitchen appliances, and stains. Allow the paste to dry completely before using a rag to eradicate the excess.
A Natural Surface Cleaner for Mold
Mold seems like a tricky thing to get rid of without cleansers from the store, but you already have everything you need at home. Making a DIY surface cleaner for mold only requires water, baking soda, and tea tree oil that is already antibacterial.
Add two cups of water and half a cup of tea tree oil to a spray bottle, so they are well-combined. Use the homemade mildrew spray to spritz the mildew or moldy area so it's completely wet and let it sit for 24 hours.
The next day, return to the moldy spot and sprinkle baking soda over the top. Spray the powder with the leftover liquid and then use a soft-bristled brush to scrub away the mold and leave the surface disinfected and clean.
The Power of Dish Soap
Dish soap is a remarkable thing that we don't often utilize enough. A few drops of grease-fighting dish soap mixed with warm water is one of the easiest homemade cleaners you can make.
It disinfects almost all the surfaces of your home without damaging them or leaving behind residue. Don't miss out on this product that nearly everyone has in the kitchen.
Regular cleaning is a necessity if you want to live a healthy lifestyle. Using brand-name cleaning products full of dangerous chemicals seems counterintuitive and is preventable when making your own DIY surface cleaner with simple and clean ingredients.
By creating a homemade cleaner, you save yourself time, money, and potential health problems that could have easily been avoided.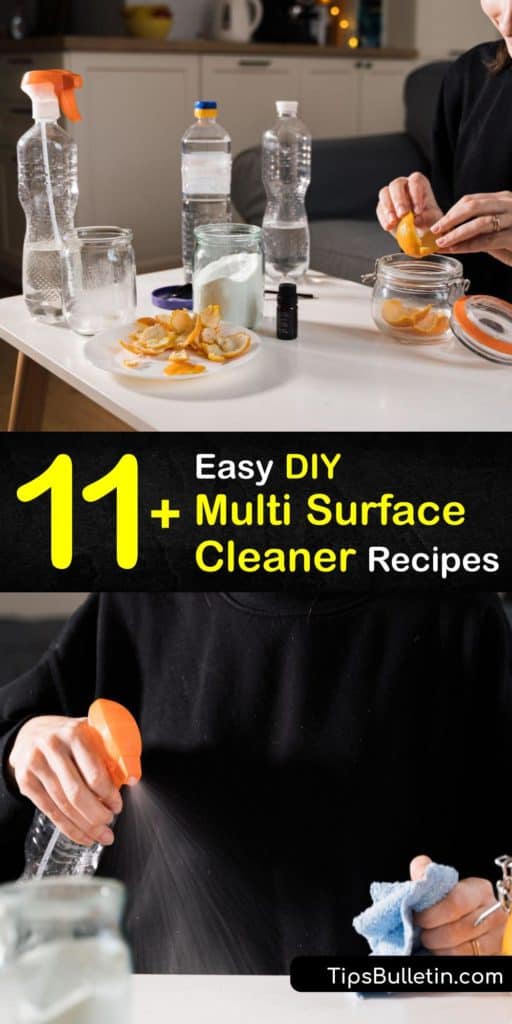 If making a homemade multi surface cleaner has kept your home cleaner than expected, share these natural surface cleaner recipes on Facebook and Pinterest.