Night guards are becoming increasingly popular across the world. These devices protect your teeth and jaw while sleeping and usually come with a basic set of instructions. Making a homemade night guard cleaner is one of the easiest ways to ensure you're removing as much bacteria built-up as possible.
Finding a natural night guard cleaner that works for you is crucial. What cleaning strategies work for one person don't always work for another.
Furthermore, some people have different preferences because of what they tend to keep on-hand at home. No matter what, finding a DIY night guard cleaner recipe is going to make a significant difference in your mouth guard cleaning routine.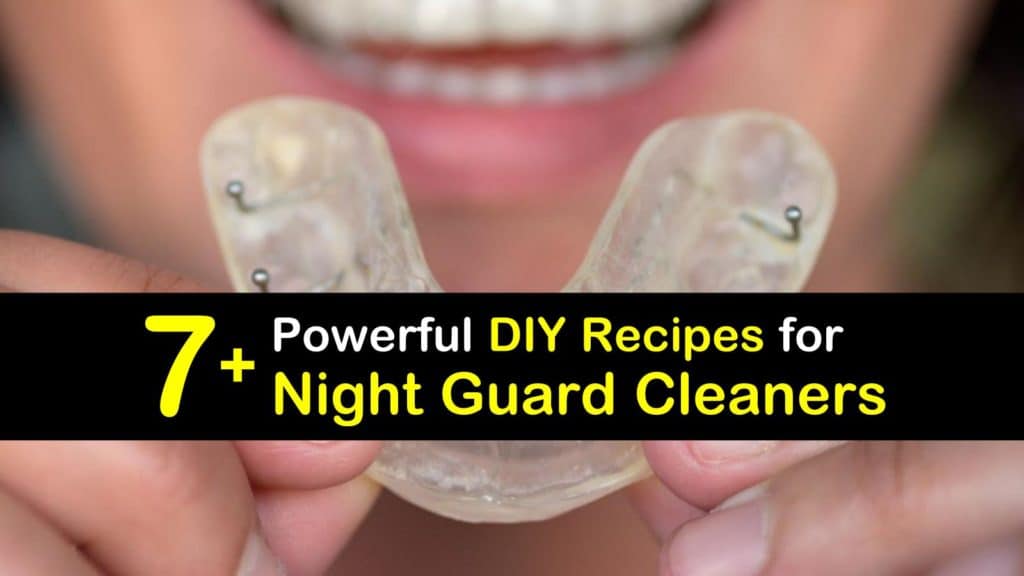 What are Night Guards?
Night guards, retainers, and mouthguards are similar products that require identical cleaning strategies. Orthodontists frequently recommend night guards for better oral health.
Teeth grinding and clenching is a major problem among many people. These actions affect the sleeping habits of roughly 15 percent of both children and adults.
Most people can't stop this from occurring, but getting a mouthguard is one way to protect yourself from health issues. Bruxism, the medical term for clenching your jaw and grinding your teeth at night, has serious health concerns.
It may lead to chronic headaches and migraines, TMJ, tooth pain, and even tooth wear and cracking. Some guards are available over the counter, but it's best to go to a dentist or orthodontist to get one custom fit for your mouth.
If you're someone who uses a mouth guard, make sure to find a cleaning method that rids your piece of bacterial growth to protect your oral health and prevent bad breath.
Finding a Natural Night Guard Cleaner
The best thing about a DIY night guard cleaner is that most of the ingredients are things you already have stored at home.
Nightguard cleaner is often the same as retainer cleaner or mouthguard cleaners, so don't be afraid to try them all. Make sure to incorporate a homemade night guard cleaner into your daily routine to prevent discoloration and grime build-up.
Homemade Night Guard Cleaner
One of the most straightforward ways to keep your night guard clean or to take care of dentures is to use your toothbrush and an abrasive toothpaste like Arm & Hammer. Put a small amount of your toothpaste on your toothbrush and wet it with warm water.
Use the brush to begin scrubbing all surfaces of the guard. Once you've scrubbed every surface, rinse the mouth guard under running hot water. Lay the mouth guard on a few paper towels and allow it to air dry before putting it back in its case.
DIY Night Guard Cleaner
One of our all-time favorite cleaning ingredients is white vinegar because it is a powerful tool for cleaning all sorts of messes, including cleaning night guards.
Because vinegar is an acid, it easily breaks up debris and unpleasant odors that have settled on the surface. Do not use vinegar on metal mouth guards, however, or they may corrode.
Put your mouth guard in a small bowl. Fill the bowl with white vinegar or apple cider vinegar so that it is completely covered. Let the mouth guard sit in the vinegar for a minimum of five hours, or as long as overnight for the best results.
Rinse your guard under hot water. If the smell and taste of vinegar linger, soak it in some mouthwash for a fresh, minty flavor.
Hydrogen Peroxide Night Guard Cleaner
One of the benefits of peroxide is that it is another powerful cleaning agent that works similarly to vinegar. Hydrogen peroxide is an effervescent liquid that bubbles and works extra hard to remove bacteria and grime.
This product is also inexpensive, found at most stores, and is incredibly productive in eliminating discoloration.
Put your retainer or mouth guard in a small bowl and cover it with hydrogen peroxide. For this homemade denture soak or mouthguard cleaner, allow the mouth guard to sit overnight before rinsing it under hot water and allowing it to air dry.
Baking Soda Cleaner for Mouth Guards
Take a glance inside your kitchen cabinets, and you'll likely find a box of baking soda lying around. Baking soda is an excellent tool for creating a homemade night guard cleaner if you're unsure what else to use.
Mix two teaspoons of baking soda with roughly one cup of water into a small glass bowl. Put your night guard into the baking soda solution and allow it to sit overnight.
The next day, use a toothbrush to scrub the night guard. Rinse the guard under warm water and let it air dry before putting it back in the case.
Follow the same process for a homemade false teeth cleaner. Baking soda is the perfect mouth appliance cleaning option.
Deep Cleaning Mouth Guards
Night guards should get a deep cleaning once every month. Although you wouldn't want to bleach your night guard daily, this is a simple cleaning method for when it's extra dirty.
Mix about ten parts hot water with one-part bleach. Submerge your night guard in the bleach water for 30 minutes.
Remove your night guard from the bleach and use a toothbrush and a small amount of paste to scrub away any remaining bleach particles. Repeatedly rinse the night guard under cool water before putting it in your mouth.
Use a Denture Cleaner
Denture or night guard cleaning tablets, like Efferdent, are one of the best options to use if you're willing to pay for them.
Drop a single denture-cleaning tablet into a glass of very warm or hot water. Place the night guard into the solution so that it is completely covered. Allow the guard to sit for five minutes before removing it from the glass and rinsing it thoroughly.
Using Antibacterial Soap
Antibacterial soap is often what most dentists recommend using to clean your night guard. Although this isn't the hardiest option, it works when you're in a pinch and don't have any other ingredients on hand.
This method is also a gentler option for regular cleanings. Fill a small bowl with some warm water and a few drops of antibacterial dish soap. Once suds form, dip a toothbrush in the soapy water and start scrubbing the night guard.
Make sure to try to get every crevice for a thorough cleaning. Rinse the mouth guard under warm water to remove the soap. Dish soap works well for this cleaning strategy, too.
Lemon or Lime Juice Cleaners
If none of the above DIY night guard cleaner recipes work for you, there is also a way to clean them with lemon or lime juice. These are high-acid fruits that eat through dirt and grime with ease.
On top of that, these ingredients leave a fruity taste in your mouth so that you won't have the flavor of soap or bad breath. Only use fresh fruit if you're going to try this night guard cleaning solution.
Cut the lemons or limes in half and combine equal parts juice and water in a small bowl or glass. Allow your night guard to sit in the lemon water for as long as overnight.
When finished, rinse your guard under warm water and allow it to air dry on some paper towels.
Keep Your Guard Case Clean
It may not be on your radar, but keeping your night guard case clean is equally important. When we remove our guard from our mouth and set it in the case, the bacteria from the saliva transfers to the inside of our case.
No matter how much we clean our mouth guards, if we set them into a dirty case, they contact bacteria right away, making cleaning the mouth guards pointless.
To clean a night guard case, wash it how you would hand wash your kitchen dishes. Warm water and basic dish soap or antibacterial soap are both gentle and efficient.
Avoid putting your night guard case in the dishwasher. Dishwashers have incredibly high temperatures, and they might melt your case, leaving you without something to keep your night guard in and protected from outside germs.
At the same time, while boiling your toothbrush kills germs, it will also warp your night guard. Use only hot tap water.
Take Your Night Guard to Your Dentist
When all else fails, one of the best things you can do is take your mouth guard or retainer to your dentist or orthodontist. They can give your guard a deep cleaning with high-quality cleaners that most of us don't have access to.
Even if you only go to your dentist once every six months, your night guard and its case benefit greatly from getting a professional cleaning.
Night guards are becoming more and more popular and are essential to people who have serious bruxism issues.
If you are affected by bruxism and use a night guard, make sure you give it the best care possible. Daily cleanings not only help prevent bad breath and cavities but prolong their overall life span.
Recipe for Homemade Night Guard Cleaner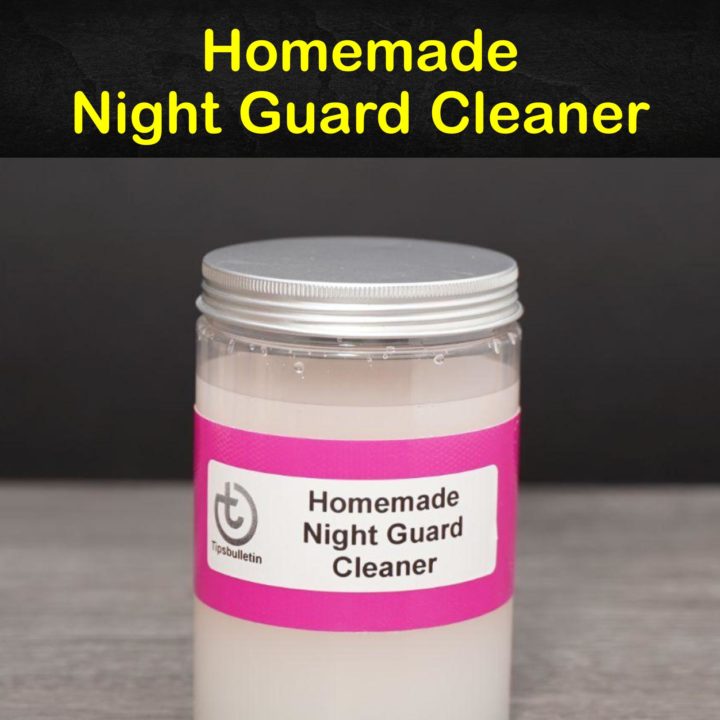 Homemade Night Guard Cleaner
Cleaning your night guard can't get any easier!
Materials
8 ounces warm water
2 tsp baking soda
Tools
Toothbrush
Glass jar
Teaspoon
Measuring cup
Instructions
Pour the water and baking soda into the jar.
Stir to mix well.
Add the night guard to the jar.
Let the night guard soak for the day.
Pour out the mixture and brush the night guard with the toothbrush.
Rinse the guard well with warm water.
Air dry or use immediately.
Notes
Baking soda is the perfect cleaning option - and costs just pennies.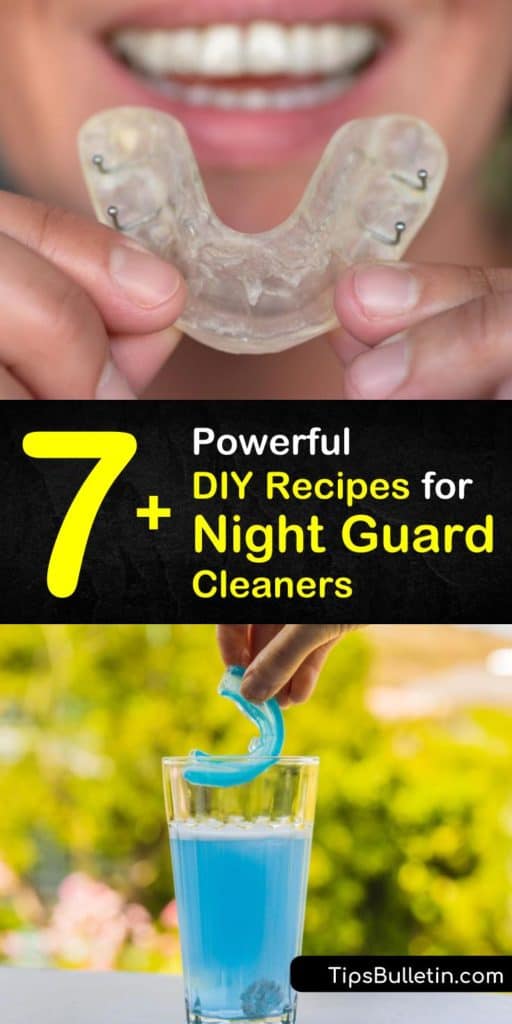 If you found a homemade night guard cleaner from this list that works best for you, share these natural night guard cleaner recipes on Facebook and Pinterest.