Natural cleaning products do not have to be a significant expense. Keeping your home clean without using harsh chemicals is simple with these easy recipes for homemade orange cleaner. Read on to find the perfect natural orange cleaner for your household needs.
If you have always wanted to try using homemade cleaners around your house, our DIY orange cleaner ideas might be the perfect solution. They are quick and easy to make and leave your home looking and smelling fresh and sparkling clean.
It is quite likely that you have all of the ingredients you'll require at home already. Orange oil doesn't just smell great; it is also a powerful disinfectant. Combined with other natural cleaning agents like baking soda or vinegar, it cuts through grease and grime.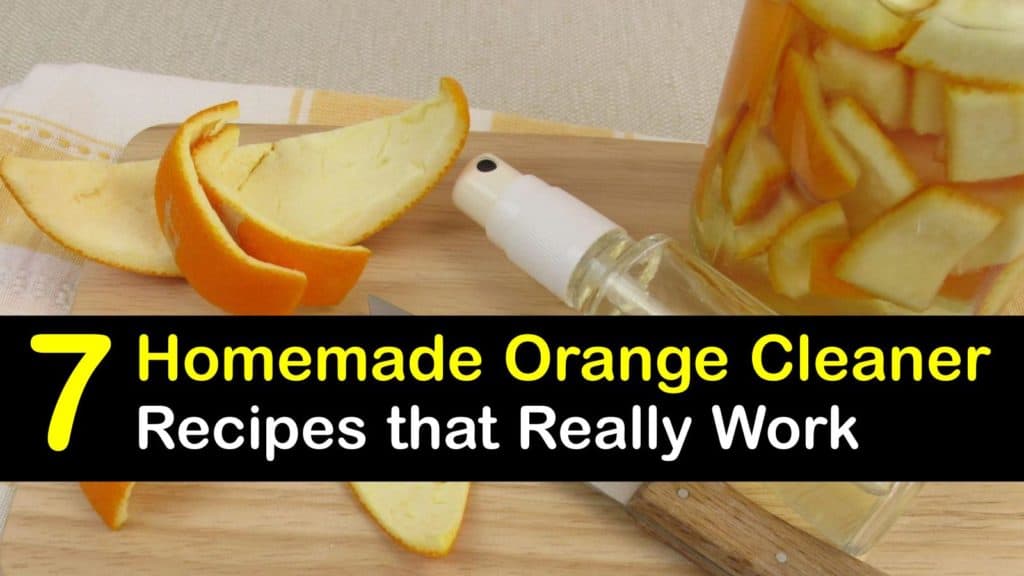 How to Make Natural Orange Cleaner
Citrus oil is naturally antibacterial and antifungal, making it a safe alternative to traditional household cleaner products that are good for both your family and the environment.
Orange oil is an effective natural cleaning agent used in numerous DIY cleaning recipes. When choosing which cleaner recipe suits your needs best, it is critical to consider which surfaces you intend to clean.
Take extra caution when cleaning wood and natural stone because acidic cleaning products like vinegar often damage these surfaces and break down protective finish coatings.
However, since citric acid comes from the pulp and juice of citrus fruits, orange oil is not actually acidic. It is derived from orange peels in a centrifuge, resulting in a cold-pressed essential oil.
The main active ingredient is d-limonene, which is a natural disinfecting and degreasing agent. Depending on what else you combine it with, orange oil cleans almost anything. It leaves behind a pleasant and refreshing scent.
Step up your spring cleaning routine by making your own DIY orange cleaner. It is not only safer for your family and the environment than cleaning with harsh chemicals, but it's also friendlier for your budget.
Just like you can make a natural lemon based oven cleaner or spray for many surfaces, orange oil works well, too. Both have a fresh scent as well as extra cleaning power.
All-Purpose Homemade Orange Cleaner
Orange oil is an incredibly versatile natural cleaner, and it is safe to use on most household surfaces. When combined with vinegar and Castile soap, you get naturally powerful cleaning solutions.
To make this homemade citrus cleaner, pour your ingredients into a clean spray bottle and shake gently to blend. If desired, add other citrus essential oils like lemon or grapefruit. Use this DIY multipurpose cleaner on bathroom surfaces, countertops, mirrors, walls, and windows.
Avoid spraying it on wood furniture, as the vinegar may break down the protective finish on the wood.
For cleaning laminate flooring or natural stone, substitute rubbing alcohol for the vinegar. If you are using apple cider vinegar, patch test an inconspicuous area first to make sure it does not leave a stain.
Orange Peel Vinegar
When cleaning, vinegar packs a serious punch, but many people find the vinegar smell unappealing. Freshen up your vinegar cleaner and add extra cleaning power by making a homemade cleaner with orange peels.
For this vinegar cleaning solution recipe, fill your quart jar halfway with orange peels. If desired, add other types of citrus peels, too. Use any kind of citrus, including grapefruit, lime, and lemon peels. Cinnamon sticks give the mixture additional antiseptic properties and a pleasant aroma.
Cover the citrus rinds with distilled white vinegar and seal the glass jar with a non-metallic lid, as vinegar quickly corrodes metal. Store the Mason jar full of citrus-infused vinegar in a cool, dark place for two or three weeks while your vinegar solution is infusing.
Strain the orange peel vinegar into a clean spray bottle. If reusing an old spray bottle, be sure to wash and rinse it thoroughly first. Orange peel vinegar makes an excellent all-purpose cleaner for bathroom surfaces, countertops, mirrors, walls, and windows.
DIY Orange Cleaner with Baking Soda and Cinnamon
For scrubbing your sinks and bathtub, try this DIY cleaner made with baking soda, cinnamon, and orange essential oil. Baking soda is an excellent natural scrubbing agent, and cinnamon gives the blend an extra antiseptic boost.
Blend the baking soda and cinnamon, then stir in the orange oil. Sprinkle the mixture over the surface of the tub or sink and scrub with a lightly dampened sponge that won't cause scratches.
Thoroughly rinse out the basin with warm water and wipe it dry with a microfiber cloth.
Orange-Infused Carpet Stain Remover
To eliminate unpleasant odors and stains on your carpet from pet accidents, food spills, or other messes, try using this citrus-infused baking soda mixture. Baking soda mixed with orange oil effectively lifts stains from your carpet while neutralizing odors.
Mix the orange oil with the baking soda in a resealable container. If you do not use it all at once, store it in a cool, dark place for later use. If desired, add lemon oil as well.
Sprinkle the citrus-infused baking soda over the carpet stain and allow it to sit for at least an hour. Vacuum the area thoroughly and repeat as needed until the stain is gone.
Orange Oil Laundry Deodorizer
If your clothes or towels seem to have a musty funk that won't wash out with your regular detergent, try adding a cup of orange oil next time you do laundry.
Because orange oil is volatile, it evaporates without leaving behind an oil spot. The only citrus oil that may stain fabric is tangerine due to its naturally darker color.
Clean Your Garbage Disposal with Citrus Peels
Garbage disposals are incredibly useful household appliances, but they eventually develop unpleasant odors and require cleaning. Luckily, citrus oil works to both deodorize and disinfect your garbage disposal naturally.
Turn off the power to the garbage disposal and use tongs to remove any non-disposable items that might be stuck inside. Fill the disposal with two cups of ice and one cup of rock salt.
Turn it on for about five seconds while running cold water to clear the drain of any debris. Add a cup of orange peels and another cup of ice cubes and turn on the disposal for five to ten seconds with the cold water running.
If desired, use other citrus rinds like lemon, lime, or grapefruit as well. Afterward, rinse with hot water for 15-20 seconds.
Orange Oil Floor Cleaner
To keep your ceramic tile, laminate, or linoleum floors sparkling clean, try using an all-natural essential oil floor cleaner.
For this recipe, you'll use the combined cleaning power of tea tree and orange essential oils, both of which have proven antibacterial, antiviral, and antifungal properties.
In a two- or three-gallon bucket, mix the ingredients with very hot water. Use this DIY mop solution on your hard flooring.
However, if you're cleaning stone or hardwood floors, leave out the rubbing alcohol and vinegar, as they may cause damage. Instead, simply add an extra teaspoon of Castile soap.
Cleaning your house does not have to mean spraying harsh chemicals or putting up with an intense vinegar smell for hours afterward. Use the cleaning power of orange oil to cut through tough stains and safely disinfect your household surfaces.
Instead of throwing your citrus peels in the trash or compost, use them for making DIY orange cleaner, infusing vinegar, or deodorizing kitchen appliances like the garbage disposal or an instant pot.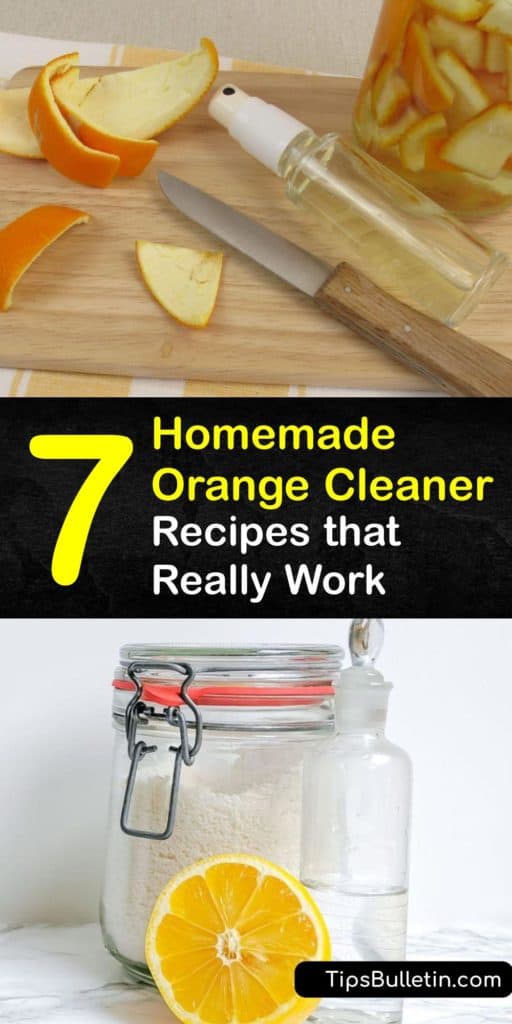 If you found this tutorial on using natural orange cleaner helpful, please share this article about homemade orange cleaner with your fellow DIY enthusiasts on Pinterest and Facebook.