Many of us avoid cleaning our ovens and stoves until the last possible second. It's not because we can't stand the mess or don't want to put in the extra elbow grease, but rather as a way to avoid those harsh chemical fumes. Luckily, you can make your very own homemade oven cleaner with Dawn and abandon using toxic commercial cleaners for good.
In fact, you can create different recipes using your favorite kitchen cleaning ingredient. Cleaning your oven doesn't always require using harsh chemicals or hours consulting Google for complicated recipes. Sometimes the cleaning products that get the job done are the least likely candidates but the most natural solutions.
What you clean your oven with is equally as crucial as sparing yourself from noxious fumes. You want to make sure those same chemicals aren't making their way onto your pies and roasted chickens and into the tummies of your loved ones. These recipes will offer some non-toxic and natural solutions that make cleaning stress-free and chemical-free.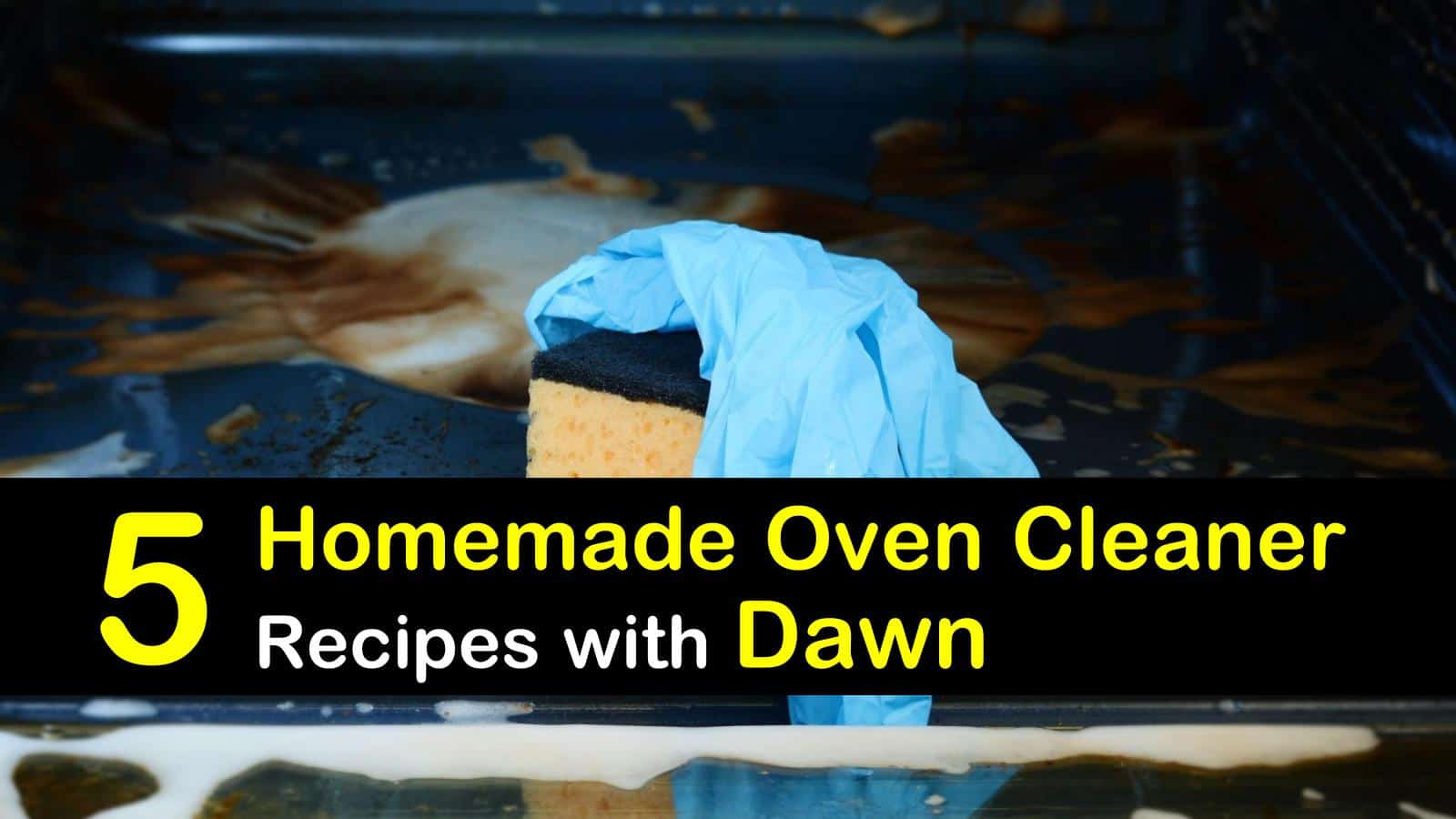 DIY Oven Cleaner with Dawn Recipes to Kick Greasy Spills to the Curb
Not only is it easy to make your own homemade natural oven cleaner, but it is also quite inexpensive. In fact, you probably already have what you need at home already. Check out these simple recipes with items you can find in your pantry or beneath the kitchen sink. You may find that you actually look forward to cleaning the oven!
Cleaning Ovens with Dawn and Baking Soda
This first option is one of the easiest ways to clean your oven and works best for a quick and easy clean. Baking soda is an excellent gentle abrasive that can remove dirt and gunk without scratching the surface of most metals. In addition, it absorbs foul odors and neutralizes them for a fresh, clean scent.
As an oven cleaner, baking soda takes its cleaning power one step further by breaking down gunk and grime using its alkaline pH levels to dissolve grease. The following paste and recipe is the perfect oven cleaner to remove those stray splatters and grease stains.
The first step in the oven cleaning process or to clean your cooktop is to create a baking soda paste by blending it with warm water. Slather the paste over the surface of the oven's interior or the surface of the stove.
Another option is to moisten the inside of the oven using a spray bottle and water, then sprinkle the baking soda over the top. Applying the paste, however, gives you a little bit more control with how evenly the baking soda spreads over the oven surface.
In both cases, let the mixture sit in the oven overnight to break down any build-up. The next morning, add some liquid dish detergent to a clean sponge or damp cloth and wipe down the thick paste from the oven's interior.
The paste should remove and dissolve the gunk inside the oven. If it doesn't, using a natural degreaser like Dawn dish soap helps peel away any remaining stragglers in your dirty oven.
A slight variation of this recipe, based mainly on a difference in proportions, is also a great recipe for how to make glass cleaner and the perfect solution for cleaning your oven door.
Dawn and Vinegar Oven Cleaner Recipe
An excellent natural cleaning solution is to use a Dawn and vinegar oven cleaner. Vinegar is a powerful disinfectant and all purpose cleaner used in most household chores. It also uses acetic acid to cut through grease and stuck-on foods easily. The following recipe requires a few simple ingredients to make a potent oven cleaning recipe.
Mix the two ingredients in a large spray bottle and soak the inside of your oven with the spray. Let the recipe soak in the oven for several minutes before rinsing and wiping clean. An alternative method to this recipe is to use vinegar and dish soap along with baking soda.
Create the baking soda paste and follow the same procedures as in the first example. Before cleaning the stove with dish soap the following morning, add a few sprays of straight vinegar first. This should cause a reaction with the baking soda, which will make cleaning with dish detergent that much easier.
This solution also works quite well as a homemade degreaser for your kitchen counters, cabinets, and floors. Mix up a batch to keep on hand whenever you encounter a greasy spill.
Using Coarse Salt and Lemon Essential Oils to Make Homemade Oven Cleaner
Another fantastic ingredient to add to your homemade oven cleaner with Dawn is lemon essential oil. Much like the other listed cleaning products, lemon essential oil is a stupendous degreaser.
Instead of using acetic acid like vinegar, choose a product with alkaline pH levels like baking soda. This oil uses citric acid to cut through grease and grime. Because this acid exists in oranges and other citruses, essential oils made from these plants will also work.
These ingredients create a thick paste to apply to the inside of your oven. Make sure to smooth over a dense layer of the cream before letting it sit overnight.
In the morning, use damp paper towels or a sponge to remove the layer of cleaner. Rinse off the remaining cleaner with a little water and dry thoroughly.
Add Some Borax to the Mix for a New Homemade Recipe
When cleaning ovens with Dawn dish soap, Borax is another helpful tool to keep on hand. Borax often appears in a homemade multi-purpose cleaner, due to its effectiveness as a deodorizer and insecticide. This cleaning agent also does wonders for your oven by removing gunk and goo with many of the same properties as baking soda.
To use this DIY oven cleaning recipe, mix the ingredients in a large spray bottle. Soak the surface of the walls with the oven cleaner and let it sit overnight. You can even add a little bit of baking soda over the top before leaving it to soak.
Once you are ready to clean up the solution in the morning, use a damp cloth dipped in warm water to clear away all remnants of the cleaning solution. Rinse again with warm water and dry thoroughly to prevent water spots.
Homemade Oven Cleaner with Dawn and Lemon Juice
Another natural oven cleaner to combine with dishwashing liquid is lemon juice. This fantastic cleansing solution is as effective as vinegar on most cleaning jobs but smells ten times better. When mixed with some of the best cleaners out there, this final recipe is unstoppable!
Start by combining all the ingredients in a small container, excluding the vinegar. Once they are thoroughly blended, gradually add the vinegar tablespoon by tablespoon to prevent an eruption of a bubbly mess that no one wants to add to their cleaning list.
This concoction creates another paste to layer over the oven surface. Like the other mixtures, let it sit and soak overnight for the best results. The following morning, wipe down with a damp cloth or paper towels, rinse and dry.
A Few Words of Wisdom Before You Start Cleaning Ovens with Dawn
What precautions should I take before getting started?
When getting ready to clean your oven, whether it is part of routine maintenance or deep spring cleaning, ensure that you have all the proper equipment. Any time you deal with cleaning solutions, even if they are natural and non-toxic, wear gloves to protect your skin. It's also best to wear gloves to prevent getting any dirt and gunk beneath your fingernails.
Another essential item you may want to have is a plastic spatula. For those tough, stuck-on foods in grease spots that your oven cleaners can't erase, this will become your favorite companion. Using the spatula, you can gently scrape off the food particles without damaging the surface of your oven.
Can I use these same recipes to clean my oven racks and heating elements?
Your oven racks and heating elements do not require the same deep-cleaning as the inside walls of your oven. Instead, remove both items before cleaning the inside of your oven. This will not only help you clean both elements properly, but it will also give you better access to the bottom of the oven.
The heating elements are the easiest ones to clean, especially since they are self-cleaning. This does not mean you must have a self-cleaning oven to clean your heating elements. Instead, the regular heat of the oven when using it burns away most reside and grease spots over time.
Remove the oven racks and place them in your bathtub above a layer of towels to prevent scraping the bottom of your tub. Combine powdered laundry or dishwasher detergent in a bowl of hot water, then add this to your tub. Or, use Dawn as an ideal oven rack cleaner. It cuts through tough grease with ease.
Ensure the water is high enough to submerge the oven grates fully. You can also add sprinkles of unblended, powdered detergent to act as a gentle scrub.
These cleaning recipes will suit any household and give you plenty of options to choose from when it comes to cleaning your oven. If you aren't sure which method you like best, start with whatever you have in your pantry or under your kitchen sink. When trying these new steps toward a clean oven, you might discover that lifelong cleaning method you can no longer live without!
Recipe for Homemade Oven Cleaner with Dawn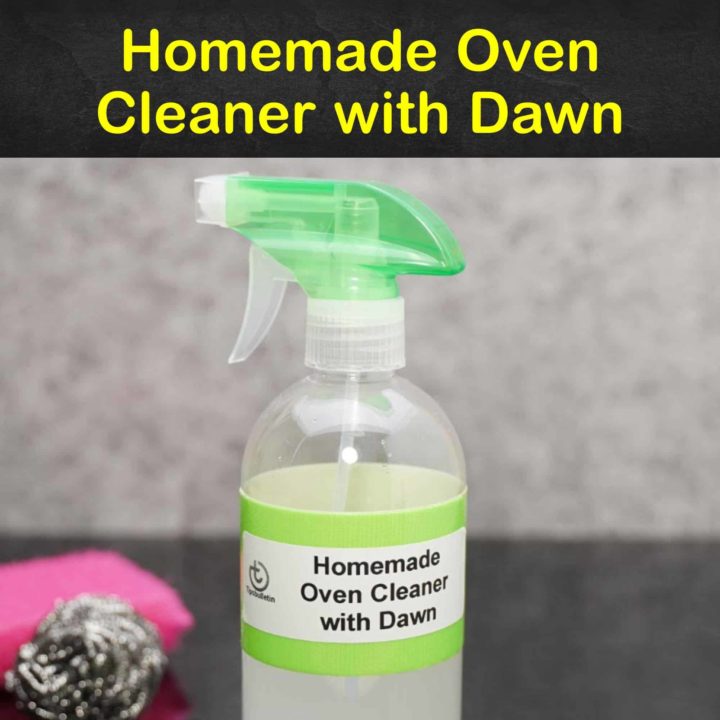 Homemade Oven Cleaner with Dawn
Dawn is ideal for stubborn oven grease stains.
Ingredients
4 drops Dawn dish soap
8 ounces warm water
6 ounces baking soda
8-ounce sprayer bottle
Gloves
Sponge
Instructions
Pour the water into the spray bottle.
Liberally spritz the interior of the oven.
Shake the baking soda over the damp oven surfaces.
Let the cleaner sit for at least 8 hours.
Put on plastic gloves.
Add the Dawn to a damp sponge, and wipe the baking soda paste.
Rinse the sponge often and reapply more Dawn if needed.
Notes
You can also mix the water and baking soda in a container and apply it to the inside of the oven. Follow the same procedure for wiping it clean.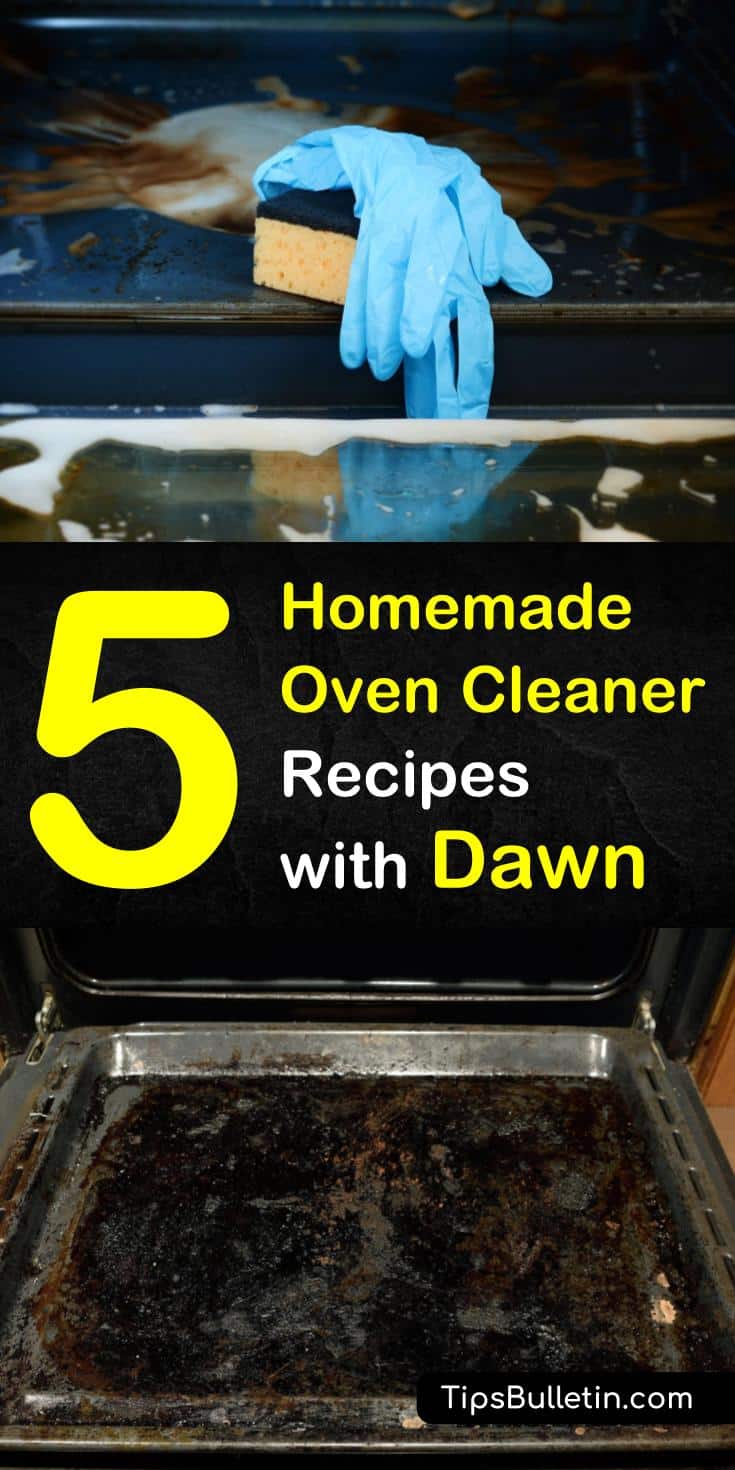 Now that you have five new ways for cleaning ovens with Dawn, don't forget to tell the world about these spectacular cleaning tips. Please remember to share these homemade oven cleaner with Dawn recipes with your friends and family on Facebook and Pinterest.