Potatoes are a staple crop in many home gardens, and they're usually pretty easy to grow. However, an infestation of the Colorado potato beetle, commonly known as a potato bug, can wreak havoc on your potato plants if it goes unchecked. In this article, discover the best DIY recipes for homemade potato bug spray and learn how to use them without harming beneficial insects in your garden.
Before you reach for harsh chemicals or expensive pesticides, consider trying a home remedy for potato bugs. You might even have most of the necessary ingredients in your cupboard already.
These recipes for natural potato bug spray are also better for the environment than many commercially sold insecticides. When it comes to pest control tactics, it's often best to use several different approaches in combination.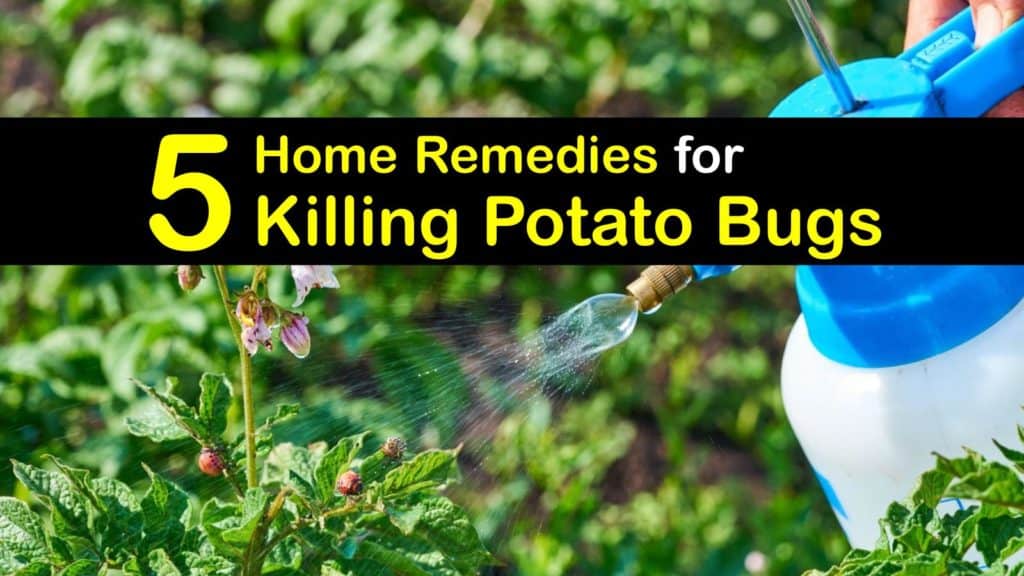 What's the Most Effective Home Remedy for Potato Bugs?
Certain companion plants like catnip and horseradish repel garden pests like potato bugs with their strong scent. Others like chamomile and parsley attract predatory insects like ladybugs and lacewings.
Additional effective control methods include regular crop rotation, protecting them with row covers, and laying mulch around your plants.
When growing anything, it pays to know what to do if there are problems. Learn how to handle potato diseases on leaves and how to take care of bugs.
If you recently discovered an infestation on your potato plants after you started regrowing potatoes inside and transplanting them outdoors, you might be wondering, "What are the best home remedies for killing potato bugs in my garden?" Fortunately, there are a wide variety of options available.
Nonetheless, keep in mind when using pesticides, whether a natural plant spray or a synthetic one, they rarely eliminate a pest infestation with one application.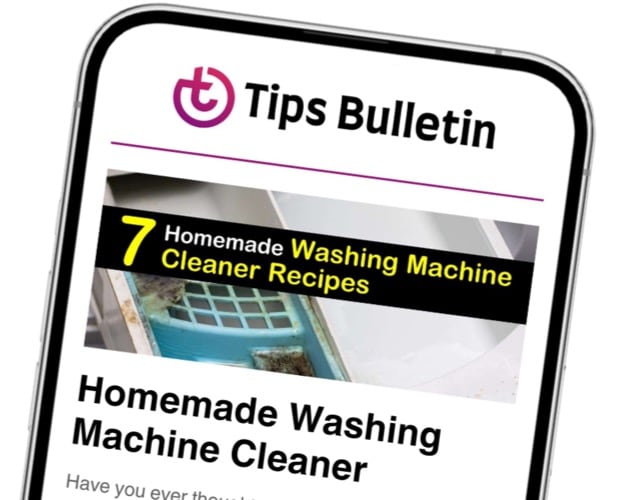 Finally, an email that Transforms Your Home.
Get the latest home and garden tips from our experts, delivered straight to your inbox.
When using a product like B.T. (Bacillus thuringiensis) or Spinosad, or you prepared a homemade spray for potato bugs, reapply every few days throughout the insects' 21-day larval phase.
Note that insecticidal sprays also kill beneficial insects like pollinators and predators. Be mindful when using them and only target severely infested plants. When possible, use cultural controls like repellents and companion planting to deter pests and minimize use of pesticides.
The Colorado potato beetle, or Leptinotarsa decemlineata, is found in every state except Alaska, California, Hawaii, and Nevada. The adults have an orange-yellow body with black stripes.
A potato beetle larva has a black head and a red body with two rows of black spots on either side. They primarily feed on plants in the nightshade family, including eggplants, peppers, potatoes, tobacco, and tomatoes.
These insects are incredibly prolific, and there are sometimes up to three reproducing generations in a single growing season.
One female lays as many as 500 eggs in her lifetime, so dealing with the problem as early as possible is critical. Read on to discover the best home remedy for potato bugs to use on your garden plants.
Homemade Potato Bug Spray with Essential Oils
While there are many baking soda benefits for plants to keep them healthy, there are also other natural remedies that deter unwanted critters like potato beetles.
Neem, peppermint, and rosemary essential oils work as a powerful insecticide against potato bugs. Peppermint and rosemary oils are contact insecticides and are a temporary repellent when sprayed on your potato plants.
When ingested, neem oil disrupts the insects' hormones, reducing their feeding and interfering with their ability to breed. The oils also coat and smother insect eggs.
To mix neem oil for plants with the essential oils, fill a large, sterile spray bottle with tap water. Pour in the neem, peppermint, and rosemary essential oils. Securely replace the lid and shake the spray bottle vigorously to mix the ingredients, then spray on any plants where you notice potato bug activity.
This solution also works well as an organic aphid killer spray for plants of many types.
Natural Potato Bug Spray using Dish Soap and Vinegar
Vinegar and dish soap are inexpensive and highly effective pest control treatments. The acidity in the vinegar kills larvae and adult insects on contact.
The soapy water forms a coating that suffocates the insects as well as their eggs. This homemade potato bug spray is effective against other soft-bodied insect pests like aphids, mites, and thrips, too. Make your own DIY insecticidal soap with three simple ingredients.
Pour the liquid dish soap, vinegar, and water into a large, clean spray bottle and shake well to blend. Spray all parts of the affected plants every two or three days during an active potato beetle infestation.
DIY Potato Bug Spray with Cayenne Pepper and Garlic
Cayenne pepper and garlic are two potent natural insecticides. When combined, they create an effective homemade potato bug spray that's easy and inexpensive to make.
Mince the garlic and pepper and simmer them in a quart of water for 45-60 minutes. Allow the mixture to cool completely before pouring it through a strainer into a clean spray bottle.
Add the dish soap and shake the bottle vigorously to combine the ingredients. Spray your plants with this solution weekly.
Kill Potato Bugs with Diatomaceous Earth
Diatomaceous earth is a naturally occurring white powder made of fossilized diatoms. The dust has microscopic edges that don't harm humans or large animals. However, it kills insects on contact by tearing holes in their exoskeletons.
Diatomaceous earth causes skin and lung irritation for some people, so it's best to wear gloves, safety glasses, and a respirator mask when applying it.
Spread the diatomaceous earth directly on the plants and over the surrounding soil during dry weather to deter potato bugs. It loses potency once it gets wet, so reapply after periods of rain and use drip irrigation if possible.
Companion Plants to Repel Potato Bugs
Companion planting is a time-honored garden design strategy that pairs compatible plants for mutually beneficial outcomes.
Certain plants attract pollinators and predatory insects, while others repel various garden pests. Some plant pairings reportedly improve the neighboring plants' flavor and overall well-being.
Horseradish is one of the best companion plants for potatoes. Not only does it take care of getting rid of potato beetles, but it also improves their disease resistance.
Catnip and sage repel potato bugs and larger critters like deer and rabbits through their strong scent. They also attract beneficial insects like bees, butterflies, hoverflies, and parasitic wasps (which don't sting humans).
Marigolds repel a wide variety of garden pests, including aphids, nematodes, and whiteflies, in addition to pesky potato bugs. Tansy is a flowering perennial that repels potato bugs and also attracts their predators.
Some gardeners plant a border of pest-repellent plants around their potato beds to keep the bugs away. The powerful odors from aromatic herbs and flowers confuse insects and encourage them to look for food elsewhere.
Another common companion planting tactic is trap cropping. Plant something that the insects like a short distance away to attract pests away from other crops. Nasturtiums, horsenettle, and ground cherries are great trap crops for potato bugs.
Potato bugs plague gardeners across North America every season. Protect your crop with row covers in the springtime to prevent the insects from laying eggs on tender young plants, and use a natural potato bug spray at the first sign of an infestation.
Following these straightforward pest control tips makes it possible to get a head start early in the growing season and prevent them from becoming a problem in your garden.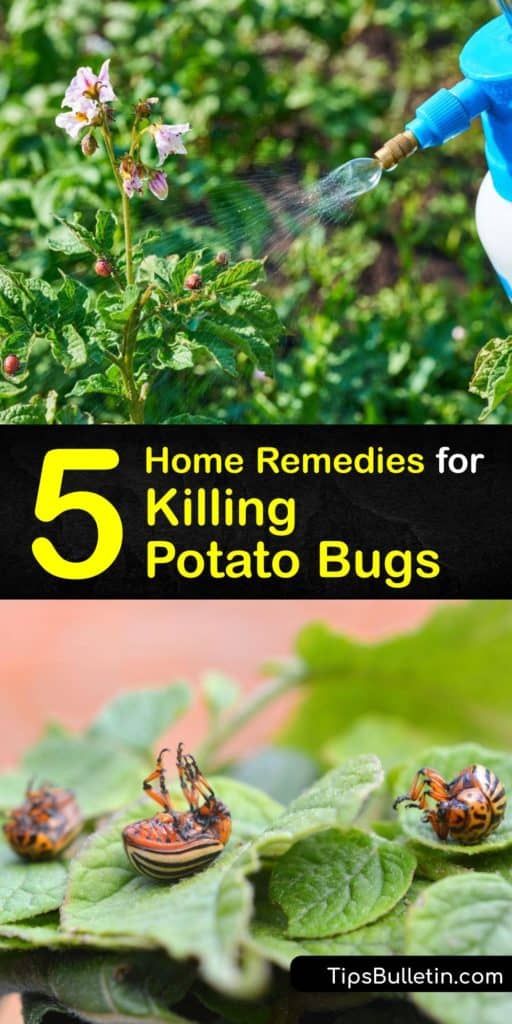 If you found these home remedies for killing potato bugs helpful, please share this article about homemade potato bug spray with your fellow gardeners on Facebook and Pinterest.