If you have discovered patches of wide grass blades with a rough texture sprouting throughout your lawn grass, then you may have quack grass. If left on its own, these stubborn weeds can take over a lawn of fescue or Bermuda grass in no time. You can kill quackgrass by making a homemade quack grass killer and learn how to create a healthy environment for your lawn.
Quackgrass is a perennial grass, and you can identify it by its grass blades. Their broad blades grow off sturdy stalks, and if you run your hands across them, you will notice that they have a bur-like texture to them.
They have thick, white roots that break off quickly in the ground when you try to pull them. The best way to prevent this invasive weed is by using a pre-emergent herbicide and proper lawn maintenance, but there are ways to kill existing quackgrass, too.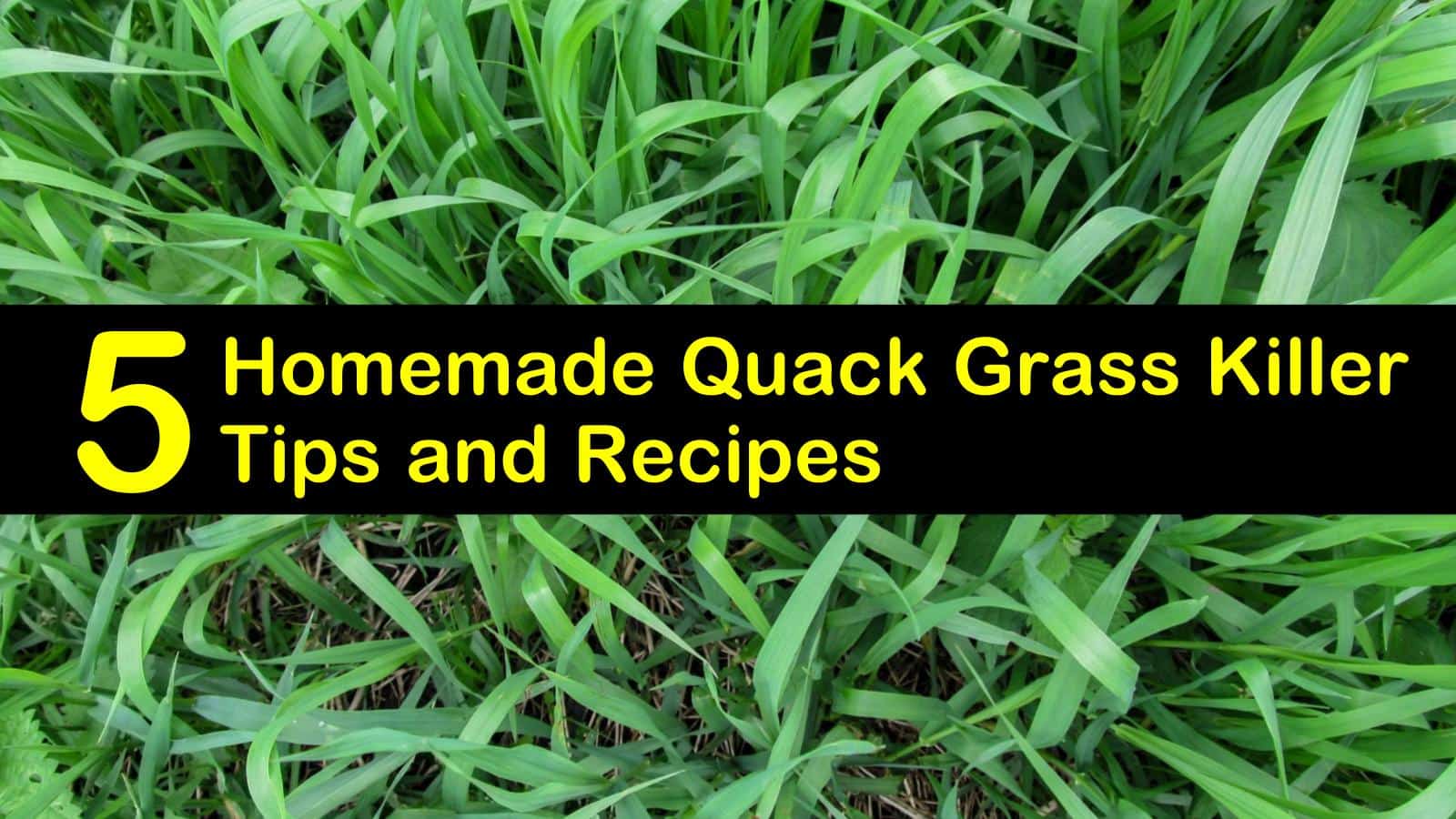 Do-It-Yourself Quack Grass Killer
It's not necessary to buy harmful and expensive chemicals to eliminate weeds in the yard. There are several natural methods to kill weeds like the quackgrass plant without causing damage to desirable plants. We'll show you how to make homemade weed killer for eliminating quack grass and the proper steps to take to ensure that it does not come back.
Many of these solutions not only take care of quackgrass but also kill clover in lawn areas and many other types of weeds. Try several different remedies to see which you prefer for crabgrass control or to get rid of any unwanted vegetation in garden beds or the lawn itself.
Natural Quack Grass Killer
The best natural quack grass killer is the sun. Use the sun's natural solarization abilities to kill weeds, rhizomes, and weed seeds without having to use chemicals found in Roundup, like its active ingredient, glyphosate.
This method works best for large, recurring areas of weeds and also works for killing crabgrass, chickweed, bindweed, thistle, and dandelions. It's also excellent for what kills grass growing in unwanted areas or places where you want to put a garden bed.
During the spring or summer months, purchase some heavy transparent plastic or solarization sheets from your local home improvement store. Lay the plastic over the areas of quack grass, as a way to get rid of chickweed or any other types of annoying weeds. Make sure the tarps extend at least three inches beyond the infested area to ensure that all weeds are covered.
Place weights such as large rocks or bricks along the perimeter of the plastic to hold it in place. Add a few heavy objects in the middle, as well.
For use in flower beds, use smaller sections of clear plastic to work your way around the desirable plants, or cut holes in the plastic and slip the sheets over the top of the plants.
Leave the tarps in place for six weeks or more to allow the sun time to kill the weeds in their entirety. After removing the plastic, proceed by tilling the dead weeds into the dirt for fertilization. Fill the area with new plants or plant grass seeds.
Use Boiling Water as a Quack Grass Killer for Lawns
For an easy home remedy for killing grass, quack grass, crabgrass or other annoying weeds, use boiling water. Hot water is a quick and easy quack grass killer for lawns. You won't be spreading or spraying any chemicals, so there is no danger of accidentally killing off your lawn grass.
You still need to be careful while applying the water to prevent splattering hot water onto your lawn or onto flowers and other plants that belong in the yard. This technique works best for use on small and isolated patches of weeds.
To make this inexpensive organic brush killer, set a large pan of water on high heat and bring to a boil. Add the boiling water carefully into a watering can. Immediately carry it outside and pour the water onto the areas of quackgrass that you want to eliminate.
Pour slowly and carefully to avoid spilling any of the hot water onto yourself or desirable grass nearby. Repeat daily until the weed is dead. Use a spade to remove the dead quackgrass from your lawn and fill the bare spot with grass seed or plant a garden in the cleared area.
You can also use boiling water to make a solution to kill moss on the driveway. Patches of moss can often pop up in your yard or on your driveway. Using boiling water to kill the roots is easy and avoids using any harsh chemicals.
Make a Homemade Quack Grass Killer Spray
Will vinegar kill grass, quackgrass, and other weeds? You bet. Acetic acid, or white vinegar, is one of the best natural weed killers you can use. When used in combination with salt and dish soap, you give that weed more than it can handle.
The dish soap helps the herbicide stick to the weed plant, while the salt and vinegar slowly dry it down to its root system. Take care while spraying this herbicide since it will kill any nearby plants, as well.
For effectively killing quackgrass with vinegar, combine all ingredients and pour into a garden sprayer for large areas or a spray bottle for smaller areas of weeds. Set the sprayer to stream to prevent over-spraying onto nearby foliage. This remedy works best if you apply it during the sunniest time of the day with little to no breeze.
Spray the natural herbicide directly onto the quackgrass, making sure to saturate the weed without spraying nearby plants. Check the weedy area in a couple of days. If the plants are not dead, reapply the herbicide. Pull up the dead weeds and plant grass seed in the bare spots to encourage healthy lawn growth.
You can also try using baking soda. Killing crabgrass with baking soda, or any other type of weed, is easy with this household staple. Sprinkle baking soda on undesirable weeds and they will soon wither and die.
Removing Quack Grass by Hand
Removing quackgrass by hand is a great way to ensure that none of the weed remains behind to regrow. This form of weeding is also ideal as a DIY dandelion killer.
Use a spade to dig one foot deep and one foot wide around the weed. Be careful not to damage any of the root system while digging, as this may cause the quackgrass to grow back. Look for the rhizome, which is a horizontal white stem at the base of the weed.
Wear garden or rubber gloves and pull the roots out of the ground gently to avoid breaking them. Dispose of the quackgrass in a garbage bag. Fill the hole with mulch, or soil and grass seed.
Eliminate Quack Grass with Proper Lawn Care
A lawn that is full and healthy leaves no room for weeds to grow. Many weeds travel by seed on the wind and plant themselves in bare lawn spots. Ensuring that your lawn is in good health keeps quackgrass and other weeds from taking root.
One form of weed control is to overseed your lawn by applying two pounds of seed for every 1,000 square feet of lawn. There is no need to till the area when overseeding. Sprinkling the grass seed throughout the yard fills in bare or thin spots. Water the grass twice a day until the new seed grows.
Make sure that your lawnmower has sharp blades and mow your lawn weekly at a blade setting of three inches. Do not mow the lawn any shorter than that. If the grass is cut too short, your lawn grass will suffer, and the quackgrass may spread.
When to apply crabgrass preventer like grass seed is best completed during the growing season, typically the spring. Use a spreader to spread nitrogen fertilizer every two weeks from early spring until fall to help your lawn grow thick and dark, which inhibits quackgrass growth and the development of other unwanted vegetation.
Making quackgrass killers using simple and natural ingredients can provide you with the satisfaction that not only did you get rid of those stubborn weeds, but you did it without harming the environment.
Learning the basics of proper lawn care ensures that your desirable grass is healthy and vibrant and that those weeds are unable to revisit and cause havoc in your yard.
Recipe for Homemade Quack Grass Killer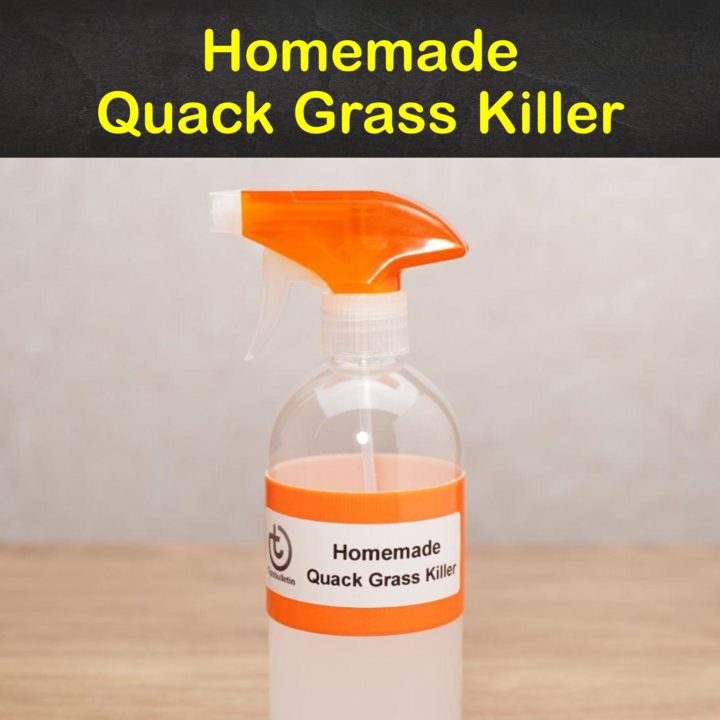 Homemade Quack Grass Killer
No chemicals are needed for this DIY weed spray!
Materials
1 tbsp dishwashing liquid
8 ounces Epsom salts
1 gallon apple cider or white vinegar
Tools
Tablespoon
Measuring cup
Garden sprayer or smaller spray bottle
Instructions
Add the ingredients to the appropriately sized sprayer for the area.
Shake well to ensure the salt dissolves completely.
Generously spray quack grass with this DIY herbicide on a sunny day with no wind.
Reapply several days later if needed.
Notes
Spray carefully, as this mixture kills all vegetation that it touches.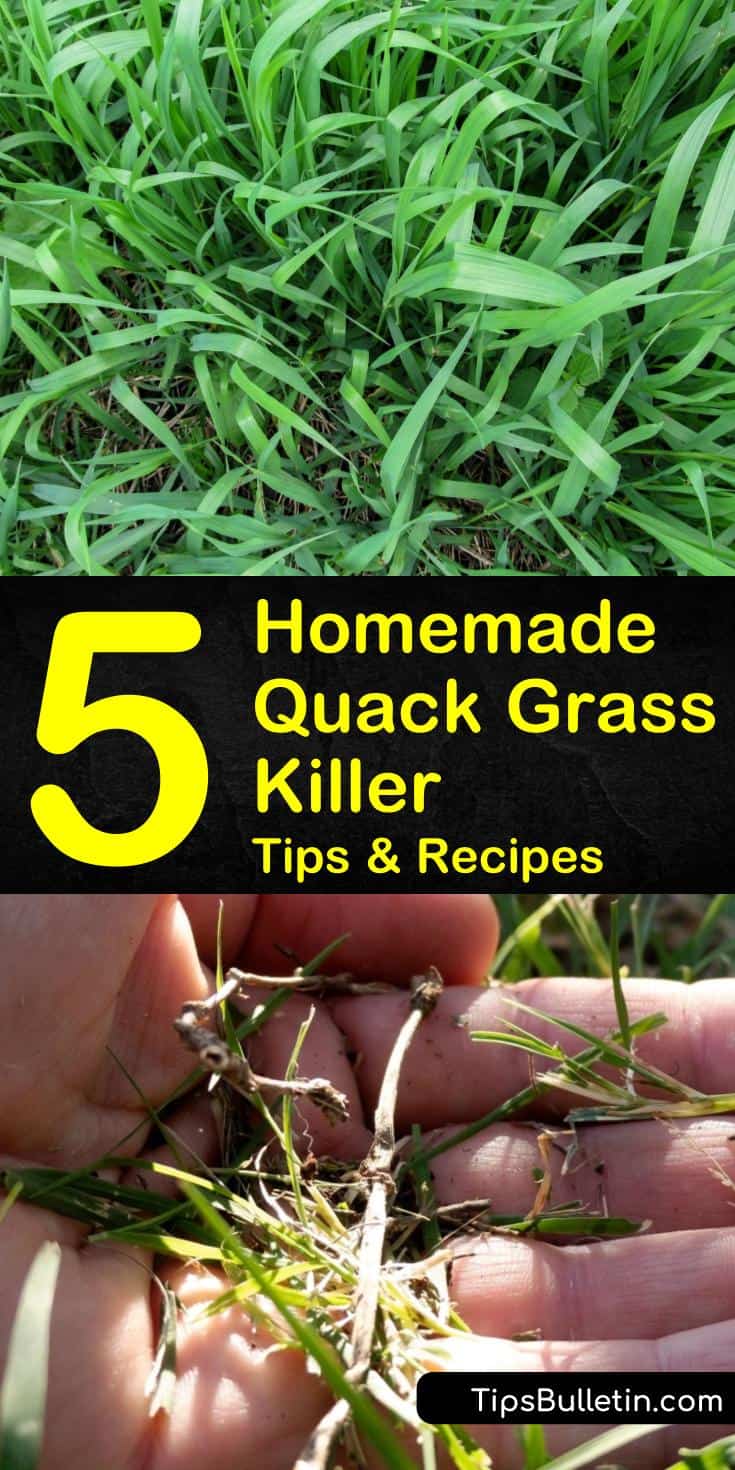 Using a homemade quack grass killer is not only better for the environment but saves you money as well, so why not share these quack grass killer tips with your family and friends on social media such as Pinterest and Facebook?