Quartz countertops are beautiful additions to our homes and add class and elegance to the kitchen. Even the most attractive countertops get stained and require regular cleaning to maintain them in top shape, though. Having a few homemade quartz cleaner recipes ready to deploy helps you keep your home looking its best.
A good DIY quartz cleaner ensures that you've prepared for any cleaning emergency. This article assists you in identifying the right quartz cleaning solution for your needs.
In this guide, we provide you with mild cleaners for daily care as well as some tough cleaners for you to use when you run across a stubborn stain or set-in grime. You use your countertops many times a day, and our recipes help you make sure they stay spic and span.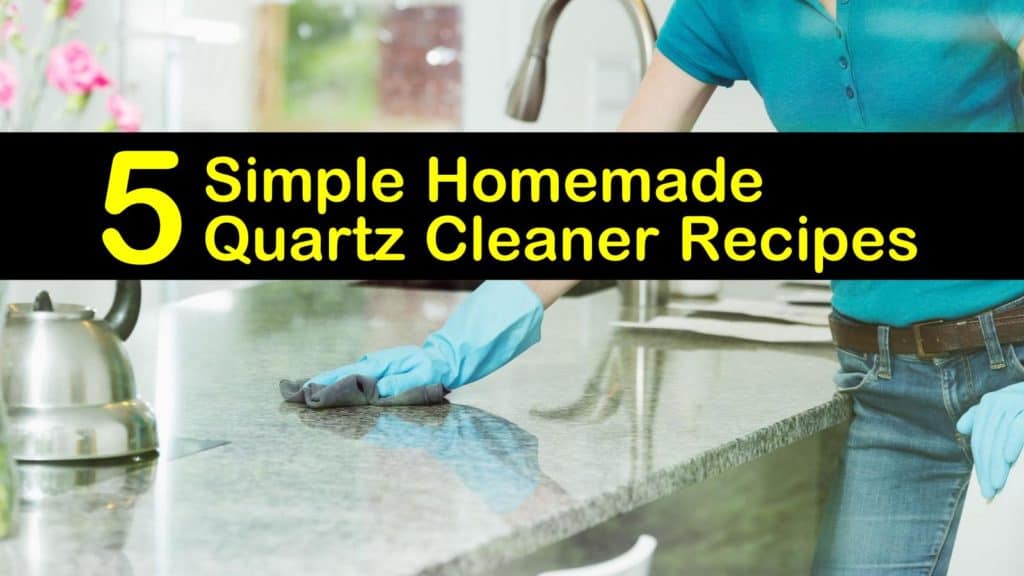 DIY Quartz Cleaner
When choosing a DIY granite countertop cleaner or quartz cleaner, the frequency of use is a deciding factor. Because your kitchen countertops see lots of spills and abuse across the course of a typical day, having a household cleaner ready that won't harm natural stone is a top priority.
A quality daily cleaning formula for quartz or granite countertops is powerful enough to clean but mild enough to preserve the counter despite regular use.
Quartz Cleaning Solution – Daily Use
We first examine homemade quartz cleaners that won't damage as they clean. If you encounter a stain during your regular kitchen routine, a recipe for DIY kitchen cleaner is sure to get the job done safely.
With these cleaning solutions, you're ready to tackle any countertop cleaning job and come up smiling. These recipes are excellent granite cleaners and are perfect for quartz and other stone surfaces.
Scrub Fresh Stains Away with Soapy Water
Most stains and spills on your quartz countertop result from food preparation. It doesn't take a lot to spill tomato sauce or grease on the counter even if you use trivets, and the sooner you clean the mess away, the better.
If you catch a spill when it happens, you have an excellent chance of cleaning it using simple tools such as cloth and mild soap. Use this simple recipe for how to clean quartz countertops or virtually any other type of counter, as it is mild enough not to harm the surface but strong enough to get rid of stains.
Add one teaspoon of dish soap for every gallon of water. Soak a scrub pad or cloth in the soapy water and wring until damp. Avoid using harsh abrasive cleaners such as metal scouring pads on quartz surfaces.
Wipe the spill away, rinse the cloth or pad under clean water, and give the spot another pass to clean up any soap residue. Quartz countertops have a scratch resistant and stain resistant sealant, so this recipe is safe to use on them multiple times a day.
Scrape Off Dried Spills
You can't always address every stain the moment it happens when you're cleaning quartz countertops, and once the spills dry, they can be challenging to remove. If you have a spill that you overlooked when it fell off the cutting board or slopped out of a dish, consider breaking out a blunt scraper.
Scraping away a dried spill won't harm the quartz if you take care, and it's the right choice to clean off stuck-on ketchup, nail polish, and other products. This cleaning option is a fantastic dried-debris remover.
Test this cleaning method on a hard-to-see spot of the countertop to ensure that it won't damage the hard surface. Position your tool so that the blade pushes under the stain without scratching the countertop material, and apply gentle force.
Use a dampened paper towel or microfiber cloth to pick up the scrapings as you work. After you scrape off the entire stain during granite cleaning, wipe down the countertop with soapy water to remove smudges.
Homemade Quartz Cleaner
Even though you've got a daily cleaning regimen ready to go, some quartz stains require more effective solutions. A spill that sits on your countertop for a long time can set in and be difficult to remove, and that's when a heavy-duty cleanser is the right choice.
There are plenty of tough DIY cleaners to help you clean quartz countertops. These cleaners keep your kitchen sparkling as if you ran the whole thing through your dishwasher.
Heavy-Duty Cleaners
In this section, we offer deep cleaning tips for creating homemade quartz countertop cleansers that cut through grime and dirt buildup without slowing down.
These cleaning products are ideal for stains that your usual cleaning approach can't dislodge, and they won't damage the countertop as they do their work. The next time you face off against a tricky stain, try one of our hardcore cleaners.
Hit Your Counters with Glass Cleaner
The same factors that allow ammonia-based glass cleaners to eat through stains on glass make them perfect degreasers and ideal for cutting through organic spills on your countertop. Quartz is nonabsorbent and repels liquid, so the ammonia solution won't soak in and harm it.
If a spill resists your usual cleansers or your countertop requires degreasing, reach for Windex, or another window cleaner. These cleansers help your kitchen looking gorgeous. Avoid using bleach instead of glass cleaner; however, as bleach and other harsh cleaners can cloud your countertop's laminate finish.
Spray all stains with glass cleaner, and wait for five minutes to let the cleanser work into and soften the spills. Scrub at the stains with a plastic scrubbie or clean cloth.
Clean away any debris with a damp paper towel. Respray as needed, and continue cleaning until the stain lifts. Replace the glass cleaner with oven cleaner to deal with particularly stubborn stains.
Use Essential Oils and Alcohol to Get Your Quartz Clean
When you deal with tough countertop stains, use a cleaner that gets deep and breaks down the stain. If you reduce a stain to its parts, it becomes much easier to clean.
Our cleaner recipe with isopropyl alcohol and essential oils is an excellent disinfectant. It pulls stains apart and allows you to wipe them away with a clean cloth.
Fill your spray bottle with the liquid ingredients to clean quartz or for a marble table cleaner. After shaking to combine the cleaner, spray down all stains.
Wait 30 minutes for the cleaner to work into the stain before scrubbing at it with a soft cloth or scrub brush. Rinse the countertop with clean water after you remove the stains. If necessary, repeat the treatment until all dirt and stains are eliminated.
Knock Out Tough Stains with Vinegar and Baking Soda
When you face off against a stain that laughs at low-impact cleaners, the unstoppable duo of baking soda and vinegar is your go-to option.
Baking soda and vinegar are both fantastic cleaners when you use them separately, and combining them creates a super-cleaning solution that can take on all comers and wind up on top. Use this recipe to deal with the worst countertop stains.
If you don't have vinegar available, you can use hydrogen peroxide in its place. Add equal parts warm water and vinegar to a spray bottle and top off with lemon juice to kill the vinegar scent. Sprinkle baking soda on the stains and spray with the vinegar solution.
Wait ten minutes, then scrub at the stain with a scrub brush or an old toothbrush. Clean up the debris with a damp paper towel. Repeat until you remove the stain completely. This remedy is ideal for a DIY hard water spot remover on your quartz countertops or other surface.
We hope you had a lovely adventure checking out our DIY quartz cleaner recipes. Quartz is a sturdy and beautiful material and makes an ideal surface for countertops.
Even quartz picks up stains and requires regular care, and it's essential to have a few cleaning choices ready to go. When you have several quartz cleaning solution recipes on standby, you have the upper hand and a clean kitchen all year long.
Recipe for Homemade Quartz Cleaner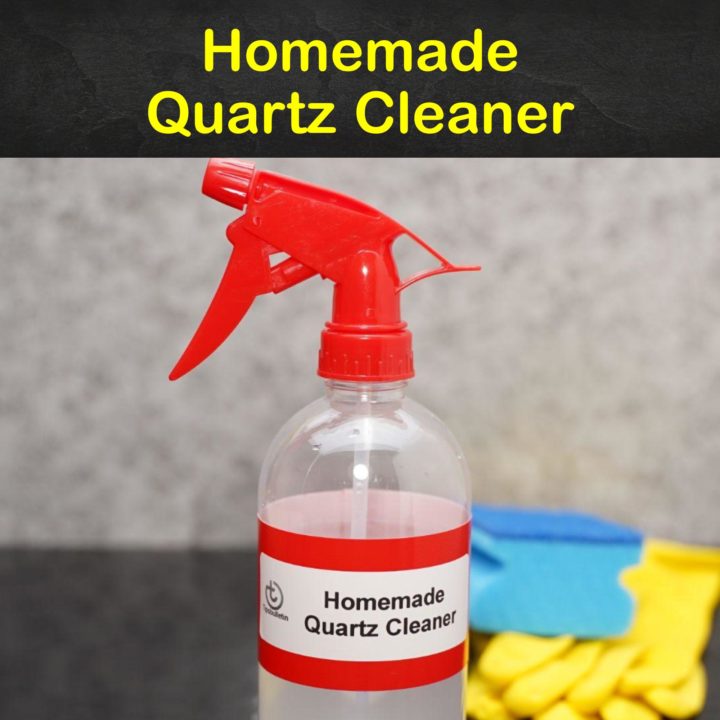 Homemade Quartz Cleaner
A natural cleaning solution with a fresh scent.
Materials
8 ounces of water
5 drops of dish soap
2 teaspoons of rubbing alcohol
10 drops of peppermint oil
Tools
16-ounce glass spray bottle
Cleaning rag or scrub brush
Measuring cup
Teaspoon
Instructions
Add all the ingredients to the sprayer.
Shake gently to mix.
Spritz quartz stains.
Let the cleaner work for at least half an hour.
Scrub with a rag or a brush.
Rinse the area with fresh water.
Notes
Use this simple mixture on marble surfaces, too.
Repeat application as needed for tough stains.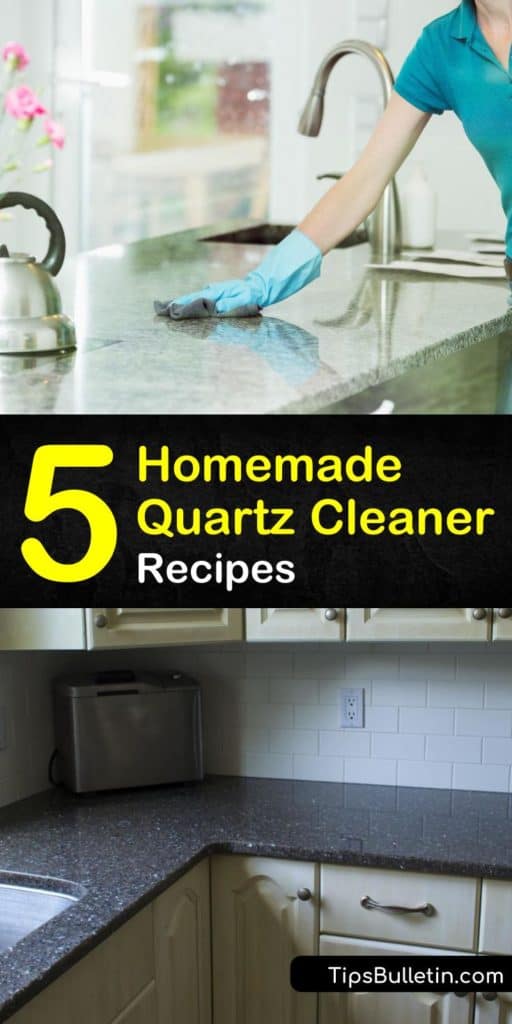 Thanks for looking into our quartz cleaning tips. Help others discover our homemade quartz cleaner solutions by sharing this helpful countertop cleaning article on social media platforms like Pinterest and Facebook.