Discover how to stay on top of pest control without dangerous chemicals or expensive devices; rodent control doesn't have to be complicated. If slow-acting poison and costly snap traps aren't really your style, you'll love our homemade rat traps. These traps are effective indoors and out and ideal for anyone concerned about kids or curious pets.
The genus Rattus contains 56 known species of rats. A rat is a medium-sized rodent with a long tail and a considerable appetite for human food. It's very common in some areas of America to see the house rat, also called the black rat or roof rat, and the Norway rat or brown rat scurrying through the attic.
Rats flourish alongside dense human populations and often nest in our homes to escape seasonal temperature changes. Indications of a rodent infestation include rat droppings, chewed food scraps, or a distinct smell. Learn how to trap unwelcome rodent visitors and keep your home safe from future infestations with our helpful tips.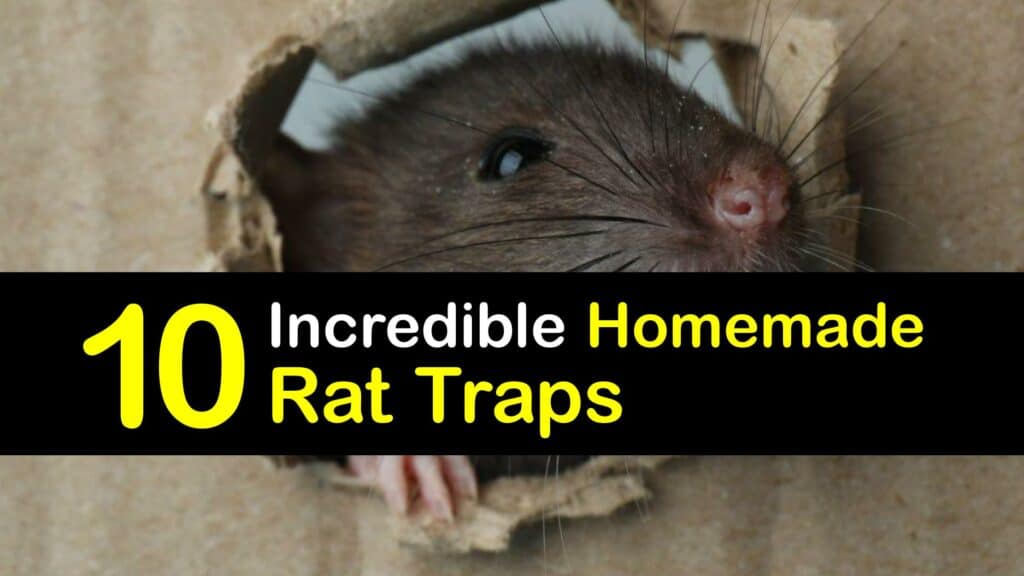 How I Trap Rats with Top Tips
Cold weather means warm-blooded mammals start looking for a safe place to nest. Discover how to trap rats and creative ways to avoid using moth balls or a glue trap. Mothballs will deter rats but do not last very long and are toxic to people and pets.
While it's certainly possible to make your own mouse poison out of home remedies, trapping mice and rats and releasing them far away is a more compassionate way to deal with the problem. Find value in our humane rodent remedies and chemical-free tutorials.
Trying a Simple Shoe Box Trap
In addition to planting and growing plants that deter rats, constructing effective homemade rat traps from just about anything you have around the house is possible. Check the back of your closet for an old shoe box; they make surprisingly eco-friendly traps.
Cut a small hole in the lid and put a single piece of paper towel over the hole. Take the optional step of taping over any gaps to prevent escape.
Place a small piece of enticing bait like bacon bits or peanut butter in the center of the paper towel, and you've created a cheap and easy fall trap; the rodent falls right through the hole and into the box for easy release.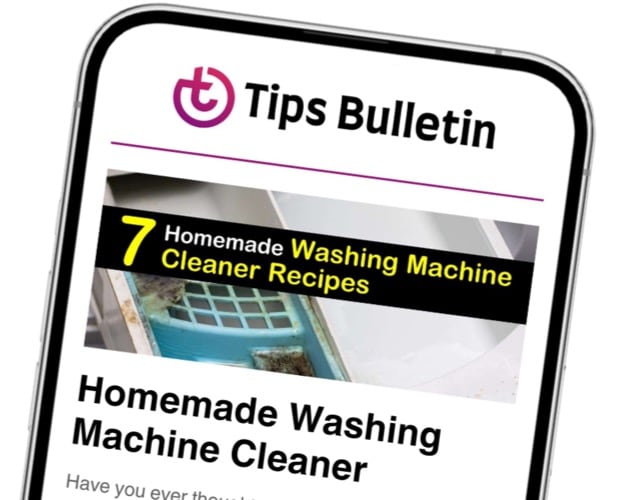 Finally, an email that Transforms Your Home.
Get the latest home and garden tips from our experts, delivered straight to your inbox.
This contraption will also trap and kill chipmunks and squirrels if you use poisoned bait but regular bait is more humane.
Put these handy box traps wherever you notice rodent activity. Always release trapped rodents at least a mile from your house to prevent them from finding their way back.
How I Make a DIY Rat Trap with a Bucket
If you live in a rural or naturally forested area, there's a constant wildlife presence; you might feel outnumbered. Discover how to trap rats with a simple bucket and some bait. This DIY bucket trap is excellent for outdoor areas with a dense rat population or getting rats out of a car because it captures multiple rodents before it requires emptying.
The best bait for a rat trap includes peanut butter, fruit cuttings, or a heaping tablespoon of bacon bits. Place your preferred bait at the bottom of the bucket. Set up a light piece of wood against the lip of the bucket to act as a ramp.
Make as many DIY traps as you need to cover high-traffic areas. Place these rodent traps around the perimeter of your house, and check every 24 hours. Once you have a few rodents, put the lid on your bucket rat trap with several air holes, and release them a few miles from your home.
Using a Mason Jar and a Nickel for Mice
Sometimes a pest wanders into your house by accident and becomes stuck; this homemade mouse trap is excellent for the odd little critter passing through your home. Use a Mason jar as a bait station to lure the pest in for quick and easy trapping.
To make this homemade mouse trap, you'll need a Mason jar and steady hands. Spread the peanut butter on the inside wall of the Mason jar. Set the cardboard square where you want the trap to be; choose the pantry if you're unsure. Turn the Mason jar over the cardboard and balance the lip of the jar on the edge of the nickel.
The peanut butter lures the rodent in, the heavy jar slams down, and the cardboard square acts as a convenient lid when you turn the jar over. These mouse traps are an effective and humane way to protect your space from unwelcome rodent visitors and provide the opportunity for quick and easy release at your convenience.
My Clever Countertop Trap for Rodents
When rats are scrambling across your kitchen surfaces, you need a clever countertop trap. This homemade trap takes seconds to put together and yields terrific rat removal results. Grab a large garbage can, some tape, and a cardboard tube.
To make this bucket mouse trap, flatten one side of the roll, then secure it to the edge of the bathroom or kitchen counter with tape; make sure some extends off the counter ledge and over the garbage can.
Place a smear of peanut butter or some other bait at the end of the roll. The rat goes to the bait, and the cardboard roll dumps them into the bucket or garbage bin for release at your discretion.
My Homemade Rat Traps with Plastic Bottles
Save a plastic bottle and put it to use as a rat trap. Old bottles turn into an excellent DIY rat trap. These simple traps are surprisingly effective and are suitable for use all over the house.
Use scissors to cut the neck off the bottle and dispose of it. Cut another 2-inch section off the bottle. The smaller section is the entrance; cut several 1-inch triangle slices starting at the original neck opening and fold them to make a spiky deterrent.
Place the smaller section into the larger section of the plastic bottle, spiky side down. Tape the two bottles along the lip, and you have a ready-made rat trap to help with your rat infestation. Drop a tablespoon of your preferred rat bait inside, and leave the trap in a high-traffic space.
My Cardboard Fall Trap for Rats
The easiest way to catch a rat is with a "set it and forget it" cardboard fall trap. This trap is ideal for the garage, basement, or any place you notice a rise in rodent activity. Gather your materials, and let's solve that rat problem.
Cut the cardboard to fit the inside lip of the bucket. Make sure there's an extra tab, and tape it to the side of the bucket. The cardboard acts as a flap that dumps the rat into the bucket. Fashion a strip of cardboard to create an access ramp and tape it to the side of the bucket.
Place a tablespoon of fruit cuttings or peanut butter in the center of the cardboard flap. The bait draws the rodents up the ramp and onto the cardboard flap. When the rat comes for the bait, the cardboard flap falls out from underneath, dumping them into the bucket.
Some people recommend filling the bucket with water, but that's unnecessary; there's no need to make an animal suffer. Set the trap and return every 24 hours to empty it.
I Deter Rats with Eucalyptus
Several independent studies have proven the efficacy of eucalyptus as a rat repellent. This potent essential oil works best when diluted to a 5% concentration and applied as a spray to entrances, pantry spaces, and attic areas.
Repel roof rats and brown rats alike with eucalyptus-soaked cotton balls or a daily spritz during peak rodent migratory seasons like fall and spring.
How I Make a Paint Can Trap
Most people have a few empty paint cans in the garage or basement. Put those paint cans to use with this DIY rat trap. Replace an old snap trap for tight spaces and dark corners, and incorporate our paint can trap into your pest control routine. This easy-to-make, humane rat trap has no chemicals or dangerous rat poison.
Coat the inside of the can with oil to prevent escape. Place your trap in an inconspicuous area and place a small piece of wood or something similar to act as a ramp for the rodents. Once you've chosen your spot, pop a paper towel on the top of the paint can opening and lay the bait. Check your trap every 24 hours, and replenish the bait as required.
My Galvanized Catch and Release Trap
Sometimes the most effective rat trap is one designed by a professional. A galvanized catch-and-release trap isn't homemade, but this sturdy gadget might be the solution you didn't know you needed.
A one-door animal trap allows you to catch and release back into the wild without fuss. Some manufacturers also make no-see traps if you prefer a more discreet approach to pest control.
How I Make Rat Repellent
Rats and mice are uncomplicated mammals; they respond to unfavorable smells and prefer not to engage with scents they perceive as threatening or dangerous. Certain plants produce unwelcoming smells and repel rats when used around the home.
Mix two cups of water with 20 drops of mint essential oil to make this natural repellent for rats and mice. Spray the repellent around entrances, garbage, and other suspicious areas, and reapply weekly. Store your leftover repellent in a labeled spray bottle. Watch out for pets and children who are sensitive to heavily-scented oils.
We hope you learned from our selection of homemade rat traps and deterrent ideas. Rats are attracted to easy, reliable food resources. Keep your spaces clean, and seal all food, especially pet food, cereal, and grains. Keep your yard tidy and free from debris and fallen bird seed, and fill any entrance crevices as soon as possible.
Plant bushes of mint, daffodils, or lavender as a natural signal that pests aren't welcome. When getting rid of rats in your yard, set traps at the first sign of rodent activity, and dispose of any dead rat you find while wearing gloves. If rats still appear in numbers, contact a pest control expert; DIY rat control remedies only go so far against a massive infestation.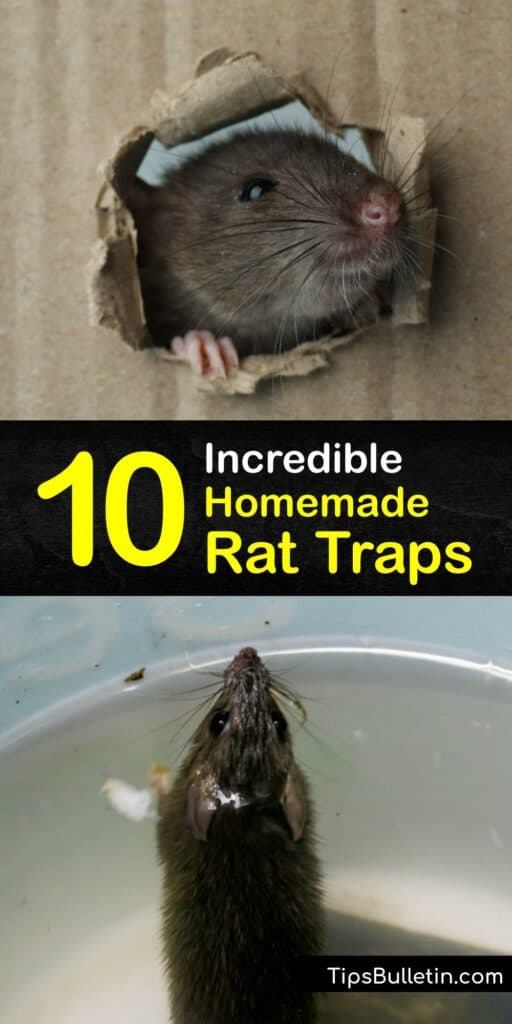 If you liked these helpful hints for homemade rat traps, share this pest control information with friends on Pinterest or Facebook who need rodent control solutions.