Wearing a retainer for months at a time is bad enough, and placing a dental retainer that is full of disgusting gunk and bacteria into your mouth is even worse. Fortunately, there are several ways to make a homemade retainer cleaner to keep it clean, fresh, and germ-free. Teeth are often prone to orthodontic shift after having treatments such as Invisalign aligners or braces. Orthodontic retainers keep your teeth in place and your mouth in the proper position.
Fixed retainers are attached to the teeth and last forever if necessary, while plastic or clear retainers are removable. After a visit to the orthodontist, there are many common questions, such as, "Do retainers require cleaning and how often?"
Cleaning your retainer is vital to good hygiene and maintenance. Just like dentures, they require daily soaking and weekly cleaning. However, denture cleansers are not appropriate for cleaning a retainer since they contain persulfate, a skin-irritating allergen.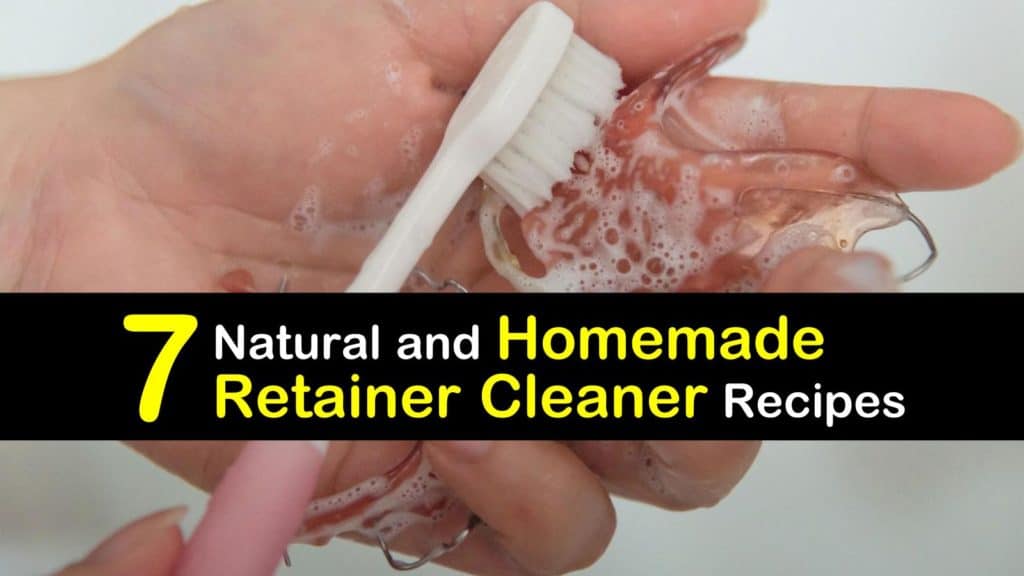 Ways to Clean Retainers using Homemade and Natural Solutions
While some cleaning products are not useful for retainers, you already have many mild and effective cleansers in your home.
We'll show you how to soak your retainers in-between use, employ a proper retainer cleaner to keep them fresh, and how to maintain them to prevent damage.
How to Make a DIY Retainer Cleaner with Baking Soda
Baking soda is an everyday household item with many uses beyond cooking. It has antibacterial properties, absorbs foul odors, and is safe and effective for making a DIY retainer cleaner.
To clean retainers or other mouth appliances, pour warm water into a stainless steel or plastic container and stir in the baking soda. Place your retainer in the solution whenever you aren't wearing it to inhibit bacterial growth and keep it fresh. Rinse the retainer thoroughly under clean water before replacing it in your mouth.
Making a Natural Retainer Cleaner with Castile Soap
Efferdent denture tablets and other cleansers are too harsh for cleaning Invisalign aligners and retainers. Castile soap is a natural retainer cleaner that is a great alternative.
Pour warm water into a retainer container and add the baking soda and a few squirts of Castile soap. Make sure to use soap that doesn't contain essential oils to prevent disrupting the oral microbiome on your retainer.
Soak your retainer in the cleaning solution whenever you are not wearing it and rinse it completely before placing it back in your mouth.
Making a Homemade Retainer Cleaner with Vinegar
It's amazing how many times you can use vinegar for cleaning a variety of surfaces, including a retainer or mouthguard. One of the simplest ways to disinfect your retainer is to soak it in a natural solution once a week.
It only takes minutes to clean clear retainers with vinegar, and the combination of baking soda and water helps rid them of bacteria and bad odors.
For this simple homemade nightguard cleaner, put equal parts white vinegar and warm water in a container, add the baking soda and give it a minute or two to dissolve. Place your retainer into the solution for 15 minutes and then rinse it with cold water until all residue is gone.
Cleaning a Retainer with Natural Toothpaste
Toothpaste is probably the most straightforward cleaner for retainers and the best way to clean a night guard. Still, it's important to choose a natural paste that is non-whitening and non-abrasive to prevent scratching the retainer's surface.
This is a good routine to follow before going to bed each night. Apply a small dab of non-abrasive toothpaste to the soft bristles of a toothbrush, and gently take care of cleaning a mouthguard or retainer using a gentle motion to prevent scratching.
Rinse it under clean water to flush away debris and toothpaste suds. If you have a fixed retainer, use the same method to clean it as you do your teeth, and follow up with a good floss – cleaning and rinsing as needed.
How to Floss-Clean a Fixed Retainer
If you have a fixed retainer, it's vital to clean beneath it every day to prevent bacteria. A floss threader is a handy tool for cleaning this type of retainer. It helps maneuver the floss between your teeth and behind the wire to clean away food gunk and debris.
Begin by stringing a piece of floss through the threader. If you have a stiff wire retainer, place the firm end of the threader between your teeth at one side of the retainer, and push it in to pass the floss through. Pull it across to the other side to pass it beneath the retainer wire.
For a retainer attached to individual teeth, slip the threader between two teeth and pull it out the other side to slip the floss through. Slide the floss out, re-thread it into the threader, and repeat on all teeth until they are all clean.
Cleaning a Retainer with Hydrogen Peroxide
Hydrogen peroxide is an antiseptic and sanitizer with antibacterial properties and is an excellent ingredient for making a retainer soak. However, while it is useful for killing bacteria, it does not remove plaque.
To remove plaque from a retainer, combine the hydrogen peroxide and warm water in a storage container, remove your retainer from your mouth and soak it in the solution for half an hour.
Remove it from the cleaning solution and hold it beneath warm, running water to flush away debris and residue.
How to Care for a Retainer
A retainer or Invisalign tray sits inside your mouth for long periods of time, and regular cleaning is essential for both your mouth and the retainer itself.
Not only that, but there are certain things to avoid while you care for it to prevent scratching, warping, and other damage.
When you are not wearing your retainer, store it in a baking soda and water solution to prevent it from drying out, and soak it once a week in a vinegar solution.
Use non-abrasive toothpaste and a soft-bristled brush to clean it if you notice plaque and an ultrasonic cleaner as needed to remove buildup. Floss your teeth and the fixed retainer to remove gunk each time your brush your teeth.
Use Retainer Brite or a natural alternative to clean your retainer or clear aligners and stay away from bleach, alcohol, mouthwash, or denture cleaner.
Avoid cleaning it in hot water, a microwave, or a dishwasher to prevent warping. Use a sturdy container with a lid for storage, and clean and dry it regularly to prevent cross-contamination.
Wearing a retainer is annoying enough, and keeping it clean doesn't make the experience any more enjoyable. It's not as difficult as it seems once you establish a regular cleaning routine and use a simple and natural cleaning solution.
Recipe for Homemade Retainer Cleaner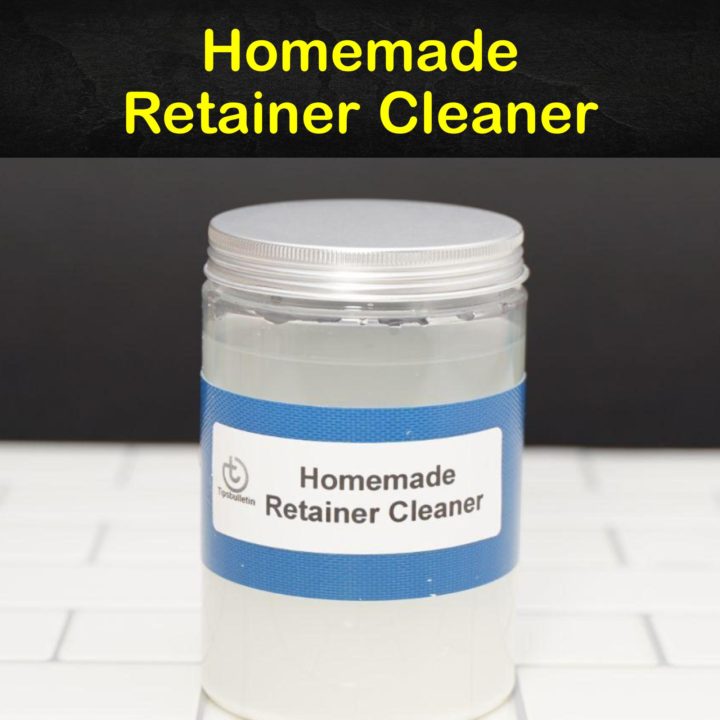 Homemade Retainer Cleaner
A simple retainer-cleaning solution made with basic household ingredients.
Materials
6 ounces warm water
2 heaping tablespoons baking soda
Tools
Measuring cup
Tablespoon
8-ounce plastic food container or jar
Instructions
Add the water and baking soda to the container.
Stir well to mix completely.
Let the retainer sit in the solution for 15 minutes to overnight.
Rinse the retainer thoroughly with fresh water before replacing it in the mouth.
Notes
Discard the mixture after using, and make up a fresh batch as needed.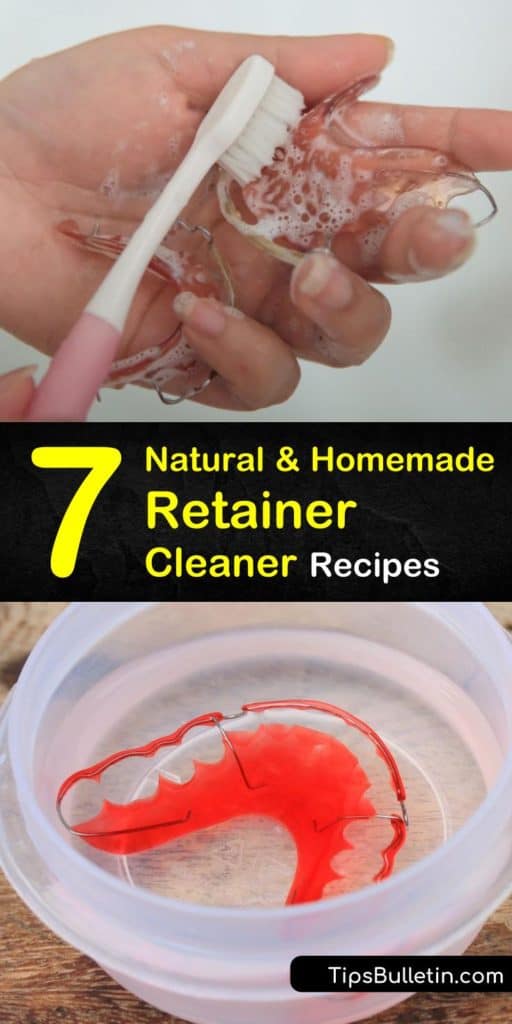 Keeping your retainer clean is essential to good hygiene, and a homemade retainer cleaner is the easiest and safest way to do it, so why not share our retainer cleaning tips with your circle of friends and family on Pinterest and Facebook?