Rust is not only unsightly, but it damages to your belongings. Rust forms due to the oxidation of iron, which occurs when iron bonds with the oxygen atoms contained in water. When iron and oxygen bond, they form iron oxide, also known as rust.
However, you can easily remove rust from any surface with the right mixture. While many store-bought rust removers contain harsh ingredients that may damage more delicate metal surfaces, we've put together this list of homemade rust remover recipes and tips to help you get your belongings sparkling again.
As the rusting process starts with iron, that means any metal containing iron is susceptible to rust. This includes stainless steel, aluminum, copper, and more. Additionally, rust stains can form on any number of surfaces around your home. Removing rust might sound complicated, but all it takes is a basic understanding of the scientific causes of rust and the ingredients that can break down iron oxide.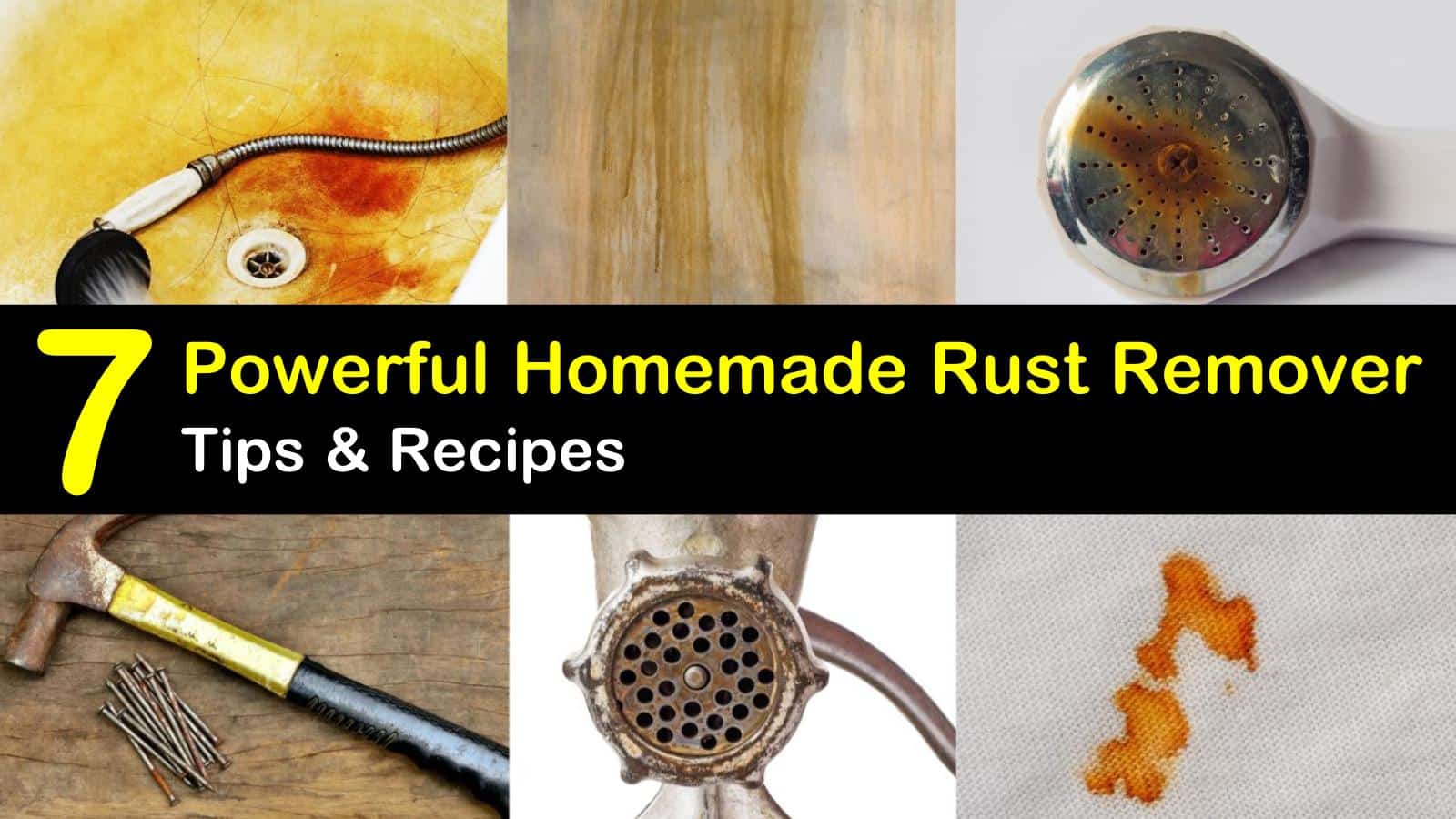 Home Remedies for Removing Rust
In this list, we've put together a collection of recipes and methods that use household ingredients that are cheap and easy to find and can help you get rid of rust.
Homemade Rust Remover
This is one of the most effective homemade rust remover recipes because it contains three ingredients that are all powerful cleaning agents in their own right. However, this two-step process takes a bit longer than the other methods on the list. This recipe is perfect for tools, utensils, or other small metal objects.
To remove rust from knives or the rest of your flatware, combine the salt and vinegar in a large plastic jug or container. Place the rust-covered objects in the solution and allow them to soak for up to 12 hours. Pour out the mixture and rinse the items with water.
Return the objects to the container and fill it with the water and baking soda. Soak for about ten minutes and rinse the objects with warm water before drying them.
In addition, you can put the solution into a spray bottle and use it as a simple DIY rust remover spray. It works quickly and efficiently to clean up rusty spots quickly.
Rust Removal with a Potato
Potatoes contain oxalic acid, which is a useful compound for removing surface rust. There are two methods you can use to remove rust using a potato.
Stick smaller objects such as forks, knives, or a garden tool directly into a potato and leave it overnight. When you remove the object, scrub away the remaining rust.
The second method involves slicing the potato in half. Generously coat the inside of the potato with either baking soda or dish soap. Scrub the rusted object or surface with the potato and then wipe it down with an abrasive brush or sponge, such as steel wool.
DIY Rust Remover for Metal
This method works well for metal with only a couple of ingredients in your kitchen: table salt and lemon. To use this DIY rust remover, coat the rusted area with the salt and then squeeze lemon juice on top.
Lime juice also works if you don't have any lemons. After two to three hours, scrub the surface with the fruit of the lemon or lime or use a crumpled ball of aluminum foil as a scrub.
Remove Rust from Concrete
One surface where rust stains often appear is pavement. Whether that's your garage floor or driveway, it is ugly. This method will help you get stains off concrete with a little bit of time and effort. Make a paste with liquid laundry detergent and baking soda.
Spread the mixture on the rust spots and leave for an hour. Make sure the paste doesn't harden. If you notice the area starting to dry out, spray a bit more rust remover with a little bit of water. Scrub the rust with a stiff bristle brush and rinse with water.
Natural Rust Remover Method
One of the easiest methods to get your metal surfaces sparkling again is to use phosphoric acid. This acid easily dissolves rust. While you can buy phosphoric acid, you can also find it in certain liquids that you probably already have, such as colas.
Leave rusty objects soaking in some cola overnight, or pour it on a surface and scrub. If you're pouring the cola, you need either a sponge or a piece of crumpled aluminum foil to rub the stain. Keep a rag with warm water and soap on hand to wipe off the sticky residue.
It's best to use cola that has already gone flat and isn't too fizzy. This method is particularly useful for cars with chrome bumpers or detailing.
Removing Rust Stains with Vinegar Soak
Acetic acid is the most straightforward natural rust remover, and you probably already have some in your cupboard in the form of vinegar. Place any item with rust stains in a container filled with vinegar and leave overnight. In the morning, scrape away the rust.
Because vinegar is mild, it is an excellent material to get rust out of clothes. You won't have to worry about harsh agents irritating your skin. While white vinegar works, you may find more success with apple cider vinegar.
Get Rid of Rust Spots in Porcelain
When entertaining guests, there's nothing worse than a bathroom covered in rust spots. While this recipe works to remove rust stains from marble, porcelain, and other surfaces, it is the perfect way to remove rust from bathtub surfaces or toilets, too.
Make a paste of the two ingredients and spread over top of the stain. Let it stand for about ten minutes and buff it away with a nylon brush. Repeat until the rust is gone.
Though you can easily remove stains using these easy homemade rust remover recipes, the best way to keep your metals sparkling is to prevent rust from forming. Water is required to develop rust, so the best way to keep it at bay is to keep water off your iron or metal surfaces.
Wipe off your tools, your car, and any other rust-prone surface when they get wet, and move them out of the way of water. Soon enough, all your belongings will be clean and rust-free.
Recipe for Homemade Rust Remover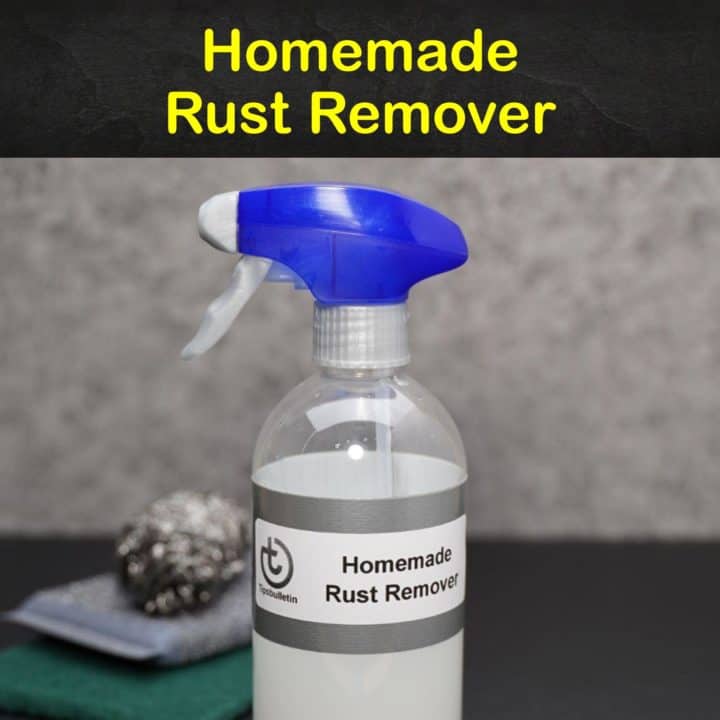 Homemade Rust Remover
Eliminate rust with simple household ingredients.
Materials
1-quart tap water
1-quart vinegar
2 ounces baking soda
2 ounces table salt
Tools
Scouring pad
Measuring cup
1/2 gallon sprayer
Instructions
Add ingredients to the sprayer.
Shake to ensure the salt and baking soda dissolve completely.
Spray rusty items.
Scrub with the scouring pad.
Rinse with fresh water.
Notes
For heavily rusted pieces, let the solution sit for about half an hour before scrubbing.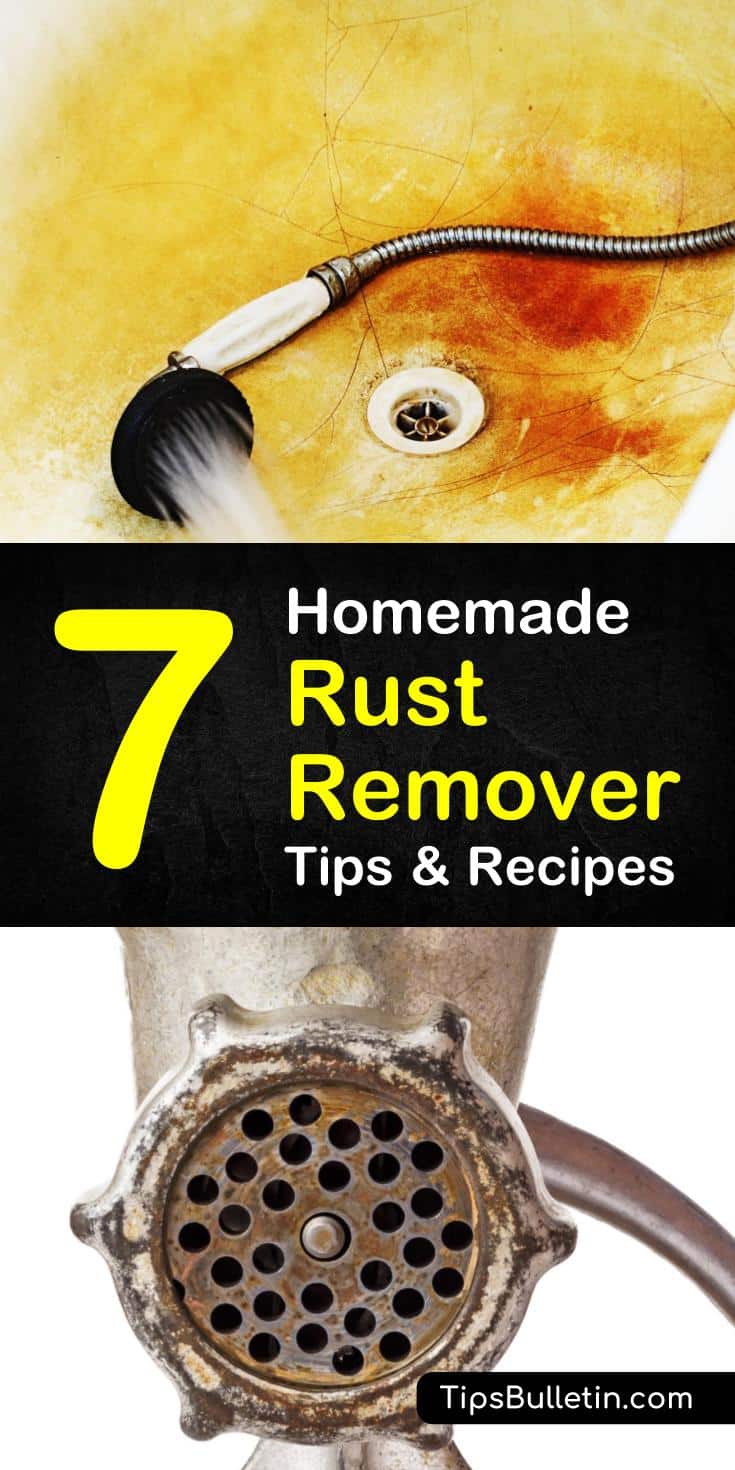 We hope you enjoyed these homemade rust remover recipes. If you were able to remove your rust stains with our recipes, then shares these cleaning methods with your friends!