Have you ever stepped foot in your RV to find unwanted stains on the seats and carpet? Have you ever looked out your windows or into your mirrors on your RV to see smudges and dirt plastered all over them? Have you ever thought about driving your RV through a car wash to get all of that buildup off?
You probably have, but you also stopped yourself from doing that, seeing as many RV cleaners contain harsh chemicals that can potentially damage your vehicle. One last question: Have you ever considered making your homemade RV cleaner? You've probably researched your fair share of RV cleaning tips as an RV owner.
Many of your RV cleaning products likely cost a lot of money. Here, you'll learn how to save a few extra bucks while creating things like a homemade RV roof cleaner and camper cleaning products.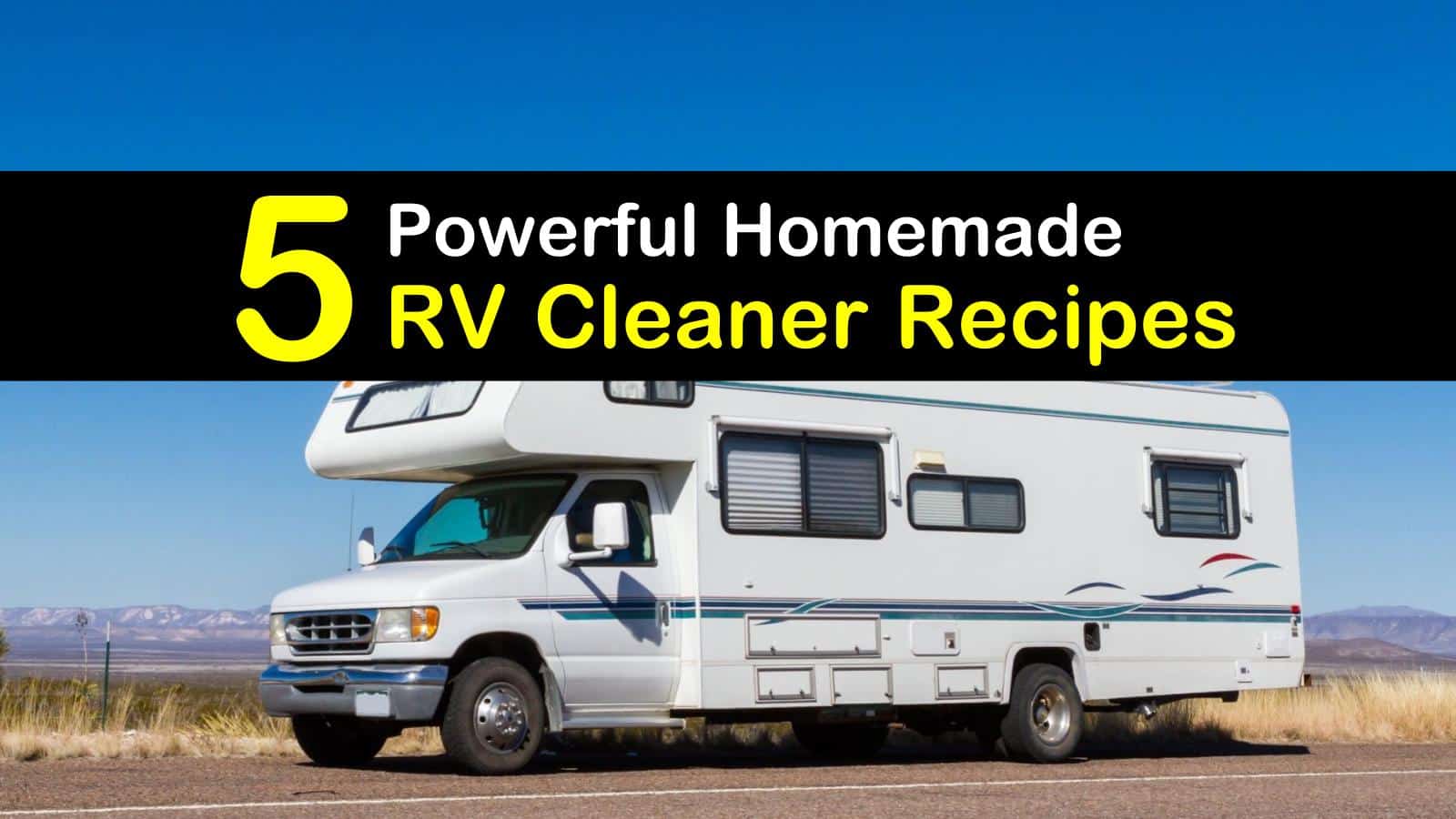 All-Purpose DIY RV Cleaner
Start gathering household ingredients like laundry detergent, dish soap, olive oil, water softener, baking soda, and essential oil to get started.
There's always one cleaning product you'll need for most surfaces, and it's typically referred to as the all-purpose cleaner. For all of you RVers out there, start mixing this solution to clean your RV exterior and interior.
Mix all the ingredients and apply the solution to dirty areas for a clean RV. You'll be able to use this on your roof, steering wheel, and dashboard, to name a few. The vinegar will work its magic by killing mold and bacteria while the essential oil or lemon juice will give it a fresh scent.
Remove corrosion from aluminum wheels with this simple recipe and a little scrubbing with a nylon sponge or brush. Your wheels will look brand-new after this treatment!
DIY Window & Mirror Cleaner for RV
Products like Windex are typically the cleaning supplies that an RV dealer will suggest you use for window cleaning. However, there are better, more natural ways to go about cleaning your travel trailer windows and mirrors without having to put in that extra elbow grease and expense.
This DIY mirror cleaner adds sparkle and shine to surfaces with smears and stains. It's also appropriate for removing bugs from the windshield that accumulate during long drives.
To make this natural cleaner for a car windshield or for the windows in your RV, mix the ingredients and pour the solution into a spray bottle. Spray the mirrors and windows and wipe clean. Use a little extra pressure for hard-to-remove stains.
Unlike other RVing tips and tricks, this recipe doesn't have chemicals that are harmful to the skin. Also, using this recipe will eliminate streaking on all windows, and it smells nice, too.
Special RV "Cleaning" Tip
Whether you're trying to get rid of mice or you're trying to prevent them from entering your RV, these tips will help. Go to your nearest store and pick up peppermint essential oil. Then, open the bottle and soak cotton balls in the solution. Place them in different areas of your RV to cover your tracks.
If you don't want to worry about cotton balls being in your car, you can mix one ounce of peppermint essential oil with warm water and put the solution into a spray bottle. Spray the mixture on hard surfaces and upholstery throughout the RV. This nifty trick will work on spiders, too.
Carpet & Upholstery Cleaner for RV
Unfortunately, carpets and upholstered seats tend to harbor the bad odors in every RV; you're probably wondering how to create a homemade RV cleaner for such areas. In particular, you're probably trying to construct a recipe that is not necessarily chemically enhanced.
Mix baking soda with 20-30 drops of orange essential oil, depending on how fresh you want the fabric to smell. Shake the ingredients together in a container and sprinkle it over areas you'd like to clean. Leave the powder on for approximately ten to 15 minutes and then vacuum it all up.
Homemade RV Roof Cleaner
If you're an RV owner, you probably know that many RV roofs are made of rubber, as this increases the durability of the vehicle. However, what you may not know is that cleaning the rubber roof with a chemical cleaner is not recommended, as it could deteriorate the material.
Instead, use a homemade RV wash to get dirt and tree sap off. You can use a soft brush and go in a circular motion to remove stubborn dirt, if necessary.
Combine water and dish soap in a bucket. Rinse the roof with a garden hose to remove loose debris and prepare the surface for washing. Dip a long-handled scrub brush into the bucket and gently scrub the rubber roof in sections.
Rinse each area of the roof as you clean it. Apply the mineral spirits to the cloth and wipe away any stains that are still present. You can also use this solution for removing sap from a car. Use this recipe as a homemade wheel cleaner for those grimy tires on the RV, too.
You've discovered some handy tips to use when cleaning your RV. These homemade RV cleaner recipes are time efficient, cost-friendly, and easy to make. Using ingredients like baking soda and Dawn dish soap from around the house to create camper cleaning products is now easy for you.
Recipe for Homemade RV Cleaner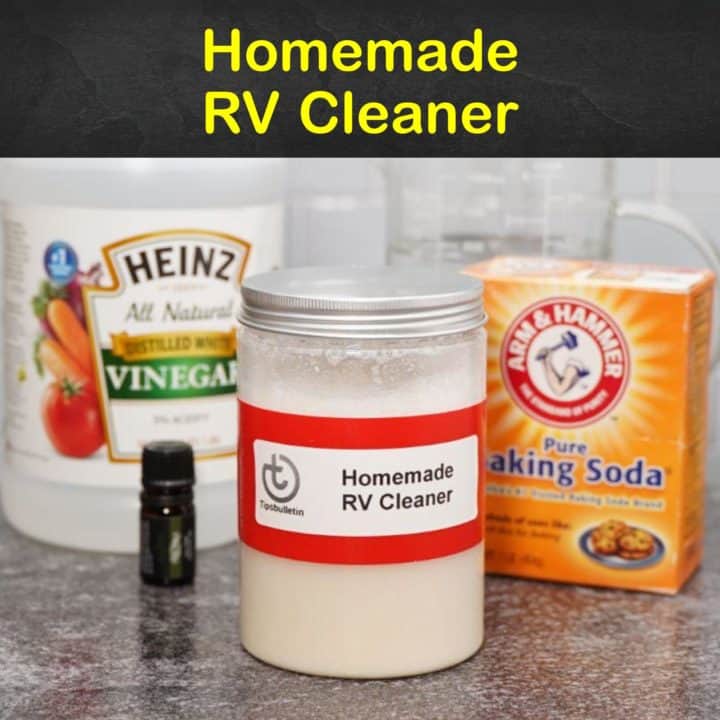 Homemade RV Cleaner
Prep Time:
2 hours
2 seconds
Total Time:
2 hours
2 seconds
Disinfect and shine all RV surfaces with this simple DIY solution.
Materials
24 ounces water
8 ounces distilled white vinegar
2 tbsp baking soda
20 drops tea tree oil
Tools
Tablespoon
Glass jar with a lid
Measuring cup
Clean rags
Instructions
Pour the liquids into the jar, put on the lid, and swish to mix.
Add the baking soda and shake to combine.
Use the cloth, smear the solution on any surface, inside or outside the RV.
Wipe to eliminate stains and create a like-new shine.
Notes
For a citrusy scent, substitute the juice of 1/2 lemon for the tea tree oil.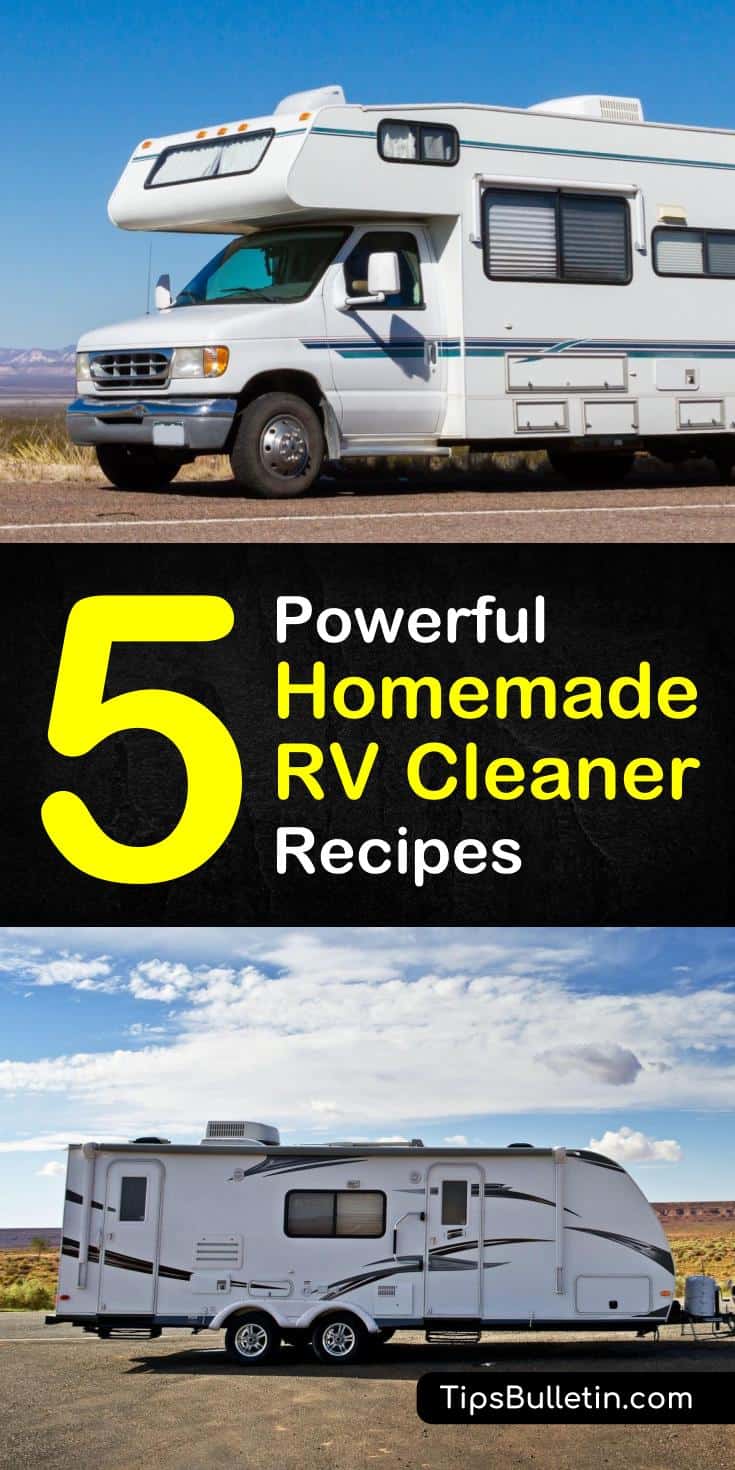 We hope you liked our homemade RV cleaner recipes and guides. If you did, please share our RV cleaning solutions and cleaning products with your family and friends on Facebook and Pinterest.