As much as you clean your bathrooms, it seems like the shower doors are a breeding ground for mold and mildew. Tackling the problem with harsh chemicals is one solution, but there are much safer options for getting rid of soap scum build up. Making a homemade shower door cleaner is not often considered with the hundreds of easily accessible cleaning products.
Commercials and ads might tell you that these products are better at breaking down grime, but they don't tell you that dozens of natural ingredients are equally, if not more, powerful. Making a DIY shower door cleaner is one of the best alternatives for tackling buildup in all areas of the bathroom. A natural cleaner for glass shower doors uses safe ingredients that most people already have on hand.
On top of that, various components aren't only used in one specific area. These homemade shower cleaner recipes are great for cleaning grout, mirrors, hard water spots, and shower doors. Skim through these cleaning tips to keep your bathroom clean and save you time and money.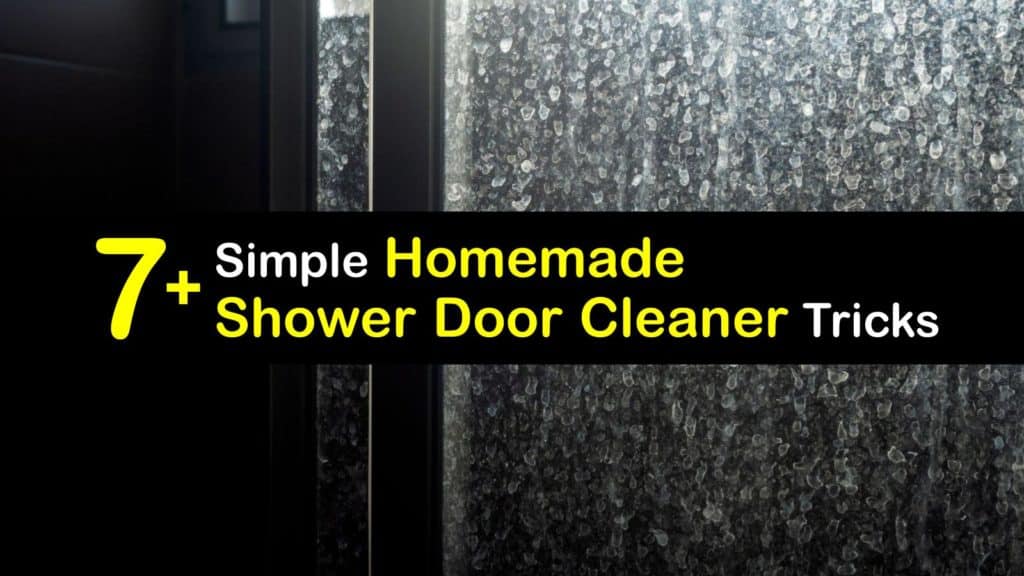 The Importance of Keeping a Bathroom Clean
Everyone with a bathroom of their own has experienced a time when they stepped in the shower to notice a dark blob of slime in the corner. These growths aren't just unsightly, but they are dangerous over extended periods of exposure.
Mold and mildew are common growths in bathrooms because they have a perfect environment to grow in. With continually running water and steam, these molds tend to thrive and grow their colonies when not taken care of right away.
If your shower or tub doesn't have proper drainage, the stagnant water makes the situation even worse.
Aspergillus, Cladosporium, Penicillium, and Stachybotrys are some of the most common molds you may find in your bathroom, and all pose risks to your health. Exposure to these molds irritates the lungs, especially in people with allergies and asthma.
Over-the-counter treatments are usually used to rectify the sickness, but the easiest way to handle the situation is to keep your bathroom as clean as possible.
As a general rule of thumb, clean your entire bathroom once every seven days to control mold growth.
Some daily cleansers are quick to use and help extend the amount of time between cleanings. Regardless of which homemade shower door cleaner you go with, you will be much happier and healthier after using them.
Tips and Recipes for Cleaning Shower Doors
Finding the right DIY shower door cleaner isn't hard. Look at the ingredients you have on hand and match them up with one of the recipes listed below.
Don't be afraid to use the cleanser on every bathroom surface since they each contain clean ingredients that won't damage the hard surfaces found in the room.
The one exception is if your shower is composed of stones like marble, where high-acid ingredients might etch the surface.
Homemade Shower Door Cleaner
It's no secret that vinegar is a powerful tool in more ways than one around the home. Vinegar has a high-acid content that easily eats through mildew and soap scum, and will get rid of shower grime easily.
Purchasing a large container of white vinegar is relatively cheap and won't expire even after years of sitting on your shelf.
When cleaning glass shower doors with vinegar and Dawn, open a spray bottle and pour the vinegar and the grease-fighting dish soap inside. Replace the top and shake it hard so that everything gets nicely combined.
Spray the solution over the glass shower doors and shower floor and let it sit for at least two minutes. Start rinsing away the cleaner with warm water until it is gone. Use a paper towel to dry the surface of the door so no moisture remains.
DIY Shower Door Cleaner with Lemon
Lemon juice is another ingredient that a lot of people like to use when cleaning their homes. Not only does it smell fantastic, but it also is exceptionally acidic, like vinegar.
When combined with a fine powder, it is easy to turn this simple ingredient into a powerful soap scum remover.
Cut a fresh large lemon in half and dip the cut side of the lemon into a shallow bowl of baking soda. Rub the dipped ends of the lemons on both sides of the shower doors so that the acid of the juice reacts with the soda and suds form.
Once the glass surface is clean, use a clean wet cloth to remove the remnants and dry the glass with a dry towel. This is also one of the best homemade fiberglass shower cleaner recipes, too.
For extra protection, try pouring some lemon oil on a clean rag and rubbing down the shower doors. The oils repel water so that soap won't dry on it, and it keeps your shower smelling fresh.
Basic Cleaning Solutions for Shower Doors
One issue that homeowners face when cleaning their shower doors and bathroom mirrors is that there are often streaks left behind.
You don't need to purchase glass cleaner to get rid of smudges and hard water stains. Instead, make a natural glass cleaner for shower doors with only two simple ingredients.
Combine nearly equal parts of distilled white vinegar and water in a small squirt bottle. Spray the mixture over all the glass surfaces in your bathrooms and around your home, including mirrors or windows.
Wipe away all the moisture with paper towels or a microfiber cloth so that the glass remains streak-free and prevents future mineral buildup.
Natural Cleaner for Glass Shower Doors and Accessories
Everyone wants to clean glass shower doors quickly, and the simplest concoction is surprisingly tough.
All you require is baking soda and water to create a high-performance paste that breaks down soap scum from liquid soap and calcium deposits from hard water.
Mix baking soda and small amounts of water in a small bowl. Add as much water as necessary until the baking soda turns into a thick paste that is easy to smear on a surface.
Rub the paste all over your shower door, shower head, or shower curtain and let it sit for up to ten minutes. Use a clean but damp sponge to wipe away the paste and lift off any remnants. Squeegee off any remaining water from the shower doors.
Daily Shower Cleaner
One of the most innovative ways to prevent mold and mildew from growing is to use a homemade shower door cleaner that is safe for daily use.
This natural cleaner for glass shower doors only requires you to spray it after you squeegee your doors and requires no rinsing.
Add the peroxide, rubbing alcohol, rinse aid, dish soap, and water to the large spray bottle. Shake the bottle for a full minute, so everything incorporates.
After you shower, squeegee off the surfaces of your shower and spray a thin, even layer over all the walls. No need to wipe it away; just spray it and forget it.
This powerful but easy-to-make mixture is also an excellent toilet bowl cleaner alternative.
Using Bleach as a Homemade Shower Cleaner
Bleach isn't as natural as the other cleaners on this list, but it is a proven tool to kill mold spores. We recommend bleaching your hard bathroom surfaces once per month to kill any mold spores that may be hiding in hard-to-reach corners of the room.
Mix half a cup of bleach with one gallon of water in a large, clean bucket. Wear rubber gloves whenever handling bleach and dip an old rag in the bleach water.
Wipe down all the hard surfaces in the bathroom and rinse with a clean, wet rag. Allow the surfaces to air dry completely.
Hardy Film Remover for Shower Doors
Cleaning shower doors isn't always an easy task. If you go too many months without cleaning the doors, there may be a film over the entire surface of your doors that is exceptionally challenging to get rid of.
Adding salt to your toolbag creates a gentle scrubbing element that won't damage your glass.
For this organic bathroom cleaner that works wonders on soap scum, pour some white vinegar into a clean spray bottle and mist it all over your shower doors. Let the vinegar's acid work its magic for three minutes while creating a paste of equal amounts of water, baking soda, and table salt in a small bowl.
Use a clean sponge to apply the salt paste to the vinegar-sprayed doors and gently scrub the glass so that it buffs away the mineral layer. Rinse the doors with clean water and dry them with a clean cloth or paper towel.
Removing Limescale for Showerheads and Fixtures
Limescale is a common problem and quickly builds up on showerheads and sink faucets. If it sits too long, it may even cause blockages that affect water flow.
Wrap a small plastic bag filled with vinegar around the shower head and secure the bag with a rubber band. Let the vinegar sit overnight to remove the limescale.
If cleaning a faucet, soak a rag in vinegar so that it is dripping and let it sit overnight. Make sure to rinse away all the vinegar before using either fixture again. Use vinegar to remove water spots from glass, too.
Finding a natural cleaner for glass shower doors is fun when you realize there are so many different ways to experiment with clean ingredients.
What works for some people might not work for others. Try a few of these different tips and recipes to discover which keeps your shower cleanest.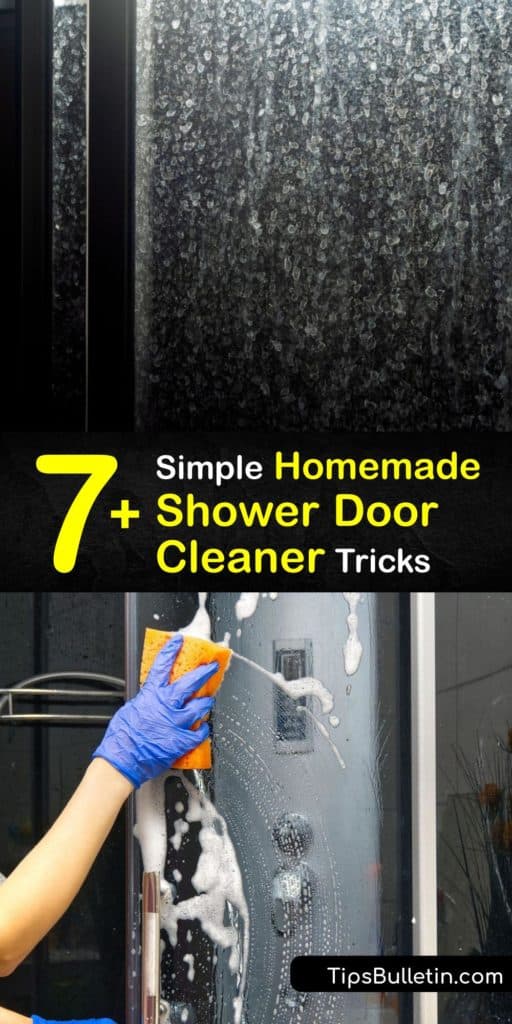 If one of these homemade shower door cleaner tips transformed your bathroom, share these DIY shower door cleaner recipes on Facebook and Pinterest.