Create a homemade silverfish spray to eliminate creepy crawling silverfish from your basement, bathroom, or kitchen. A lot of people have issues with silverfish. Silverfish are quite shy and have a strong sense of self-preservation. Since they are nocturnal insects, they are active at night and avoid regions with bright lighting. They try to stay hidden from humans and seek isolated, damp settings.
Silverfish infiltrate buildings in search of moisture, food, and shelter. A silverfish's fish-shaped body moves from side to side as it walks, mimicking the motion of a fish swimming in water. These insects get their name from their exoskeleton, which, when fully grown, has a silvery fish-like shine.
Luckily, silverfish are easy to get rid of with a DIY silverfish spray. Whether you prefer to kill them with boric acid or repel them with more natural remedies, there's a homemade spray for silverfish to meet everyone's requirements. Explore recipes for silverfish spray and find one to suit your needs.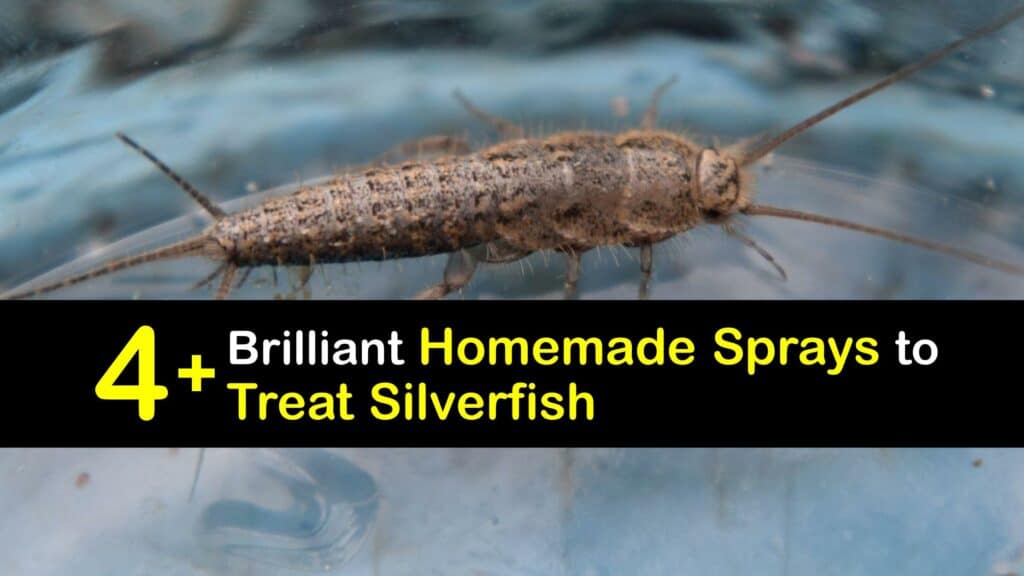 My
DIY Silverfish Spray to Treat an Infestation
Although they are an annoyance, silverfish do not harm people. They don't sting, bite, or carry diseases or infections. Although they do not harm your health, silverfish are a bother. They feed on and destroy construction materials, paper products, and household goods.
Their presence is off-putting to most people. If you dislike using harsh chemical insecticides, a homemade silverfish spray is an easy way to remove silverfish from your home without exposing your family to toxins. Use an uncomplicated homemade spray for silverfish to eradicate your silverfish infestation.
What Are Silverfish?
The silverfish is one of the most common insect pests in the world. Due to their silvery or gray color and tiny body scales, these bugs are commonly mistaken for fish or the fish moth. Lepisma saccharina is the scientific name for this wingless insect, often known as the bristletail or paper fish.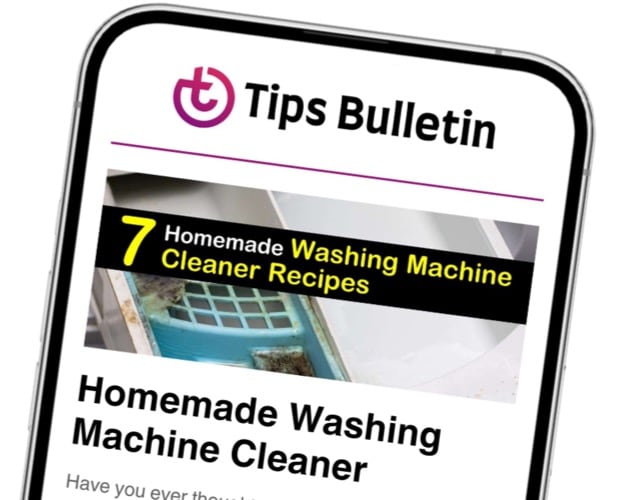 Finally, an email that Transforms Your Home.
Get the latest home and garden tips from our experts, delivered straight to your inbox.
Silverfish are omnivores that only consume food high in carbs. They enjoy devouring boxes, journals, other household items, and paper.
Female silverfish lay a large silverfish egg clutch, and as these eggs hatch, your silverfish problem can quickly get out of control. Begin pest control when you spot a silverfish to eradicate them from your home and halt the damage.
My
Homemade Silverfish Spray With Cedar Oil
If you prefer a safer brand of pest control, cedar oil is a natural and easy way to repel silverfish bugs. Silverfish loathe the scent of cedar wood, although it smells good to us.
Cedar oil is available from health stores and is often sold in camping outlets since it repels insects while hiking. The fragrance of cedar wood deters silverfish from remaining. To build a safe spray repellent, combine water and cedar oil.
Shake thoroughly and spray to deter silverfish. Spritz the cedar oil mixture on walls, floors, baseboards, and cracks. If you don't have cedar oil, a bay leaf or two set around the room has the same effect.
I Make an Essential Oil Based Homemade Spray for Silverfish
Silverfish have a delicate olfactory system and a strong sense of smell. Essential oils are a brilliant solution to deter silverfish naturally. Though essential oils smell amazing to us, many, like lavender oil or peppermint oil, have bug repellent properties.
Find your peppermint essential oil or whatever you have on hand to craft a spray that smells great and eliminates pesky silverfish.
Add 20 drops of a silverfish repelling essential oil and two cups of warm water to a sprayer, mix until combined, and use as bug spray. If you're low on essential oils, head to the pantry and grab some lemon juice. Silverfish hate its citrusy scent, so it's a clever way to drive them out.
You can also follow this list to find plants that keep silverfish out of your house. Rosemary and peppermint plants smell delicious and repel the silverfish from the area.
I Use Boric Acid Bug Spray to Kill Silverfish
Boric acid treats multiple household pest populations, and the best way to catch silverfish is with this white powder. Purchase boric acid powder from your neighborhood hardware store and combine it with water to make a convenient spray to eradicate bugs.
For the best results, spray a thin layer anywhere you've noticed silverfish. It works particularly well on the back of cabinets, along baseboards, inside wardrobes, and on the bottom of appliances. After coming into contact with the boric acid, the silverfish die within a few hours, stopping the issue in its tracks.
Ideas I Use Alongside My DIY Silverfish Spray
Integrated pest control involves using multiple methods to eliminate pests such as fruit flies or silverfish faster. Combine your chosen silverfish spray with a silverfish trap like a sticky trap or a neem oil treatment.
Prevent silverfish by removing any potential food source, such as pet food and wet paper. Changing the environment to facilitate the removal of pests is another option. Use an electric dehumidifier to lower the moisture level of the air.
Silverfish love newspapers. They consume the paper and make homes between the pages. Use an old newspaper to make a homemade trap by dampening it, rolling it up, and leaving it in a spot with silverfish activity.
Silverfish crawl inside the newspaper to eat and rest. Wait a few days, then discard the newspaper outside of your house, taking all the silverfish with it.
Whether it's bed bugs, mites, or silverfish, dealing with pests in your home is no fun. Luckily a homemade spray for silverfish lets you address the problem without making a trip to the store or spending money on expensive and toxic chemical insecticides.
Choose the most convenient spray recipe based on what you have and your preferences. Use the spray regularly to get the silverfish under control and take back your living space.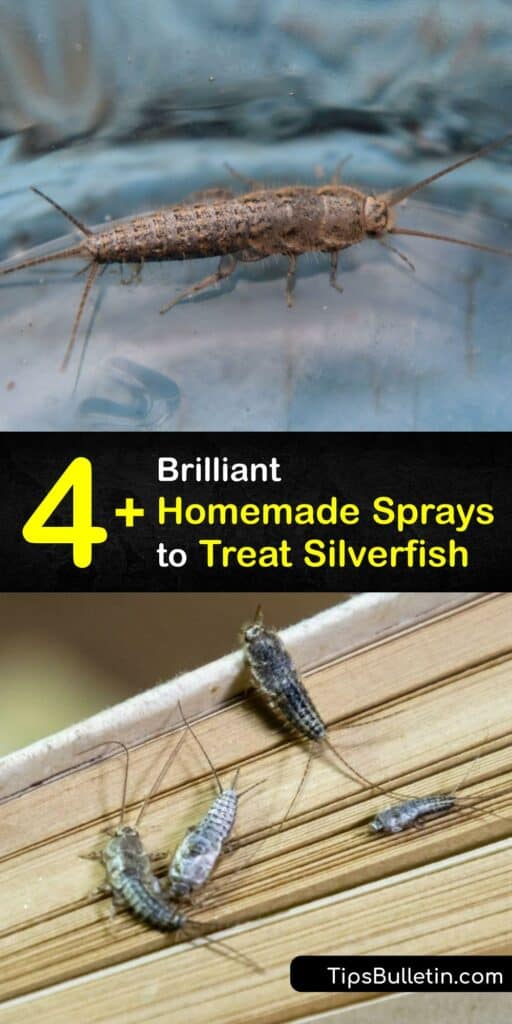 If you loved this enlightening article on homemade silverfish spray, please share these recipes with your friends and family who need homemade spray for silverfish infestation on Pinterest and Facebook.