Slate is a stylish material that adds color and durability to your flooring. Available in a wide variety of textures, colors, and affordability, slate is a fantastic, low-maintenance alternative to other stone tile like Travertine and even laminate flooring. To keep your floor looking as great as the day you bought it, using a homemade slate floor cleaner is crucial.
Though making your own DIY slate floor cleaner may seem like a hefty task, there are several simple recipes that don't require a laboratory to make. A durable and long-lasting flooring material, slate is even used to create roofing materials.
However, using harsh chemical cleaners cause damage to the stone over time, while natural and gentler alternatives reduce the presence of strong fumes and acidic damage. A natural cleaning solution for slate floors is not far from reality with these five amazing recipes and cleaning tips.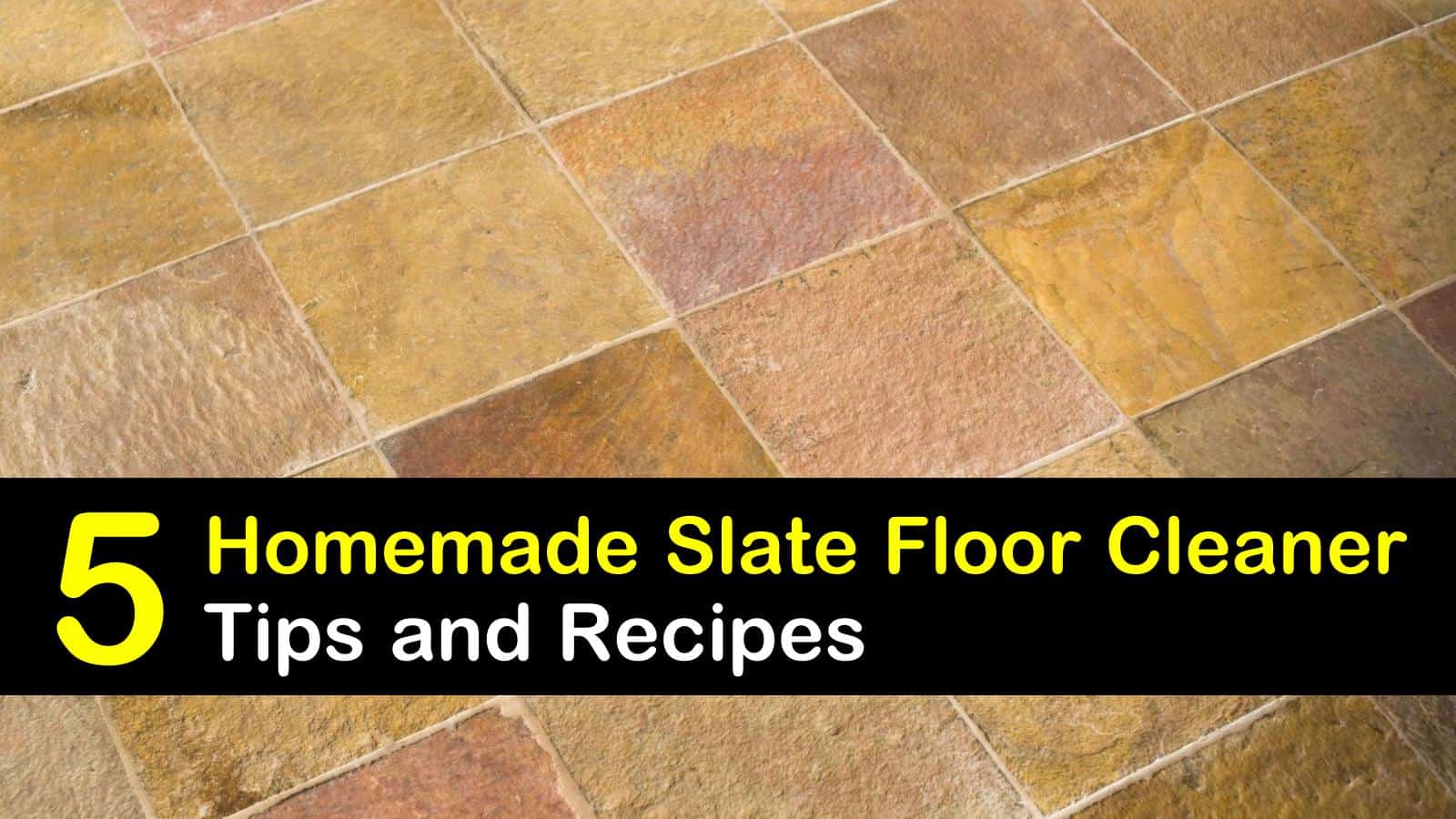 5 Spectacular DIY Slate Floor Cleaner Recipes and Tips
Slate floors are generally stain-resistant and require a little love and care only a few times a year. These hacks will make the road to cleaning these stone tiles that much more relaxed with recipes and tips anyone can follow. 
1. Sweep Your Slate Tile Floor Regularly
Keeping your slate floor clear of excess debris and dirt before cleaning is an essential part of the cleaning process. Whether prepping your floors for a deep clean or just doing regular maintenance, this reduces the amount of dirt in the grout and keeps it from being spread across the tiles. The best way to do this is by using a broom or vacuum cleaner with a soft-bristle attachment.
The bristles loosen up stuck-on dirt particles without damaging the slate tiles. How often you want to clean your tiles also depends on the amount of foot traffic they receive.
Entryways and other high traffic areas may need sweeping anywhere from every other day to once a week. For these areas, alternate between using a bristle brush and a dust mop to avoid scratching the tiles.
2. Simple DIY Slate Floor Cleaner with Dish Soap
When it comes to cleaning your natural stone tiles, don't use strong cleaning products unless truly necessary. Instead, sticking to a basic, mild detergent like dish soap can make a big difference without causing damage to your stone floors. This same cleaning recipe can be used as a spectacular marble cleaner, as well as on ceramic tile.
Easy-to-Make Slate Floor Cleaner

¼ cup of dish soap
2 gallons of warm water
Mix the ingredients in a large bucket and ensure the soap has entirely dissolved before cleaning. Whether using a mop, sponge, or cloth to treat your floors, wring them out thoroughly to prevent excess moisture from creating water spots.
You can also use this cleaning solution to clean slate countertops and most household surfaces. After cleaning, let the solution air dry for best results. 
If you have a greasy stain on your slate flooring or need a way to remove oil from concrete, dish soap like Dawn is probably the easiest solution. The soap is gentle enough not to harm the floor while strong enough to get rid of most oily stains.
3. Use Castile Soap as Natural Cleaning Solution for Slate Floors
Another incredible floor cleaner to use is Castile soap. Made from olive and vegetable oils, this cleaning product uses natural ingredients to safely clean surfaces. Combined with products like baking soda, the formula produces a fantastic tile and grout cleaner that quickly removes dirt and grime with a slight abrasive. 
Castile Soap Slate Floor Paste

2 cups of baking soda
¼ cup of water
1 tsp of liquid Castile soap
Combine the ingredients until they form a paste. Use a toothbrush to work in between tiles and clean grout quickly and remove tough stains from tile.
For overall cleaning, use a soft cloth to prevent scratching the tiles. Once finished, buff the tiles using a microfiber cloth until the floor produces a brilliant sheen. 
4. Homemade Slate Cleaner with Isopropyl Alcohol
If you have stains you want eliminated from your slate flooring, then the best solution is to use a stain remover like isopropyl alcohol. Rubbing alcohol works best after mopping with a regular cleaning solution is complete, and all the soapy water has been cleared from the area. Always test a portion of the floor before cleaning, however, to prevent discoloration.  
DIY Slate Floor Stain Removal Recipe

½ cup of isopropyl alcohol
1 quart of hot water
Combine the rubbing alcohol with one quart of water in a small bucket or large bowl. Use a soft sponge to spread the cleaning solution over the stain.
Scrub the area with a soft cloth if the sponge is not enough to remove the stain, but avoid using rough scrubbers that may scratch the surface of the floor tiles. Rinse with clean water when finished, dry the area, and repeat the process as needed. 
5. Use Hydrogen Peroxide for Homemade Slate Floor Cleaner
If you have light, non-color treated slate, then another stupendous solution you can use is hydrogen peroxide. Peroxide does contain bleaching agents that will discolor darker slate stone tiles, so avoid using it on both these and colored grout. Otherwise, hydrogen peroxide not only removes dirt and grime, but it also disinfects the area and reduces the presence of certain bacteria.
Hydrogen Peroxide Slate Floor Cleanser

1 cup of hydrogen peroxide
1 cup of warm water
This simple to use recipe requires equal parts water and hydrogen peroxide. Clean slate floors using a cloth or sponge. Let the cleaning solution sit for 15 minutes before rinsing with clean water. Afterward, clean the tile floors again using a mild detergent and let it air dry. 
Some Additional Things to Know About Cleaning Slate Floors
Now that you are ready to dive into floor cleaning, you may still have a few lingering questions. Hopefully, these last few pieces of advice will give you all the help you need. 
What are the best prevention methods for protecting slate floors?
Though slate is one of those easy to maintain floors that only needs to be cleaned every two to three months, there are ways to increase its longevity and keep mildew from forming between the grout lines. Using a sealant on your grout and tiles can give them a longer-lasting quality that is also easier to clean.
If this isn't your next home improvement task, it should be soon. Applying a sealer takes only about one hour but lasts up to three years. Some powerful sealants can even last as long as 15 years and will leave your floors with a brilliant, glossy coat.
What equipment should I keep handy for cleaning slate floors?
You won't have to use every one of these amazing cleaning tools every time you touch up your floors. However, having these items on hand can save you time and make cleaning some areas more accessible. A spray bottle, for example, makes spot cleaning easier by controlling the amount of solution used and confining it to a smaller space.
Equipment and Supplies for Cleaning Your Slate Floors 

Broom and dustpan
Sponge
Dust or dry mop
Scrub brush
Spray bottle
Toothbrush
Microfiber cleaning cloth
Most of these items are already frequent inhabitants in your utility closet and assist in most household chores. Old toothbrushes are excellent for working in small crevices, while sponges clean large surface areas much faster.
Both microfiber cleaning cloths and dry mops are perfect for polishing areas of the floor but vary in their efficiency based on the size of the area needing cleaning. Use the appropriate supplies for the task to keep your cleaning routine running smoothly.  
What cleaners should you avoid using on slate flooring?
Even though slate floors are highly durable, the material is still susceptible to deterioration and scratching if exposed to the wrong cleaners. Unlike other tiles and materials like vinyl flooring, acidic cleaners will damage the slate. This means using vinegar and lemon juice are big "no-no's."
Equally, anything that is overly abrasive, like steel wool scrubbers, may get the stain out but at a high cost to your floors. Baking soda is gentle enough not to ruin your floors by scratching them, but anything rougher will not be so kind to your slate. 
Now that you have several new ideas and recipes to get you started cleaning your slate floors is as easy as raiding your pantry. Many of these cleaning ingredients can be used daily across various household cleaning tasks.  Always start with the gentlest cleaning method first, and only use stronger products like hydrogen peroxide and rubbing alcohol on spot treatments or for occasional deep cleanings.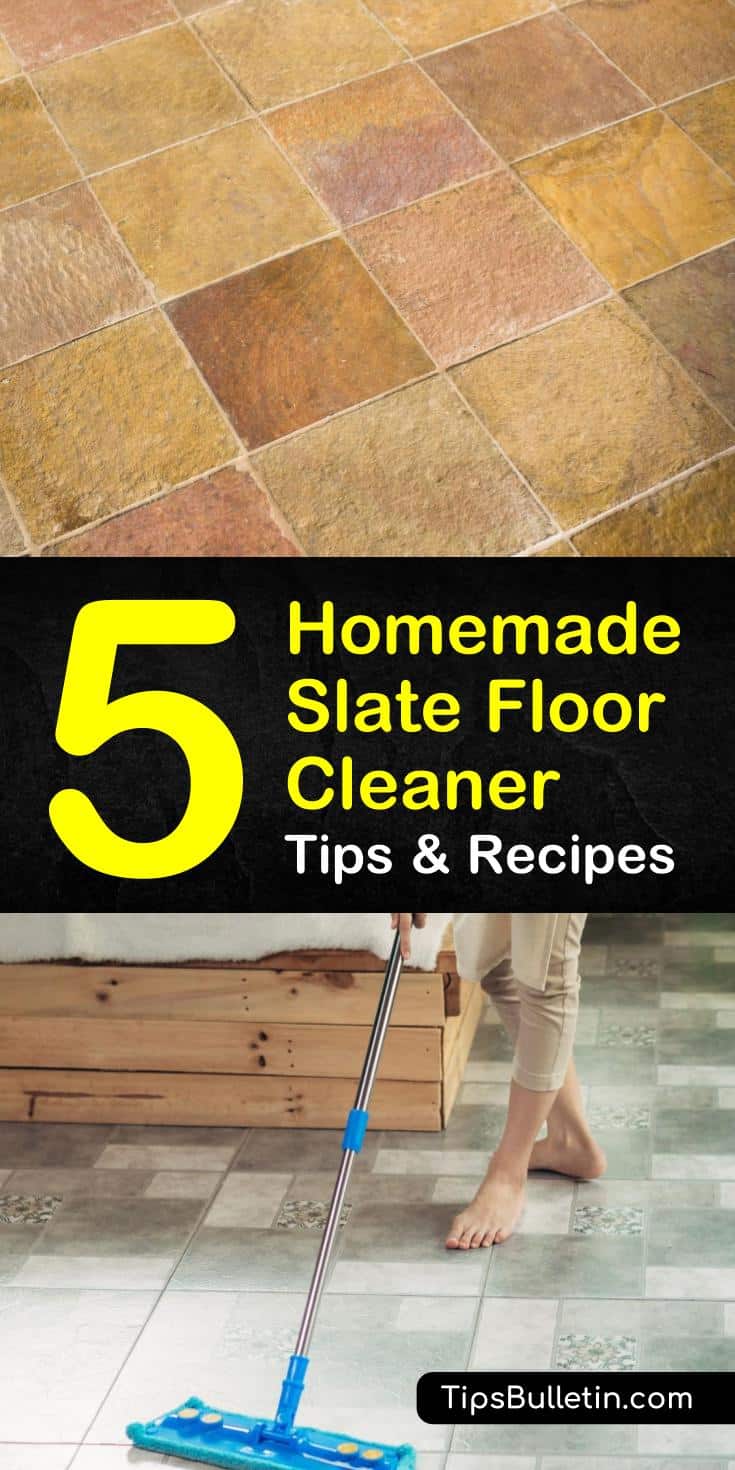 Now that you've learned some natural slate cleaning recipes, it's time to share those homemade slate floor cleaner ideas with the world on Facebook and Pinterest!