If you notice that your young squash plant is wilting, even after giving it the care it needs, you may have a squash bug problem. These insects are notorious for attacking zucchini, winter squash, and pumpkin plants, and it's vital to eliminate them from the garden. Learn how to prepare a homemade squash bug repellent to keep your plants bug-free.
Many insect pests cause harm to your outside plants, including the cabbage moth, Japanese beetle, cabbage worm, tomato hornworm, cucumber beetle, flea beetle, and cabbage looper. However, the squash vine borer and squash bug are insects that cause the most destruction to squash plants and pumpkins.
While there are many ways to deter this garden pest, like companion planting and introducing beneficial insects, these bug control methods don't always do the trick. Fortunately, there are several ways to make a homemade garden bug spray that kills and repels squash bugs.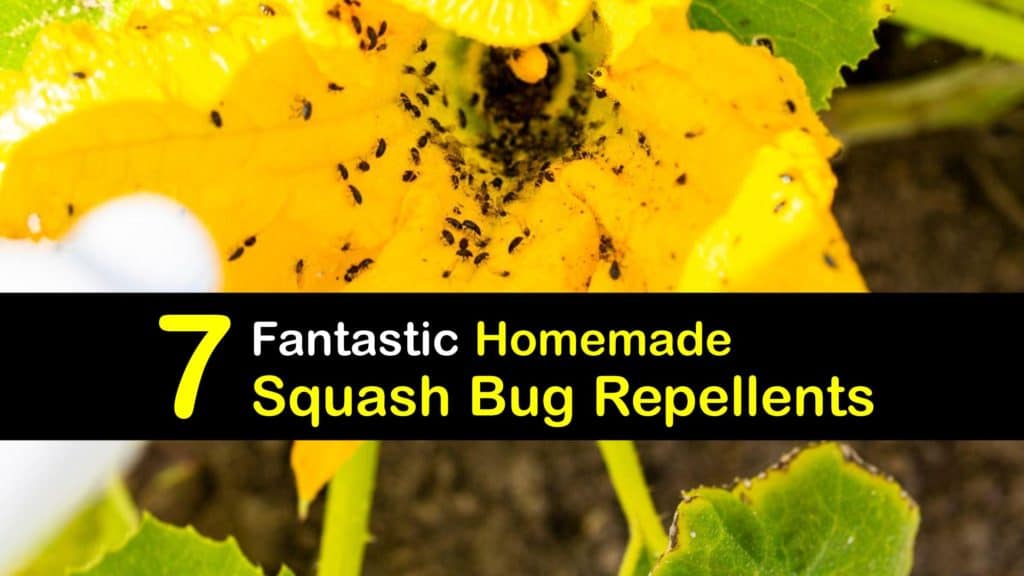 Making Homemade Squash Bug Repellents
There are various ways to kill squash bugs, and making your own pest spray or application is easy, inexpensive, and a great form of organic pest control. Discover ways to tell if you have a squash bug problem and how to make homemade repellents to keep this garden pest off your plants.
How Can You Tell if Your Plants Have a Squash Bug Problem?
While the most obvious sign of a bug problem is chewed leaves and stems, it's often challenging to know which types of bugs affect your plants. Find out what squash bugs look like, their eating habits, and their life cycle to help you determine if you have a squash bug infestation.
Squash bugs look similar to stink bugs, and they plague plants in the Cucurbitaceae family. They have a long and narrow body that is flat and oval-shaped, brown or gray. They are just over an inch long, and they lay eggs on the underside of leaves. The squash bug egg hatches after ten days, revealing green nymphs.
The adults and nymphs feed on cucurbit plants, starting with the leaves and vines and working their way to the fruit. Squash bugs suck the sap out of the plants, and the damaged areas turn yellow, eventually wilting, drying up, and dying.
Natural Squash Beetle Deterrent
Many commercial bug sprays are effective at killing insects, but they kill bees and other good bugs as well. When applied at the right time of the day, this natural squash beetle deterrent eliminates the garden pests without harming beneficial bugs.
To make an insecticidal spray, pour the water into a spray bottle and add a teaspoon of dish soap. Shake the container and spray the soapy water onto the affected plants as a way to keep squash bugs away and keep your plants safe from insects.
To prevent harming beneficial insects, apply the treatment at dawn or dusk. Another way to use this insecticidal soap is to pour the solution into a bucket, remove the insect by hand, and drop it into the bucket.
Homemade Squash Bug Spray With Essential Oil
Essential oils are our favorites for making a homemade squash bug spray. However, while we enjoy the floral, citrus, and minty fragrance of lavender, lemon, or tea tree oil, squash bugs and other insects hate the scent and avoid areas where you apply them.
For one of the easiest home remedies for killing squash beetles, fill a glass bottle sprayer with water and add peppermint, rosemary, and thyme essential oil. Screw the sprayer in place and shake to combine the oils with the water. Spray the squash beetle repellent around your garden to repel squash bugs and other harmful insects.
Diatomaceous Earth as Homemade Squash Bug Repellent
Try using diatomaceous earth if you prefer non-spraying home remedies for repelling squash bugs. This naturally occurring powder is easy to apply for controlling squash bugs, and it effectively kills squash bugs and a variety of other garden pests.
Put on a mask to keep from inhaling the powder and sprinkle the DE on the ground around the plant's base and directly on the affected leaves. The bug's exoskeleton suffers damage after walking across the powder, leading to dehydration and death. Reapply after heavy watering or rainfall to prevent squash bugs and other insects from returning.
Natural Squash Beetle Treatment With Neem Oil
Neem oil comes from Neem tree seeds, and it's the perfect ingredient for making a natural squash beetle deterrent or one of the ways to treat stink bugs. The oil contains a pesticide that repels everything from the squash bug and borer to the mosquito.
For one of the organic ways to repel squash bugs, combine a quart of water, two teaspoons of Neem oil, and one teaspoon of liquid soap in a spray bottle and shake the container well. Spray the solution on the affected squash plants to kill squash bugs, spider mites, aphids, cabbage worms, and other pests. This treatment is also effective against powdery mildew and keeps kissing bugs away from you and your plants.
Hot Pepper Spray to Repel Squash Bugs
Consider making a homemade squash bug spray with spicy peppers if you don't have Neem oil or diatomaceous earth. Cayenne pepper is a hot pepper containing capsaicin, an active chemical that deters pests. It is quite successful when used for squash bugs and stink bugs on tomatoes and many other plants.
Crush the peppers, place them in a jar, add two cups of water and let the liquid sit overnight. Strain the pepper pieces out of the water and pour the pepper water into a spray bottle. Add the remaining water and canola oil, shake the container well, and apply it to your plants affected with squash bugs.
Ways to Keep Squash Bugs From Destroying Your Crop
While using a squash bug repellent for the outdoors is an excellent form of pest control, there are other steps that you can take to keep these insects from destroying your garden. Here are some bug prevention tips to ensure your squash plants grow healthy and productive.
Consider planting nasturtium near your squash plants to repel insects, and always keep the garden tidy by removing plant material where adult squash bugs overwinter.
Install floating row covers over your squash seedlings to prevent adult bugs from laying eggs. However, take the covers off the plants when they begin to flower to allow for pollination. Keep a bottle of homemade insecticidal soap or bug spray on hand to eliminate pests as soon as you discover them.
Gardening takes a lot of effort and discovering that your plants suffer from squash bug or vine borer destruction is disconcerting, to say the least. Fortunately, there are several ingredients inside your home right now that work wonders at repelling and eliminating these pests.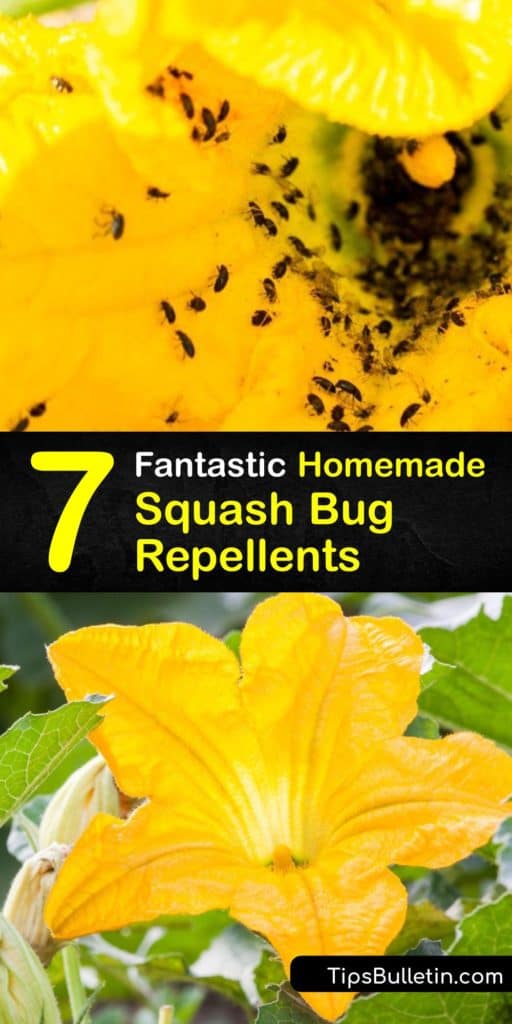 Using a homemade squash bug repellent in your veggie garden is a great way to keep your plants bug-free without harsh chemicals, so why not share our DIY squash bug deterrents with your friends on Facebook and Pinterest?