Stains are challenging to clean and remove on all types of fabric and material, especially if it's your first time tackling the matter. We know that we immediately think, "How am I going to get this out?" the second we see a stain appear on a piece of clothing we love.
Don't head straight to the laundry room or a dark place in the house to try and get the stain out. Instead, learn how to make the process much easier with our homemade stain remover tips and recipes.
With our tips and tricks listed below, you'll learn how to make DIY laundry stain removers for your clothes, furniture, and carpet. If you're eager to save your favorite button up, T-shirt, or blouse from red wine, or if you wish there was something you could do to salvage your perfect-fitting pants from that grease stain, look no further.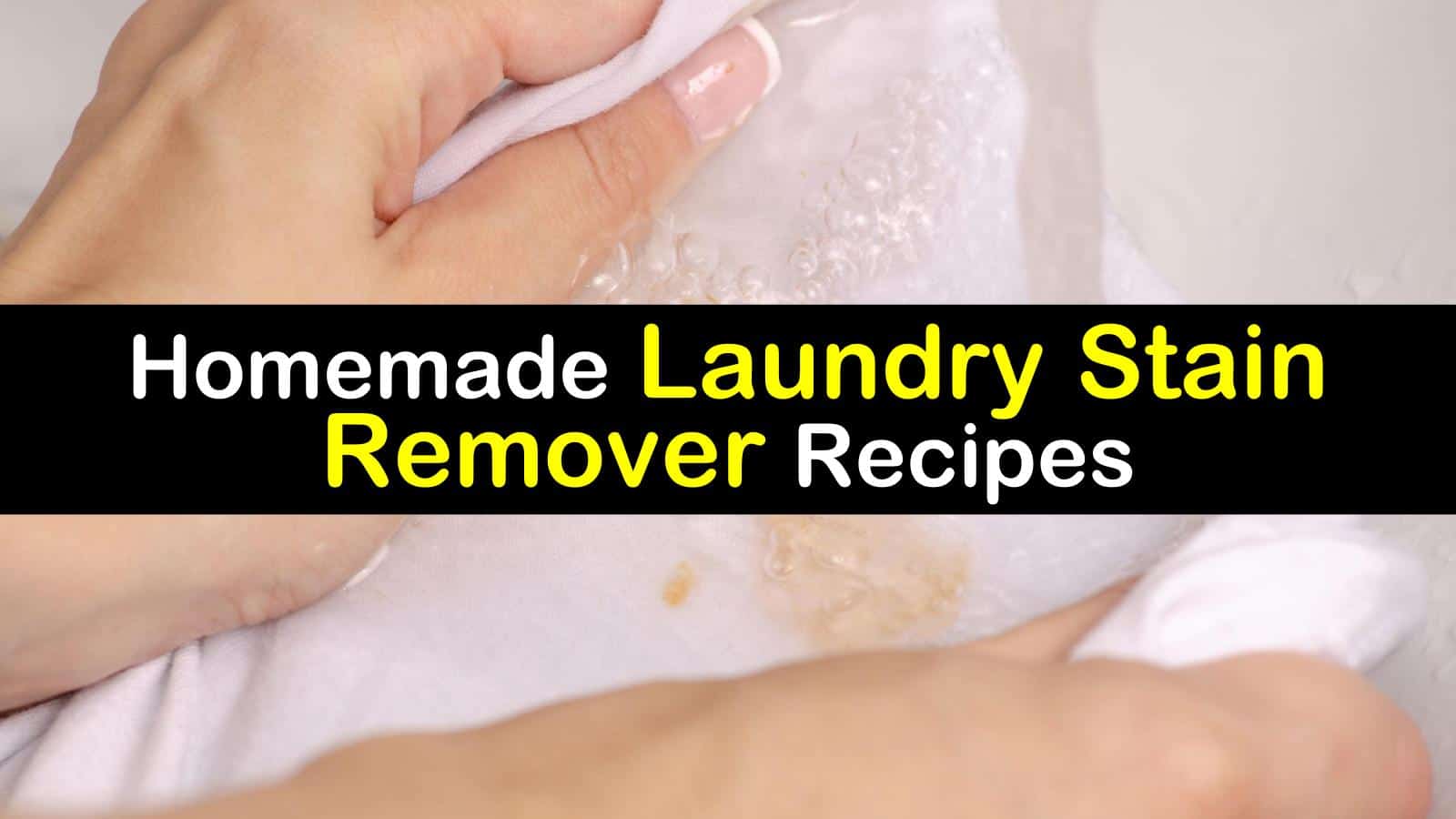 Remove Laundry Stains the Easy Way
It never fails. You are wearing your favorite outfit and accidentally drip some of your juicy hamburger onto it. Or, you inadvertently step in a puddle with mud on the bottom and it spatters onto your pant legs. We can help you get food grease out of clothes and eliminate the mud from your pants with simple recipes that take only minutes to whip up and use.
We'll cover stain removing recipes and the ingredients you'll need to make a natural stain remover for getting set-in mud stains out of clothes or a greasy spot. Common stains you'll want to look out for are fruit, grease, armpit, ink, essential oil stains, and more.
DIY Stain Remover for Clothes
Stains are horrible reminders of what you, and we, have unwillingly done to the clothes we love. What's worse is that some stains come back to haunt us, whether it is spit-up stains on baby clothes from our sick 2-year-old, deodorant stains from when we skidded our shirt across our armpit the wrong way, or blood stains on our jeans from when we tripped up the concrete steps.
That's all okay, though, because there's a fantastic DIY stain remover for clothes recipe to the rescue. It can even be used as a way to get cherry juice out of clothes or as a homemade spot remover.
Mix Dawn dish soap with hydrogen peroxide, and add baking soda to the mixture to remove adhesive residue from fabric. Now, pour on the stain and use a toothbrush to scrub stain away.
Flip the shirt inside out and repeat the process. Let clothing sit for an hour then wash and dry accordingly. Use this same process to remove dirt stains that are a little more stubborn than others.
This mixture is an excellent pet odor neutralizer, too. Be sure that the fabric is a light color before using and always test an inconspicuous area first to ensure that the color won't bleed. Substitute vinegar for peroxide if necessary.
Ingredients to Make a Natural Stain Remover
Not all stain removers are as specific as the above DIY laundry stain remover mentioned here. This stain remover will work on all types of clothes and fabric, even on orange stains on clothes after washing when the stain persists. All in all, most stain-removing ingredients will likely act as a laundry stain remover, a carpet stain remover, and a mystery stain remover.
It's time to get some ingredients that you should keep handy around the house for creating cleaning solutions and getting out tough stains. You won't need to use just Castile soap anymore!
You likely have most of these ingredients at home in the pantry or under the kitchen sink. If not, they are inexpensive and can be bought at a local store.
These products have multiple cleaning uses around the home, whether you are getting shoe polish out of clothes or a nail polish spill on the carpet. Use a mixture of dish soap, vinegar, and water as an excellent homemade vinyl floor cleaner, for example, or as a homemade couch stain remover, too.
Get Rid of Cooking Stains
If you're deep frying some chicken on top of the stove, you're bound to get an oil stain at some point. If this ever happens, you must prepare yourself for the consequences your clothes are about to face concerning grease stains.
Though removing oil stains from clothes can be time-consuming, it doesn't have to be if you know what ingredients to mix.
Blot the cooking oil with a paper towel. Cover the area of the stain with baking soda and allow the baking soda to sit for 30 to 60 minutes. Scrub area with baking soda into clothing with a toothbrush. Pour dish soap over the baking soda. Wash clothing in washing machine and make sure the stain is removed before drying.
This stains remover will also work on sauce stains as well. BBQ sauce will come out of clothes with dish soap and baking soda. Sauces usually have a greasy texture, and will come out of clothing with the same methods.
Eliminate Deodorant Stains
Whether you have the deodorant stain because the white substance skidded onto your shirt or because you've been sweating all night and your deodorant rubbed off on the armpit region to give you an armpit stain, it doesn't matter; you still need a solution before the armpit stains stick and get harder to remove.
Though the best way to get rid of deodorant stains under armpits is to apply an acid, there are still additional options.
Each of the above listed is a different way for you to get rid of stains in various ways. Use all as separate recipes for a homemade stain remover for getting armpit odor out of clothes and eliminating the stain they often leave behind.
You can soak the stain in equal parts of hydrogen peroxide and water. This works well on white clothing. You can mix baking soda into a paste with water as a 3:1 ratio. Then, scrub the stain out using a toothbrush.
Combine two tablespoons of white vinegar with a cup of water and soak the clothing. Mix lemon juice and water, both of equal parts, and scrub the stain out. Combine salt and water and scrub the stain. All methods will work.
This cleaning solution will also work to remove lip gloss from clothing. The sticky colorful marks will easily break down with the use of vinegar.
Removing Ink Stains With Hairspray
In our personal experience with stains, we still get curious as to how ink stains come about; the only logical reasoning we've thought up of is an ink pen exploding onto a piece of clothing or an uncapped pen is left in a pocket when laundering. Nonetheless, ink stains do happen. Now how do we remove black ink from clothes? Luckily, we have easy answers for you.
Did you know using hairspray to remove ink stains is a thing? Spritz hairspray it onto the ink stain. Let the spray set for approximately 30 seconds. Wipe the ink with a damp cloth. Any hairspray will work for stains, even if it's already dry.
Black makeup can also be difficult to get off clothing. Follow our methods to remove mascara from clothes and any other greasy black makeup that gets spilled.
Erase Fruit Stains
Some fruits stain, some fruits don't stain; it's the berries and juice that you must watch. Common fruit juices like cranberry and grape juice stain clothes badly. The juices strawberries, blueberries, and raspberries secrete make for killer stains that are incredibly stubborn to get out of clothing.
Follow our methods for the best ways to get strawberries out of clothes and other dark fruit stains. These fruit stains are evident in almost all types of clothing. The sugars in such fruits tend to turn the stains yellow with age and heat.
For new stains, you can take the fabric with the stain on it and stretch it out, stain down, over a bowl. Fasten it with an elastic. Then, pour boiling water through the stain.
You can also rub lemon onto the stain to remove it. Then, rinse the fabric with water, blot the water out, and let it air dry.
Removing Essential Oil Stains
Regular grease and oil stains happen often, but many people don't expect essential oils to produce such difficult stains to remove. Here are a few tricks for removing these nasty little stains.
Sprinkle baby powder onto the stain. If you don't have baby powder, salt and flour will do the trick, soaking up most of the stain. Then, using laundry detergent or dish soap, spot-treat the area with an old toothbrush.
If the stain persists, dip the fabric into a bowl of white vinegar. If it's an extreme case, leave the clothing in the white vinegar bowl for up to six hours. Rinse with water and launder. Do not put it in the dryer immediately, as the heat will make the stain almost permanent.
Of course, you can't put your couch in a bowl of vinegar. Use this same recipe as a fabric sofa stain remover but put the vinegar in a spray bottle and apply it to the stain. Scrub with a soft sponge or clean old rag and rinse with clean water. Let it air dry.
Tackle Tough Old Stains
No matter how much you wash that white shirt in the washing machine, those old food stains and mystery stains won't come out. That's probably because laundry detergent alone won't do the trick. You will find this when trying to remove dried concrete from fabric. Sometimes you need a little extra stain-removing power.
Here's the not-so-secret recipe for concocting the perfect old stain remover against soda, gum, coffee, tea, wine, soy sauce, tomato sauce, blood, and urine. Remove mud stains from jeans and other clothing the same way.
Mix one part Dawn dishwashing liquid and two parts hydrogen peroxide in a spray bottle for getting pizza sauce out of clothes as well as a host of other stains. Try this simple solution to remove soy sauce from clothes as well as ketchup and mustard. Spray the area and rub the spray in thoroughly. Let it sit. Wash and the stain should be gone!
Removing Stains Using Cold Water
Some stains aren't fixed with warm or hot water; instead, some stains prefer to be treated with cold water. Follow this method for getting color bleed out of clothes with a cold water wash.
First, rinse both types of stains immediately with cold water for up to 30 minutes. As for alcohol-related stains, start by applying detergent or dish soap to the already-wet area. Then, wash in hot water using chlorine bleach, if the fabric can handle it. For baby formula-related stains, soak the material with an enzyme soaking product. Then, rinse and wash per usual guidelines.
Many of these recipes and cleaning solutions can also be used on surfaces other than laundry. Make a homemade teak cleaner with warm water, bleach or Oxy-clean, and laundry detergent or Dawn.
These tips on difficult stain removing will be able to help you with your daily stain struggles. The homemade stain remover options provided will be ready to tackle stains involving ink, fruit, essential oil, grease, and much more.
Recipe for Homemade Stain Remover
Homemade Stain Remover
Materials
8 ounces hydrogen peroxide
4 ounces dish soap
Tools
16-ounce sprayer
Measuring cup
Microfiber cleaning cloth
Instructions
Pour the liquids into the spray bottle.
Shake gently to combine the ingredients.
Spritz the stain and dab or rub with the cloth.
Let the cleaner sit for 30 minutes.
Wash as normal.
Notes
Ensure the stain is gone from clothing before putting the garment in the dryer.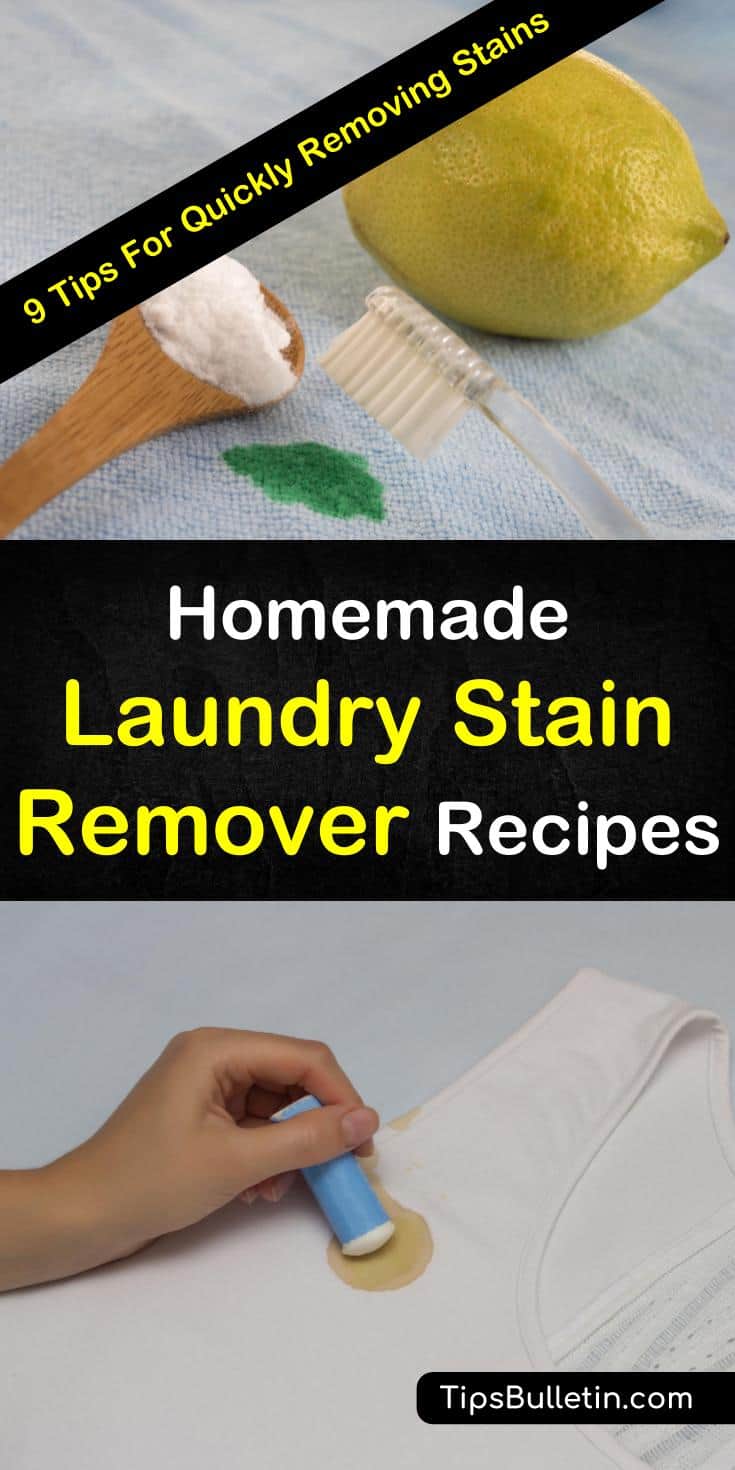 If you liked our stain remover recipes and tips, please share these laundry tips on Facebook or Pinterest with your friends and family.