Our stoves are the one place in our house where grease and grime seem to collect relentlessly. This makes sense, as most of us use grease and oil for cooking, but letting it build up can not only be a gross eyesore – it's dangerous, too! In this guide, you'll learn how to create a homemade stove degreaser that cuts through grease and grime, leaving your stove revitalized and safe to use once again.
Keep in mind, though, that not every kitchen stove cleaner is friendly towards every surface – or even toward you! However, the mixtures and DIY recipes we suggest in this guide are all quite helpful to humans (and most surfaces, with a few restrictions).
If you start getting into store-bought oven cleaners or commercial degreasers, well, that's where you begin to see some dangerous effects! Try one of our safe and easy degreasers instead.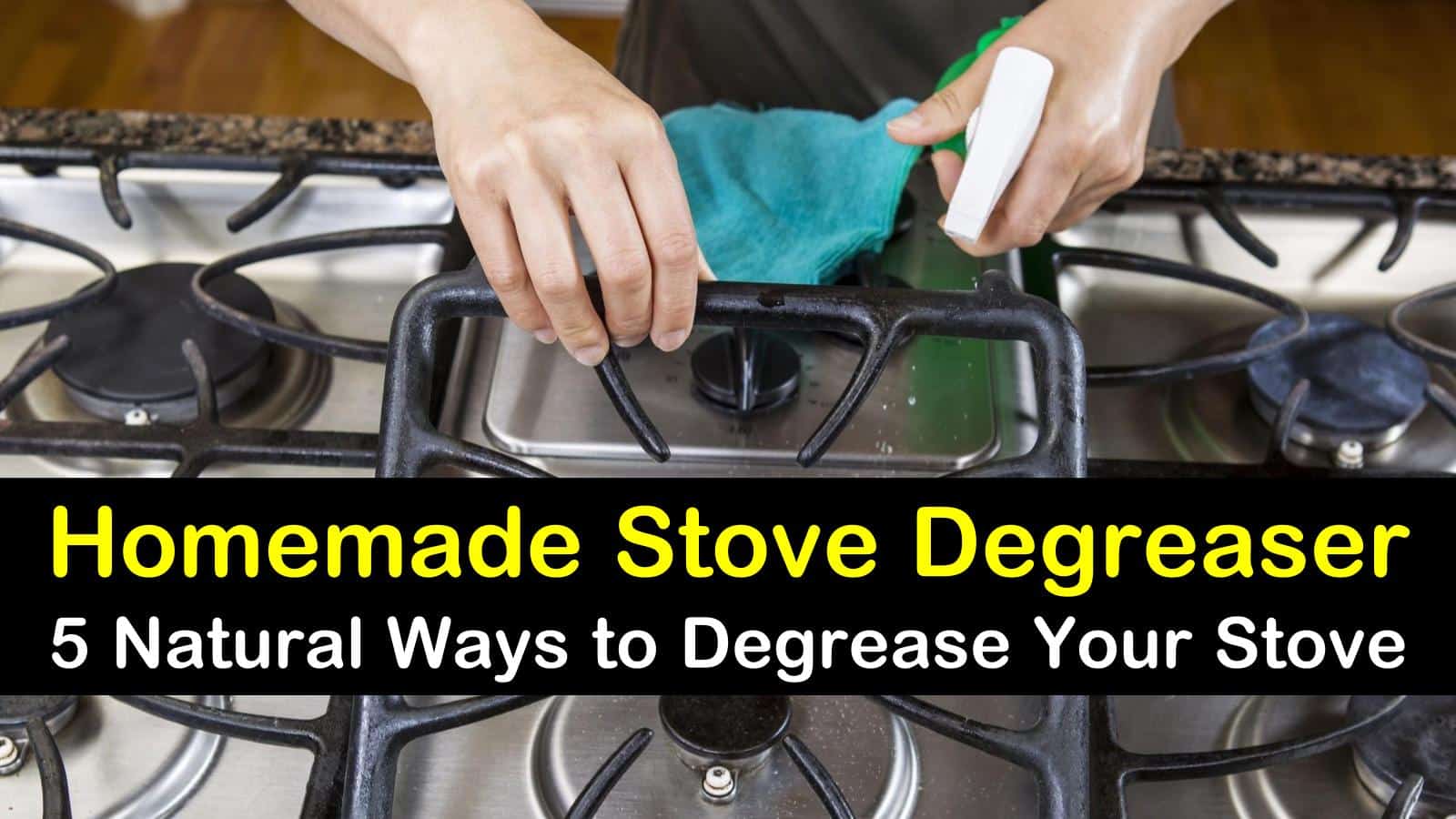 Degrease a Stove with a DIY Stove Degreaser
Stovetop degreaser is a compound that's meant to cut and lift grease away from a stovetop or other grease-covered surface. While many effective degreasers are available at the store, there's little reason to buy them when you can make family-friendly degreasers at home.
If you're wondering how to degrease a stove or want an all-purpose homemade degreaser for kitchen use, know that certain ingredients must be in homemade cleaners to remove things like vegetable oil and other baked-on greases.
Chief among these is something to lift or dissolve the fat from the surface. As long as your cleaner can do this, you have the basics of an effective homemade heavy duty degreaser to keep your oven looking new!
Natural Stove Degreaser with White Vinegar
Pure white vinegar provides a natural, good degreaser for the stove top that can't get any easier. Since vinegar is acidic, we recommend using proper skin and eye protection, but white vinegar is otherwise family-friendly and safe to use in the house, especially on greasy surfaces.
To clean up grease with this homemade degreaser spray, cover your stove with it, let it absorb for a few minutes, then wipe clean. While you may not like the smell, plain white vinegar is about the cheapest you can get for a natural degreaser for stove, and it's easy, too!
If the smell bothers you, add a few drops of your favorite non-acidic essential oil to the white vinegar, and this may help mask some of the smell. White vinegar is an excellent grease cleaner to have on hand for fighting grease stains, too.
This DIY all purpose cleaner with vinegar helps to penetrate old stains on counters and backsplashes with ease. Be sure not to use vinegar on surfaces that can be damaged by it, or make sure to dilute it first.
How to Degrease a Stove with Dawn or Natural Dish Soap
Dishwashing detergent is the tried-and-true grease-fighting classic! A few teaspoons of dawn dish soap can clean grease from more than just your dishes – it makes an excellent degreaser for the stove top, too.
It can tackle just about any kitchen surfaces in a snap, whether this is the kitchen backsplash, kitchen cabinets, the floor, your countertops, stainless steel, or even the wall! If you're wondering how to degrease a stove with dish soap, it's about the easiest thing you'll ever do!
To cleanse your stove or any other surface with dish soap, lather it with warm water inside a sponge, then gently scrub the grease away. While dish soap isn't the most natural method in this guide, it's one of the easiest, and you're likely to have all the materials on-hand already.
Keep in mind that cleaning an electric cooktop is quite different from the best way to clean a gas stove top. An electric cooktop, depending on whether it's a bare coil or a smooth glass cooktop, can either be much harder or much easier to clean than a gas cooktop.
Dish soap can leave unwelcome streaks as a glass top cleaner so be wary when using this solution on your glass top stove or deep clean old wood stove glass. If you have a gas cooktop or exposed electric coils, be careful to clean soap residue away from the burners or coils with a wet paper towel before using your cooktop again. Heat and dish soap are not a good combination and it smells terrible.
Homemade Stove Degreaser with Essential Oils
While simple one-ingredient kitchen degreasers do their jobs acceptably well, it's possible to create a compound cleanser with the inclusion of a few extra ingredients.
This DIY stove degreaser uses the grease-cutting power of limonene from citrus oils, vinegar, baking soda, and liquid soap. For a more natural cleaner, omit the liquid soap, or swap in natural liquid soap like Dr. Bronner's Castile soap.
For this recipe, add the vinegar to your spray bottle first – we recommend one that holds about 32 oz of cleaner for best results. Add a few drops of liquid soap, then the baking soda. Your cleanser will fizz a bit, but this is fine!
Once everything settles down, fill the bottle the rest of the way with hot water. You will need at least one cup of water, but you can use more to dilute the cleaner further if desired.
Add a drop or two of your favorite citrus essential oil, such as lemon essential oil or orange essential oil, and this cleaning solution is complete! Lemon juice will work in a pinch for a pleasant scent, too. Shake the spray bottle or swish it around until everything is combined.
Tackle the Worst Gunk Spots with Baking Soda
If you need to tackle some gunky, baked-on grease spots, baking soda is here to save the day as the best degreaser for the kitchen stove! A mixture of baking soda and warm water left on a crusty stain should be enough to lift it away and get your cooktop looking shiny.
For this homemade degreaser, combine your baking soda with equal parts warm water until it forms a thick paste. Rub the paste on the stove or remove rust from cast iron stove grates.
Let the paste sit until it dries, then gently scrape it away. While you may need to use a good scrubber or a little elbow grease, be careful with the finish of your stove or surface!
The worst grease spots should come away with it with no problem. Use a microfiber cloth or damp cloth to wipe the area clean of the baking soda residue and dry it afterward.
Last Resort: Power through Grease with Oven Cleaner
Oven cleaner is marketed toward cleaning your oven, of course, but did you know that it's equally useful for cleaning your stove? A simple oven cleaner is specially formulated to tackle baked-on, gunky messes, and this means that it can work wonders on your stove, pots, and pans, too.
Oven cleaner is an incredibly effective degreaser, but keep in mind that it's both toxic and caustic! It shouldn't be used on new pans or any pan with a non-stick coating.
We recommend testing the cleaner in an inconspicuous area before using it on any surface and always follow the manufacturer's directions to ensure personal safety and the integrity of your cookware.
The manufacturer should tell you how to use the cleaner, how to dilute it, and how long to let it sit on a problem area. While buying an oven cleaner from the store doesn't make it a homemade degreaser, it's an excellent last resort when no other homemade methods have worked.
However, we recommend that it be precisely that: a last resort. Oven cleaner is full of harsh chemicals that can affect your health and the finishes on your pots and pans, so use it carefully and sparingly.
Did you like these cleaning tips and tricks for how to craft an effective homemade stove degreaser? While different cleaning products work well for removing grease, like oven cleaner or other store-bought solutions, they're all useful in different situations and on different surfaces.
Some of these can be filled with harsh chemicals that can damage surfaces, too. Vinegar cleaner should never be used on untreated wood, for example!
Recipe for Homemade Stove Degreaser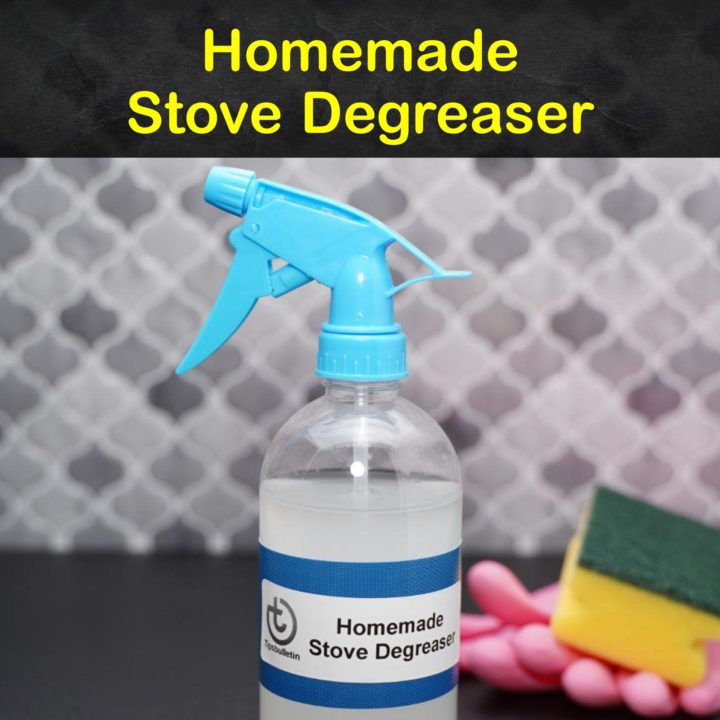 Homemade Stove Degreaser
Clean and fresh with basic household ingredients!
Materials
8 ounces of white vinegar
20 ounces of water
6 drops orange essential oil
1 tbsp baking soda
4 drops liquid dish soap
Tools
32-ounce glass spray bottle
Measuring cup
Tablespoon
Damp sponge
Instructions
Pour the vinegar into your sprayer.
Add soap and baking soda.
After the mixture stops fizzing, add water and essential oil.
Shake gently to combine.
Spray the top, front, and sides of the stove and wipe with the sponge.
Rinse the sponge with clean water as needed.
Notes
A glass spray bottle is better when using essential oils.
If you liked these homemade stove degreasers, we'd love it if you would share these natural stove degreasing tips with your friends on Facebook or Pinterest!