Tanning beds provide an easy way to give your skin some color despite cold temperatures outdoors. If you have a tanning bed at your home, you must have an adequate cleaning product to kill any germs on the bed. Creating a homemade tanning bed cleaner is necessary to remove grime, dead skin cells, and bacteria accumulated on the tanning bed during use.
You may think that making a DIY tanning bed cleaner is going to be a hassle. However, a homemade tanning bed cleaner is easy to make with the cleaning hacks we offer. If you are searching for a natural tanning bed cleaner, look no further. We show you how to make a natural disinfectant to clean tanning beds.
Natural ingredients like white vinegar, essential oils, and lemon juice are all fantastic ways to remove grout, germs, and other gunk on your tanning bed. With the cleaning tips in this article, you can repurpose common household cleaning agents to disinfect your tanning bed and restore it to its original state.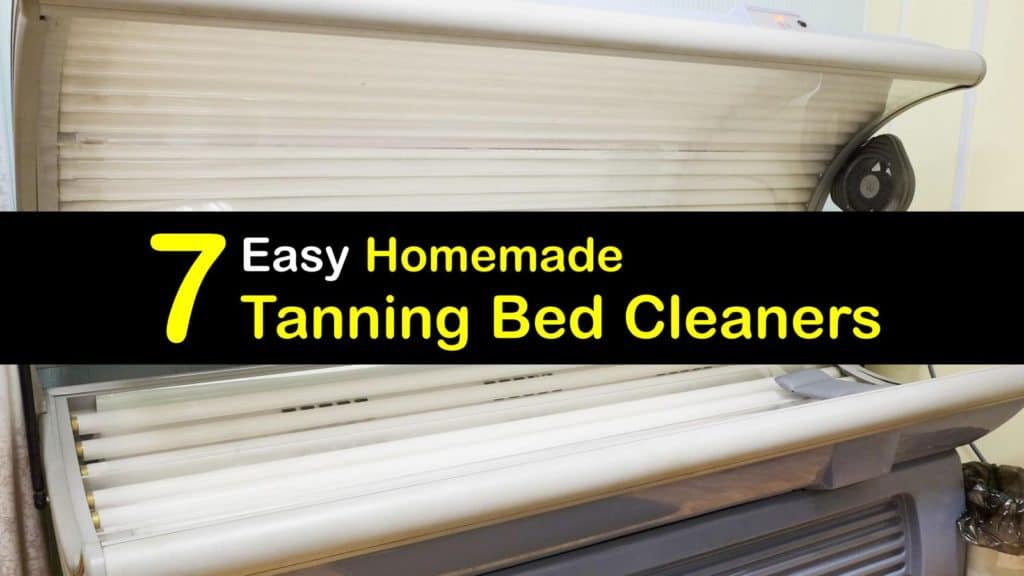 Importance of Cleaning Your Tanning Bed
A majority of tanning beds have low-pressure fluorescent bulbs set under an acrylic surface. Acrylics are sensitive to certain cleaning products, so you must know what agents will disinfect the tanning bed without damaging the acrylic.
Making a homemade tanning bed cleaner is necessary due to the bacteria that buildup in the beds.
If tanning beds are not cleaned regularly and properly, many bacterial and viral infections can live on the bed. To prevent unwanted viruses from entering your body, learn how to create a natural tanning bed cleaner.
How to Prepare for Tanning Bed Cleaning
Before making a homemade cleaning product for your tanning bed, take quick steps for preparation. A few extra moments to prepare your tanning bed for cleaning help make the entire process easier and more time-efficient.
A DIY tanning bed cleaner works far better after you remove dust from the bed. Using a soft dust remover, wipe down the entire inside of the tanning bed. Like any area, tanning beds accumulate dust bunnies over time.
For the natural ingredients to work effectively on the tanning bed, remove as much dust as possible. Use a soft, microfiber cloth or a feather duster on the tanning bed's acrylic because it scratches easily.
Vinegar Homemade Tanning Bed Cleaner
Combining white vinegar and essential oils is a fantastic way to make a homemade tanning bed cleaner.
Vinegar is naturally acidic, allowing the liquid to break through the grime and dirt that resides on your tanning bed. Essential oils like tea tree oil act as a natural disinfectant that kills nearly all the germs on your tanning bed.
Although a commercial cleaning solution is feasible, this homemade cleaner recipe is chemical-free and just as effective. Combine your tanning bed cleaning ingredients in a spray bottle and shake the contents lightly.
Spray the inside of your tanning bed and wipe the solution with a microfiber cloth. Follow the same process to use this mixture as a homemade fiberglass cleaner. With the cleaning tips we provide, disinfecting your tanning bed has never been simpler.
DIY Tanning Bed Cleaner with Hydrogen Peroxide
For tanaholics, cleaning your tanning bed is a necessity. Tanning beds offer a more natural tan than indoor tanning lotions can offer.
Another famous cleaning agent that works to kill germs on a tanning bed is hydrogen peroxide. Hydrogen peroxide dissolves dirt while killing bacteria.
After pouring the hydrogen peroxide into the spray bottle, cover your tanning bed with the solution. Let the hydrogen peroxide sit for about five minutes before wiping it away with a damp, soft cloth.
Using hydrogen peroxide as a natural tanning bed cleaner is perfect if you are short on other cleaning agents and still would like a strong disinfectant.
Lemon Juice is a Natural Tanning Bed Cleaner
Several cleaning hacks utilize lemon juice because of its pleasant scent and powerful bacteria-killing capabilities. The ingredients in lemon juice effectively kill the harmful viruses and bacteria that reside on your tanning bed while protecting the sensitive acrylic.
Pour your tanning bed cleaning agents into a medium-sized spray bottle and swish the ingredients around so the oil absorbs into the water.
Mist the inside of your tanning bed and let the solvent sit for five minutes before wiping it away with a soft cloth. The lemon scent acts as a natural deodorizer for this cleaner.
Dish Soap for Cleaning Tanning Beds
Use liquid dish soap to clean your tanning bed quickly or as an ingredient in a homemade cleaner for aluminum. Dish soap cuts through tough grime buildup, kills germs, and removes grease on the tanning bed.
Another benefit of using this dish soap homemade tanning bed cleaner is that it only calls for two ingredients.
Pour warm water and dish soap into a mixing bowl and stir the ingredients until the water is sudsy. Soak your soft cloth in the solution and wring it out before you scrub the tanning bed.
Using Baking Soda to Clean Tanning Beds
Of all the indoor tanning tips to follow, maintaining a clean tanning bed is perhaps the most important. Baking soda not only acts as a carpet cleaner and a deodorizer for your washing machine, but the powder also dissolves dirt and grease on your tanning bed.
When you pair baking soda and white vinegar, you create a powerful natural tanning bed cleaner. Cleaning a bathtub with baking soda and vinegar is just as easy.
When you pour your baking soda and vinegar into a mixing bowl, stir the cleaning agents until the consistency is uniform.
Soak and wring out a soft cloth in the solution and scrub the tanning bed in a circular motion. To wipe away the residue, wipe the bed with a damp cloth soaked in warm water.
What Tanning Bed Cleaning Agents to Avoid
Instead of searching for the proper cleaning agents on websites like ehow.com, we describe what cleaning agents can damage your tanning bed. If you use the wrong cleaning products, acrylic fades, becomes cloudy, and appears dingy.
Although ammonia-based cleaning products like Windex are pretty diverse regarding the various items they clean, acrylics are not one of those surfaces. When making a DIY tanning bed cleaner, you must be aware of the products that damage the acrylic. A DIY disinfectant spray with alcohol is not the best item to use on your tanning bed. Stick with peroxide instead.
A tanning bed is a wonderful way to maintain beautifully tanned skin even when the weather is cold outdoors. Disinfect your tanning bed after each use so the bacteria does not buildup and lead to even more viruses and bacteria.
Plenty of household cleaning products like white vinegar, baking soda, dish soap, and lemon juice are fantastic tanning bed cleaners.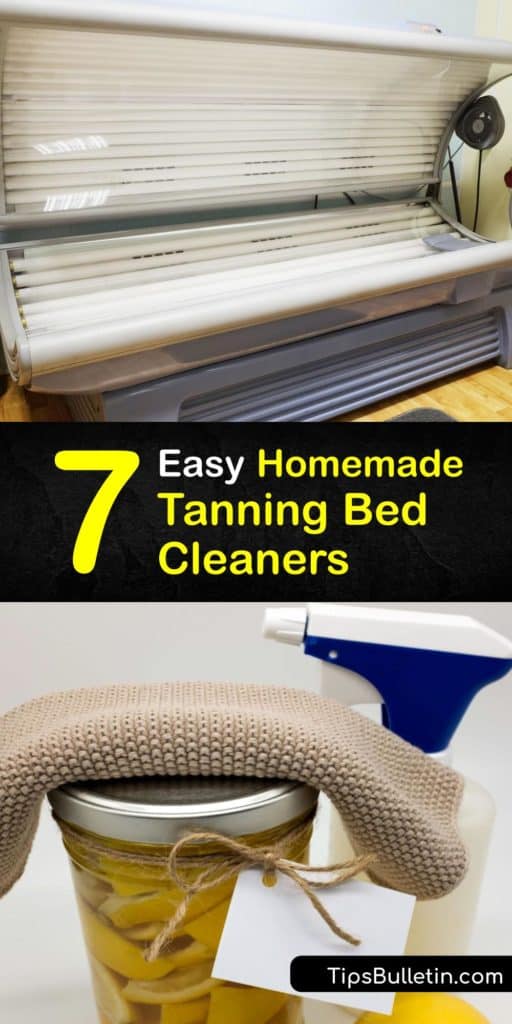 If you found out how to make a homemade tanning bed cleaner, share these tips for DIY tanning bed cleaners with your fellow tanaholics and followers on Pinterest or Facebook.