Imagine taking a large, tasty bite out of your favorite fruits or vegetables and being told immediately after that it was infected with E. coli. It sounds a little scary, yet this is a potential scenario when you don't wash fruits and vegetables before eating them. Homemade vegetable wash is an important way to take care of this problem.
Washing vegetables gets rid of dirt, bacteria, bugs, and pesticides found on all fresh produce. Pesticides are less likely to be on organic produce. Still, who would want to take the risk? Learning how to wash vegetables the right way is also necessary. We know what you're thinking; is there really a wrong way to wash your veg? Unfortunately, you can't use any disinfectant to clean fresh fruits.
Thankfully, there are many natural ingredients that you likely already have sitting in your home. Think about all the people who feel up the fresh fruits and veggies on display at the grocery store. Not only does making a DIY fruit and produce wash remove pesticide residue, but the FDA highly recommends it.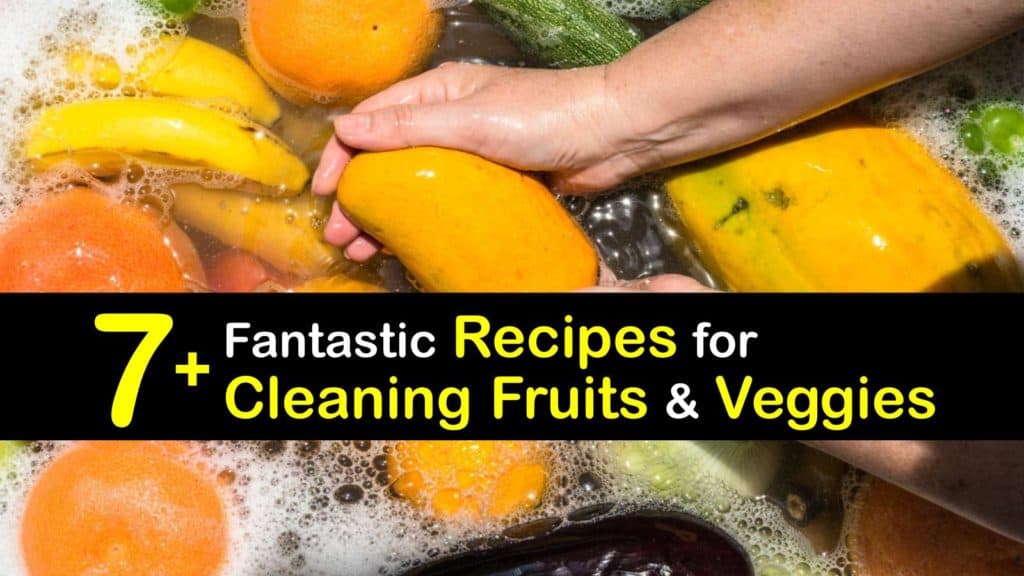 How to Wash Vegetables
It is crucial to wash vegetables to remove pesticides, bacteria, grime, and insects before canning vegetables or eating them raw. Though you can't see these things, that doesn't mean that they aren't there.
Even when you keep fruit sitting on your clean countertops, you never know what sort of germs are lurking. If you genuinely want to eat clean foods, making one of the many recipes for homemade fruit and vegetable wash is essential.
Washing Vegetables with Water
While it doesn't do as good a job as some other homemade vegetable wash recipes, rinsing your produce under cold tap water is one of the simplest methods.
Use a soft bristle vegetable brush and gently scrub the outside of your foods with thick skins to remove excess dirt. After you finish, either eat it right away or allow it to air dry before consuming it.
We recommend waiting until right before you eat to use a veggie wash. Too much moisture promotes mold growth.
Washing Vegetables with Vinegar
One of the first cleaner recipes that most people use when learning how to wash vegetables is white vinegar. White vinegar is in tons of house cleaning products, is antimicrobial, and is acidic enough to kill almost anything lingering nearby.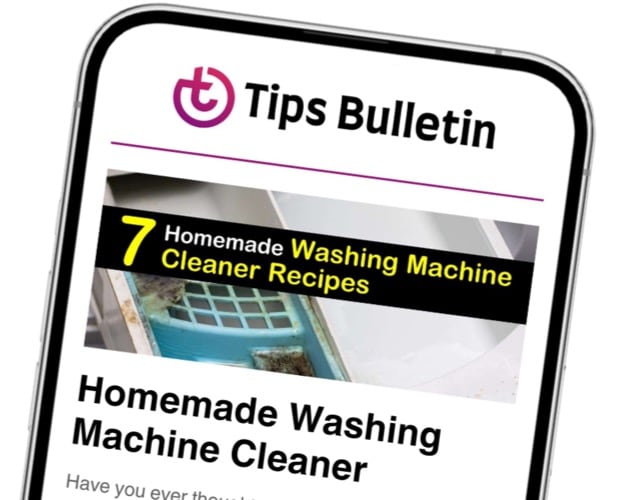 Finally, an email that Transforms Your Home.
Get the latest home and garden tips from our experts, delivered straight to your inbox.
Check out a handful of simple recipes that anyone can make. It is also one of the best washes for leafy greens.
Add vinegar and cold water to a large bowl. Let the greens or other produce soak for five to ten minutes. Swish the leafy greens around in the water to remove dirt from the ridges.
Set the greens aside on a paper towel to dry or put them in a salad spinner to get rid of as much remaining water as possible.
Homemade Vegetable Wash with Apple Cider Vinegar
Apple cider vinegar is another great product for cleaning all sorts of things. Many people even use it to detox the body, condition hair, and remove moles.
This vinegar is terrific at removing pesticides and bacteria more effectively than many scrubs you find at the grocery store.
All you have to do is stir one part of apple cider vinegar into ten parts water. The way to wash potatoes and other veggies is to allow the produce to sit in the mixture for five minutes before rinsing under tap water and setting aside to air dry.
Creating a Salt-Based Veggie Cleaner
Many people never consider salt to be a great cleaning product but salt helps to eliminate a considerable portion of pesticide residue. Salt is a nice option for both fruits and vegetables, and you'll be comforted knowing you're using such clean and simple ingredients.
Add one teaspoon of any salt you have to every one cup of water to a large bowl. Allow the food to sit in the saltwater solution for two minutes. Use a vegetable brush to scrub the outside of the produce. Rinse away the salty water with fresh water and set it aside to air dry as one way to keep veggies fresh until you are ready to use them.
Using Baking Soda to Wash Vegetables
We weren't lying when we said that washing vegetables is possible with products that almost everybody in America has sitting in their house. Baking soda is another household ingredient common for all sorts of cleaning purposes.
Homeowners have been using it for cleaning countertops, showers, and even carpet stains. Toss a little bit of baking soda into a bowl of cold water and let the fruits or veggies sit for five minutes.
Use clean hands to scrub the outside and rinse them under fresh water. Either eat the produce right away or set it aside on a clean towel to dry.
Lemon Juice and Fruit Wash
Is it really okay to use fruits to clean other fruits? Absolutely! The acidity of lemon juice has antibacterial effects. On top of that, it is known for helping fruits to last longer when stored in the fridge.
Fill a bowl with clean water and stir in salt. Squeeze in the juice from the lemon. Drop your fruits into the liquid for several minutes before rinsing and drying them. It's necessary to wash your veggies before you store them. It helps them last longer and they are safer to eat.
Using Hydrogen Peroxide to Wash Veggies
It doesn't seem like hydrogen peroxide would be your go-to product to clean things you're eating. However, it is an extremely popular choice.
Mix a tablespoon of three percent hydrogen peroxide to one gallon of water. Set your produce in the liquid and let them soak. Gently rub outside of the fruits and veggies before rinsing and drying them.
Essential Oils and Cleaning Produce
Don't overlook a citrus-based essential oil when it comes to washing veg. Essential oils contain monoterpenes, which dissolve petroleum-based substances, and pesticides are mainly petroleum-based.
The trick to using this type of veggie wash is remembering that oil and water don't mix. Adding Castile soap is how you get around this.
Add a few drops of grapefruit seed extract or another citrus-based oil to a spray bottle with water and a few drops of soap. Shake the bottle and spray your fruits and veggies. Scrub the produce and rinse away the solution before letting them dry.
Do not use regular dish soap you have at home for this cleaning method. Nobody wants to taste soap as they bite into their food, plus it isn't gentle enough to put on fresh veggies.
Tips for Washing Veggies
It's a little discouraging to hear, but there are no fruit and veg washes containing non-GMO ingredients that will remove every piece of wax, bugs, bacteria, or pesticides. The only proper way to keep your food from being 100 percent clean is by growing it yourself.
Unfortunately, even organically grown foods are sprayed with some pesticides, which must be approved by the United States Department of Agriculture. Still, they are pesticides and aren't safe to consume throughout your life.
If you don't plan to eat your food right after using a homemade vegetable wash, allowing it to air dry thoroughly is the best way to extend its shelf life and keep it from molding.
You sabotage all your efforts when you put them away while still wet. Either wait until just before you plan to use them or allow them to sit on a towel on your counters until entirely dry.
Whatever you decide to wash your fruits and veggies in should also be clean itself. Don't grab a dirty bowl out of the sink that only looks clean.
You only have clean food when you use clean supplies. Some people prefer to wash directly in their sinks. That's also fine, but you have to wash and scrub the sink first. Using dirty tools to clean things isn't doing you any favors.
Try not to waste supplies by making large batches of these recipes. Not everybody wants to wash everything at one time. Sometimes it is best to clean a single apple right before you eat it.
Make all of your washes in small amounts to eliminate waste. You can always make more. After all, it's not like they're super complicated. Many of these recipes take only a few minutes to put together.
Learning how to wash vegetables isn't something that everyone grows up knowing. Many people don't even realize how crucial it is to keep produce clean.
After years of eating contaminated food, you have to imagine that it would take some sort of toll on your health. The body is not meant to ingest pesticides regularly, and who wants to be eating dirt, bugs, and dangerous bacteria?
There are many simple methods to keep foods as clean as possible. If you don't trust those recipes, then start growing your food at home in the garden beds.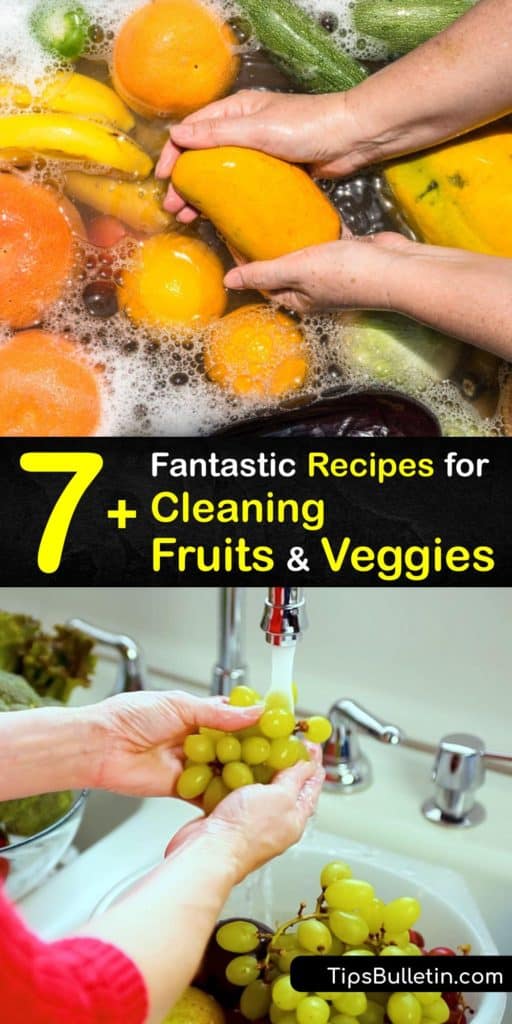 If learning about the many different homemade vegetable wash recipes has helped you eat cleaner, share this guide on how to wash vegetables on Facebook and Pinterest.